POV Holder:
?
Next POV
?
POV Used
?
POV Ceremony
March 24
HOH Winner:
Racehlle
Next HOH:
March 27
Original Nominations:
?
Current Nominations:
?
Have Nots
Adel, Sabrina, Heather, Arlie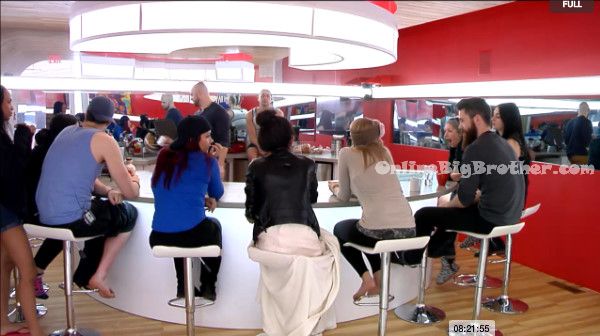 Want to watch the Big Brother Canada 2 live feeds? Bypass the geoblocking with HideMyAss VPN and be Canadian Anywhere: For ONLY $11.00 A month Sign up here

5:10pm In the kitchen the house guests are all standing and sitting around the kitchen bar laughing and joking around. Jon is flicking a small item similar to flicking a coin. Jon flicks it and then says "Five bitches in a cup .. THAT'S Homos*xu@l f@gg*ts! All the house guests GASP in shock! Jon apologizes and says he's sorry. They all reassure him that they know he didn't mean it and that it just came out. Sarah tells him that they all grew up in an age when stuff like that was said. Kenny says that a few days a go he said "the g word" and didn't mean anything by it. They all know that it wasn't intentional. Sarah says that sometimes we say things without that intention.. Trust me, Canada knows that's not your intention. Jon feels really bad and is upset that he said that. He leaves and heads up to the HOH room. (** JON is a really great person and it was VERY clear that he didn't mean to say what he said nor did he mean any harm by it.)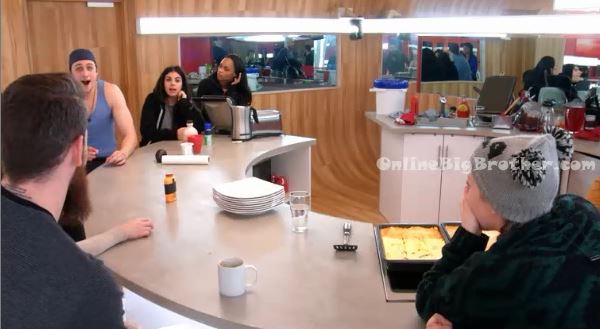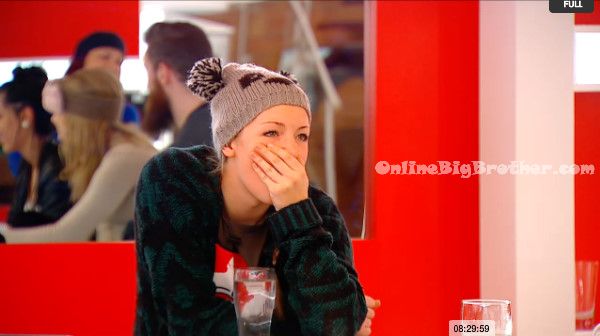 Neda joins him and talks to him about what just happened. He is really upset with himself and says that in no way does he think like that. He says that he's worried about it being shown on the show. Neda tells him that they wouldn't show that on the show. Jon wonders if he should go into the diary room and make sure they don't show what he said. Neda tells him not to. She tells him that its on the live feeds already. Neda tells him to just say sorry Canada. Jon says sorry Canada! F**K ME! Neda says compared to last year when the house guests said things that were so much worse and didn't have an ounce of remorse about it.. If anything people might have been a little upset that you said it on live feeds and then once they saw your reaction they felt better about it.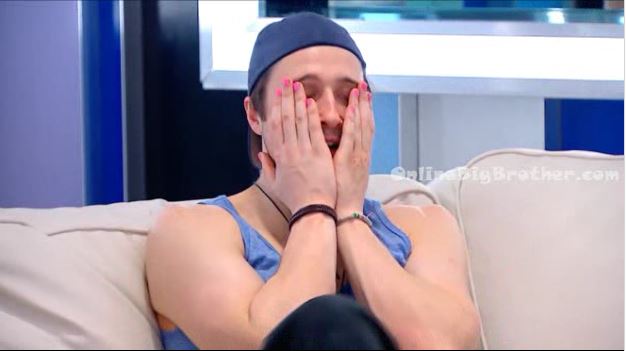 5:40pm – 5:55pm Big Brother puts the house guests on another backyard lock down. Most of the house guests head over to the pool area to hang out and talk. Sabrina and Rachelle go out to the Hot Tub room to talk game about her nominations. When big brother ends the lock down most of the house guests head inside. On the living room couch Adel reassures Jon that he knows about his friends and that he isn't anything like that. Jon says I appreciate that.
6pm – 6:20pm UP in the HOH room – Ika talks to Neda about trying to get Andrew back doored. Jon comes back from taking a shower in the HOH bathroom. He tells them that he just finished mast*rb@ting in the shower. Ika and Neda are disgusted and shocked. Ika leaves the room. Rachelle joins them and they tell her that Jon just mast*rb@ted in her shower. Rachelle says eWWW! Jon asks what?! I think that's normal. Jon says sorry. Rachelle says its okay .. it can be the masturbation station. Rachelle and Neda head out of the HOH room and Jon asks if he has a green light to do it in her shower whenever he wants…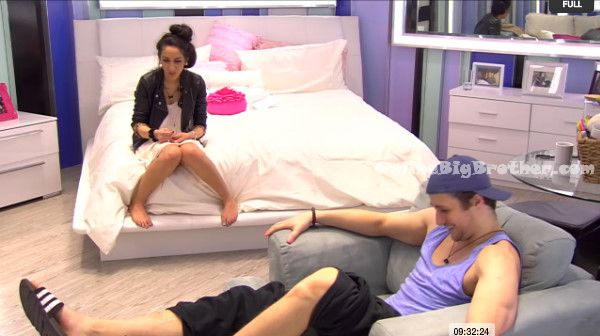 6:45pm Kenny, Adel, Rachelle, Arlie, Andrew, Sabrina and Heather are all sitting around the living room couch talking about random things and joking around. Andrew starts singing to get Rachelle to dance "booty pop, booty pop, booty pop.." Rachelle comes over by them and dances a bit for them. Jon walks by and Andrew asks if he ever goes over to his friends house to take a s**t and ma$turb@ate? Jon says some times. Andrew says yeah that's what the HOH room is like .. people away's come over to take a s**t and ma$turb@te.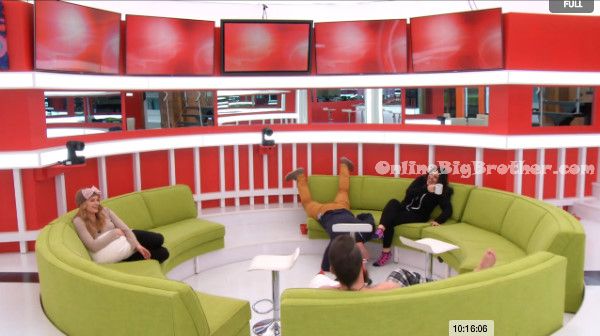 7pm Rachelle and Ika are in the HOH room talking. Rachelle asks about Adels power. Ika explains it and says that she thinks if we leave him alone we'll be okay. Rachelle says yeah, I'm not putting him up. He would be stupid to use it because he would need it the next week. Ika says yeah and I believe him that it runs out after next week. Ika says that everyone thinks I have something with Adel but I don't. He is just one of the nicest people in the house to me. Ika tells Rachelle that she loves her and that she was pulling for Rachelle to win the HOH. If we didn't win it, I am pretty sure it would have been Neda and me on the block. Big Brother switches the cameras to Arlie and Sarah in the hammock.

7:15pm In the hammock Arlie and Sarah have a conversation about the first five and everything that's going on in the house that is affecting their alliance.

Stay connected and interact with other Big Brother Fans on our Facebook page.
And Follow: @BigBspoilers and @Dawgsbigbrother on Twitter for the most up to date spoilers.