POV Holder:
?
Next POV
?
POV Used
?
POV Ceremony
March 24
HOH Winner:
Racehlle
Next HOH:
March 27
Original Nominations:
?
Current Nominations:
?
Last Evicted Houseguest
Paul, Kyle, Anick
Have Nots
Adel, Sabrina, Heather, Arlie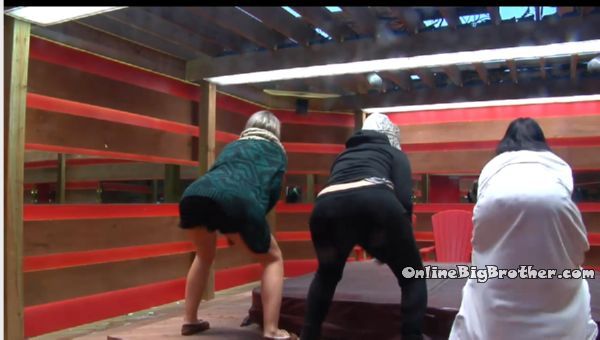 7:33pm Hot tub Allison, Sabrina and Rachelle
Allison is saying that talking to IKA freaks her out. Ika keeps saying to Allison "You know what happened last week"
Rachelle swears Allison is not the target.
Sabrina says that IKA told her she would vote against Allison, "She goes around telling people she hates you"
Sabrina adds IKA was trying to convince people to take Allison out this week. Sabrina calls Rachelle and Allison her best friends ever says she would never say those things about them.
Allison tells them she feels like Sabrina and Rachelle are "real" people.
RAchelle – "I'm not the type of person that tells you you're safe when you are not"
Allison mentions that IKA is saying bad things.
Jon rolls in wearing a tank top (there outside and it's cold as f***) comments how it's still light out. They all wish it was dark so they can go to bed. Jon leaves.
Sabrina says they have too keep IKA calm especially a girl like IKA, Sabrina mentions the way Ika is rolling her eyes every time a guy walks by. "You can't do that in a game like this"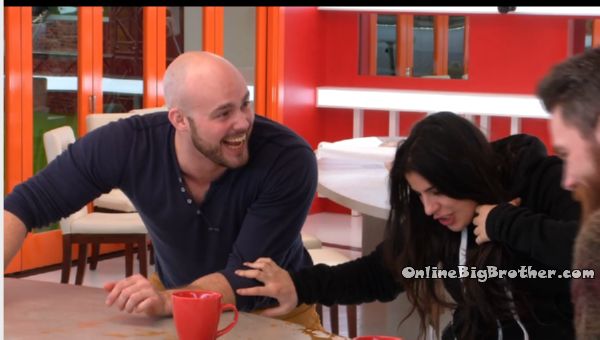 7:50pm Kitchen Kenny, Andrew, Rachelle and Sabrina
Kenny and Andrew are doing a "talk show" called Back and forth with Kenny and Andrew
Topics are like
Kenny "T Bagging how do you feel about it"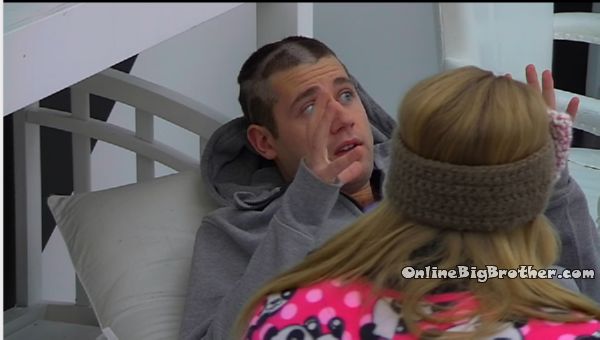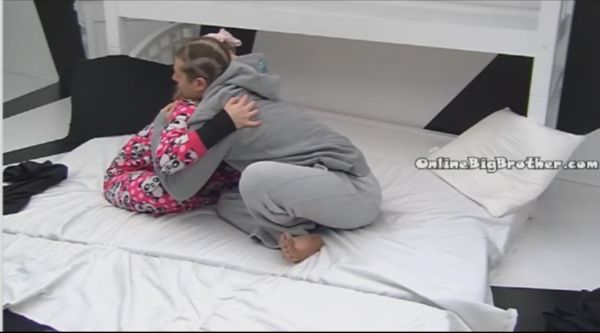 7:54pm Havenots Arlie and Heather
(We didn't catch the first part of the conversations but I suspect Arlie is asking her to join his new group)
Arlie is saying she has other people looking out for her best interest "It's benefiting us as well" He's confident this will stay a secret because he thinks it greatly benefits all three of their games. (Doesn't mention Sarah as being in the group)
Arlie was always thinking about talking to Heather about this and after the girls threw her under the bus he decided now was the right time, "They broke that trust"
Arlie assumes Heather is going up either as the pawn or the target he really doesn't know.
Heather says her strategy from the start of the game was like Jon's and Arlie's. but she picked the wrong person from the start and it blew up in her face.
Heather – "IKA told me a lot of information she didn't want leaked out.. her goal was to backdoor Kenny.. she wants kenny gone not Andrew not the new girl.. she was wavering and was sacred that the strong players would come after her."
Heather adds that IKA told her that Arlie was playing a stronger game than he led on and she agrees to that.
Arlie says he's going to bat for her this week as much as he can. He says he's with the guys and he's letting them running his show right now, "Thats not the you of person I am at all but it's perfect for the game.. and they are big targets". He points out that the group he's part of right now will not last. It's a group of dictators and followers and sooner or later the followers are going to leave.
Arlie is hoping Big Jon and her will be loyal to him and each other, "If we can pull this off we can accomplish some big things"
Heather – "I would love that"
Arlie – "I would love that to"
Arlie – "you are in a horrible position.. I wouldn't be having this conversation unless I was serious.. it's worth the risk and if we can pull this off we'll be in a very good position
Heather says her time in the house has sucked a$$. It's been starting to get her down. (Starting? Man i think i've been more upset about it than she has)
Arlie knew that Heather was suffering says he wanted to have this conversation earlier
Stresses that they cannot have anyone know, "The secrecy is the best part"
heather says she likes the secrecy part.
Arlie stresses over and over how she has to keep this quiet.. SHe promises she will. They hug and arlie leaves
Heather – "I'm just going to stay here and think lots.. "
Arelie leaves
Heather – "WOW"
8:30pm Feeds have been on HUSH HUSH for awhile.
Want to watch the Big Brother Canada 2 live feeds? Bypass the geoblocking with HideMyAss VPN and be Canadian Anywhere:

(It's tough to watch Big Brother Canada from the US. Circumvent the Geo Blocking and watch the Show and the Live feeds straight off Slice's website. Using a pay VPN is very easy and free of malware, I do not recommend using a free service as these are notoriously trouble. $11.00 A month Sign up here
[polldaddy poll=7898587]