POV Holder:
Danielle
Next POV:
Aug 11 (Saturday)
POV Used
YES
POV Ceremony
Aug 6 (Monday)
HOH Winner:
Danielle
Next HOH:
Aug 9 (Thursday)
Original Nominations:
Wil and Frank
Current Nominations:
Janelle AND Frank
Have Nots
No Have-Nots for the Week
Last Evicted Houseguest
8am Boogie is out in the backyard by himself. Boogie gives a shout out to Mr.Janelle, saying that Janelle is a liar and we are sending her home. She is coming home early and it's his favor to Him. Boogie repeats what Janelle said yesterday after she was nominated saying I can't believe I didn't even have make up on! Britney joins him. They talk about Joe and all the rumors he had brought up. Britney comments on how nervous Ian gets just for veto ceremonies, they can't even imagine how nervous he would be if he was nominated. Britney and Boogie talk about how everyone thought that he and Janelle would work together.
Watch what happens, AS it happens: Big Brother 14 Live Feeds!
Subscribe today for your FREE 3 DAY TRIAL!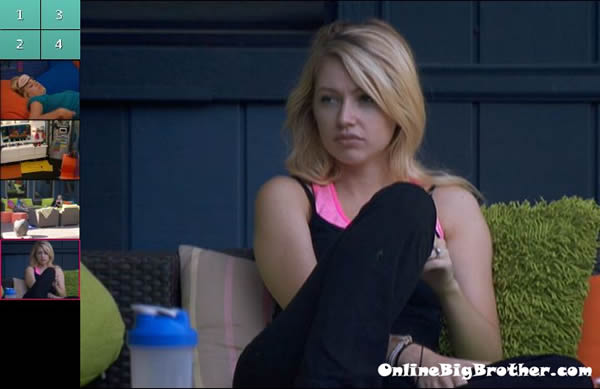 9am – 9:30am
Boogie says that it's funny how Joe became her dutiful soldier and how he bowed down to her. Britney says that she thinks he would have done that for whoever was his coach. Britney talks about how Joe patrols the house looking for conversations and that the kitchen is his hub. Boogie goes ew..track me dog! Britney asks if Dan is what he expected him to be like. Boogie says yeah, but not the mischievous part to him and how he enjoys it so much here. I wish I could like it here as much as he does. Boogie and Britney talk about how the rest of the season will play out. Boogie wonders if in a couple weeks they might do a double eviction where the first person out goes home and the other goes to jury. They continue to talk about what it's like being in the house.
Britney talks about Matt Hoffman from her season and says that his twitter name is @HeadOfHOFFhold. Boogie comments on how clever his twitter name is. Ashley asks Britney who was the most miserable person on your season. Britney says that she was, but says that Enzo was pretty bored. She says that they named the different sections of the yard. She says like over by the weight bench it was the bad part of town, where you didn't want to be late at night. She says that over by the pool was like a night hotel and the pool table was where they held tournaments.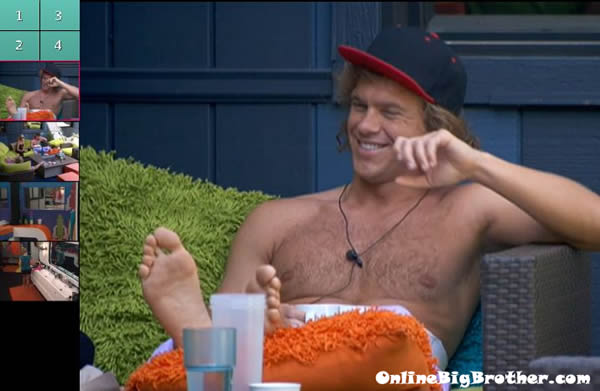 10am – 10:20am Frank comments on how he has had to pack just about every week. Boogie tells Frank why don't you be a baller and put an empty suit case into the storage room. Maybe put some jam in there for weight because we know we aren't eating that. Danielle joins them. The conversation turns to talking about dreams. They talk about Britney's season and how Enzo's clothes got taken away in a competition and donated to a charity. Boogie comments on how he has some stuff that he would be pissed if they took from him and donated it.
10:40am Britney asks what's on the agenda today Frank. Frank says eat some cereal, have a BM (bowel movement), come out and do some hustling by the pool. Boogie says some fake hustling. Frank heads inside. Britney and Boogie continue to talk about random things. They bring out the table topics and start reading some of the cards. Boogie asks what are the redeeming qualities of a person you most dislike? Britney says okay I have a person in mind. Boogie says just tell me the town or city she lives in. Big Brother cuts the feeds.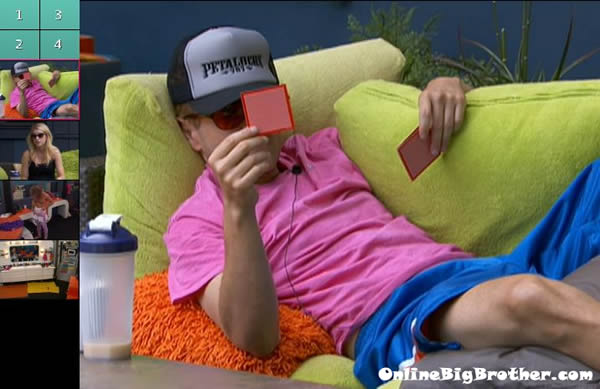 11:10am – 11:30am Frank, Boogie and Danielle are in the kitchen whispering. Boogie comments on how some time when she has the HOH camera they will all sneak away and take a few. Meanwhile out in the backyard, Britney and Ashley are alone talking. Ashley tells her that Wil and her talked about when to tell Janelle they aren't voting for her. She says that Wil said he is leaning toward not telling her. Ashley asks Britney what she thinks. Britney says Wil told her he is voting to keep Janelle. Britney says that she doesn't want to call him out, but he doesn't have to. Britney says she won't vote for Janelle unless everyone else is. Ashley says she told Danielle she wants to support her decision and get Janelle out, but that also wants to get Frank out. Britney says that she would like to be honest enough to say you don't have the votes, so why cast a vote to keep her. Boogie joins them. They talk about Joe and how his stories go on forever. Britney brings up how Joe told a story about telling his 14 year old step daughter that she could not have ice cream until she told him if she was having sexual relations with her boyfriend. Britney says imagine you're the father of her and she comes and tells you step dad Joe would not give you ice cream until you told him about your sexual relations with your boyfriend.
FREE 3 Day Big Brother Live Feed TRIAL: Join Now!
Share it YO!!
Tweet