POV Holder:
Next POV:
July 28 (Saturday)
POV Used
POV Ceremony
July 30 (Monday)
HOH Winner:
SHANE
Next HOH:
Aug 2nd
Original Nominations:
Current Nominations:
Have Nots /Slop
Coach Competition Winner
Next Coaches Competition
July 27 (Friday)
Last Evicted Houseguest
JOJO
8am Boogie is awake and working out in the kitchen. Joe wakes up and they comment on how production is hard at work out in the backyard. They talk about how messy the other house guests are in the house. Joe starts cooking breakfast. He also goes to the washroom and doesn't wash his hands and then goes back to cooking.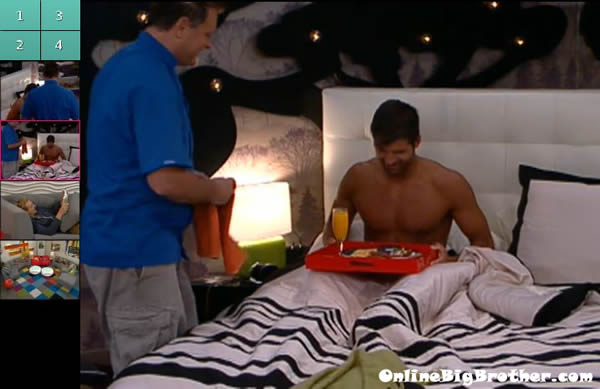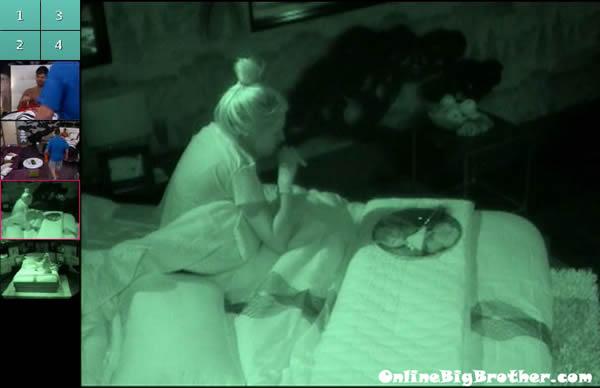 8:50am Joe comes up to the HOH room. He enters and says Sir Shane your breakfast. He gives Shane the breakfast that he made saying "This is my a$$ kissing for the week." Joe heads down stairs and grabs another for Britney and brings it up. When he comes in again Shane says thank you this is great especially after being a have not for a week. Joe goes to the mentor room and says "Breakfast for the Queen." Britney wakes up and says thank you. She takes one bite and goes back to sleep.
Watch what happens, AS it happens: Big Brother 14 Live Feeds!
Subscribe today for your FREE 3 DAY TRIAL!
9am – 10am Big Brother wakes up the house guests. When the live feeds come back most of the house guests are awake. Mike, Dan, Ashley, Joe and Frank are hanging out in the living room. Joe wonders if Ian is a have-not again if it will be a record. They comment on how Ian wants the record. Joe says that's a record he doesn't want. Mike starts talks about Chicken George having the record for being on slop. They continue to hang out in the living room and talk about random stuff.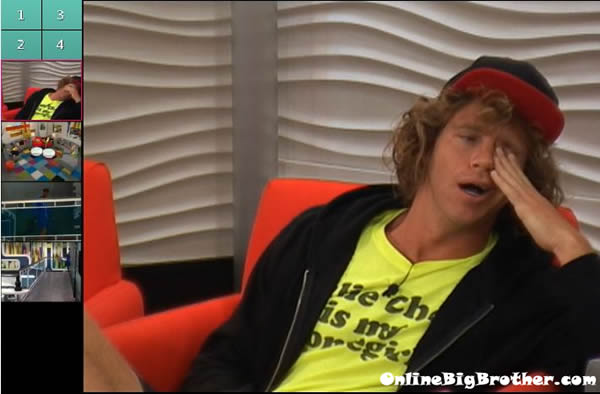 10:50am – 11:10am All the house guests are sitting in the living room talking about random stuff. They start talking about movies. Ian Janelle and Britney are still sleeping. They conversation turns to talking about the coaches competition. Ashley says that she has a feeling they will be a part of the competition. Mike wonders why Julie Chen didn't mention the coaches' competition. Wil wonders if it's because they want to save the shock on our faces when they reveal it. Ashley starts talking about how she locked her car door with the engine running. Mike says that his business partner left his car running by accident for a full 3 hours while they were at a game. The talk turns to parking tickets. Britney joins them.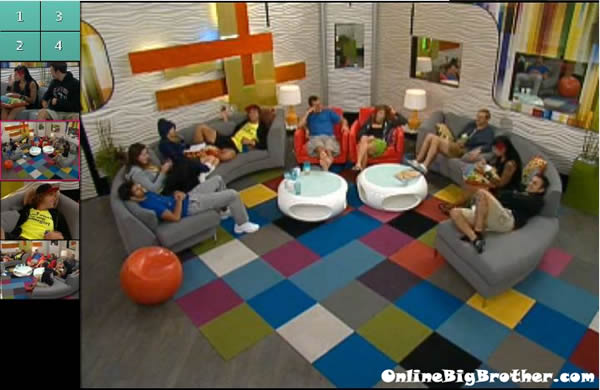 11:35am The conversation turns to talking about Britney's season and how Enzo was constantly cheating and eating while a have-not. Britney says that she tried to eat while she was a have-not with Reeses Pieces. She says that could not figure out a way to sneak them to under her covers so she could eat them.
11:40am In the kitchen Wil sucks up to Janelle right before the coaches challenge by giving her a massage. Wil comments that Joe was sucking up to Shane this morning by making him breakfast. Janelle says yeah I have to win the coaches competition. Wil and Janelle head into the storage room to talk. Janelle tells Wil that if he leaves this week, she will be devastated. She says that she will want to go home if that happened. Wil tells Janelle that Shane would be foolish not to take out a big player. Wil wonders if Jojo and Kara will be out there and the winner gets to pick one of them to come back. Janelle says that she would pick Kara. Janelle tells Wil that he needs to start winning HOH's and doing stuff or they are going to get picked off one by one. The conversation turns to talking about Willie and how Jojo and Shane stuck with him.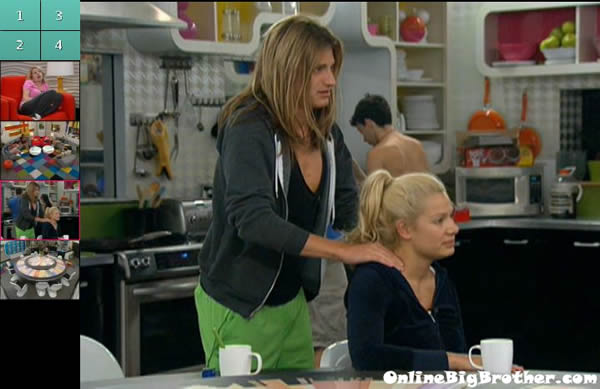 Wil starts talking about who was the weakest on their team was and then stopped and said there was no weak player. Janelle says that Ashley could win an HOH because she isn't as dumb as people think. She says that Danielle is exactly as she seems, she is really sweet but naïve, whereas Ashley just plays up being dumb and naive.
12:05pm They talk about how they think Britney's team screwed them over. Wil says that they really wanted to work with Britney's team but Willie was running around talking to everyone else and they had no choice. Wil says they offered multiple olive branches to both Jojo and Shane. Wil hopes that Shane will put one up from each team, instead of two from Janelle's. They agree that they were annoyed that Shane kept saying that he hopes everyone gets to experience HOH. Janelle says she had four weeks of power on All Stars so she knows how it feels. She says that if she gets released in the game, she can't wait to put up Frank. Janelle comments on if all the coaches come back into the game …Frank, Boogie, Dan, Shane and Ian working together will be insane.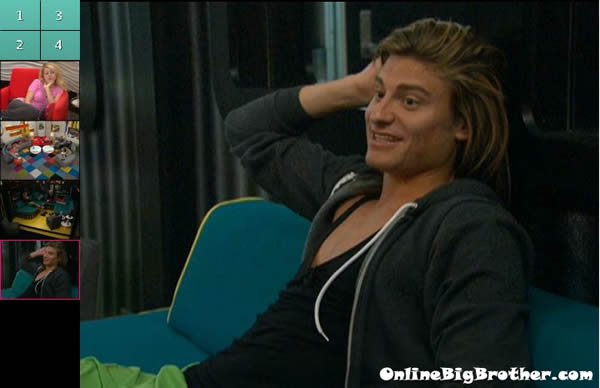 Share it YO!
Tweet