POV Holder:
Next POV:
July 28 (Saturday)
POV Used
POV Ceremony
July 30 (Monday)
HOH Winner:
SHANE
Next HOH:
Aug 2nd
Original Nominations:
Current Nominations:
Have Nots /Slop
Coach Competition Winner
Next Coaches Competition
July 27 (Friday)
Last Evicted Houseguest
JOJO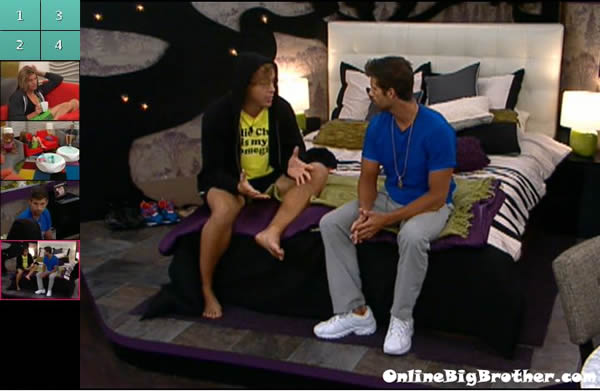 12:25pm Frank is up in the HOH room with Shane. Shane tells Frank that he knows you have a final 6 deal with them… Joe is the only one that came up here to talk game and he threw you under the bus. He wants me to put you up. Shane says that Wil is his absolute number 1 target and that he was thinking of putting up Ian too. Frank says that he doesn't mind if Shane puts up Boogies or Janelle's players. He says that if he wants Wil or Joe out, it's probably best to put them up. Frank says that the only reason he didn't put Janelle's team is because they rallied for him when he was up on the block. Britney joins them. Frank says that one good reason to keep me is that I will be a bigger target in the house. They bring up someone going through Frank's bag but they won't tell him that it was Joe, they just tell him the person is still in the house. Frank says that he will vote whichever way Shane wants.

Re-Watch ALL THE DRAMA on FlashBack:
Big Brother 14 Live Feeds – 3 Day Trial!


Britney asks Frank what the deal is between Mike and Janelle's teams. Frank says that he never wanted to go into a final 6 deal with 3 on 3, to be honest their team is stronger than ours. Britney tells Frank that he has always been honest from the beginning. Frank says that he knows he has to go after Janelle's players but he just didn't want to after they saved him. Frank says that he expected Joe to throw him under the bus and that it gives him incentive to go after them next week. Britney says that it hasn't even been 3 hours and he was throwing you under the bus. Britney tells Frank that they won't blind side him. Frank heads down stairs.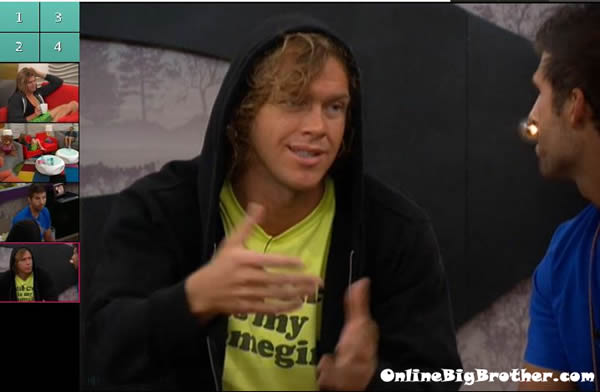 Britney tells Shane to be careful with the info he gives up, you don't want to say one more word than you have too. She says the good thing is that Frank will now go and tell Boogie and he will be pissed. Right now we say it will be Frank and Wil. It will all depend on the coaches competition.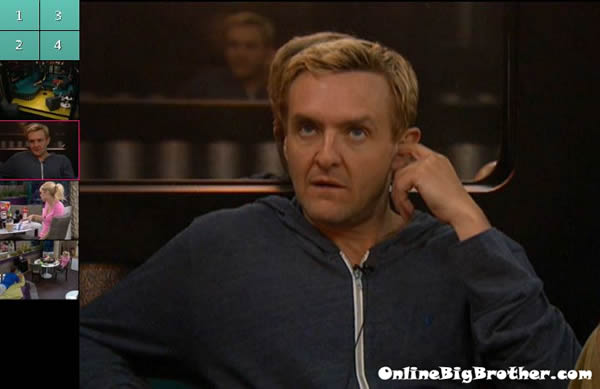 12:40pm – 1:10pm
 Frank goes to the arcade room and tells Mike everything. Frank says that Shane told him without Britney in the room that he won't put him up. Frank says that Shane said he didn't want to piss off Mike. Mike says FU*KING RIGHT! Frank says that Shane mentioned putting up Wil, Ian, Jenn or Joe. Mike says so he won't put up Ashley, that means we don't control the vote. Mike says that he will do his best to win the coaches competition. Mike asks so how would you feel if I saved Ian. Frank says that he wouldn't like it. Frank says that it would be better to talk to Shane after the coaches competition. Frank brings up Joe throwing him under the bus again. Mike says that he is going to trash talk Joe in the diary room. I want him gone. Mike says that he doesn't want Shane nominating one of our people and one of Janelle's especially when we have a deal. He would rather they just go after Janelle's people. Mike says that he is going to vibe with Dan a sec, to firm things up. He says that he thinks Danielle will work with them. They wonder if there is immunity this week. They don't think Shane would nominate Danielle. Mike says that he was thinking about it and the competition in the house is really weak. Keep playing up to Shane about how you two can win competitions back to back. You can win at the end against Shane because you are better at speaking. It's also better if you don't always win HOH's and let the target shift off of you. Mike tells Frank to just have quick conversations with Shane reminding him of the deal they have. Frank says what's best about us is that we are like good cop, bad cop. Ian joins them. He tells them that Janelle is freaking out because she thinks Jojo took her eye liner. Frank says oh .. I took it I better go tell her.. Janelle joins them in the arcade room. Janelle wonders if the next week the coaches twist will continue, she says that Dan barely has one player. They talk about the HOH competition Shane won. They laugh about how their 4 player's scores didn't add up to Shane's score. The conversation turns to talking about how Shane is winning all the competition and they are screwed.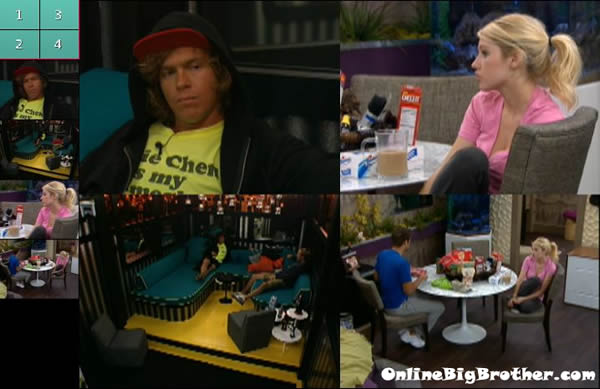 1:25pm Dan, Danielle, Shane, and Britney are talking. Dan asks so if there is no plus one in the coaches competition would you mind throwing it to me. Britney says yeah. They wonder if the coaches competition will be an endurance competition. Dan says that he likes those competitions where you decide when you go out. They tell Dan that his best bet is a who wants it more competition because they don't want it that bad. They wonder if they will get to switch players. Janelle says she would only want Ian, she doesn't want Frank. Dan says that he kind of wants to freak Janelle out by making her think that Wil is going up so that if she wins the coaches competition she will save him. Shane says even then we can still put up Joe and Frank. Britney tell him not to say that he heard Wil was going up, just that he thinks it's a possibility. Dan heads downstairs. Danielle says that Frank came up to her this morning and said Joe that damn kiss a$$ he went up and made them breakfast. They talk about how stupid it was that Joe came up throwing Frank under the bus. Britney says that she is so sick of that team, they have no loyalty. Shane brings up how Joe swore on his kids life that he would vote to save Jojo. Danielle say yeah and right after he told her that he came and told me he just wanted the cigarettes and that he would vote for her.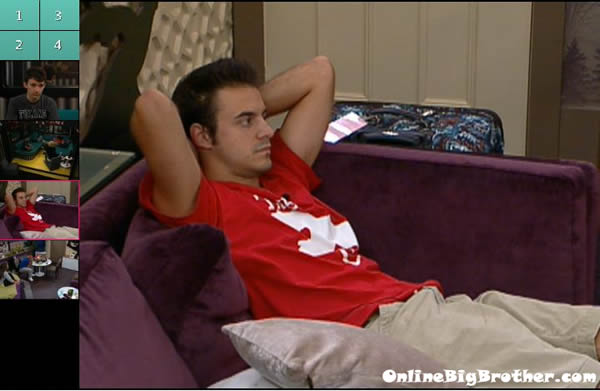 1:35pm Britney and Shane are talking alone. Shane says that he was contacted May 23 and up until then he had never watched a single episode of big brother. He says after that he tried to get caught up but only managed to watch a few seasons.
Dan and Boogie are in the stereo room talking about how Big Brother wants a trade so bad between the coaches, but none of the coaches wants to trade. Dan then asks Boogie he won would he save Frank. Boogie said he would probably but that he has considered saving Ian too. In the storage room, Joe and Wil are talking about the possibility of the coaches trading. Dan comes in and apologizes for interrupting he says that no one better touch Danielle.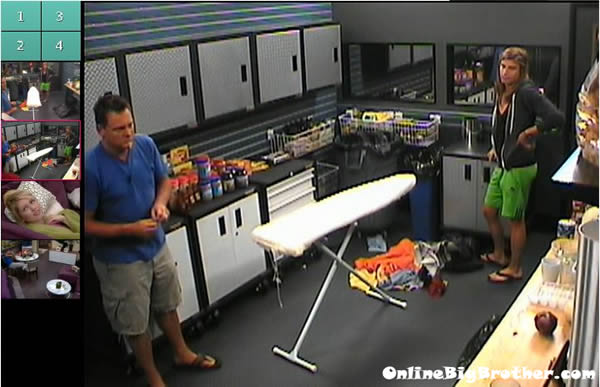 2pm Janelle and Ashley are in the arcade room talking about the coaches competition. Janelle tells Ashley that she wants her to shock them all because they don't think you can win anything. Janelle starts looking around the room, inside the carnival game, inside pillows, under the chair and under cushions. She is looking for somewhere to hide something. She wonders where she should hide something and then leave the room to finds some where better.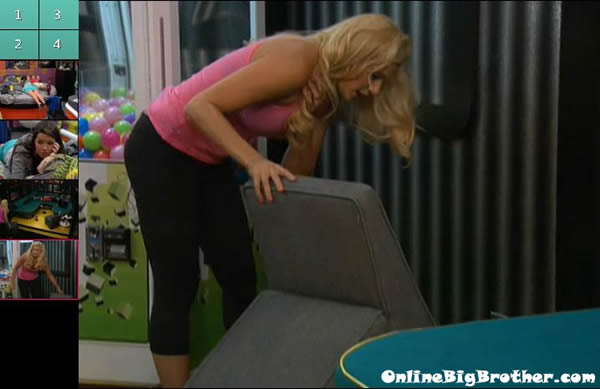 2:10pm Big Brother switches the live feeds to TRIVIA … most likely the coaches competition is happening now.
3pm Still TRIVIA..
3:54pm Still TRIVIA..
4:44pm Still TRIVIA..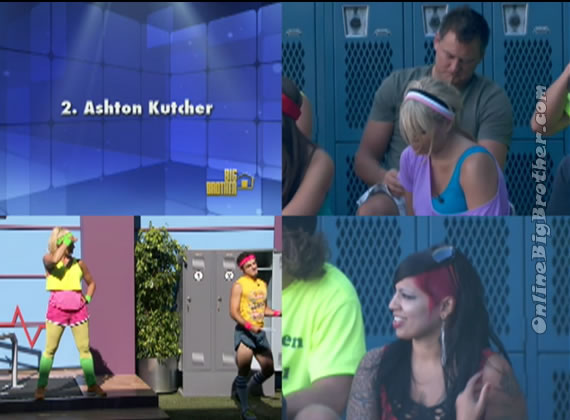 4:38 Cam 3-4 #BB14 Live Feed Leak Shows Coaches Competition Underway #CBSBigBrother
Looks like Dan won the competition but I am not Sure
Share it YO!
Tweet