POV Holder:
Donny
Next POV
July 19th
POV Used
YES
POV Ceremony
July 14th
HOH Winner 1:
 Nicole
HOH Winner 2:
 Derrick
Battle of the Block Winner
Donny/Amber
Next HOH/ Next BOB
July 17/July 18
Original Nominations:
Derrick's Noms (Caleb & Jocasta) Nicole's Noms (Donny & Amber)
Final Nominations:
Caleb & Devin
Have Nots
Caleb, Amber, Devin, Hayden
POV Players
Derrick, Jocasta, Caleb, Christine, Devin, Donny
1:10pm Cody and Devin continue to play pool. Hayden is hanging out with them. Victoria comes out in her pool outfit. Cody and Hayden start yelling, whistling and hollering at her telling her she looks good. Over by the pool – Nicole and Christine are in the pool. Amber and Brittany are suntanning.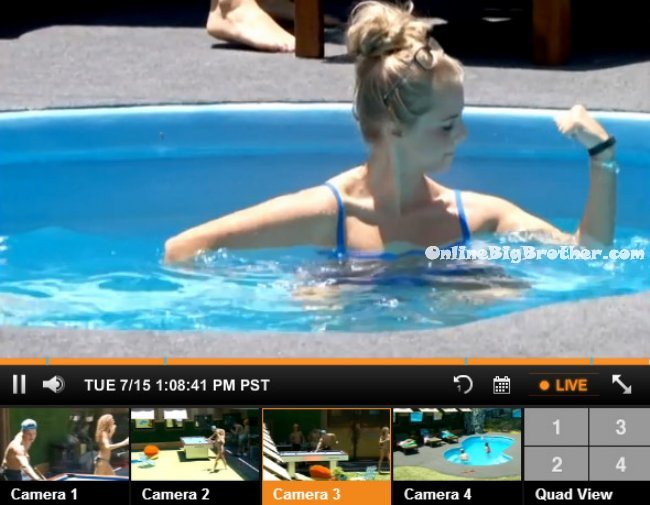 1:15pm In the bathroom – Devin campaigns to Donny. He tells him that in the veto competition if I had won I would have used it on Jocasta. And that would have forced Derrick to put up Victoria. Devin gives Donny the same campaign speech about how Caleb and Amber will protect each other / use the veto on each other. Devin says I won't come to you any more about it but before going into that veto Caleb told me he's got to protect Amber. My opinion going down.. is that Caleb will only win so many competitions. I can beat him in mental competitions and in some physical. I just want you to know that my loyalty lies with you. Devin tells Donny that he asked Pow to throw that one competition. Donny asks did she throw that swinging one? Devin says no. I didn't ask her to throw that one. She just didn't know how to swing. Devin says you know this game better than anyone, paranoia runs rampant. Devin says someone is going to catch on and use Caleb's emotions against him. Just think about if you're here who you want to be here with. Devin says the only move I have is to use Caleb's love and infatuation with Amber against him. All I need is 6 votes. Donny says its a valid point but its stuff that I already know. You didn't have to tell me. Devin says I am just trying to fight in the most respectful way. Donny says we have to make decisions for our game but most importantly for our family. ..because at some point we are going to have to leave. They end their conversation and Donny tells him he made good points.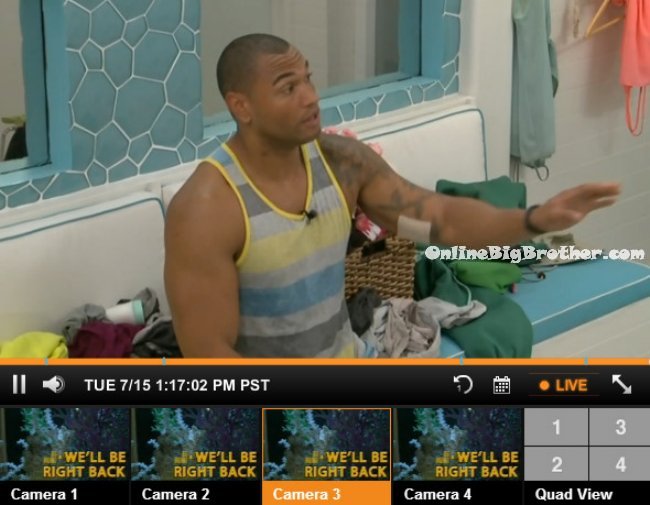 See what they can't show you on TV! -Try the Big Brother 16 live feeds for FREE!
1:30pm On the backyard couch – Donny and Jocasta talk about Devin's campaigning. Jocasta says I am not saying someone should go on the block because they haven't been but.. Donny says I am saying that! I think that's a good reason. I want you to feel what I felt. Merry Christmas. Donny says if certain people win .. me, you and Brittany are going on the block. We are categorized together even if we aren't together. Jocasta says that Victoria is sketchy. Donny says that's why I didn't even mention her. Donny says I don't mind losing the game. I am a good loser. If I do there will be someone there to make me feel good. What about you? Jocasta says I am not a sore loser. I am not and to be on here is amazing. Donny tells Jocasta .. I think they already have the pecking order. Jocasta says so they already have it all figured out even though they don't know whos going to be HOH. Donny says my girlfriend talked me into this .. I am going to have to have a long talk to her. Donny says they need to realize they need us ..because they're not going to get each other out. Jocasta asks what do you think of Hayden? Donny says I think he is one of the better ones. He never gets paranoid he always stays the same. Jocasta asks what do you think about Amber? Donny says I don't know. Jocasta says I know Frankie was in a room and Amber said I am good with Donny so I could get him to see my point of view. Donny says that's good though. Donny asks I can trust you right?! Jacasta says yeah! Donny says I think that's the ring leader.. the brain of the operation. ..and I like him too!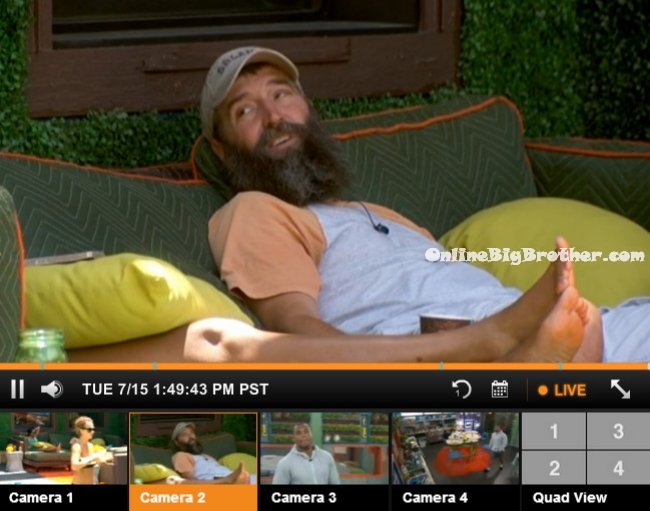 In the kitchen – Devin asks Brittany if what he is saying in his campaigning makes sense. Brittany says it does but people are afraid to vote. I am not afraid to vote how I want. Devin asks do you think you could talk to some of the girls that are afraid without blowing up your game? Brittany says I could. Devin says I am here by myself I don't have someone I am trying to protect. Brittany says I just feel like I am going to be up there next week. Devin says and that's why you don't want to be up there next to Amber. (Because if Caleb is still here he would be fighting to save Amber.) Brittany asks so you want to be here now. Devin says yes, it was hard before because of all the immaturity. Devin and Brittany talk about how they feel old compared to these people. Brittany heads outside and joins Donny and Jocasta. They talk about Deivn's campaigning. He has some very good points but no one is going to vote that way.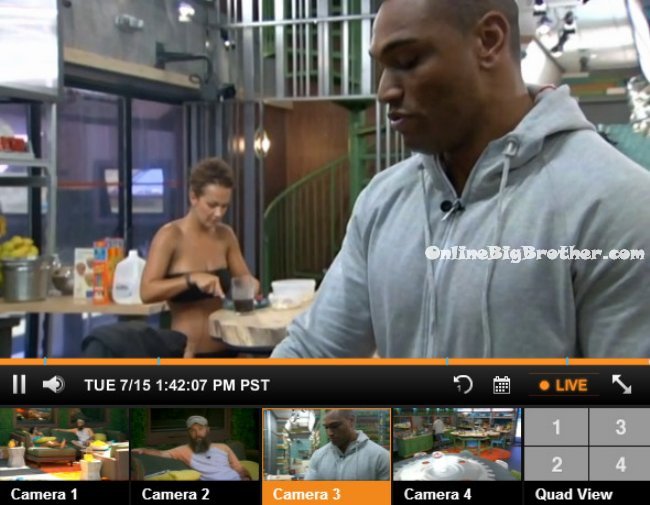 1:50pm – 2:15pm Derrick comes out of the diary room with the camera. Derrick goes over to the pool and says don't ask me why but we need some photos with the beach towels. Cody asks why? Derrick says I said don't ask why. Cody asks so you want to see my beach towel. Is that a s*xual term? Hayden grabs the camera and starts taking photos of the other house guests. Hayden tells Amber you're a model, you're a tiger! Hayden asks Nicole and Christine to do something.. Nicole asks I don't know what do we do?! Hayden says I don't know do something funny take your clothes off.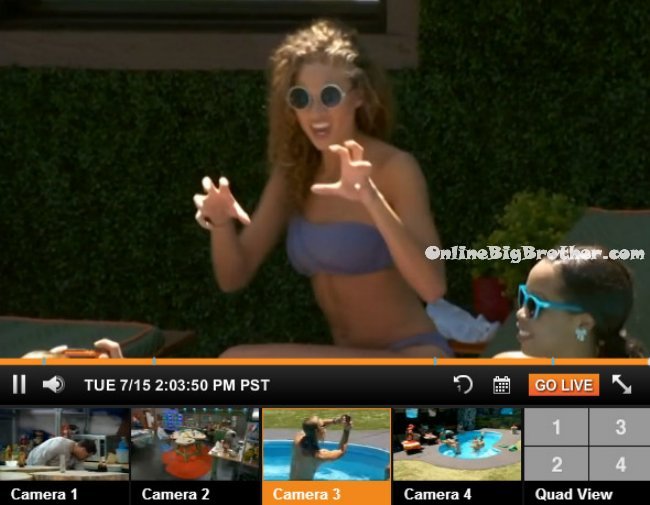 In the kitchen Devin is talking to Derrick about campaigning. Derrick tells him he has to do what he has to do to stay in the house. Just don't do anything that you regret. Devin says that he's worried about people not liking him and booing him on the outside. Derrick says you're going to have people that like you and others that don't. We all will.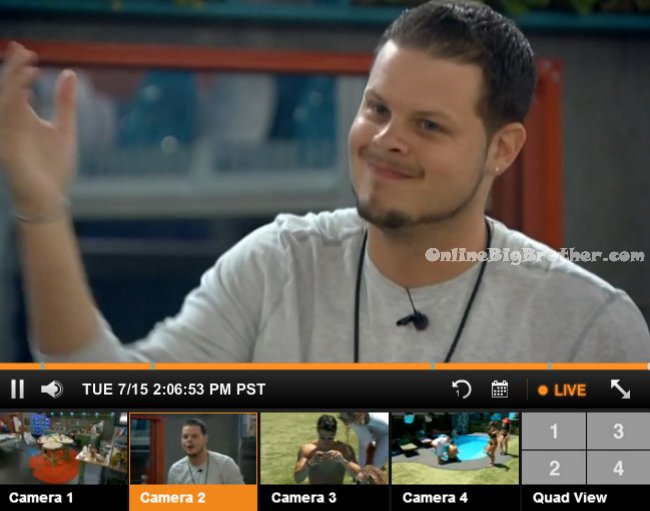 2:25pm – 2:35pm Out by the pool – Jocasta and Amber are talking about Devin's campaigning. Amber says that Devin said he wasn't going to campaign but that he clearly is. Amber says that she isn't going to vote for Devin to stay and doesn't think others will either because it will make them a target. Amber says I am just tired of all his lies.
2:40pm The house guests continue to talk HOH photos. Out in the backyard – Hayden comments to Donny that Devin is campaigning but its too little too late. Donny agrees.
Hayden and Nicole start taking photos together. He kisses her on the cheek as they take a selfie. Over by the pool Brittany talks about the guys talk about slicing girls. Brittany asks do you want to slice me. Cody says yeah I love all the dirty talk. She says I can't wait for you to romance me hard. Cody says yeah I like the sound of that! Brittany says I can't believe we have not liquor!! I am going through withdrawals! Brittany asks I actually think they are waiting until the crazy people leave before they give us any. Cody says yeah I agree with that! Cody says actually now that I think about it .. Brittany has only been nice after she's had a glass of wine.
HAYDEN KISSES NICOLE in a SELFIE PIC @bigbspoilers #bb16 pic.twitter.com/5omFixxC9L

— Dawg (@DawgsBigBrother) July 15, 2014
Watch the ENTIRE SEASON of Big Brother 16 for ONLY $26.99 – TRY it For FREE!
2:50pm – 3:05pm In the hive room – Devin campaigns to Frankie. You know damn well that I am not going to go out without campaigning. I'm not going to talk bad about anyone. Devin gives Frankie the same Amber / Caleb speech as to why he should stay over Caleb. I came here for my daughter and I am going to fight to be here. It's hard to put up with the other house guests immaturity. Frankie says those are very valid points and its not stuff that I haven't already thought about. I wish I could keep both of you. They hug and leave the room.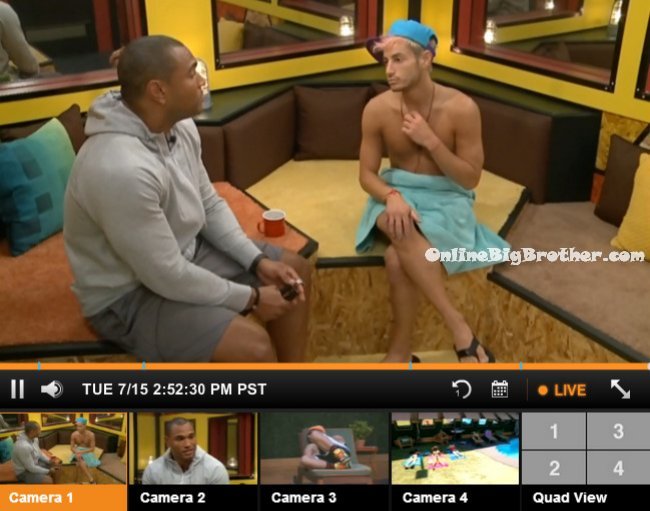 Alliances (Some of these only a few of the members actually think the alliance is real the bombsquad is done but some people still think it's real)
Zankie = Frankie/Zach
Bomb squad = Caleb, Amber, Frankie, Derrick, Cody, Christine, Zach, Hayden
Team America = Donny, Derrick, Frankie
Nicotine = Christine/Nicole
Not a showmance= Hayden/Nicole
Los Tres Amigos = Derrick, Cody, Zach
Feed watchers = Derrick/Nicole
We hate Devin = Christine and Zach
Outsiders = Brittany, Victoria, Jocasta, Donny
Old timers = Jocasta/Donny
Stalker = Caleb/Amber
Quad Kings = Derrick, Zach, Cody and hayden (still being built)
Unnamed Final 2 Deal – Cody & Derrick
Try It Free! Subscribe now to the official BB16 Live Feeds

[polldaddy poll=8185492]