Check out our BB19 Ranking Grid. . rank your houseguests here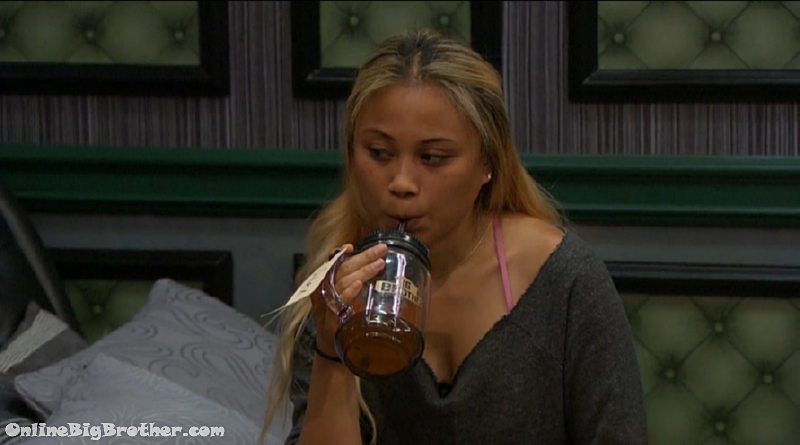 5:12pm Alex and Jason
Jason – we just vote Chritmas off win HOH and start our own f***g deal
Alex – she's got to go, but if we have to align with someone, I pick Paul.
Alex – his whole thing is friendship
Jason- They are sweating that we are going to line up with Cody and be the powerhouse. Alex- We have to talk to Cody
Jason – do we tell Paul on our side
Alex – If we say that and f*** him we're done
Alex – did you talk to Christmas.. There was supposed to be 9 of them going to Jury
Jason says they (The other side) want to kick out Jillian, Ramses, Josh, Megan..
Alex warns him not to tell Jillian anything she gets all flustered.
Alex says they got to wrangle Josh in before Thursday.
Aklex doesn't know where Elena is coming from "She's friends with Jessica and friends with Christmas"
Jason – you and me are the baddest mother f***ers here..
Jason – Jessica… she couldn't whip shit with a outboard motor
Jason brings up his conversation with Mark last night, he didn't get anything useful.
Jason – You, me, mark, cody, kevin.. And JOash, Jillian and Ramses… That's eight
Jason or – You, me ,mark Elena, Paul, Christmas
Alex – I don't trust her
Jason – I don't either
Alex – as much as I trust Paul, Cody did us a soldi.. 2 times, he should have won that Veto.
Jason says Paul is acting like a little b1tch running around trying to get everyone to decide what they are going to do.
Ramses comes by.
Alex doubts they'll let Christmas play with her foot the way it is.
When Ramses leaves. Alex whispers to Jason "He doesn't trust us.. He never gives information"
Alex – christmas never asked me to vote for her..
Alex brings up Paul's first season, he was always only loyal to his best friend Victor.
Alex – the next move we make we have to align with one of the side.. We're either going to Jury or our out. We have to remember Paul is safe
Jaso – you me Cody and Mark that would be alright
Alex – yeah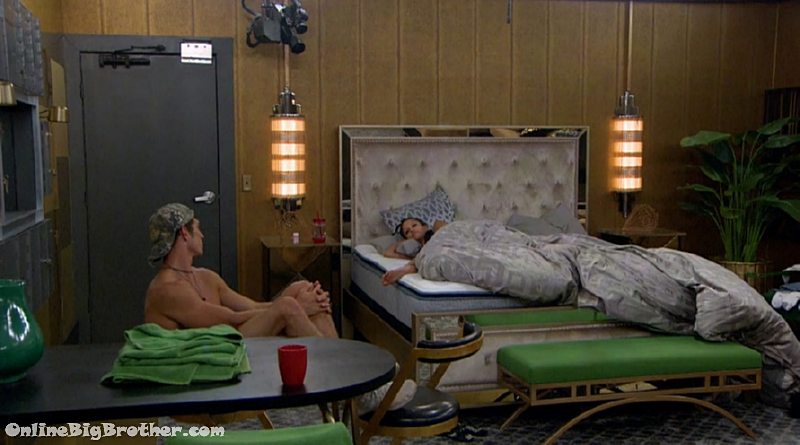 5:14pm Jessica and Cody
JEssica says Alex has been on her Radar since day 2. Days after the competition Alex wouldn't stop talking about how awesome she was. Jessica hated that.
Jessica says if she had won that first HOH Alex and Megan would have been her Nominations.
Cody says he only feels chill around Jessica and mark.
Jessica doesn't think Kevin is going to keep Jillian. She saw Kevin and Paul talking earlier
Cody – Kevin's a bullshiter..
Cody – Is elena not sleeping with Mark
Jessica says Mark has a single bed. Christmas could a double and won't give it up.
Elena asked her if she would switched.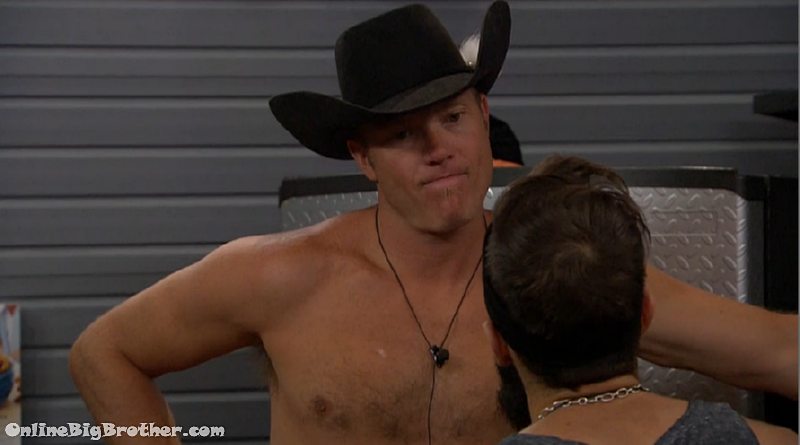 5:55pm Paul and Jason Storage room
Trying to figure out why Cody put Paul up then Christmas.
Jason asks why did he throw the veto to Alex.
Paul – do you think Jessica likes you and Alex
Jason – no
Paul – that means it's all him
Paul – the guy just went rogue and made a f*** mistake.. Now he's backtracking and using you.. He's setting you up just in case..
Paul – do you think she's going to go against 8 people just to team up with you and Alex.
Paul tells him Christmas is a much better person for them to keep in the house.
He asks Jason if he really thinks Jillian will go out there to save Jason.
Jason says all Jillian is ia a Vote. Points out that Christmas' leg is lame.
Paul thinks Christmas will be back on her feet soon. Adds that Xmas is smarter and wittier.
Jason agrees says Xmas is generally just better to be around and Cooler.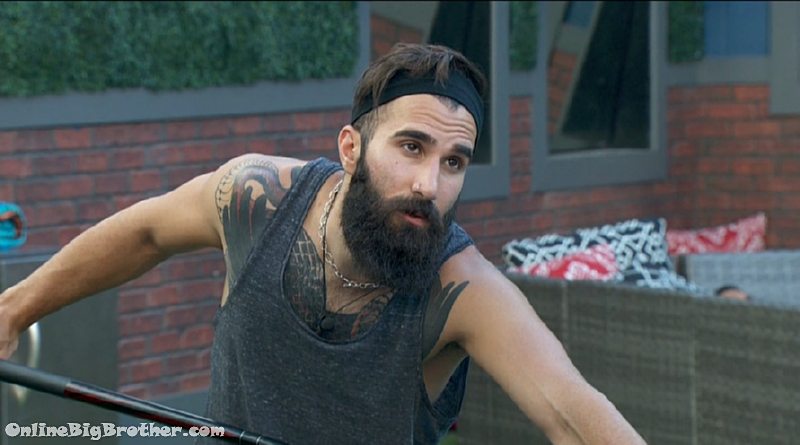 They head outside to play pool.
Paul is telling him they are just in the baby phases of the game they are still settling. "It's OK if we move around"
Paul – i'm telling you with the plan I have you'll see.. You just have to trust me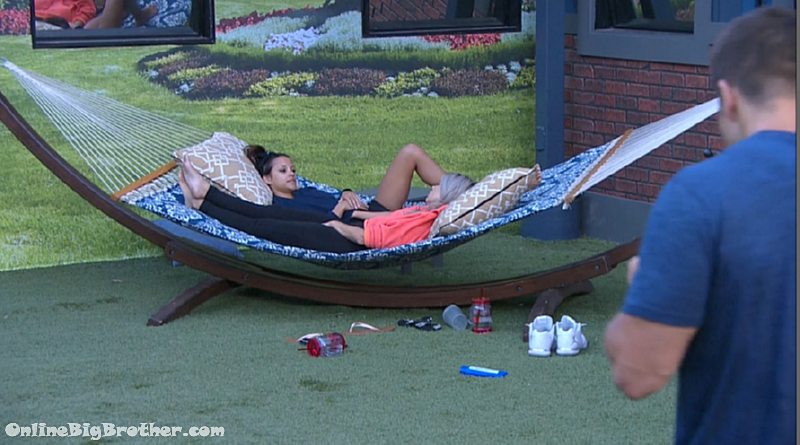 6:58pm Jessica, Mark and Elena
Jessica and Elena have a mutual friend, A athlete. Someone who use to play for the Bruins and now plays with the Stars. Elena hangs out with them in Dallas. Feeds flip…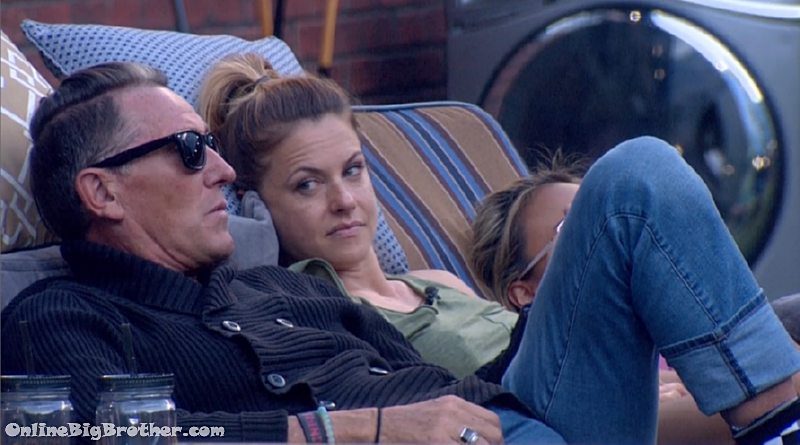 7:00pm Kevin, Christmas, Alex
Christmas – all I want is his (Cody) head on a stake, After that I'll help you take out anybody I'll follow suite
Xmas brings up how Elena is confused about Cody. She doesn't understand why Cody f**kd them over.
Xmas says Cody told her that she makes some of the girls uncomfortable.
Kevin asks who is that
Xmas – Jessica, Jessica is f***g grabbing everyone's a$$holes, F****g grabbing everyone's d!cks, pulling peoples pants down and rolling around the kitchen floor with dental dams
Christmas says once Cody goes that side will scramble.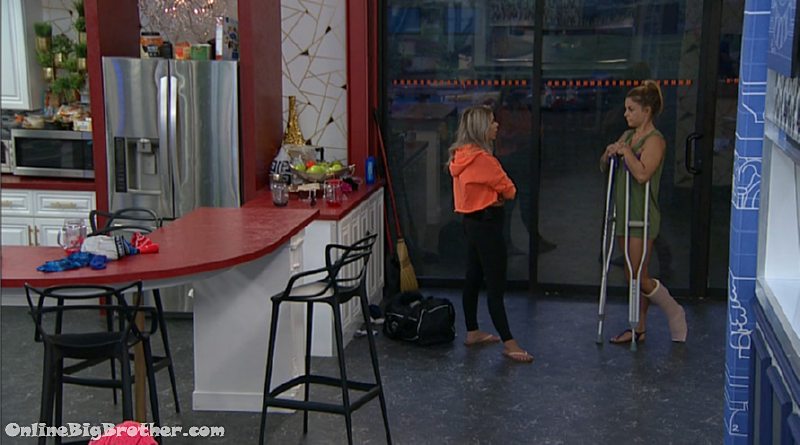 7:15pm Elena and Christmas
Christmas says she's been hurt worse and bounce back faster she has amazing abilities.
Elena tells her she's been praying for 4 times a day and so has Dom.
Elena says she doesn't trust Jessica.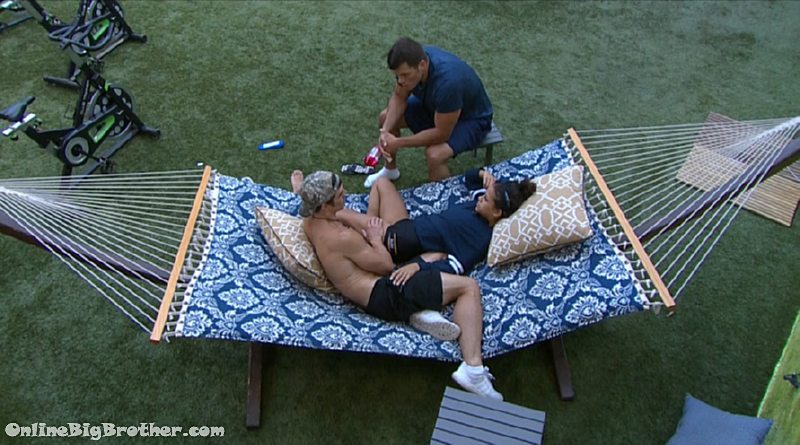 7:20pm Hammock Mark, Cody and Jessica
Jessica – I can't imagine the temptation being better than 3 weeks of safety
Jessic a- holy cow what gets better than that
Mark could be money could be co-HOH, could be golden power of veto, could be pick a replacement nominee, could be anything
Jessica – do you know it's Cody's fault that Paul got the temptation.
Mark – the only things Cody did is bring out peoples true colours week one instead of waiting week 3
Jess – that's true, the house is divided.. you have the floaters, your have the 'Switzerlands', you have the athletes, you have the people that are playing both sides, and you have the socially inept.
Mark – 5 groups… Ok..
Jessica look at it right now..
Cody calls Christmas and Paul the "darkside"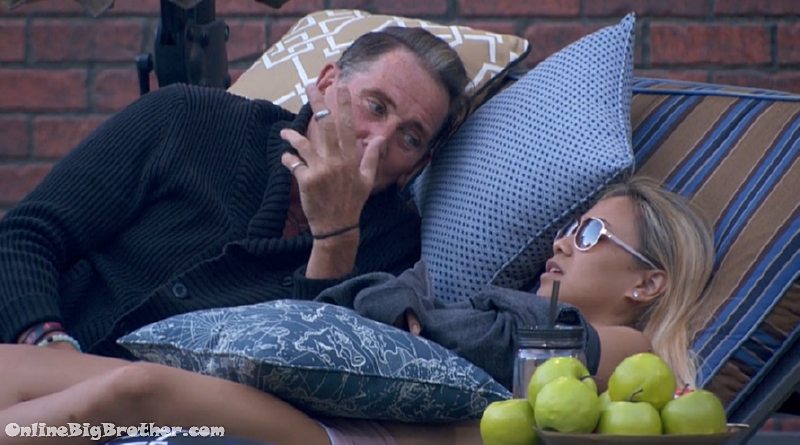 7:29pm Kevin and Alex
Kevin – I'll stick with you guys.. you'll see.. JOsh, me, you, ramses.
Kevin asks what she thinks about Paul
Ales likes him but "I think he's trying to take control of our group, which me and Jason don't like"
Keivn – I know .. it's so early we still have 85 days left..
Kevin says he's going to yell out to Paul ask him to sit over next to them, "everyone in the place will get all f***g nervous i'm just doing it to f** with him"
Hey Paul, why don't you sit over here with us man.. sit over here c'mon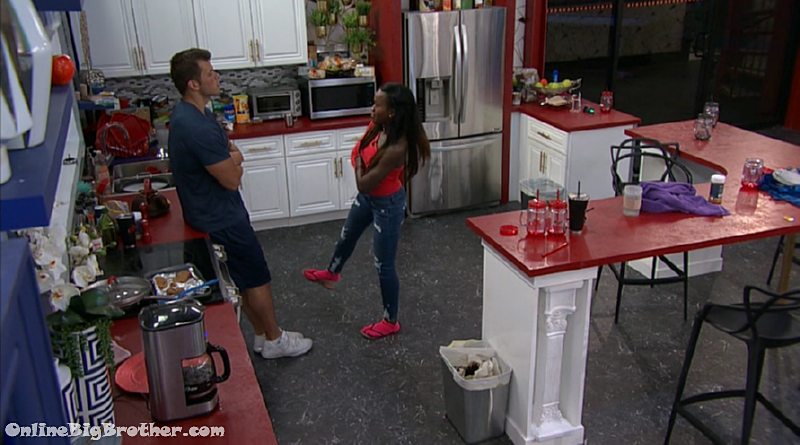 7:39pm Dom and mark
Mark – what if I said I could guarantee Christmas goes home
Dom – you're making this hard for me
Dom – you understand my loyalty is to you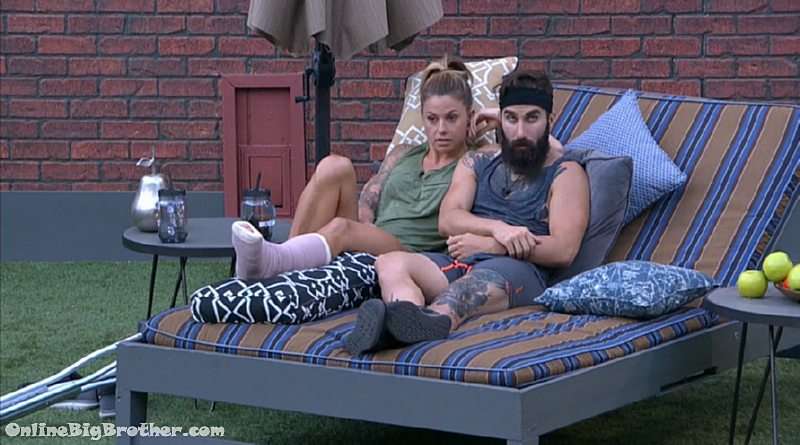 7:42pm Christmas and Paul
Comparing notes about some conversations.
Xmas brings up her conversation with Jessica last night, "we had a good conversation it was positive" (that's not what she said) Christmas brigns up Jessica saying she didn't know what Cody was doing.
Paul says it's bullshit that Jessica was saying she didn't know what Cody was doing.
Xmas – Alex told me she had a commitment to Jason and Julia
Paul – Whose Julia
Xmas – ahh shit Jillian
Xmas says Alex has no interest in playing with Cody. Alex has a true disdain for Jessica.
They are both confused about mark.
Christmas – he's avoiding the f** outta me because he can't lie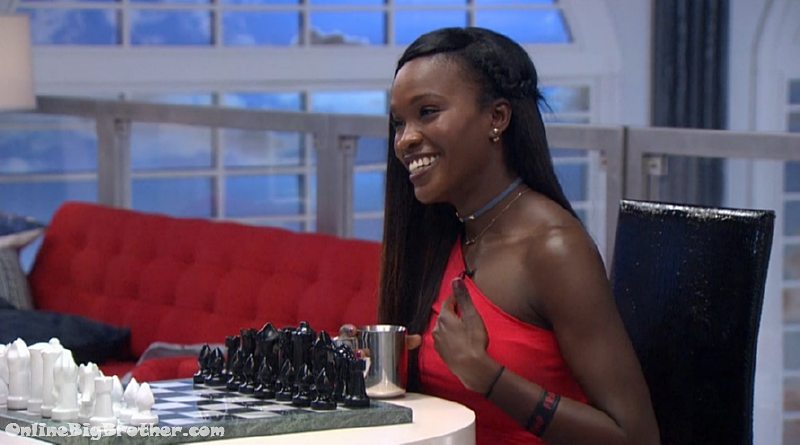 7:48pm – 8:30pm Mark and Dom
Mark – I'm so torn
Mark says getting rid of Christmas is the safe route.
Dom starts coaching him on how he needs to stop spending a lot of time with Cody.
Dom – Cody is the enemy in this house..
Dom says if is was here she would play in the middle until wins HOH and has to make a decision.
Dom really stresses for him to hide the time he spends with Cody.
Mark tells her he doesn't want Christmas in the game he doesn't trust her.
Dom – one couple is going to be blown up..
Dom says God told her she can't trust Jessica.
Dom goes to explain how she's friends with Cody and Jessica was acting Jealous.
Mark says Paul is ok with them going after JOsh, Ramses
Mark – a lot of people are going for that HOH this week
Neither Dom or Mark want to win the HOH.
Mark says Paul really trust him.
Dom agrees says she talks to Paul a lot.
Dom – If I were you I would work with Paul.. He's smart.
Mark says "They" don't trust Raven because she's being seen as a person that stirs the pot.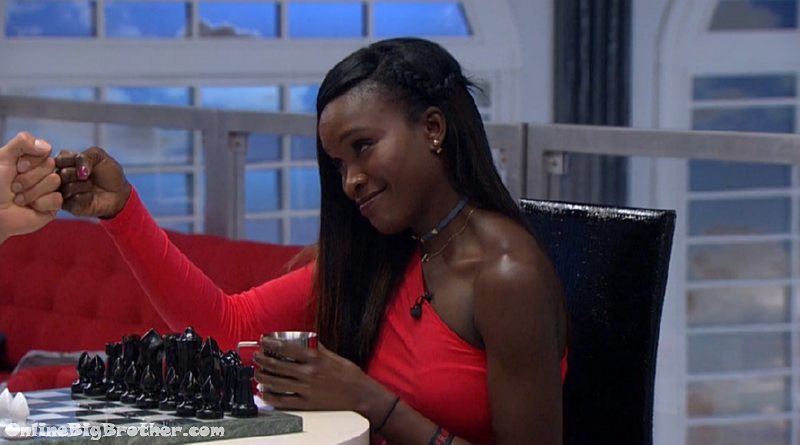 Mark says he's going to talk to Christmas tonight.
Mark – For whatever reason he just doesn't like her, She reminds me of that blackjack dealer Vanesa that's who she reminds me of. (LOL)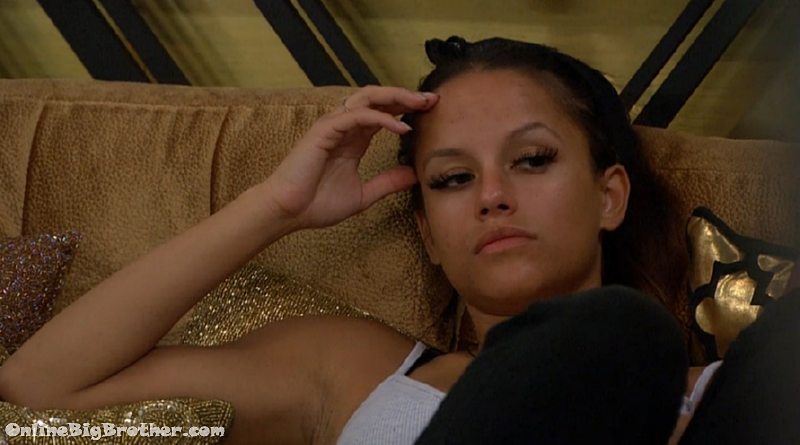 8:42pm Jessica and Cody HOH
Jessica is pissed off, "I'm so mad I didn't expect it from her"
Cody says he found his marine corp buddy loyalty with Jessica and Mark.
Jessica says Elena only wants to play the "I'm friends with everybody" game.
Jessica tells him he has to stop telling Elena he'll protect her she has to know what fear of getting evicted feels like.
Jessica – she feels too protected and thinks she can do whatever the f** she wants
Jessica – she's going to coast by in this game and not do anything, It angers me.
Jessica brings up how Jillian has been spending time with Josh all day.
Cody thinks they have the votes to evict Christmas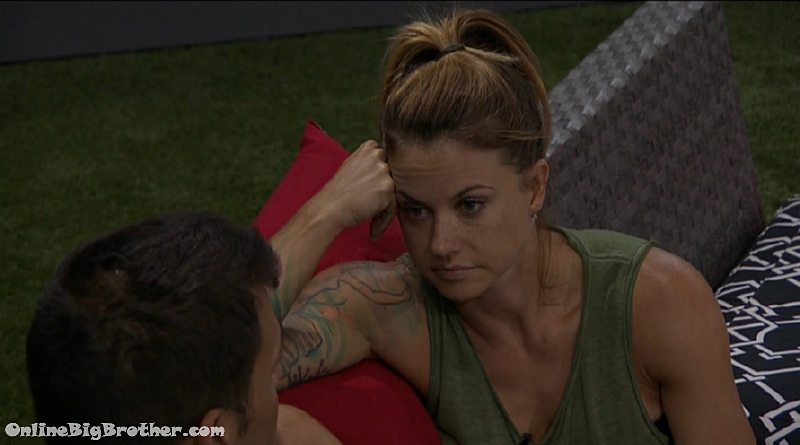 8:44pm Mark and Christmas
Mark says Cody didn't tell him anything about the plan to put Paul/Christmas up.
Christmas believes him.
Links to the ranking system
Rank your house guests here
For those of you that like Statistics here are some expanded reports.