Check out our BB19 Ranking Grid. . rank your houseguests here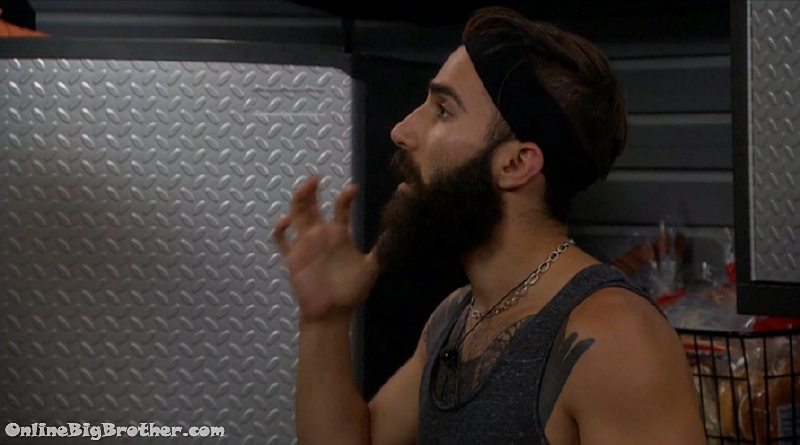 2:43pm Storage room Jason and Paul
Paul says he's worried that Cody has a secret key. Adds that Mark is up there with them right now but he trusts Mark.
Paul – It might be a reset week
Jason – Ohh man
Paul tells him to stay cool he's got Raven and Matt to start to change their minds about Cody.
Paul – right now I trust you I trust Kevin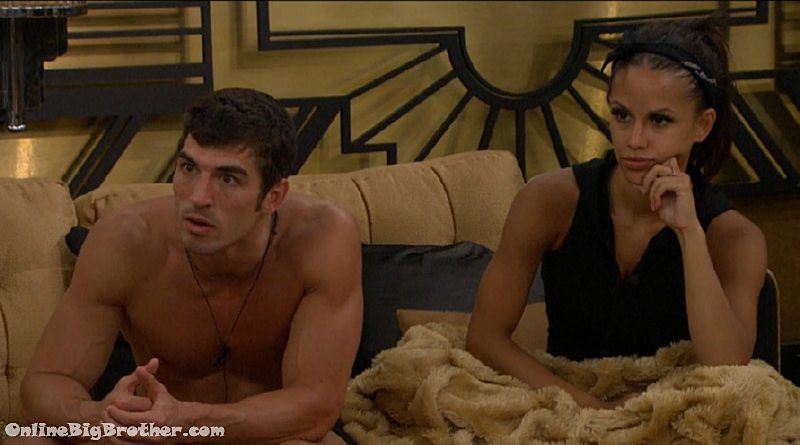 2:46pm HOH Jillian, Cody, Mark and Jessica
Jillian tells them the votes she has are, Alex, Jason, Josh, Kevin, Ramses. They tell her she needs the 6 votes to stay.
Cody tells her she needs it to be at least a tie.
Jason joins them.
Jessica says they have to LOCK Josh and Ramses
Cody warns them that Christmas is going to strong arm people
Jason says xmas can spread poison around the house.
After Jillian and Jason leave. Jessica tells Cody she really wants Christmas gone this week.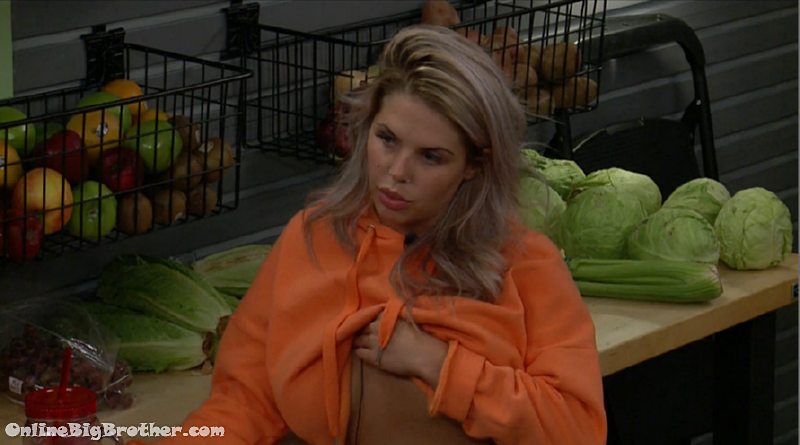 2:58pm Mark, Paul and Elena
Mark says Cody never mentioned anything about a power.
Mark – I am voting to keep Christmas in.. I'm being very honest with you.
Elena says it was not a good look that Mark, Jess and Cody were up in the HOH when Christmas came back in.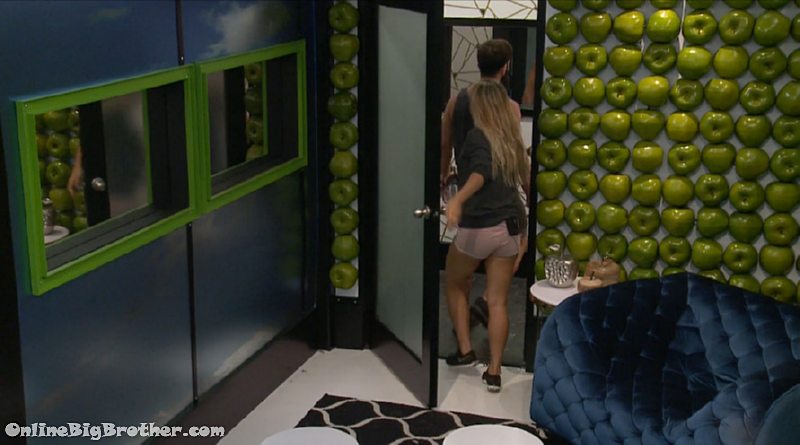 3:01pm Alex and Jillian
Jillian says Jessica will vote for her as long as she gets the numbers.
Paul comes in and asks if there's anything weird going on upstairs.
Jillian – no
Alex leaves with Paul to make burgers.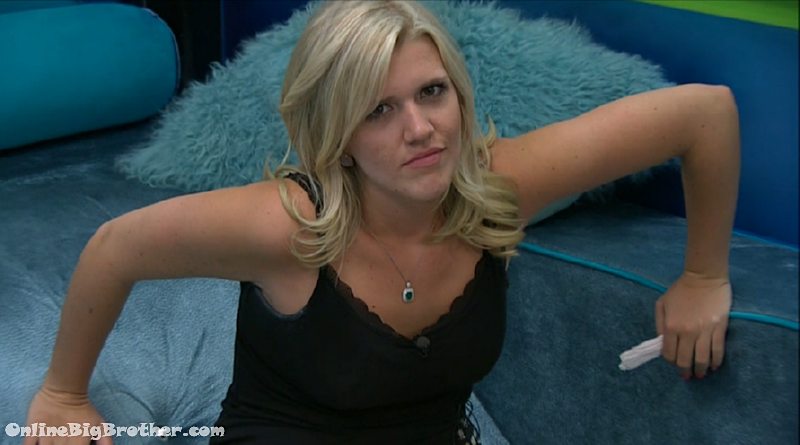 Jillian WTF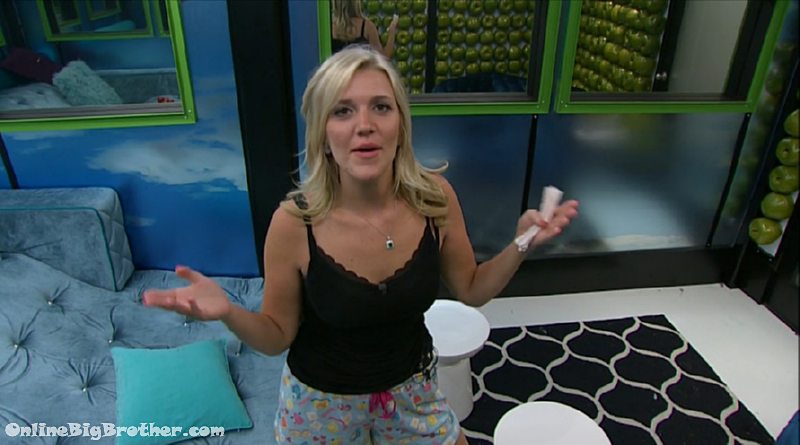 Jillian – because i'm on the block nobody wants to talk to me about anything…. Feeds cut to Christmas and Kevin Chit chatting.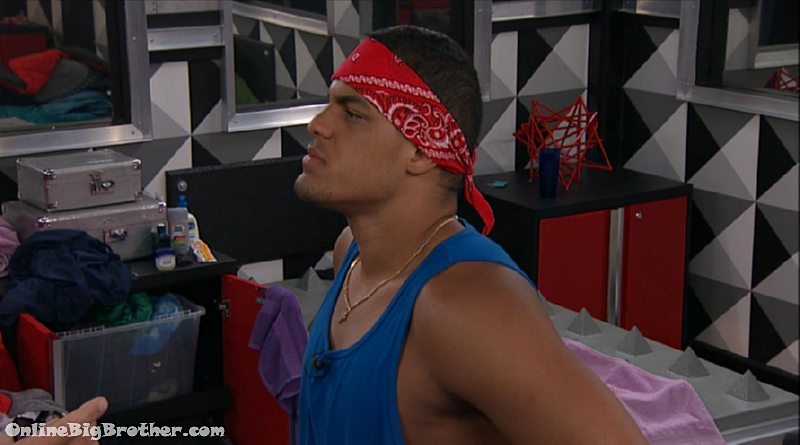 3:04pm Jason and Josh
Jason saying Paul wants to Keep Christmas.
Jason – I want to work with Paul you know what I mean but he doesn't want to tell me too much
Josh – I'm getting HOH on thursday and i'm telling everybody start sharing shit or you're going on the block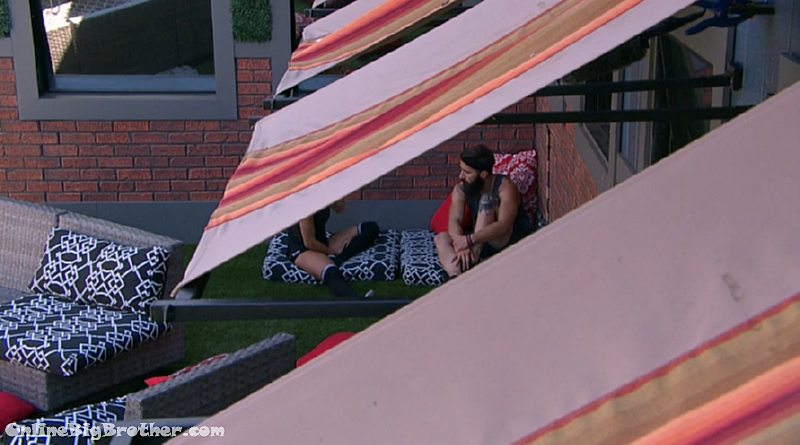 3:08pm Jessica and Paul
Jessica tells him Cody had the blog and tweets.
Jessica – where are you voting
Paul – I don't know
Jessica doesn't sound convinced.
Jessica says xmas told her she on her radar and 1/2 the house is after her.
Jessica – she is campaigning against me
Jessica- if you win HOH are you going to put Cody and I on the block
Paul – Nope
Jessica- – Look me in the eye and say that
Paul – Nope
Jessica says she won't put Paul up if she wins HOH.
Jessica says Matt, Raven and her are all on the same page with their targets. I told Cody the first chance I get to backdoor Alex i'll take it. Jessica says the only reason she's voting Christmas out is because she started campaigning against her.
Paul tells her even if he's voting Jillian out doesn't mean he's against them.
Paul is positive that he was Cody's target from early on that is why he got the pendant of protection. Cody must have said something in the Diary room and it was aired.
He tells her Christmas is not the only person in this house that is targeting Jessica and Cody.
Paul – my advice for you is you're in a tough spot…there is no advice.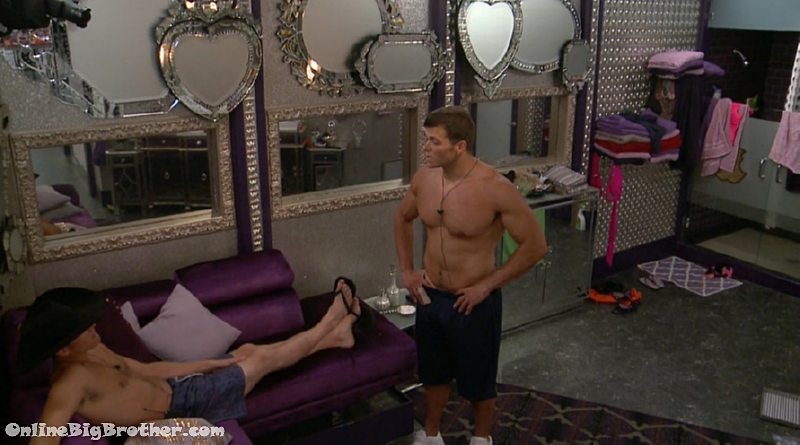 3:40pm Mark and Jason
Mark says he doesn't know who he's going to vote for.. People's true colours are showing and he's shocked. Marks says he's being forced to reevaluate who he's associated with.
Mark – I'm stressed..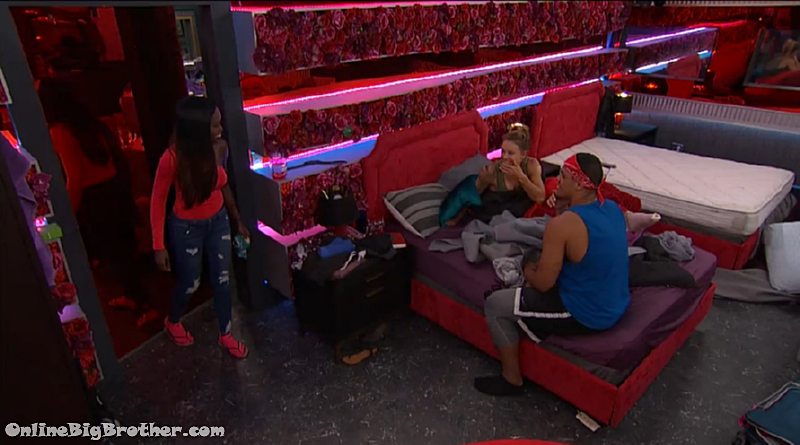 3:48pm Josh and Christmas
Xmas says Cody is playing both side of the house and is trying to get them to fight it out.
JOsh says he's backdooring Cody if he wins HOH.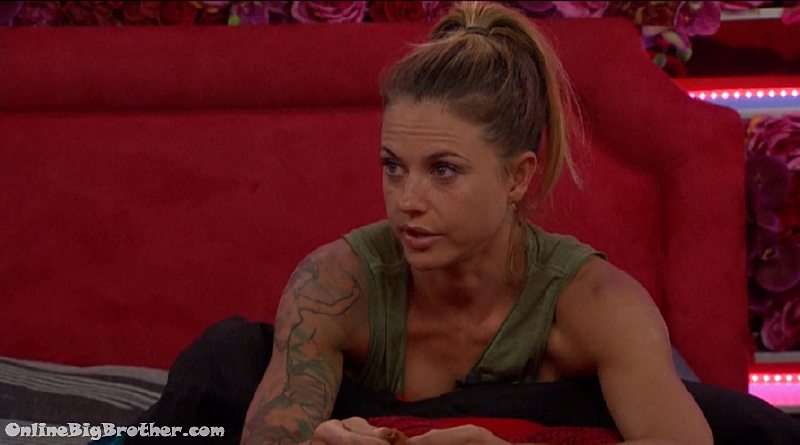 3:50pm Dom and Christmas
Xmas – you know Cody is recruiting the other side openly now.. Christmas says last night cody asked everyone in this (the other side) that he's tired of working with his group, said his group had "Shaky feet"
Xmas – he's switching and making deals..
Xmas says Cody has made a deal with Jason, Alex and Ramses.
Christmas – If I leave this week you guys are fuc*
She lists of the people on the other side of the house, Jason, Alex, Jillian, Cody, Jessica, Ramses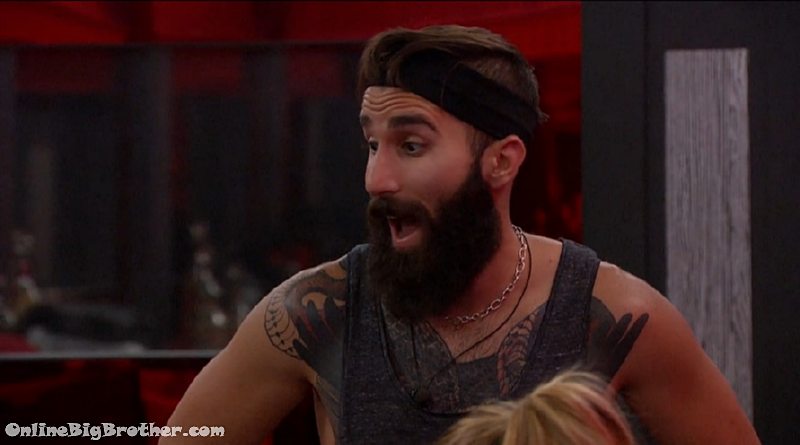 Paul comes in "they got a army brewing..
Xmas – against
Paul – against
Paul thinks if they can get Kevin they'll be fine. Warns that Jason might be flipped the more he goes up to the HOH and talks to Cody.
Xmas – If that Motherf**ker breaks my goddamn foot and flips on me I'll cut his jugular .
Paul says Cody was trying to join the other side of the house because he's pissed everybody off.
Paul tells her not to worry about Mark.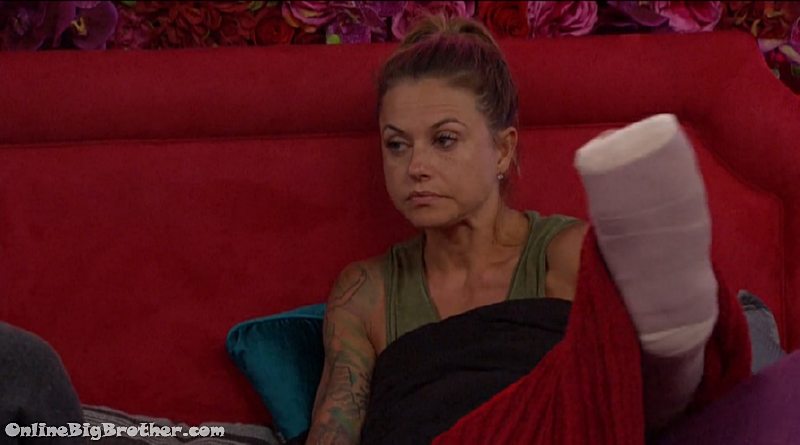 4:10pm Christmas and Alex
Christmas goes on about how Cody is playing both sides of the house.
Christmas says Cody told her she's "good, safe" and "She's going to Jury with him"
Christmas says Cody is the next Megan.
Alex says the reason Cody told her she was on the block was because she said she was going over the showmances.
Alex – I never lied to him.. I said I might not go after you (Cody/Jess) but I'll go after somebody..
Alex points out the showmances are 6 people that's a lot plus they have floaters on the side, "Like Ramses"
Christmas says Ramses is a snoop and a mope.
Alex says Jessica has been staring at her these last few days. Tells Jessica to get over it she had a boyfriend for 7 days and he's her friend.
Alex says they'll talk again after Wedensday's MRI.
Christmas – Cody's a f***G snake.. he's still working the people on this side and he going over there…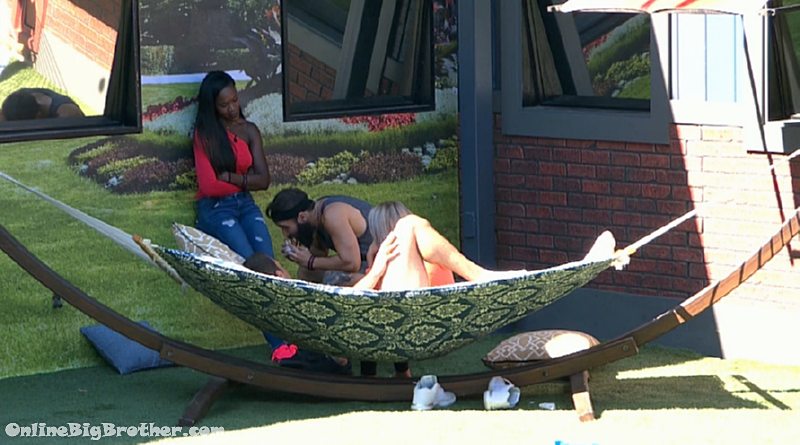 4:20pm Paul, Elena, Mark, Dom
Paul tells them he thinks COdy threw the POV to Alex.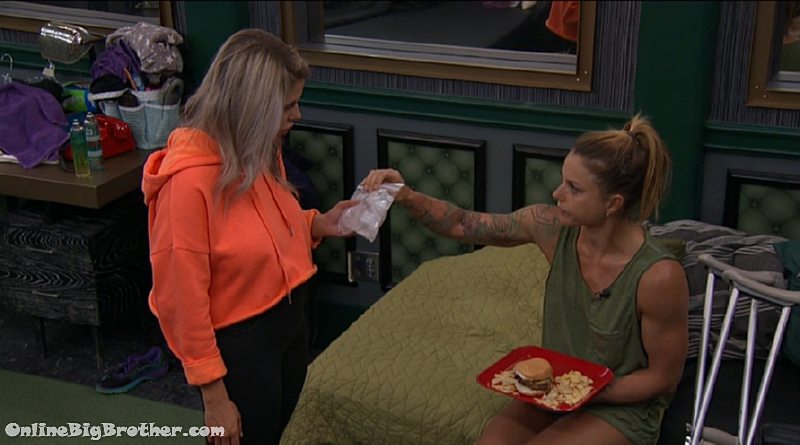 4:31pm Christmas and Cowboy
Christmas tells him Cody is the Male Megan "He's playing both sides"
Jason says he's not a fan of Jessica's
Christmas suggest they take her out too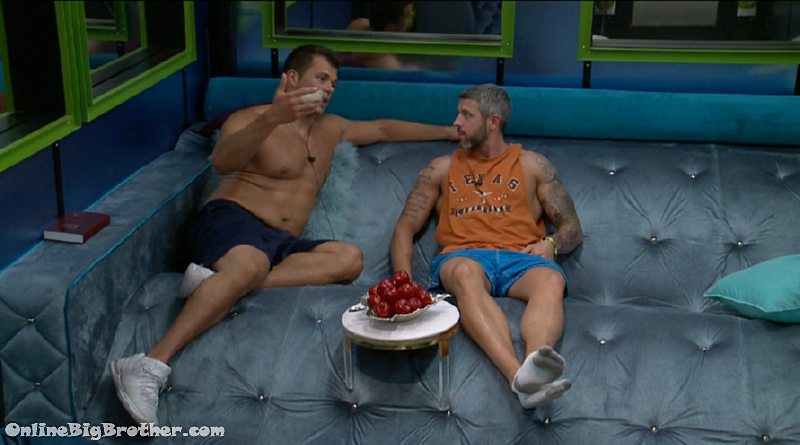 4:32pm Matt and Mark
Matt tells him the reason why Cody wants Alex and Jason in Jury is because he can't take out Jessica.
Matt wants Cody to go as far as possible but he's not on board with that plan of Cody's to take Jason/Alex with them.
Matt "Cody picked that battle. None of us wanted that battle."
RAven joins them.
Raven – I don't want Jillian left in the game.. she goes with Josh.. Creepy mother f***r
Matt says Jillian is a number against us Christmas is a number for us.
Raven says what Cody did was not smart he didn't think it through.
Paul joins them..
Links to the ranking system
Rank your house guests here
For those of you that like Statistics here are some expanded reports.