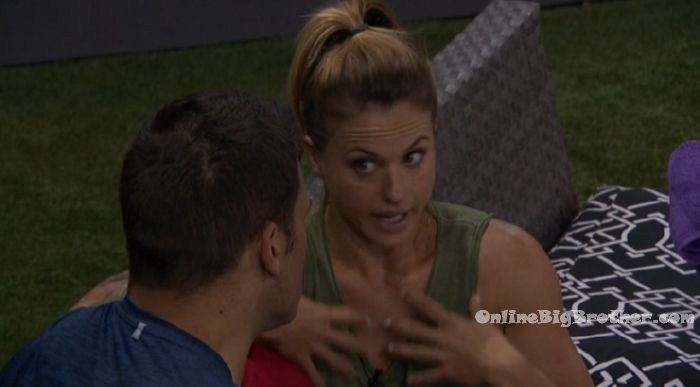 Check out our BB19 Ranking Grid. . rank your houseguests here

9pm – 10pm Backyard couches. Mark & Christmas.
Mark – I would never tell you I would vote for you if you only stayed working with Cody. I'm not that naive. It was inexcusable. Christmas – I don't understand why he did what he did. Mark – I could have handled yesterday so much better. The whole thing with me not questioning Cody. I was building a genuine friendship with Cody. So I looked at the friendship more than the game play. Obviously game play I don't understand at all and that's where I'm torn. Christmas – so we're not developing a friendship? Mark – no, no, no we are. We're creating a friendship and I wasn't there for you yesterday or today and I am sorry for that. Christmas – thank you. Mark – You mean a lot to me and my actions didn't show that yesterday and I'm sorry. Christmas – I hope that Cody is as good a friend to you as you are to him. If I get HOH, things are going to change. Christmas – it absolutely made me feel like I was out when you didn't come talk to me after. I was really, really hurt because I thought we had something. It really hurt my feelings. Christmas starts to cry and Mark hugs her.
Mark – you deserved better yesterday and I'm sorry. I will be there for you. One way or another I am going to make it up to you and show you how much you mean to me. Christmas – I understand it and forgive you. Mark – I miss my Christmas joy. Christmas – I miss my Mark. And I am not ready to leave. Mark – its nice to be able to talk to someone, communicate and just be genuine. I don't think I've ever had that before. I'm finally being real with myself and I like that. I'm going to cry. Christmas – You're doing a great job. Its okay to mess up. You're a good person.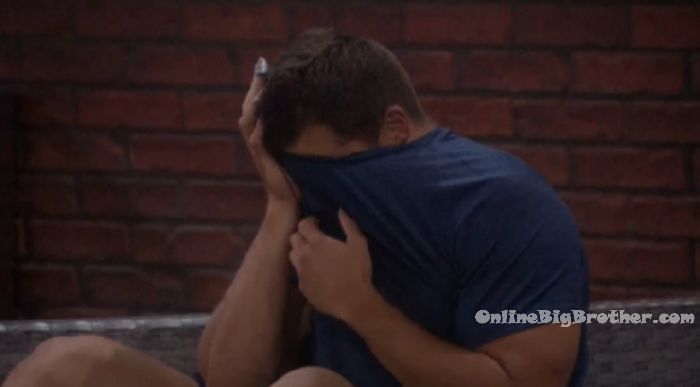 9:10pm – 10pm Backyard – Raven, Dom, Paul and Elena.
Elena – he was saying that he f**ked up and why he did what he did. Paul – he said he wanted to be the Maverick. Elena – I gave my word to people and he created a scenario that made it so I can't keep my words. I don't like that. That hurts me. Moving forward I am going to vote to keep Christmas because that is best for me. Jessica is a friend to me and feels that I should vote to protect her. This is not her fault. My disagreements with Mark and Jessica come down to this because I am decisive they think I lack emotion and empathy and I don't. My game is a little f**ked. Christmas is best for my game and best for my moral compass. Dom – I think you should go with your gut feeling. Elena – what is your plan? Paul – its so beautiful .. like butter on a skillet. It's checkmate! Elena – if Cody goes home Jessica is going to be extremely emotional about that and hopefully she will recover from that and be able to play a level headed game. Maybe with us, maybe not! I have a little bit of doubt in her. Paul – I have a lot of doubt. Elena – I am going to keep my doubt and distrust in the front of my brain until I feel otherwise which I don't think I will. Dom – do you really think everyone in the group will trust someone that was attached to the very person that totally killed our game.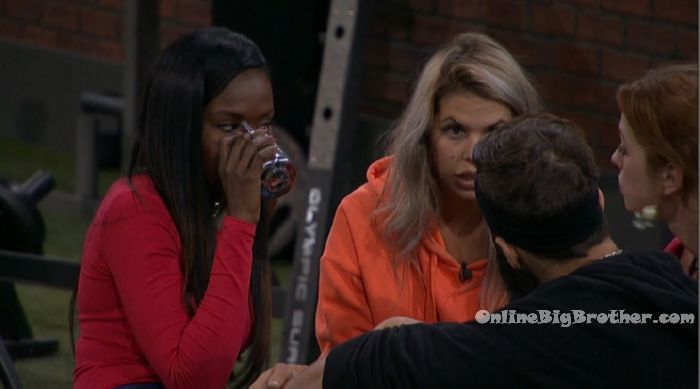 10:30pm Kevin & Alex talking by the pool.
Kevin notices Mark and Christmas rubbing each others backs. Look, look its a hug fest! Alex – this is getting weird. Isn't that Elena's boyfriend? Kevin – scratching his back. What the f**k is going on? We have to get one of the 3 big guys out… I'm telling you. Mark, Matt or Cody. Alex – I think Cody is the one we need to get out. Kevin – okay I'm down. Alex – we have to get the loose f**king canon out of here. Kevin – if they get to the 6, you'll have 6 people that will vote however we tell them. Then Paul is going to have to jump on. Alex – see he wants to control this .. he can't he has to jump in. Alex – why do you want to keep someone who is lame? When a horse is lame, you put it out of its misery. Kevin – I can't wait to get some of the guys. Do they think they're cool? Alex – I think, they think they're cool. Kevin – not cooler than me? Alex – oh no they think they're cool with you. Kevin – oh okay. But they think they control the board right? That they're just pawns right?! And they're the king and queen, right? Alex – oh man, Jessica drives me nuts. She's so fake! She never talks to us and then the other day she came out and tried to talk to us. Kevin – she's easy to get. They're easy. Maybe Dom is hard to get. What if we get lucky and Jason wins. Alex – hopefully Jason or I win. We'll take care of you guys.
Try the Live Feeds FREE for 7 DAYS! Click here for your: Big Brother 19 FREE Trial
10:40pm Matt – do you have any theories as to why Cody wants Alex and Jason in the jury? Elena – no, I don't. I think Cody got himself in a pissing contest he couldn't win. Matt – Absolutely. Elena – I think he wanted to make the maverick move and go down in big brother history. He got a little big for his britches. And I get it sure okay! Matt – but why would he have, what is his motivation. Elena – he thought Paul was coming after him. Matt – which couldn't be further from the truth. Elena – He got caught with his d**k in his hand. At this point he is reaching for people. So he is reaching for Jason and Alex jut to have numbers on his side. Matt – what did he say to you? Elena – he asks how we could get back on track and I said I don't think we can. Christmas comes into the room and the conversation ends.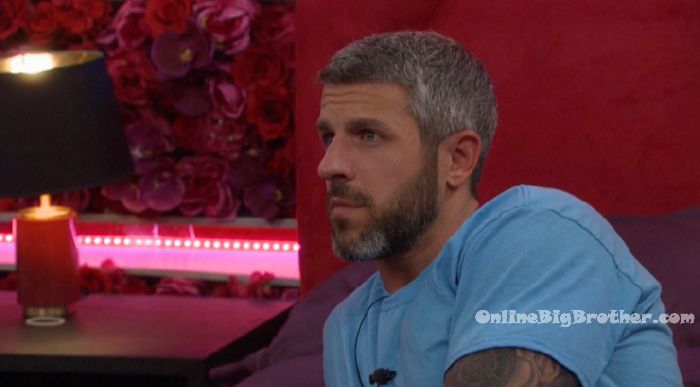 10:50pm Paul & Josh in the storage room.
Paul – do not flip no matter what. Josh – if I get f**ked.. I know you wont to that. Paul – no, I've got better things to do than that. Josh – I went in there (DR) and gave them my game plan. And told them I'm voting to keep Christmas. Paul – Its going to be fun. Josh – I can't f**king wait dude! Josh – I feel like a I got a second chance at this motherf**ker. Paul – you do! And don't f**k it up. Josh leaves. Paul pretends to shoot himself in the head.
FLASHBACK and watch everything you missed: Live Feed 7 day FREE Trial!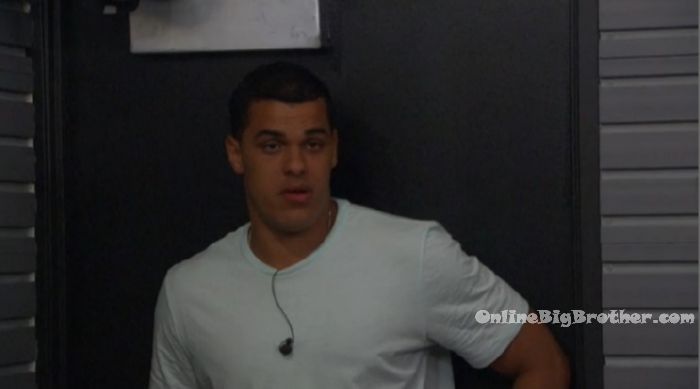 11:10pm The house guests are in the kitchen making food.
11:25pm HOH room – Cody and Jessica
Cody – do you see that advantage of having the opposite side on our side? Jessica – yeah, until people start showing me that they're loyal to a fault then I will just use them and I don't have any loyalty to them because if they want to tell me that they're going to vote to keep someone (Christmas) who literally looked me in the eye and said I'm coming after you and Cody then that's not loyalty. Cody – well then we can't just keep calling them the other side should we just stick with the outsiders? Jessica – its weird how our group split down the middle. Its me, you and Mark. And Raven, Matt and Elena.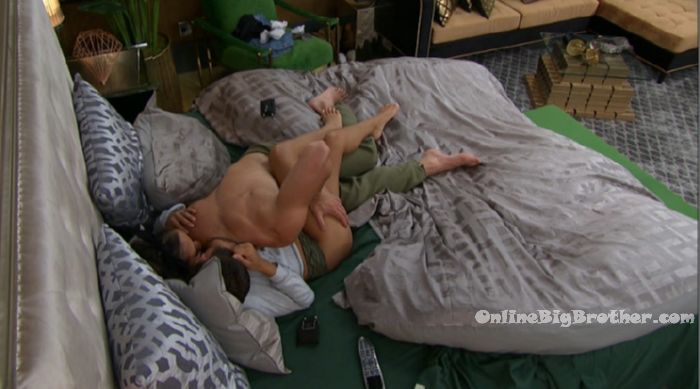 11:45pm – 12am
Matt – the last thing I want to do is go against Cody & Jessica. I'm not saying we're with this side of the house because I'm with Paul. Cody is a maniac dude. Raven – once we keep Christmas, Cody and Jessica will come down on us. Matt – so what are we going to do send both home? Raven – we might have to babe. She was literally so aggressive it was unreal. She said if we keep Christmas.. Matt – Okay lets go! You think coming at people like that coming into a week when your main ally (Cody) can't compete, you better strap up bro. Why is this happening? Raven – I told you that Jessica was lying and she didn't know they were going to put Paul up. All those lies she just told me. I can't trust her. If things don't go her way, then she doesn't want to have anything to do with us. Look at what Cody just did, he didn't consult our opinion and he blew up our game. We are literally starting over. I love her outside of this game but inside this game .. not a fan. Matt – I told Mark the reason he wants Jason in jury is because he could literally not vote you or Jessica out. He wants someone in jury that could. Raven – that makes sense.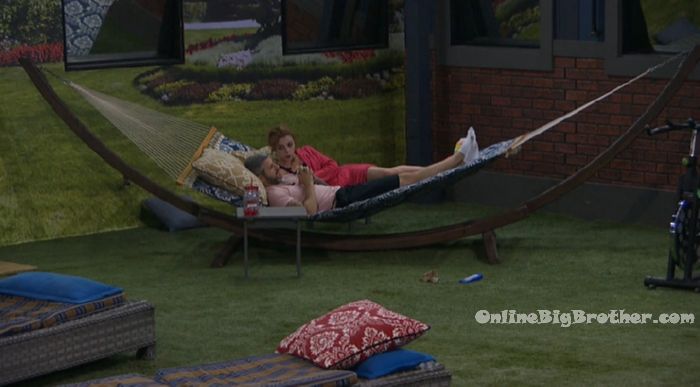 12:15am Alex & Jillian. Havenot room.
Jillian – so we just need a tie and then Cody will break it. Alex – if we piss off Paul we are f**ked and Cody isn't strong enough to take him on. We just need to stay cool and not piss off Kevin. He said he is going to vote for Christmas… he's not he is voting for you. He gave me his word. Just leave everyone alone. Jillian – what about Mark? Alex – Cody said he would talk to him. We should be good unless someone is lying. Jason and I aren't. Alex – we have 5 plus Jessica. Jillian – and if we get Mark, that's seven. Alex – but that's how important it is, we're willing to throw our lives for you to keep you in.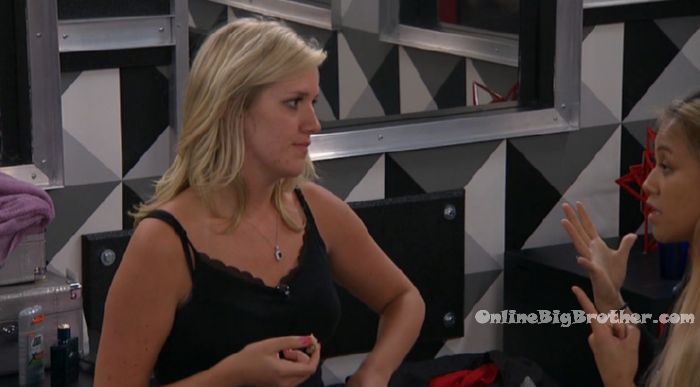 12:15am Mark & Elena. In the backyard.
Mark – I don't feel like I can be open with you. Elena pauses and then says I appreciate you telling me that. You good? I'm going to go to sleep. She then heads inside.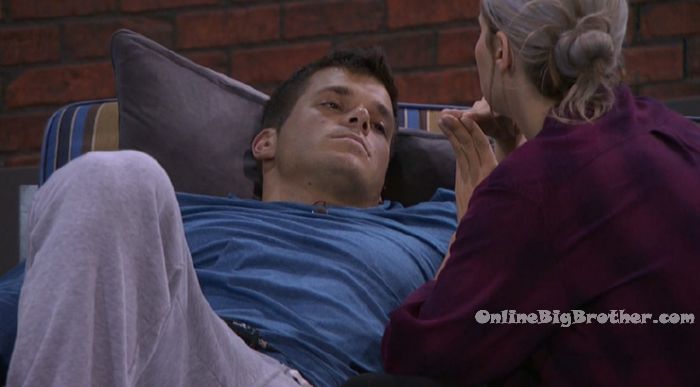 12:20am Jesssica and Cody in the backyard. Jessica – when someone betrays me that I don't care about, I can handle that. When someone I care for betrays me, that hurts. That's why I was so f**king steamed. Her and I could be like sisters. And her saying that she is going to vote to keep someone that is specifically telling me that she is coming after us blows my f**king mind. And it really hurts. Cody – do you think that Mark has any influence over her? Jessica – I think that if Mark pressures her too much she might walk away from that and start hanging out with other people more. Cody – that's going to light a fire under Marks a$$. Jessica – but you need numbers in this game. Cody – shakes his head and says you need power. Jessica – you need numbers too. Cody – we have the numbers. Jessica – our numbers will fluctuate week to week if we play both sides. Cody – we have to play week to week. There's no safety now and I think we have a good grasp on both sides. I am telling you we are the only ones that have a hedge now. I will do whatever you want to do next week. Jessica – I like you more and more day by day. Cody – you stood by me and barely questioned me. You did but I understand it.
12:40am HOH room – Jessica & Mark.
Mark – I talked to Christmas because I hadn't really talked to her since everything happened and I said this isn't even game conversation this is a personal conversation. I neglected you the other day, we were friends and I wasn't with you. I retreated and I'm sorry. And when she broke her foot and came inside I watched and didn't do anything. I said I am sorry. But she wanted to reiterate to you .. I think Jess got the wrong idea. I am not blaming her for Cody's actions and that's what she probably told Elena. The past few days have shown me who is loyal. Paul comes in to use the washroom and then leaves. Mark – she wants to reiterate that she is not coming after you. Jessica – I feel that is just backtracking. I feel pretty set on .. I have people telling me that she is not coming after me … but when she tells he out of her mouth its hard for me not to believe it. Mark – I might be f**ked. I need to have a few other conversations. Next week I might be in a tight spot. With her staying I don't want that to change things between you and Cody. Jessica – we don't know if she's staying. I'm not giving her my vote. She looked me in the eye and made her intentions clear. If she wants to back track, she can back track but she is going to have to do a lot f**king more to convince me she's changed her mind in the last 24 hours and her delivering messages through other people is not doing that. There is no way in hell I am giving her my vote because I am protecting him (Cody) and myself. Mark – I am not up here to campaign for her. I just had a sit down with her and she wanted me to reiterate that message. Jessica – how brave of her. Lets get something completely straight. I love Christmas as a person. I think her strategy last night was stupid and I don't whether she thinks I'm a weak person that can strong armed or intimidated but I am not that person and she f**ked up. Cody joins them. Jessica – think about what you want to do. Mark – I am. I already told Jess that on Thursday you will see where my allegiance lies. She (Elena) is very tight with them and I am not. I am tight with you two.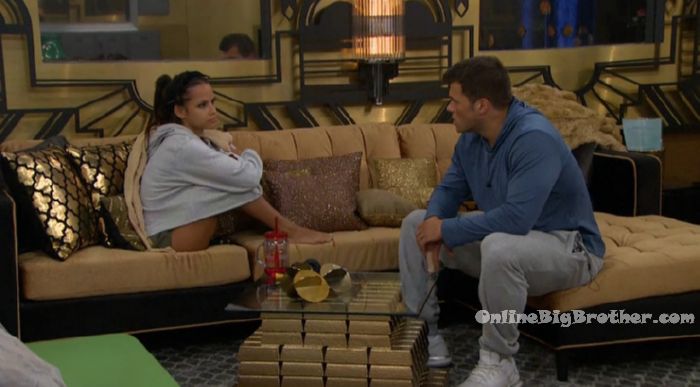 12:45am – 1:05am Paul and Elena in the bedroom. Paul – do you know where Mark is right now? Elena – no. Paul – he's talking to Jessica upstairs right now. Alone. Like dude she is drawing lines in the sand already proposing … she said to Raven – if you vote for Christmas to stay then that means she is going to come after me and you're drawing a clear line in the sand. She's attacking it now with that guilt trip. Paul – Matt and Raven said that they are not going against Christmas. Elena – hopefully Mark is telling her that he isn't too. Paul – hopefully. But you need to keep tabs on his because he is easily manipulated. Elena – there is something that I want to talk about but I'm not allowed to talk about it. Paul – why? Elena – what are things we're not allowed to talk about? DR. When ever people (DR) are asking you questions in this house and they are only asking you about certain things it like gets in your head. Paul – I think that's what happened to him (Cody). I think that is why he felt like you were a target or a threat. Or it was a you against him. Paul – he mentioned that to me in and I was like dude you can't assume that. That's why they've been dinging everyone so bad because you're making assumptions off of your own paranoia. They call you into the DR and ask you questions about it, doesn't mean you're the only one being asked those questions. They could be asking 6 people those questions and taking the best reactions. He is wrong. He is a fool for thinking that. Paul – Make sure Mark is okay. Keep tabs on people voting for Christmas. Make sure Christmas stays. Have her as a number and get Cody out.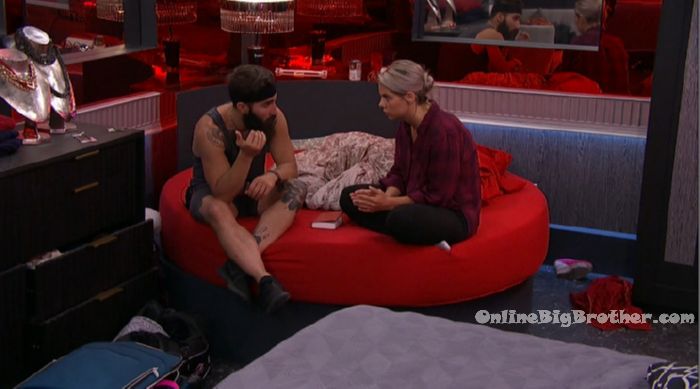 1:55am HOH room – Jessica and Cody sleeping.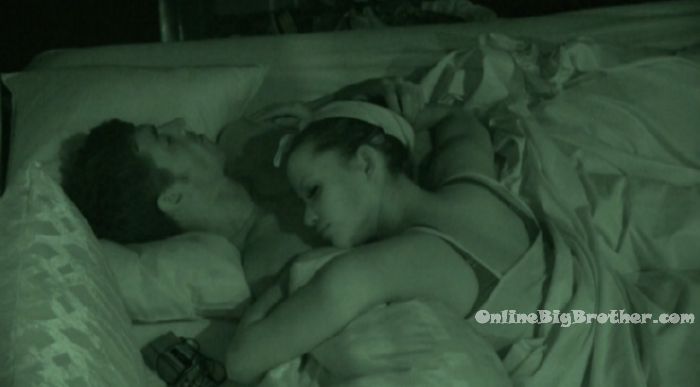 Try the Live Feeds FREE for 7 DAYS! Click here for your: Big Brother 19 FREE Trial

1:50am Paul, Mark, Elena, Dom, Mat & Raven.
Paul – let me put this into perspective for you it is day 14, this game goes on for 90 and some sh*t days .. do you think it is meant to be this difficult because its not because only the people that start playing aggressively early get kicked out. And if any of you have seen any big brother episode in your life.. Matt – what did we say about season 16 it went in order until week 7. Mark – that's crazy dude. Paul – I just don't want you to be blind to it homie. Mark – no I've been up front about it to everyone. That whole thing with Jessica, I didn't realize she approached everyone the same way. Raven – I said to Jessica – Cody put us in this situation. When did Paul become the target and then when did Christmas become the second target. She said nothing. Elena – if Cody doesn't go home next week, he can compete in the next HOH. Paul – which is why toss me that sweet a$$ HOH. My f**king A+ game changing move is very minimal chance of failure, very high chance of success and you will see why and you'll go … ohhhh… They all say lets do it, I'm down. Dom – I don't want HOH. Paul – give it to me because I am hungry. Someone threw a knife in my back and I'm going to throw it twice as hard. When someone loses my trust and its f**king done. Paul – they're using you (Mark) because you're emotional. Raven brings up how Cody said if he was in the final 2 with her he would give it to her because she has a disease. Paul – they (Cody & Jessica) think they have the votes but its only them two. Christmas – lets roll some f**king heads. Mark – I'm down. Paul asks Christmas if she would drop a line and lock eyes with Jessica to rattle her before the HOH comp. Christmas – I will.

2:30am Elena & Mark – Hammock
Elena – you're 100% with us? Mark – yes, I always have been especially after I talked to Christmas and cleared the air with her. But I am still trying to be civil to those to two. Elena – I was too, until she came at me like that. Mark – I didn't realize she came at you like that. I didn't realize she came at anyone like that. Elena – I explained to Cody how I felt because he was able to have a rational conversation at the time. The way Jess is treating me isn't the same as she is treating everyone else. Mark – she feels closest with you. Elena – I feel closest to Christmas so I am going to vote for Christmas to stay. It the best for my game and my moral compass. If Jess had remained on good terms with me I would have done what I could in the future to protect she as a friend and she ruined that. Cody created the situation where I had to choose and not me. I do not feel bad about it. The conversation turns to Elena explaining how she needs to take getting into a relationship slowly. I don't trust people too easily.

Links to the ranking system
Rank your house guests here
For those of you that like Statistics here are some expanded reports.