Check out our BB19 Ranking Grid. . rank your houseguests here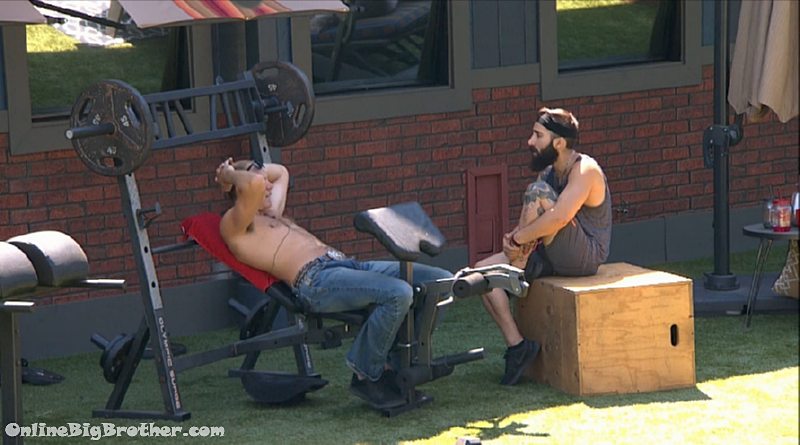 10:39am Jason and Paul back yard workout area (Alex out in the pool)
Jason – everyone got to go
Paul – you have to build the team to get far.. That's why I'm trying to band together good people
Paul – there's a formula and I know it..
Jason says he's got to explain it to the group in the HOH.
Paul – I need to make sure I can fully trust you. That comes with actions
They agree actions are all that matter in the game. Talk means nothing.
Paul says there was a person that kept saying he was safe and look what happened.
Paul says he knows why he was nominated by Cody. Explains that because Cody was asked questions in the Diary room he thought that maybe Paul was up to something.
Paul – I was like Fool… they ask everyone those questions and they pick the best reactions.. It's a TV show (In the Diary room)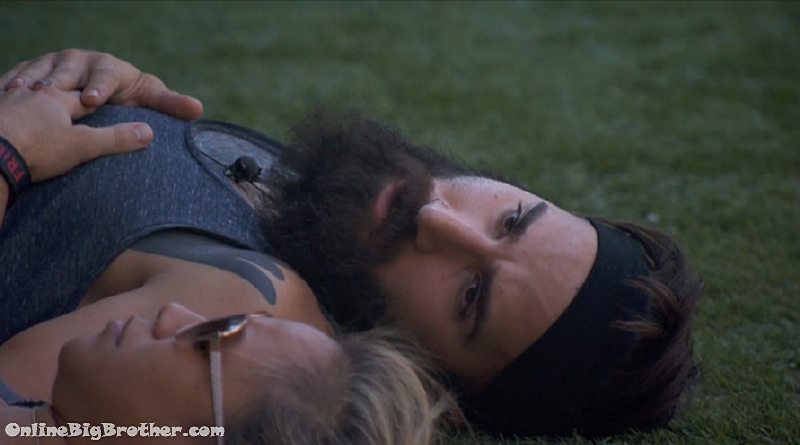 Paul to Alex "Jess is a big target"
Alex – she's running the whole show
Paul – that side of the house is FREAKING OUT
Paul – those people are gunning for Jess and Cody too
Alex laughs, "They f***d everyone"
Paul – I'm telling you my plan is f****g gooold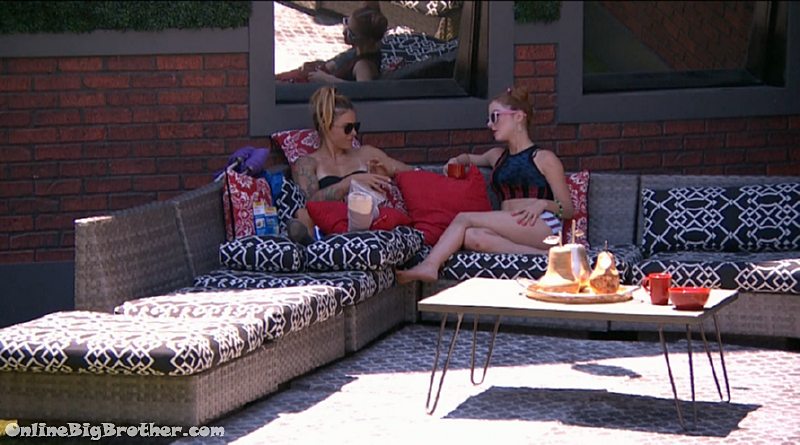 12:05pm Xmas and Raven Backyard
Christmas says Jessica knows she's drawn the line with her, "it's unfortunate she didn't have to draw that line"
Raven – I don't understand why
Xmas – insecurity
Talking about how Jessica felt "uncomfortable" with Christmas in the house so she told that to Cody.
Raven doesn't understand why Jessica would go around lying.
Xmas says Jessica has no other approach, she's not emotionally old enough.
Raven – she's 26
Xmas – she's not old enough
Xmas says Jess' insecurities are causing all her paranoia.
Xmas says Jessica's stories are all inconsistent which is indicative of lying.
Xmas calls Cody "Megan but a dude"
Raven says Cody wanted to make a big move but he didn't have the votes. Raven mentions how Cody should have known that Paul has a huge fan following.
Xmas says her fanbase is loyal as f*** and they know who she is to the core.
Raven doesn't believe that Jessica had no idea Cody was putting up Paul.
Raven mentions that during the POV ceremony she was holding Jessica's had. When Cody nominated Paul, Jessica didn't act surprised but when Paul pulled out the necklace she was shocked and she acted shocked when Christmas was nominated.
They start complaining about Cody..
Xmas – If I stay we have the numbers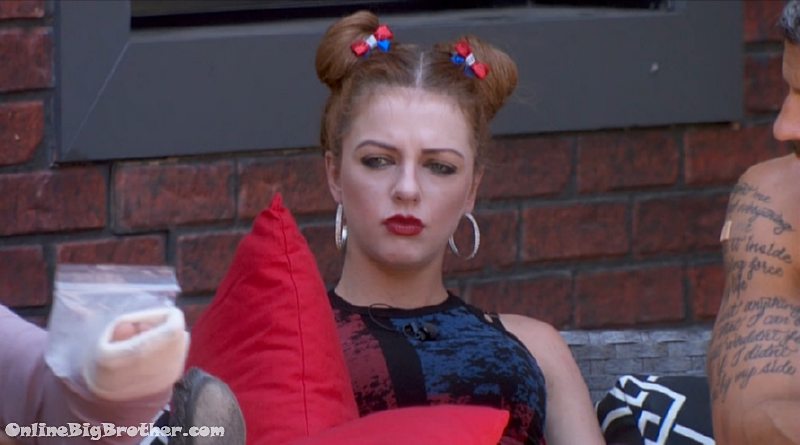 12:25pm Raven, Matt and Christmas
Raven telling them about Jessica saying the looks of her boyfriend matter.
Xmas mentions that Jessica is trying to mend things with Alex. Points out that Alex won't buy it she's too smart.
Matt – I like Alex as a person I don't want to work with her because she's unpredictable
Xmas – so just 3 votes against me
Matt says four
Xmas – Jessica, Alex, Ramses, Jason
Xmas is going to talk to Jason saying she owes him at least a vote. She's going to bring up the medical bills for her foot and how BB isn't covering it. (She doesn't know for sure)
Matt adds that Jillian isn't going to last in the game why does Jason want to help her.
They agree Jillian's not going the distance in this game and is just worth a vote.
Raven says Ramses is weak.
Xmas – no he's not
Matt – he won't be winning comps
Xmas – she sneaks around
Matt – he hops in everywhere.. It's really ridiculous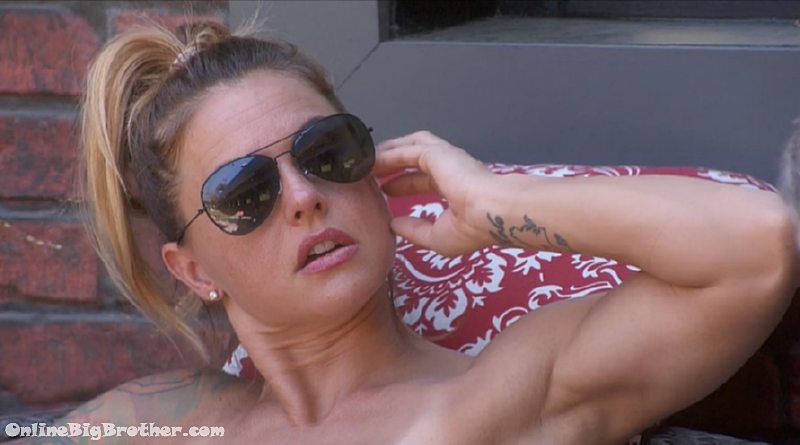 Raven leaves..
Xmas says she didn't want to have to pull "that card" but she will if she has to.
Xmas – you do owe me a f***G solid (to Jason)
Xmas – Cody and I never had a connection.
Matt says he's not convinced her going up was all Cody
Xmas knows that, she explains why she thinks it was Jessica. The whole "the girls" don't like her thing..
Xmas – Jessica doesn't like me around.. The way she behaves you can tell she wants all the attention
xmas explains that she's a flirty person, she doesn't flirt with people that have serious relationship.
xmas about Jessica – codependency and insecurity at it's finest
xmas – I knew days ago she was going to have it for me
Matt brings up how he doesn't want to go head to head against Paul. Paul's been in the house for so long he's got so much experience.
xmas – he (PAUL) could have gone in here and been a BIG D!CK he came in and let us play the way we wanted to play.
Xmas starts complaining about Cody
Xmas – I thought we would have a stand up person represent our Military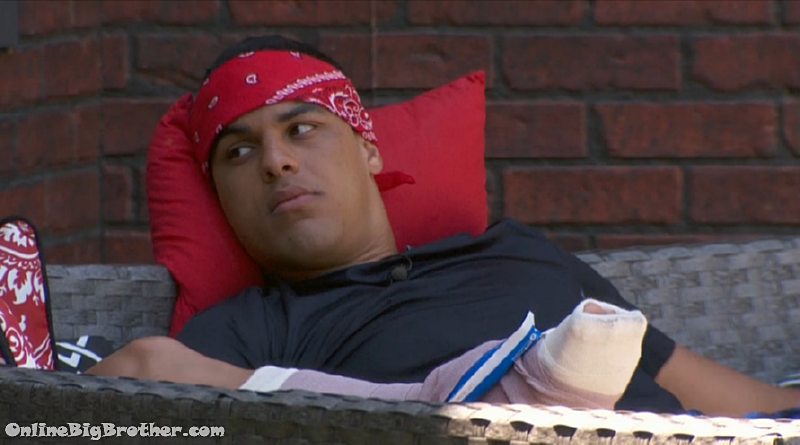 12:44pm Christmas and Josh
JOsh says if anyone asks he's voting for Jillian (he's keeping Christmas but wants that to be a secret)
Josh – I'm completely alone in this game..
Xmas – you're in a good position to stay longer
sounds like xmas is giving Josh tips onto how not to creep girls in the house out.
Xmas – I care about you, you're like my Big Brother. I want what's the best for you because I see who you are.. you don't have to tell me you're a good person I know that.
Xmas – I want to see you do well here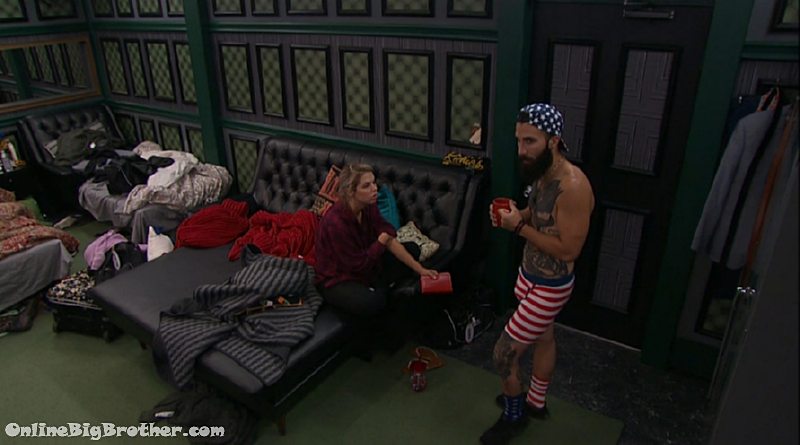 12:54pm Elena and Paul
Elena is worried JEssica is going to blow up
Paul tells her that's a good thing don't be worried about it
Paul – most people just want me to have HOH next week.. Literally
Paul – they're like have it have it
Elena – OK we're in good shape.
Elena says she's worried about Jessica and Cody coming after her specifically.
Paul – I'm going to take care of it, It's not only you lots of people are worried about that.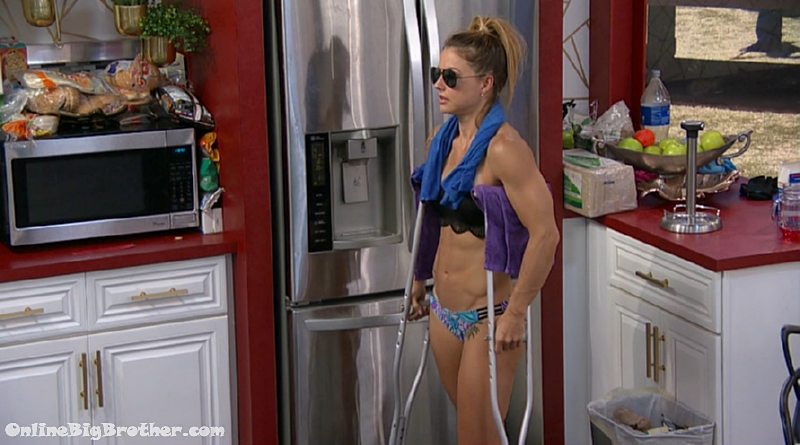 12:59pm Mark and Christmas
She thanks him for talking yesterday. Offers up if there's anytime she wants to talk to not hesitate.
Mark – i'll be here for you, you're such a genuine person.. weather it's about me or you just talking to you makes me feel better
Links to the ranking system
Rank your house guests here
For those of you that like Statistics here are some expanded reports.