| | | | |
| --- | --- | --- | --- |
| POV: | FES | Next POV: | July 21st |
| POV Used | ? | POV Ceremony | July 23rd |
| HOH: | Sam | Next HOH: | July 26th |
| Noms: | Kaitlyn and Haleigh | Have Nots | |
4:50pm Havenot room. JC and Fes. JC – if you use that veto I honestly don't want to talk to you because you're making yourself a big a$$ target right now. Fes – if anyone wants to come talk to me they can talk to me but I am not playing this cat and mouse game. People are scared to come talk to me. JC – you have Haleigh freaking out. You can tell she is feeling like crap. She is counting on you not using it. If you use that and she picks someone like Rockstar .. Haleigh will go home. I don't want her to go home. Just like I don't want you to go home. Fes – I know your game is to do what the house wants but I'm not doing that. JC – Right now I am telling you for the second time don't use it. I completely trust Bayleigh too. Fes – next week if me you, Bay, Haleigh and Rockstar to win HOH. Fes – what if Tyler wins HOH once Kaitlyn goes home.
FLASHBACK and watch everything you missed: Live Feed 7 day FREE Trial!
JC – once Kaitlyn goes home I am going to try and get into Tylers pants like literally. Fes – Like literally!?!? Fes laughs. JC – shut up! Not like that. Once Haleigh stops with all the guys.. telling them she's in love with them and things like that. When she stops because she is doing that with every single guy here.. then I will have more power. Like I've been trying to talk to you. Kaitlyn hasn't left you for one second. She did the same thing when she wanted Tyler to use the veto to take out Swaggy. Stop saying you're using the veto. Don't use the veto. Next week I can't go for HOH. You need to go for the HOH. We can do really good things coming up. Fes – we're going to make jury. JC – don't use the veto. Don't talk to Kaitlyn. Let Kaitlyn cry. She is going crazy. Fes – she is going crazy. JC – I think she told Tyler that she was like in love with him and that she had feelings for him and some crazy sh*t. And that's why she told Tyler because he is weaker than you. Next week I am going to tell Tyler that was her strategy. We have Scottie, we have Bay, we have Haleigh. Fes – we have Rockstar. JC – STOP COUNTING ROCKSTAR! STOP COUNTING ROCKSTAR! STOP COUNTING ROCKSTAR! Fes – that's a number you motherf**Ker. JC – but that is also someone there for them to take when they need someone. Fes – you know how I won the second veto? Will one of them want to come for me… they will be scared I will win the veto.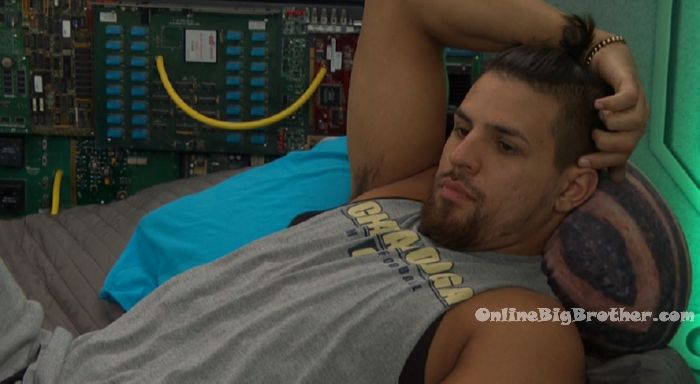 5:23pm Big Brother – Please report to lock down in the HOH room. (Kaitlyn and Haleigh broke the sliding door so BB has to come in and fix i.) Big Brother switches the feeds to BB re-runs..
5:44pm The live feeds return. They didn't fix the door but they took the part.
UP in the HOH room, all the house guests head downstairs except for Sam, Brett and Angela. Sam – this is going to be my new thing. We will celebrate when someone leave even if they don't know about it. Brett – works for me. Brett – I think I have an idea. (of who will go this week.) Sam – you should let her apologize to you if she is going to do it. Brett – okay. Sam – you don't even have to listen. You can sing show tunes in your head if you want. Just let her do it to your face. Brett – I honestly didn't think she would.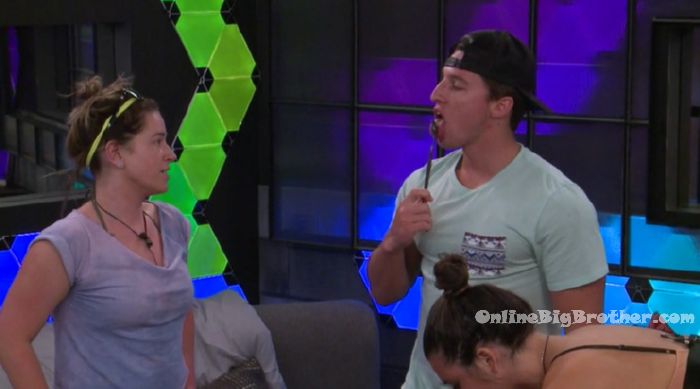 5:55pm Sam's hooch is getting closer to being ready..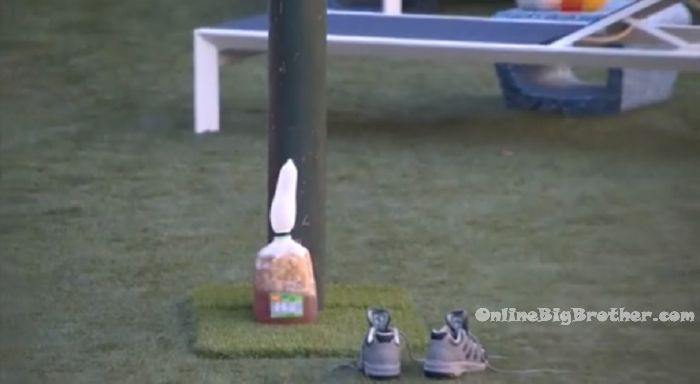 6pm Hammock. JC and Haleigh. JC – I spoke to Fes and I really really think he is not going to use it. Haleigh – okay. JC – I am not even joking I told him if you use that veto, I am going to stop talking to you. Stop talking game and everything with him. If he uses that veto it will probably f**k you over. Do not use it! No more talking. Haleigh – look at Tyler .. Tyler is so cute! I wish he was more confident .. and into me. JC – are you more attracted to him or Fes? Haleigh – I like Fes more just because of his personality and attitude. JC – really? I feel like Fes is the kind of guy that would cheat on you. Haleigh – yeah I could definitely see that. Tyler – is just so quiet. JC – I think he is just kind of gay and confused. Haleigh – and that is not a quality I like at all. JC – I don't even know why I had that feeling.. I don't even like him like him. He's not even my type. I just do think he is a little bit in the middle. Haleigh – maybe. JC – I just don't see him being completely straight. He doesn't talk about girls he just talks about his buddies. I do like he as a friend though. I will take him to a gay club when we get out of here and have a bunch of guys jump on top of him.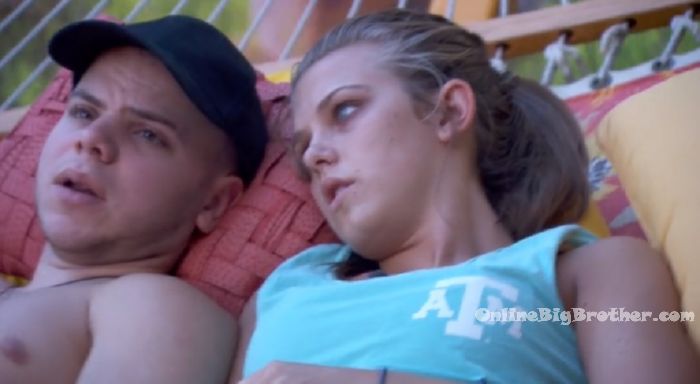 6:15pm Backyard – Sam and Rockstar. Rockstar -so what do you think how do I connect with Brett? Or do you think its a lost cause? I mean he lied about me but moving forward. Sam – moving forward maybe go back on your idea of not mothering …like I don't know if hangs out with people that are older than him .. I think he hangs out with people that are his peers. Maybe just give it some time. Rockstar – he has ligidimately not talked to me. He made up a lie about me. It offends me that someone would not treat me like a person. I have never not been acknowledged for being a person. I can't wait for you to get out and see the lie. Not that it will matter then..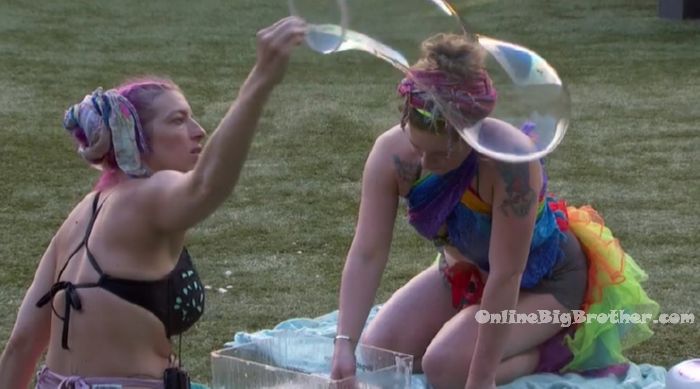 6:30pm Hammock. Haleigh and Brett. Haleigh – she is already starting to campaign. Brett – it doesn't matter how nice you are people remember what you did. Haleigh – she has an idea in her head that if I get taken off and you go up she would be fine. She doesn't realize the votes she's lost. Brett – so now she's gunning for me? Haleigh – she's been gunning for you since the whole situation. Its almost too much. She's an actress is what she is. She is definitely making good tv. She only says it around Rockstar because she would agree with her.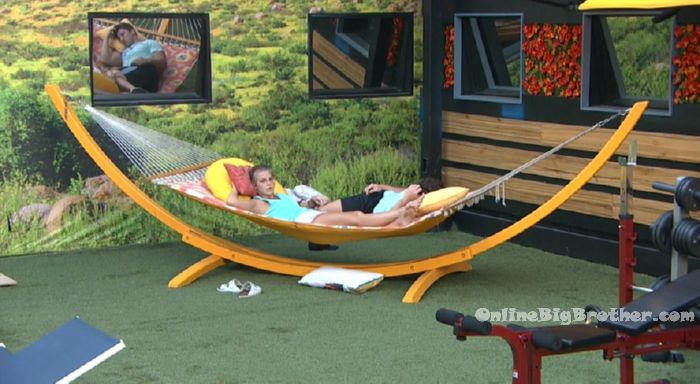 6:50pm Bathroom. Rockstar and Brett. Rockstar – we're all on top of each other .. so we should all get along unless we're in a competition or something. Tyler – maybe he really does like you and just doesn't want to act on it. Rockstar – I've just never been in a situation like this were someone would treat me that way. In the real world if someone was like that I could just ignore them. Tyler – you can't change what you can't control. Just don't worry about it. Rockstar heads out to the hammock. She takes Brett's place when Brett leaves.
HELP keep the spoilers coming! Show your support by making a donation. ANY amount is greatly appreciated! Your donations go directly to paying the fees required to run this site.