| | | | |
| --- | --- | --- | --- |
| POV: | FES | Next POV: | July 21st |
| POV Used | Yes | POV Ceremony | July 23rd |
| HOH: | Sam | Next HOH: | July 26th |
| Noms: | Kaitlyn and Haleigh Rockstar | Have Nots | Scottie, Rachel, Bayeligh, Kaycee |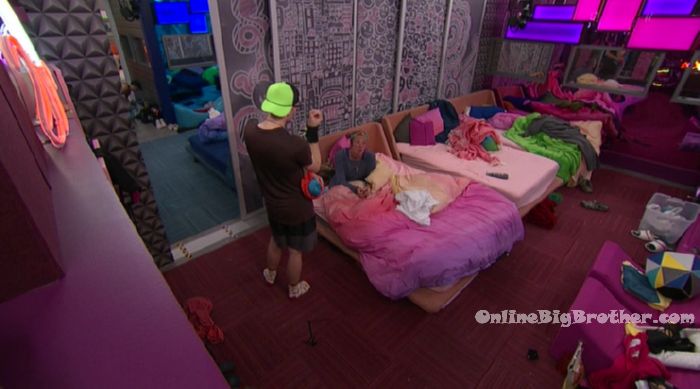 8:05pm Bedroom. Scottie and Rockstar. Rockstar – what are you thinking? Scottie – right now? Not a lot, I just ran a lot. Rockstar – did you talk to Kaitlyn? Scottie – Yeah she told me that Fes told to take her off, She brought up that I didn't go home her week, and then she said where my head was. And I said I don't know where my head is at right now. Rockstar – so nobody is saying how they're voting. I guess we will just see. Scottie – She said that four people haven't told her where they're voting and I'm one of them. I took it with a grain of salt. Rockstar – this is so stress full and so lonely too. Scottie – I can't even imagine. Scottie – she also said that she wasn't going to campaign against you just lay out a list of facts. SO at least to me she didn't do you dirty. Rockstar – I don't think she is doing me dirty. You know how I feel about counting voites. At this point but… you, Baleigh, Haleigh, JC, Fes … with Sam as the tie breaker. I would appreciate everyone doing what they said they were going to do.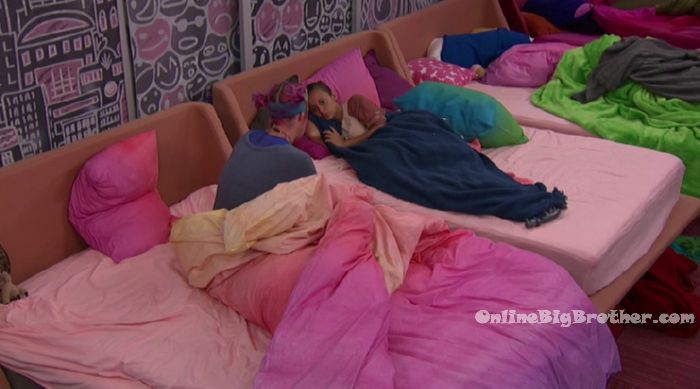 8:15pm Bedroom. Rockstar and Kaitlyn. Rockstar – you know this really f**king sucks! And its lonely and its stupid. Kaitlyn – come hang out! I'm lonely. Rockstar – its like we get treated like the plague. Rockstar – yeah and you feel weird and don't know what to say to people. Like I want to be here. Kaitlyn – Yeah that's all I keep saying to people I don't want to be here with Rockstar ..so like I trust the higher good. Do what's best for you. You can ask anyone .. I say you deserve to be here just as much as I do. And she is a mom and has kids.. so if you expect me to say all the reasons why I should be here over her .. I am not. If that's what sends me home.. I don't give a f**K. I keep thinking that if I go home at least I won't have to put up with the bullsh*t and shadiness. Like if people don't want me here, then I don't want to be here. And if I do stay and we get to start over with a new week. ..how crazy is it that things change so quickly. Rockstar – when I looked at you when I met you I said people don't put me on the block against this younger version of me. Kaitlyn – I can't believe we're on the block together. Like I can because we're both bada$$ women. What a cop out. Such a cop out. There a way bigger fish to fry! Rockstar – the chance to come back. Kaitlyn – this whole game is chance.

8:30pm Lounge room. Bay and Kaycee. Kaycee – why did he say what he said to you? Bay – he said he doesn't know what he is doing but that I need to keep my mouth shut. Kaycee – those exact words came out of his mouth? Bay – I swear to the cameras. Kaycee – are you fricken kidding me? Bay – I'm not even close to him. Even if I knew something what make you think I would run and tell Scott .. what makes you think you're that important. That's not how the people in my life talk to me. Kaycee – that is not okay. I don't care who the f**k you are. Bay – Rachel is being really pushy. Kaycee – what do you think would be best for you game. Bay – Fes made me mad so I don't want to give him the satisfaction of doing what he wants. But at the same time Kailtyn already told me if she stays she is coming after Sam. And Rockstar is getting on my nerves. But neither one of them is coming after me. Which way are you leaning? Kaycee – I'm leaning towards keeping Kaitlyn. Just because she is a competitor. If she was to win something, she would keep us safe. Its looking like we're going to have five votes and that sixth person she is going to know who it was. Bay – I think its going to be more than six votes.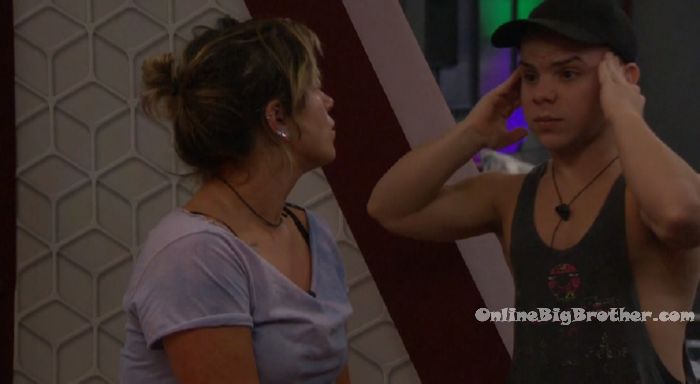 9pm HOH room Sam and JC. JC – I still want to talk to you. First I want to talk to all the people involved and then I will talk to you. Sam – okay. JC – its not that its bad or game related its just something that is going around that is not okay. I can tell you right now.. instead of using game strategy Kaitlyn is manipulating boys in general. Mostly Tyler and .. She told him that she had feelings for him. Then she told the exact same thing to Fes. Then she told Tyler that she was always on top of Fes because Fes confessed that he had feelings for her. Its just a mess. Sam – if he has feelings for her why didn't he use the veto on her? JC – because its not true its just what she's been telling people. Sam – what about Fes and Haleigh? JC – that's a completely different story. Sam – but do they like each other? Because I think he liked her and she said she didn't like him. JC – I don't think it is right that she is playing with people's feelings. Sam – its not right. JC – its affecting my game. Sam – you do whatever you have to do. JC – she is a liability. You don't know where he head is at. I would rather know who my enemy than not know who my friends are. With Rockstar we know who she is working with and we know what she is doing. Sam – she is playing a loyal game. JC – at some point she isn't even a threat because she isn't good at competitions. And next week we can get her out. JC – I don't want you to have to break the tie so I need one more vote. Sam – yeah I don't want to have to break a tie. When it comes down to it, I can ask Bay to vote how I want and she will do it. Or is she already one of your votes? JC – she is going to vote with the house. Sam – when it comes to game stuff, I don't talk to anybody but you. JC – no matter who comes back we will get them out again right after.
9:15pm Hammock – Brett and Haleigh. Brett – I'm in a tough spot right now. Both of them have verbally declared that I'm their target. Like okay sick! Haleigh – think about which one has a better chance at winning first. Brett – true. But that one (Kaitlyn) I feel like I could change her mind more than the other one. Haleigh – that one (Kaitlyn) could change her mind six times and no one would know it. Brett – true. But I know that Rockstar is never going to change her mind. Haleigh – Rockstar said that she respected the game move that you made. You'll never get game acknowledgement from the other one. Rockstar isn't a smart game player. Brett – I think a lot more people want to take a shot at one more than the other. You might not get another shot to take her (Rockstar) out but with kaitlyn there are a multitude of people that what to. Haleigh – but will they do it? I don't know anyone in this house that will do it. Brett – you think Bay won't? Haleigh – nope. Brett – that bothers me and boggles me! I don't understand that! Not even Fes? Haleigh – nope. Brett – I didn't even do anything. I sat in a room and heard a conversation between Scottie and Winston ..HEARD .. that ended up as a result nothing happening and she blows the f**kup on me in front of everyone and I'm the bad guy?! And she (Kaitlyn) flips on her own person (Swaggy) and backdoors them .. and no one says anything. Haleigh – that's what's terrifying .. there will not be another shot when someone puts her up soon. Brett – if Rockstar won HOH would she take a shot at Kaitlyn. Haleigh – no. She is a dangerous player and the fact that no one sees it is scary. She has already made the statement – why do I need to pack my bag when I will be unpacking it right after. She is a threat and no one sees it. She also has several allies that are scary too. Brett – so essentially it would go to Sams vote. And she would vote Kaitlyn out. Haleigh – 100%. She (Katilyn) would put you and Fes up and if one of you come off Sam would go up.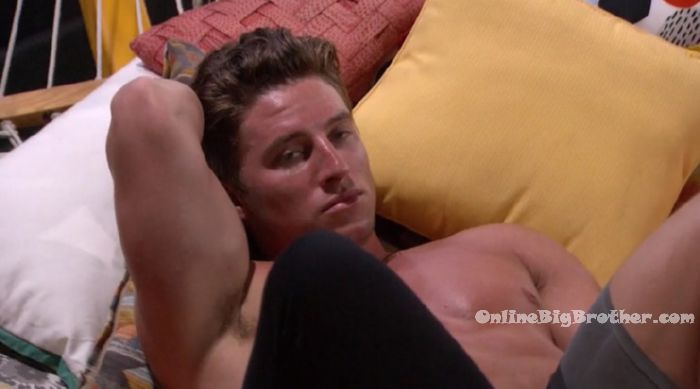 9:35pm Outside the HOH room. Kaitlyn and Tyler. Tyler – I know the people that are leaning a certain way right now. Kaitlyn – I can't believe Haleigh won't vote to keep me. Tyler – after this if you want to last in this game it is so important you cannot jump back to the same people. Kaitlyn – I know. Tyler – before the power was even revealed and before Rockstar even knew that she was up against you.. she was already campaigning for you to go. Kaitlyn – I really don't want to go home. Tyler – I'm trying my best. I don't think you're going to go. I still have to talk to Bay, Fes and Sam.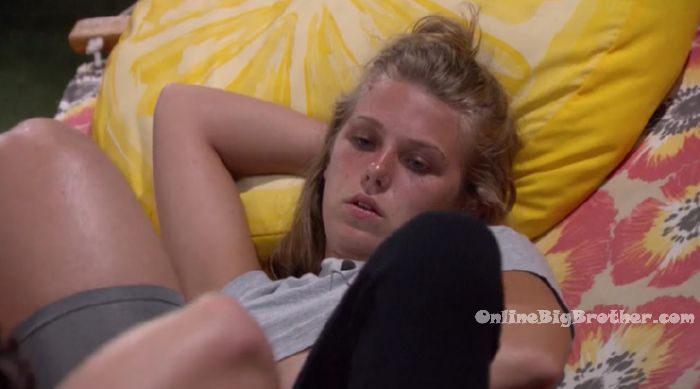 Backyard. Sam and Kaitlyn. Kaitlyn – I am at the point where I think there might be a tie. Sam – that's been brought up to me too. Kaitlyn – I want you to realize that one you're not my target and two .. Sam – there have been a couple people talk to me about this and they said that I am your target. Kaitlyn – you're not my target. And for the women in the house, they know that because I want a woman to win. You're not my target and I've never said that a day in my life. I am rooting for a woman to win. Sam – Rockstar says the same thing. Kaitlyn – you're going to do what is best for your game. Once the veto was used all of a sudden Rockstar was your best friend. I've been there with you since the beginning. Kaitlyn – our family lost everything a year ago. The vault at our bank was robbed and we lost everything. (Isn't that what insurance is for?) Sam – but a safety deposit box is insured and backed by the FDIC. Kaitlyn – so when you have vault with jewelry and bonds ..sure he is getting some money back (I thought you just said he lost everything?) but not NEARLY enough. When put your stuff in a vault it clearly states we're not responsible. Which is not something you ever know. Its f**ked up. Sam – my family has vaults. Kaitlyn – there is a lawsuit and I can't say more. Sure I'm doing okay but I want to help the people that helped me. Sam – if you stay what is your plan to repair any relationship? Kaitlyn – as far as I know the relationship isn't damaged.
10:08pm – 10:20pm Lounge room. JC, Angela and Tyler. JC – we literally 100% don't need her. Tyler – I am telling you right now I am not going to f**king vote for somebody who has said they want me on the block. JC – she doesn't have any chance at winning. Tyler – true or false or you throw your ball into a number… anyone could win anything. You can't say that. JC – I'm not telling you how to vote. I'm telling you we're a team and we have your back. Lets say Kaitlyn wins, who is she going to put up? Angela – she told me three names of people she would put up and its none of us in this room. JC – she wants Fes out unless she is an extra bipolar, extra b***h and changes her mind. Angela – but she won't put up two of us. JC – who is the other? Haleigh. Tyler – yes, she (Haleigh) is campaigning for Kaitlyn to go. Tyler – you vote how you want to vote. I am not going to hold it against you. We're a team no matter what. JC – something tells me we need to get her (Kaitlyn) out. She (Kaitlyn) is f**king bipolar! I don't trust her. Rockstar is a b***h but I can tell you how she voted the first three weeks. The only reason why your name is coming up is because of your association with her (Kailtyn) and once she goes out you won't be a target any more. Tyler – that's not true. They think I'm a competition threat.
FLASHBACK and watch everything you missed: Live Feed 7 day FREE Trial!
10:35pm Lounge room. JC, Angela and Rachel. Angela – lets say that Kaitlyn goes home this week. Who would go up next week? Rockstar? Is that our plan? JC – yeah, I want Rockstar to go up. If Brett wins HOH he will go for blood! Rachel – this isn't a big decision, they're both going to go out. Its a waste. Angela – I don't want to waste a week on Rockstar. JC – Kaitlyn is a vote that we never know which way she is going to go and we don't know what she would do if she wins HOH. Rockstar we know what she will do. Angela – lets say I win HOH, I don't want to waste it on Rockstar. I want to get a major threat out. Kaitlyn is not major threat. Rachel – it makes more sense to keep her. JC – you want to keep Kaitlyn and put her in jury? Rachel – I'm able to get in Fes and Kaitlyn's head now. I can manipulate them. (lol)
10:40pm Havenot room. Kaityn and Bay. Kaitlyn – if it is 6-4 (vote).. and I win HOH WHOA!! That would be so bad! You would be sitting pretty! Lets say it was split and then I come back in .. that's another thing at least I know where to go. I am glad we're having this conversation because we are stronger together than not. I feel that you voting to keep me would be like everything. Think about how many other people you're gaining. You're gaining me, Angela, Rachel, Kaycee, Tyler. Not that you don't already have then but you're showing them your cards. Bay – I don't think Haleigh's intentions are bad. I think she is just hurt right now. Kaitlyn – by what? Bay – you were suppose to be Haliegh's best friend and you confided in Fes and Tyler and not her. Pretty sure she thinks you would choose them over her. Kaitlyn – which isn't true. I really think that Fes will vote to keep me. Bay – he said that he really wants you both to stay. Kaitlyn – Rockstar's campaign to her was that she is the older version of me an that the only thing that Kaitlyn can do that she can't is hop from bed to bed. F**k you! Everyone knows I go from bed to bed! Love you Joe. Like we're on national tv, you guys actually think that I would do sh*t that I wouldn't want people to see? People know me.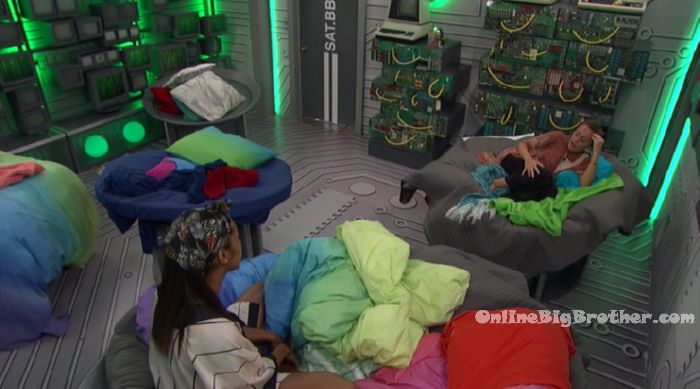 HELP keep the spoilers coming! Show your support by making a donation. ANY amount is greatly appreciated! Your donations go directly to paying the fees required to run this site.
For all you folks that need a VPN I use this one
Rank the houseguests!
Easiest way to Rank the house guests use link below