| | | | |
| --- | --- | --- | --- |
| POV: | FES | Next POV: | July 21st |
| POV Used | Yes | POV Ceremony | July 23rd |
| HOH: | Sam | Next HOH: | July 26th |
| Noms: | Kaitlyn and Haleigh Rockstar | Have Nots | Scottie, Rachel, Bayeligh, Kaycee |
Big Brother Spoilers Rockstar as of right now is getting evicted.
Winston Shrine.. .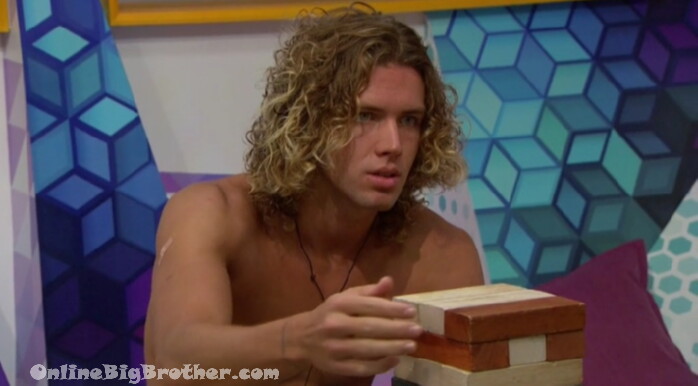 1:05pm Tyler and Kaycee
Talking about getting Kaitlyn out.
Kaycee – if she stays who does she go after.
Tyler doesn't know, suggest Fes
Kaycee does see that happening.
Tyler – Bayleigh is going to vote her out..
Tyler- Kailtyn already heard that fes is coming after her if she stays
Tyler says Angela already told Kaitlyn she would vote to keep her
Tyler says Kailtyn thinks she has him, Kaycee, RAchel and Fes to stay
Kaycee – if Fes votes for her to stay who does she go after
T – maybe Bayleigh
T – We don't need her vote
T – or like Brett..
Kaycee – do you think we should keep her for real
T – I dunno
Kaycee – I feel like if we really wanted to we could get Rockstar out..
Kaycee – she is loyal and she won't win anything.. just Kaitlyn is so flip floppy
T – I'm over it..
K – I know you are close to her.. I talked to Bayleigh she thinks you would put her up
Kaycee tells him Bay thinks Kaitlyn is in his ear
They laugh about he other side thinking that Kaitlyn made the decisions for Tyler.
T – that's what I wanted them to think
Tyler says KAitlyn doesn't know what she's doing "She's so flippy floppy.. I will vote her out"
Kaycee – if we come up with a decision that is best for us let's f*ing go for it and I will campaign
T – I'm worried about Rachel
T – Bayleigh wants to be on the right side of the vote
Kaycee – Brett was hoping to get Kaitlyn out too
Tyler says Brett is protected from Rockstar if she wins something
Kaycee – I'll try and talk to Brett..
Tyler says both Angela and Rachel want Rockstar out
Tyler – JC hardcore wants Kaitlyn to go
Kaycee – I think we should vote Kaitlyn out to
Tyler – yup yup i'm in
Kaycee – me to
T – if she goes and comes back…
Kaycee – it's a chance it's not 100%.. she comes back in we kick her back out..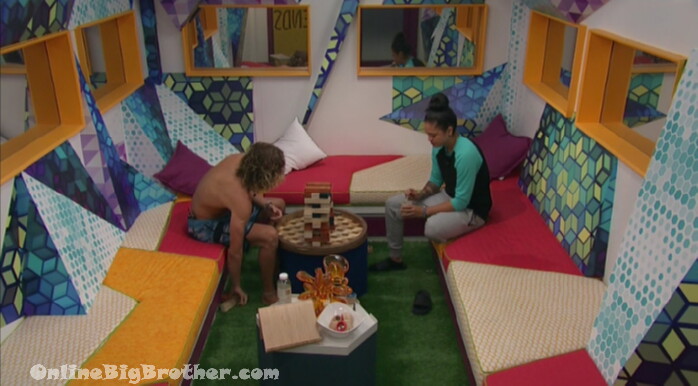 Tyler – I don't know if I can handle her too much longer.. I was thinking about it
Tyler – she needs to go (Kait)
Tyler mentions they can use Rockstar as the pawn.
Kayceee mentions RS already saying they could.
Tyler – we can't put Kaitlyn up as a pawn..
Tyler – If Kailtyn is in Jury she's eventually going to find out all the sh1t we've been doing
Tyler – my key priority is me and you vote the same every week
Tyler says Sam wanted Kaitlyn to go home. Tyler brings up Kaitlyn coming to him saying "whatever are you doing to protect me today"
Kaycee – that's crazy
T – that pisses me off..
Tyler – I can't wait to do her goodbye message .. when you watch this show.. you'll be like I'm f**ing savage to Kaitlyn.. I'm a savage when it comes to her
kaycee – really
T – yeah
1:25pm Sam's mobile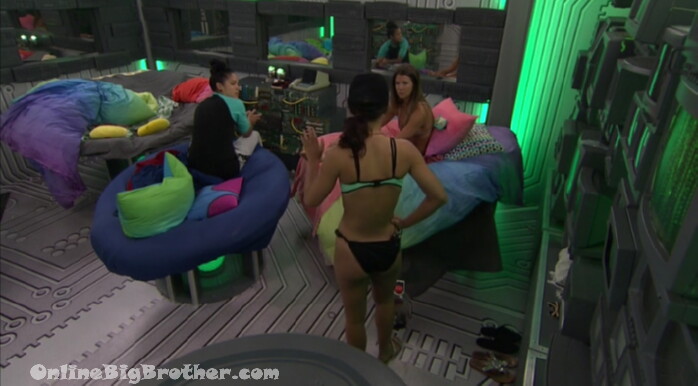 1:46pm Angela, Rachel, Kaycee
A – RS isn't coming after any of the girls just so you know
Angela tells Kaycee their 3 is solid but she's playing up acting like a b1tch to Rachel./
Rachel says she needs Tyler, Angela, people to start working on Scottie to make him feel safe so he doesn't try and win the HOH
Angela – I think Scottie will get Kaitlyn out, 100% she got Swaggy out.. he knows everyone in the house wants her out.. that's easy without getting blood on his hands,
Rachel – people need to get in his ear
Kaycee mentions how cottie is all about not throwing competitions.
Angela – I don't think he'll go for it I really don't
Kaycee – so Rockstar..
Angela and Rachel say yes.. (to evict)
Rachel – she told me Fes already committed he's voting for her to stay (Kaitlyn)
Kaycee – I heard otherwise..
Rachel – are you f*ing kidding me .. When
Kaycee – yesterday
Kaycee – I heard that Haleigh and Fes are going to vote to get rid of Kaitlyn ..
Rachel – I know Haleigh is voting to get rid of KAitlyn
Angela – so lets not talk to Haleigh anymore (about the vote)
Rachel – we need JC or Bayleigh.. JC said he will vote with the group
Angela – if we all get on JC he'll vote with us..
Rachel – we have to tell JC that Kaitlyn isn't coming after him ..
Rachel says they have to keep saying Kaitlyn's staying kaitlyn's staying nobody wants to be on the wrong side of the vote this week.
Angela says Brett and Tyler are Rockstars targets that means they are Fes' target
Rachel wants to get Scottie out, Angela and KAycee want to get Fes out..
Rachel says Bayleigh is after Tyler
They say they have to protect Tyler "He's done a lot"
Rachel – Scottie has to get out ASAP
Rachel points out it's good to keep Kailtyn because JC and bayleigh want her out.
Kaycee – we're doing great lets keep at it..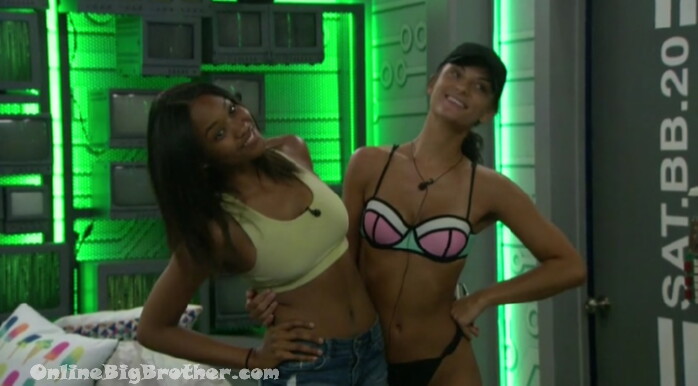 1:57pm bayleigh and Rachel
Chit chat about posing for pictures…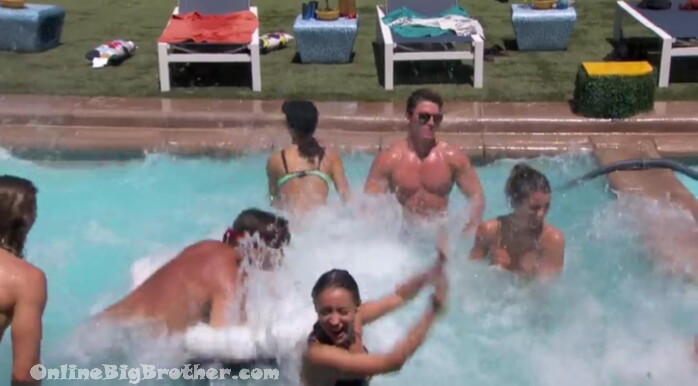 2:06pm suntanning into pool party..
pool party #BB20 @DawgsBigBrother pic.twitter.com/H8EGJ8KHeo

— OnlineBigBrother.com (@bigbspoilers) July 24, 2018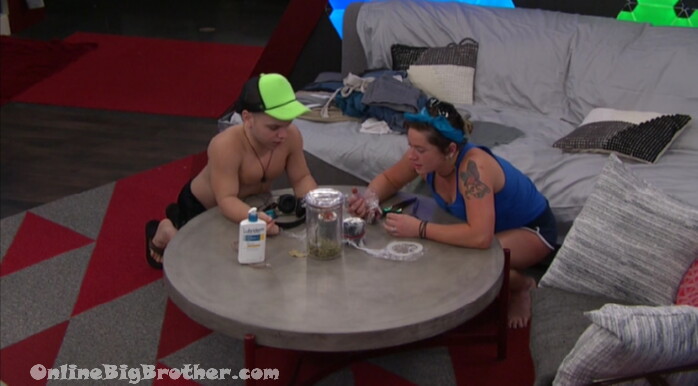 2:04pm sam's spiders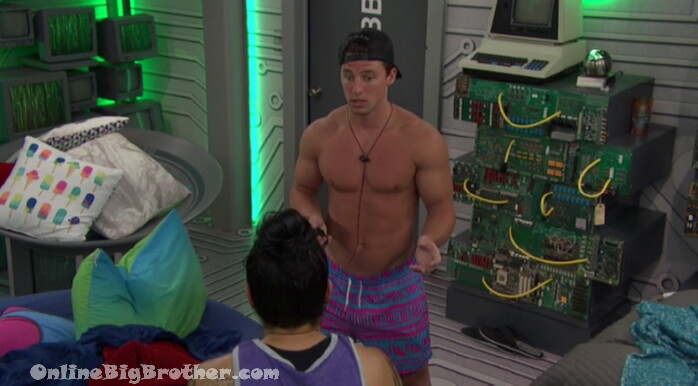 2:50pm Brett and Kaycee
They talk about everyone going back and forth on the vote this week.
Kaycee – Angela just had a conversation with Rockstar and she's going after you and Tyler..
Brett – that's what makes me nervous .. at first I was like Kaitlyn's got to go she's too much of a competitor…
B – we can influence kailtyn, I'm a target with both of them..
B – Kailtyn, I could wiggle my way out of being her target as long as it's only one of us we have teh votes..
Kaycess agrees says it might be Brett and Sam
B – or Fes
B – I think Rockstar will target two of us that's why Rockstars gotta go
Kaycee – yeah..
B – it's a f*ing long shot she's going to win sh1t
Kaycee – Kaitlyn would benefit us all
Brett – I'm down with it ok…
2:55pm Kaitlyn and Bayeligh
K – I've said all girls but truthfully.. if I was HOH I wouldn't not put Sam
B – of course..
K – she put up three girls..
B – I don't feel threatened by you
K – do whats best for your game..
Kaitlyn says if RS goes there's more of a chance she will lose against Swaggy in a battle back
B – the only weird awkward tension I feel in the house is between Tyler and Fes
K – REALLY
B – not with each other.. people are like she's really close to fes now she's close to tyler which one is it
k – they're cool
b – they're cool with it
k – on a personal level Fes till i die
B – like on a friendship level
K – literally friendship till I die .. I've never had a friend like him
K – with Tyler I feel
Kaitlyn goes into a long story about camp and how she got attached to a nurse there
K – they were the first one that was there for me..
K – I feel safe with him.. that's not on a game level either .. he saw me Cry first.. I can't pick one or the other..
K – what I do know is I will pick a girl over them any day.. my end goal is having a girl win
Kaitlyn says Sam is the only girl she will vote to evict against a guy.
K – I'm holding a grudge against what she did
kailtyn now says she'll put up Brett and Sam. Sam the target it sounds like.
B – how are you with Brett
Kaitlyn says it's been ok "I need his f*ing vote.. do I forget what he did to Rockstar no.. to me .. no… "
Feeds flip to the back yard..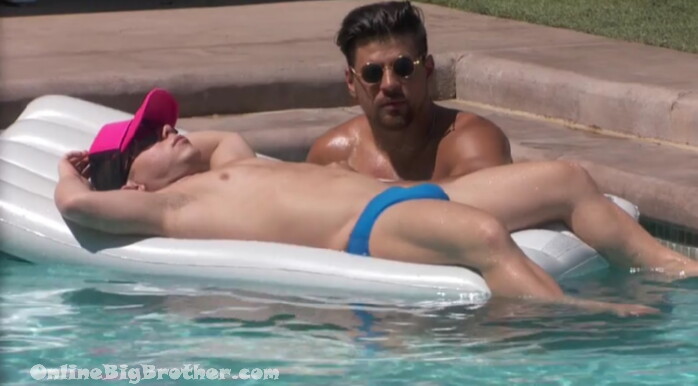 3:20pm pooling it.. difficult to hear them..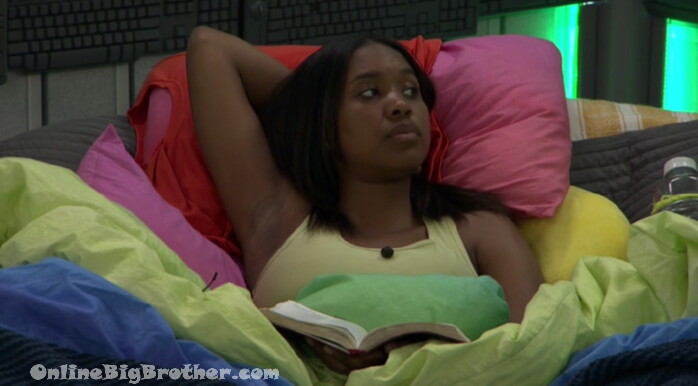 3:35pm SCottie and Bayleigh
Scottie says Fes promised Kailtyn his and Haleighs vote
Scottie – that's two she thinks she has..
Bay – she says the 3 girls on the other side
S – doesn't surprise me
Bay – brett hasn't decided .. JC thinks Fes will flip
S – not surprising JC doesn't trust Fes
Bayleigh says if JC thinks Fes is going to flip he might flip too.
S – he doesn't want to be talk outside the majority
They agree to pull haleigh in and they can talk about their plan.
B – where are you and Tyler
T – haven't talk about it yet.. he said he doesn't have a preference either way I think that is bullsh1t..
Scottie if kaitlyn goes Brett has Tyler all to himself.
Bay thinks Brett will do what the girls are doing.
S – that's 5 right there..
Bayleigh says Haleigh thinks she can control Fes.
Scottie isn't convinced, Neither is bay.
S – if Rockstar goes it Kaitlyn our next target or are we moving to Brett or what
B – I think we would be back to BRett .. she's a target for a lot of people
Scottie says if they are both trying to get closer to the three girls (Kaycee, Rachel, Angela) keeping Kailtyn in the house can be used as a buffer. They can use that time to get to get closer to them.
B – maybe we should get rid of Rockstar then
Scottie is asking her what the houses perception is with Haleigh
Bay – FEs
Scottie – me
Bay – either Tyler or the dadies (huh)
Bayleigh doesn't trust Fes not as a person but in the game.
Bayleigh and Scottie think hayleigh will evolve and there's things they can tell her that she won't tell Fes
Bayleigh – it might not be a bad thing for Rockstar to go ..
Scottie- they'll be like we can trust them..
Bayleigh – it'll be more of a sides thing
Bayleigh would really like to get KAiltyn out especially before Jury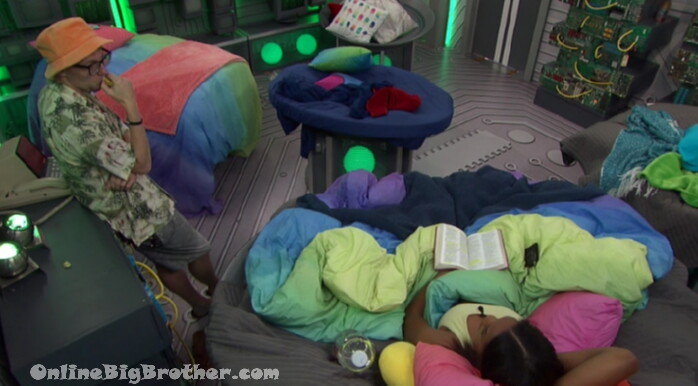 Scottie – we can also pitch it.. if we keep Kaitlyn this week any of the 5 of us win take out Kaitlyn and we sail to jury.. that's the pitch ..
Bay – mmmhmmm
Scottie – after I won HOH last week she got Kinda flirty  (kaitlyn)
S – initially she had picked out Brett, Tyler and Fes as teh comp beasts that is why she got close to them.. last week I swept comps and that really surprised her
b – that's weird
S – that is why Sam put Kaitlyn on the block.. she say that.
Scottie has a theory that Sam put haleigh on the block because she say them sharing the HOH bed together
B – I was surprised that they were surprised (about being nominated Kait and Haleigh)
B – this week is good we don't make anyone mad we don't make any enemies and we strategically place ourselves moving forwards
She asks him about his standing with Tyler
Scottie says after this week that other side won't touch him. He doesn't think he will got up "the only reason would be because of Kaitlyn"
Bayleigh says Kailtyn's target is Brett and "maybe Fes" (nope Sam)
Scottie – I don't buy that..She'll spew whatever horse sh1t outta her mouth..
S – by the way America my word of the week is horseshit
Scottie says Tyler doesn't tell him a lot.
Bay thought they were close.
Bayleigh – what happened last week
Scottie – I don't know but my guess is Kaitlyn and Tyler (Flipped)
Ba – that's my guess too
Bay says Kaitlyn is claiming she doesn't talk game to Tyler
Scottie – who is the biggest threat..
They agree the three girls are the ones they should work with now that the game is evolving to it's next stages. They both like the 3 girls "I love them.."
Bay – I think after brett and Kaitlyn are gone that would be the perfect route
Bay – Fes is never going to make up with these three and even though they are cool as nails
They agree Fes shot himself in the foot this week. Scottie says at first Fes didn't know what to do with teh veto at first.
SCottie says there's three stories going around about Fes promising people to use teh veto. He promised to use it on Haleigh, Kaitlyn and to JC said he wasn't going to use it.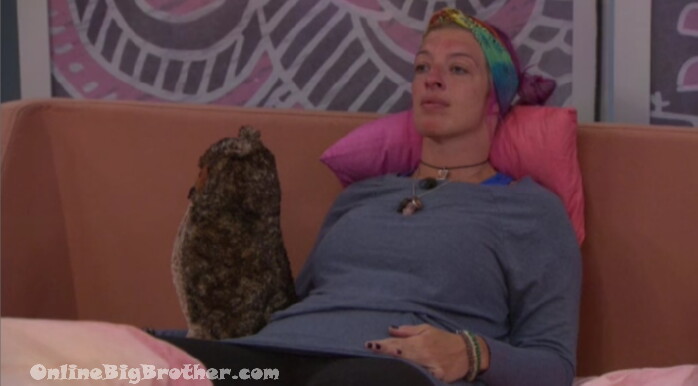 4:10pm all is quiet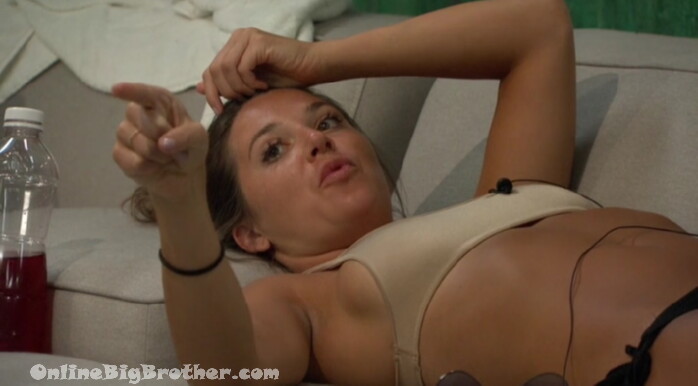 4:41pm Rachel, Kaycee, Tyler and Angela
Rachel – haleigh is onboard for sure..
Angela tells Tyler – Rockstar is gunning for you and Brett..
Tyler – We keep Kaitlyn
Angela – she went on and one about you (tyler) I was like ohh you are so right
Tyler- I love you
5:08pm Feed leak from Rockstars Diary room "Sorry about the Wait Rockstar I did ask about the request dye" (hair dye)
5:30pm Sam constructing something… no idea what.

6:00pm
6:08pm JC and Tyler
Tyler says he's changed his mind a lot.
Tyler – Rockstar threw out me and Brett today..
JC also heard that from RS but told her that Tyler is a puppet to Kaitlyn but Brett is after her she should focus on the people she wants her out.
JC – Fes is straight up going for Brett which is really really good for us
JC goes on about Rachel and BRett being the target of one side and Fes/rockstar being the target of the other side.
JC – the numbers are so balanced right now.. Bayleigh is voting what I tell her to do..
JC goes on how it will benefit him if Rockstar stays and tried to draw a line to how that will benefit Tyler.
Tyler tells her he can't keep someone in the house that is after him just because JC told her he's not after her doesn't mean she won't put him up.
Tyler – Kaitlyn is not coming after you
JC – Kaitlyn really really needs to go ..
Tyler is adamant that JC won't be able to get into Rockstars head.
Tyler – I'm not voting for her I can't
JC – Tyler Tyler .. she's not coming for you
Tyler – Kaitlyn's not coming for you
JC says during his talk with Fes he heard some f**ed up things Kailtyn told him
Tyler – Shhhhh
JC says she told Fes he was the best Friend she ever have.. JC calls her manipulative person
Tyler – Rachel flipped this morning too.. (Get rockstar out)
Tyler says if JC votes with the other side everyone will think you are with the other side now.
Tyler tells him Haleigh and Kaitlyn are his number 1 and 2 JC is his number 3
Tyler goes on how Kaitlyn is his puppet he controls her..
Tyler – remember when I got her dumb a$$ to flip on Swaggy remember when I got her dumb a$$ to vote out Steve..
Tyler thinks Kaitlyn will always be the big target JC doesn't think so.
JC – literally that girl is no good for your game right now I'm talking about people targeting her and you right after..
6:32pm JC, Rockstar and FEs pink room
They tell Fes kailtyn's flirting with him is part of her game.
JC to Rockstar – I think you are going to be safe this week.. just keep doing what you are doing
JC leaves
FEs about Kaitlyn – just being honest she's not my type
RS – I love haleigh I don't like Kaitlyn in this game.. I haven't since she did what she did.
RS – she thinks she's so right ..
Fes really hopes this week they can all vote the same way to get Kaitlyn out..
FEs – me, Bayleigh, Hayleigh, JC, Scottie… Tyler..
RS – we can get Tyler and Angela..
RS – I don't know why she threw me up there.. I trust JC.. he's always trying to go with the house hopefully everyone is solid.. Haleigh, Scottie I don't want to count.
RS – me and Scottie have long talks about this game and Strategy..
7:03pm Haleigh and Tyler
Haleigh says 5 people have come to her saying they want to vote out Kaitlyn but they don't want it to be a tie.
Haleigh says Kaitlyn made people nervous to talk to him about the vote because they all think he's working with Kaitlyn
H – she's not a bad person just in this game a lot of people have their eyes on her.
Haleigh says everyone is getting emotionally involved and Kaitlyn is doing a good job campaigning. Haleigh adds that Rockstar isn't a social or physical threat whereas kaitlyn is.
7:17pm in the have nots bayleigh tells Kailtyn that someone told her today Tyler is tired of being seen as attached to Kaitlyn and he's wanting to play his own game.

7:35pm Eating, Working out, Talking about Dreams…
Rank the houseguests!
Easiest way to Rank the house guests use link below