| | | | |
| --- | --- | --- | --- |
| POV: | FES | Next POV: | July 21st |
| POV Used | Yes | POV Ceremony | July 23rd |
| HOH: | Sam | Next HOH: | July 26th |
| Noms: | Kaitlyn and Haleigh Rockstar | Have Nots | Scottie, Rachel, Bayeligh, Kaycee |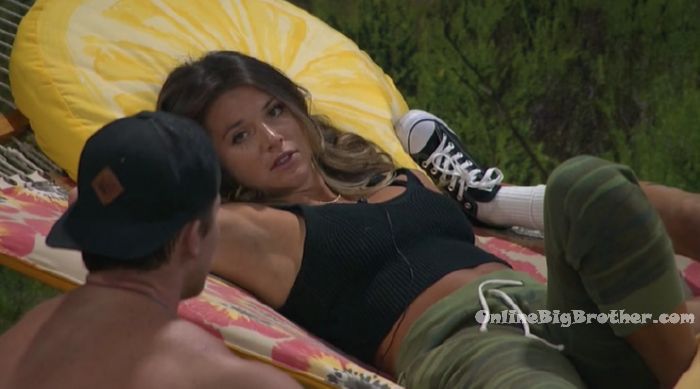 11:15pm Hammock. Angela, Kaycee and Brett. Angela – Don't say anything. Say I am waiting to hear from the house. And then when someone is like well who is going to make the decision say I am not doing it. Keep putting it off and end the conversation. They can't force it out of us. And as long as we don't lie, we never told a lie. Brett – So Bayleigh is 100% on? Kaycee – that's what she's saying. Brett – I am shocked! I really am. Like that she doesn't want to kick Kaitlyn out the door. Angela – she does, but we sold it to her as Rockstar this week and Kaitlyn next week because its an easy target to get out next week and then we're all in jury. Kaycee – and I am telling Bay that if you vote to keep Kaityn she is going to know you voted to keep her. Brett so we are positioning Haleigh against Bayleigh? Angela – yes. Right now Kaitlyn has been throwing out Sam's name, Haleigh's name and Fes's name. Brett – and my name. They both are throwing out my name. The only thing that was remotely good about that is if she was stupid enough to put Tyler and I up .. the odds of one of us taking the veto .. Tyler is a f**king savage. Angela – do we pin the all girls alliance on Rockstar this week? Just so JC gets mad at her? Brett – that's not a bad idea. Kaycee – but what if she has a chance to come back in? Angela – maybe we tell Kaitlyn to throw that out that Rockstar is starting an all girls alliance. Brett – a lot of this with me is going to come from how much control Tyler has over Kaitlyn.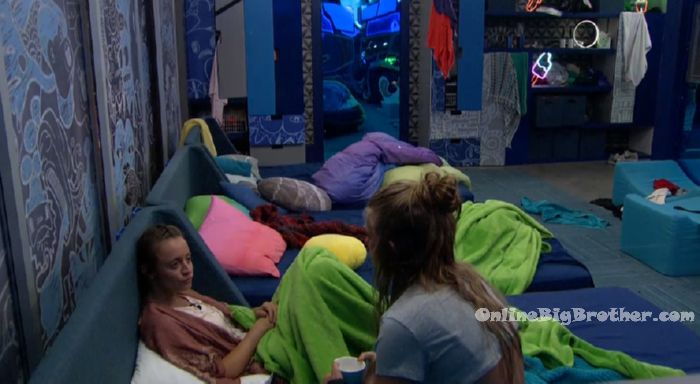 11:45pm Haleigh and Kaitlyn. Haleigh – you know I'm in a weird spot because I love Rockstar as well. Between you and I, I obviously want you to stay. Obviously I want her to stay as well. The only thing I am thinking is say she goes there is another chance she can come back. I need to be thinking about what that vote count is going to be when she comes back. Kaitlyn – same thing for me though. Haleigh – same for you. I'm just in a bad position. Kaitlyn – its just uncomfortable that people have solidified their vote to me and then I am being told that you're going through pros and cons. Haleigh – I mean yeah, that's what you do when people are on the block. Kaitlyn – sure but not as many pros to keep me. Haleigh – every single pro that I can come up for you, I can come up for her. Kaitlyn – but I am someone that when I make a commitment for a final f**king two.. Haleigh – what about a final five? Kaitlyn – I don't care about the final five. Haleigh – clearly. So what's to say you would care about a final two? Kaitlyn – okay that's fair. I am just so sick of this whole Swaggy sh*t because you guys knew I was uncomfortable.

Haleigh – I know that but you also knew you were taking a shot at a group that we were in. So who's to say you won't get mad at me and take a shot at the group we're in? And I heard you were trying to take a shot at Fes. Kaitlyn – that is untrue! Haleigh – I've heard it from four people. Kaitlyn – well they're all lying to you. Fes and I have made up. But at the end of the day you know I was picking a girl over a guy. I would have chosen you over him any day. Haleigh – you spend your time talking to everyone but me. Kaitlyn – that is not true. I spend my time with nobody. I spend my time bouncing around. I was under the impression that you were my BEST friend. Haleigh – I am but I am also her best friend. Kaitlyn – four people have already confirmed their vote for me and I didn't even ask them. If I do stay, it would just really hurt if you didn't vote for me. You're like my sister. Haleigh – its upsetting where we are and were I wish we were. Kaitlyn – I love you! I know at your core you love me. Haleigh – and I do. I've just feeling insecure about us. Now you're sitting next to another best friend of mine. Katilyn – people say that its a con that I'm a physical threat.. but thats a pro for people on my team. You're on my team.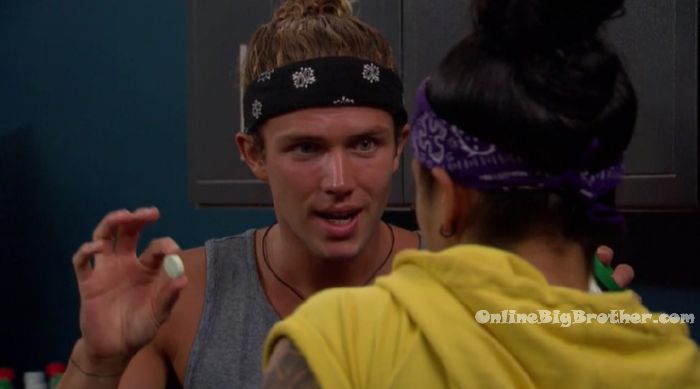 Storage room. Tyler and Kaycee. Tyler – JC was just hardcore campaigning to Angela and me about wanting Kaitlyn out. Kaycee – we have to keep Fes and JC out of it what we're going to do. Tyler – I know. Kaycee – Bayleigh said that she would be on board with us and that will make it six. Bay was more worried about Kaitlyn but I said if she decides to vote with us then Kaitlyn will know that. Tyler – for sure. Kaycee – now do we want Scottie to know? He still thinks I am out of the loop. But I feel like if he finds out what we're doing he is going to tell Fes. Tyler – exactly, I don't want to tell Scottie. Fes keeps telling Kaitlyn that he is going to vote to keep her. He isn't going to do that. Tyler – JC doesn't want either side to get too big and that's why he wants Rockstar to stay… but he doesn't know about level 6. He won't f**king change his mind. Kaycee – even if he knows Kaitlyn is staying? Tyler – he won't change his f**king mind. Kaycee – then f**k it. Kaitlyn will know exactly who voted for her to stay. We will then have Bay and Kaitlyn. Haleigh was campaigning for Kaitlyn to go .. I'm like okay you're telling me exactly where you lie.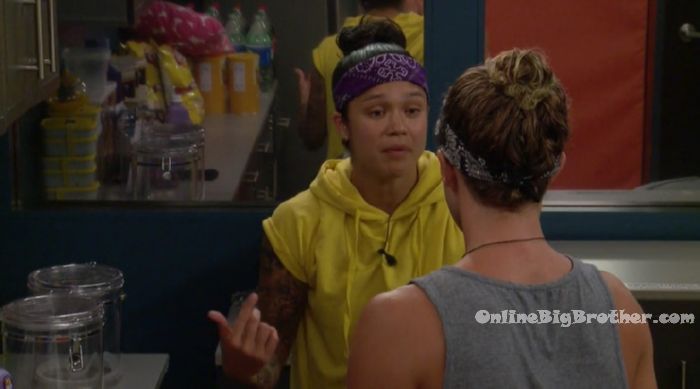 12am Haleigh – there is a rumor going around that Joe (boyfriend) is fake just so that you can flirt around as much as you want and not have to get into a showmance. Kaitlyn – you're lying! Haleigh – I swear. Do not repeat that to anyone. Kaitlyn – wait but there's a picture of us. Haleigh – its your brother. Kaitlyn – that's not Mathew. I'm going to request next time a picture of us kissing. Can you just tell me who said it? Haleigh – I can't tell you. You'll go to that person. Kaitlyn – no I won't because I don't want to bring attention to it. Its disrespectful to Joe. Who said it? Just a hint? Haleigh – he's made other comments about you that you cried about. It was JC.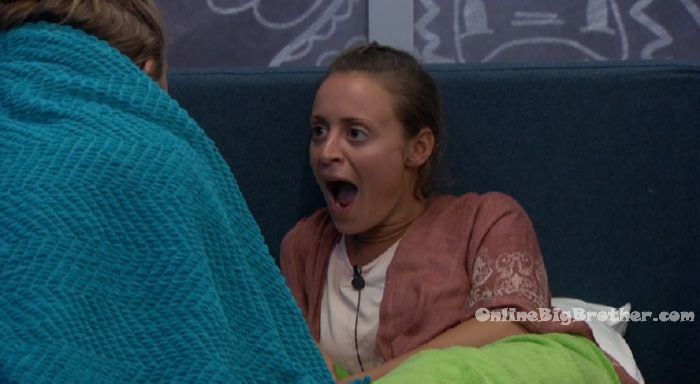 11:55pm Tyler and Bay. Tyler – you and Kaycee are the most trustworthy people in the house. From what it is looking like, I think Kaitlyn might stay. Bay – that's what I am thinking too. Tyler – Haleigh is pitching for Rockstar to stay. Bay – Haleigh just doesn't know where Kaitlyn stands. Moving forward I want us to communicate. You're a competition beast which is a good thing because you will need to be able to protect yourself. Tyler – winning that competition early made me a backdoor target. Is Rockstar coming for me? Bay – no. She is very clear in who she doesn't like. Tyler – I heard Rockstar say my name before. Bay – she has said that if you get put on the block you're taking yourself down. Tyler – that means I'm a backdoor target. I cannot keep someone around that could win HOH and Backdoor me. I am going to have to vote her out. Whatever you decide to do I will have your back. Bay – I've decided to keep Kaitlyn but don't tell anyone. I want Kaitlyn to know who voted for her and who didn't.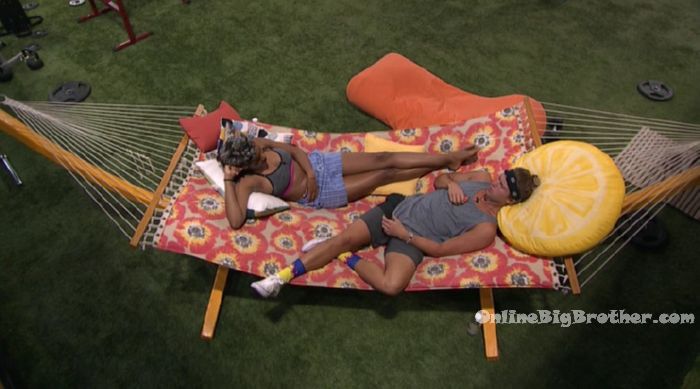 12:45am Lounge room. JC gives his pitch to Brett as to why he wants Kaitlyn to go and Rockstar to stay. Kaitlyn, you have no idea what the girl has been doing. JC tells Brett how Kaitlyn took off her mic and told Fes that she had feelings for him. And I found out that she told Tyler the same things.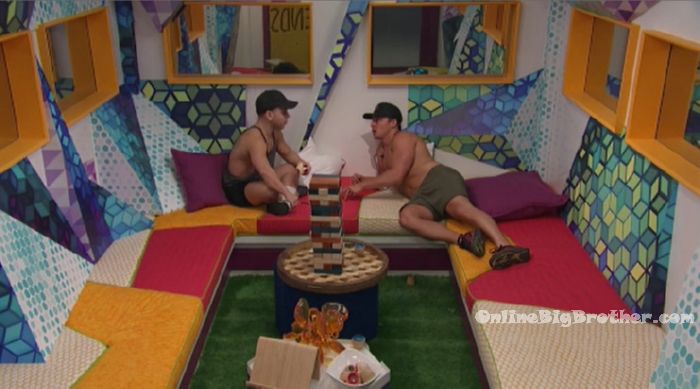 1:15am Backyard. Fes and Kaitlyn. Fes – I am voting for you to stay. kaitlyn – I know you are. Fes – I wanted to reassure you. I think its five votes for you and you have mine so that's six. Kaitlyn – Kaycee, Rachel, Tyler, you, Haleigh and Brett. Fes – Brett doesn't want her (Rockstar) in the jury house. If we pull this off this is going to be f**king sick! I am going to feel like the f**king man that I pulled this off! Kaitlyn – I will have pulled this off. ..you are definitely a vote and I appreciate that. Fes – wow! Kaitlyn – don't give me that .. I'm the f**king man!?! Fes – If I hadn't won the veto and pulled Haleigh down one of you would be going home. I am the man! Kaitlyn talks to Fes about the rumor of her boyfriend being fake. Fes tells her he doesn't remember who he heard it from.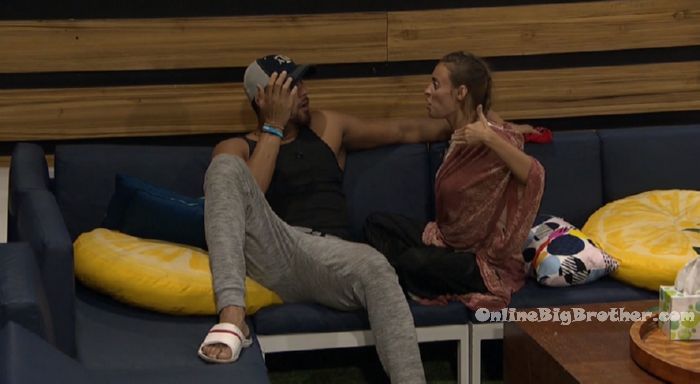 Try the Live Feeds FREE for 7 DAYS! Click here for your: FREE Trial
1:35am Lounge room. Brett, Tyler, Angela, Rachel. Angela – do we think either of them have an app? Brett – Rockstar is freaking the f**k out there is no way she has an app. Angela – do we think Kaitlyn does? Tyler – no I don't think she does either. Brett – the reality is that I don't really give a f**k! I will do whatever you guys want to do. I just want to make sure we all come to the conclusion. Rachel joins them. Angela leaves. Brett – my gut feeling is that Kaitlyn is way stronger physically. Brett – I know for a fact if Kaitlyn wins she is putting me and Fes up. Tyler – she would put up Haleigh. Brett – both of them have fought with me so I am the wrong person to ask. What do you think Kaitlyn would do if she won HOH? Tyler – Haleigh and Bayleigh. Brett – I am going to … Haleigh and Bay are pitching pretty hard to get Kaitlyn out. They think they have locked votes. I am going to keep staying in the middle but I will lean towards voting Kaitlyn out. But I am never going to say it. I don't want it to get back to Kaitlyn. Tyler – I will make sure Kaitlyn knows.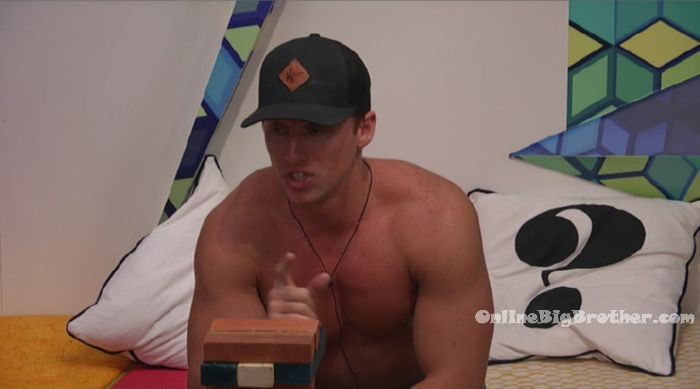 2:40am – 3:10am hammock Rockstar, Haleigh and Fes. Rockstar – I want to stay here. but I don't f**king like any of these people. I want to stay .. I am just venting. These people all suck. I don't want to have regrets but I would hate for Julie to say why did you tell him to use the veto … this was for you family. It just sucks! It's stupid. I just didn't think she would pick me. Like how many other people are there to choose from. Haleigh tells Rockstar about her conversation with Katilyn. Rockstar – I am not trying to sound ungrateful .. I appreciate the experience. I didn't think there was anyway I wouldn't make it to jury. I didn't f**k with anybody, I didn't do anything. Haleigh – its not over. Rockstar – I just don't like how I am not accomplishing what I wanted to accomplish. And there are all these f**king kids that don't need to be here and they're winning. I should have come in here as a shady b***h like I wanted to … it just didn't feel right. Haleigh – we're going to get through it. Rockstar – I just don't know about this chance thing.. like if I'm not wanted here then I would want to just go back to my family. Haleigh – we'll figure it out. Rockstar and Haleigh head to bed.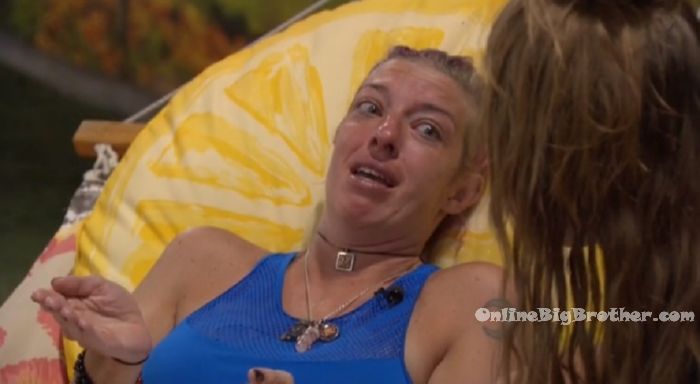 HELP keep the spoilers coming! Show your support by making a donation. ANY amount is greatly appreciated! Your donations go directly to paying the fees required to run this site.
For all you folks that need a VPN I use this one
Rank the houseguests!
Easiest way to Rank the house guests use link below