POV Holder:
Shane
Next POV:
July 28 (Saturday)
POV Used
POV Ceremony
July 30 (Monday)
HOH Winner:
SHANE
Next HOH:
Aug 2nd
Original Nominations:
Ashley and Joe
Current Nominations:
Have Nots (Cereal & Salmon)
Joe, Ian
Coach Competition Winner
Janelle (Wil SAFE)
Next Coaches Competition
August 3(Friday)
Last Evicted Houseguest
JOJO
8:30pm HOH Britney and Janelle Watch with FlashBack FREE TRIAL!
Britney telling her the HOH room has been stuffed all
Britney: "What are you thinking get out Frank?"
Janelle: "We'll Ya lets get rid of Frank"
Britney: "Well you are the only person that has come up here to tell us that"
Janelle: "REALLY!"
Janelle telling her it's pretty obvious that the Coaches are going to be dropped in and if they leave Boogie and Frank in the game they are going to run it.
Janelle offers Britney final 4 with her players. She guarantees that Frank will put Shane up next week" Janelle about Boogie: "He's going to target Shane when he comes in next week because Shane is a threat and he'll target threats first and take a girl to the end"
Britney asks her if nominations stay the same where is Wil's vote going to be. Janelle claims she doesn't know she thinks he'll keep Joe.
Janelle tells her she knows 100% they are going into the game.. there is no more coaches Competitions and the next HOh will be endurance. Janelle raises her voice: "We are going to play in the HOH endurance competition"
Janelle tells her next week the alliance will be Britney, Janelle, Wil, Shane, and Joe if they backdoor Frank this week.
Britney thinks there might be a slight chance that they will play a coaches HOH.
Janelle says she should throw the HOH to Janelle. Janelle: "We need to work together.. I don't think going to the end with Boogie is a good idea.. what do you think?" Britney: "NO.. he's a beast"
Janelle think for sure she'll have ashley but Wil may be a tough one, They are worried he'll target Janelle and Britney.
Janelle says there are 2 week until Jury all the noobies will be gunning
Britney: "Do yo think they will really do that for us?"
Janelle: "uhh YA"
Britney think that having the coaches get dropped in will damage the integrity of the game. She brings up that they were safe for 4 weeks it's not fair to the noobies. Janelle: "They don't care about fair"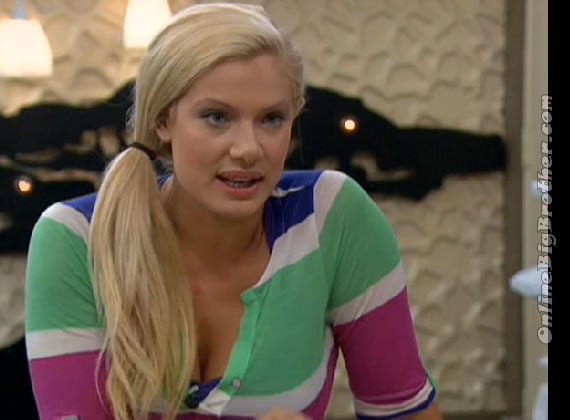 Janelle: "Boogie is going to be a beast to get out of here.. even harder with Frank here"
Britney is worried that Shane might team up with Boogie and Frank. Janelle is worried about that to. Janelle says on thursday they have to take whatever nobbies they can get and go after Boogie. Britney wonders if maybe Dan wants to team up with them. Janelle doesn't trust Dan.
Britney is unsure that the coaches are going into the game. Janelle says yes they are going in and her and britney better team up.
They break down who they can trust
Janelle: "Ashley for sure.. Shane for Sure.. Danielle will be with Dan.."
Britney: "Joe is not going to work with you.. "
Britney says that Wil was upstairs telling them to take out Ian. Janelle looks surprised.
9:36pm Cam 1-2 Britney says she doesn't know a lot of what Janelle is saying sounds like it could be right.
Janelle tells the life feeders sorry she has to whisper something to Britney. Cut to fish..
9:12pm Cam 3-4 joe, Wil and Jenn
I'm going to give you one bit of advice "Band together.. Leave your fucking coaches" Jenn and Wil agree.. Stay true and beat the fu** out of them"
9:40pm Cam 1-2 Boogie, Frank and Britney
Britney saying that Janelle is trying to get the votes to get rid of Ashley. Britney says she's concerned about Boogie's players voting out Ashley. Boogie says his people are voting out Joe. Britney says if they nominate Ian both sides will have 2 votes and the swim will be Danielle and that is risky because Janelle is all over her. Boogie thinks it's weird that Janelle wants to save Joe he would just cut him loose. They all agree that Joe's stories are getting a little stupid. Britney brings up that Joe is claiming his family owned the land the white house is built on and they sold it for a donkey and a fifth of whiskey.
Boogie tells her Ian and Jenn are Rocks they will not switch up their votes Joe is going home.
Watch what happens, AS it happens: Big Brother 14 Live Feeds!
Subscribe today for your FREE 3 DAY TRIAL!


9:58pm Cam 1-2 Joe and Janelle she's telling him things are looking promising for Joe to stay. Joe tells her he told Shane he would take a bullet for him. Wil joins them Janelle says that she just talked to Britney and she's understands Frank needs to go.
10:16pm Janelle, Joe and Wil agree if Frank gets taken out this week Boogie will pull a Willie. Wil: "I cannot believe Shane we be stupid enough to not take Frank out" Wil: "At least take Ashley down" Janelle disagrees says they have to keep Ashley up on the block. Dan would never wast a vote to take out AShley but he might decided to cu a deal with frank and get rid of Joe.
Wil starts running scenarios that include backdooring Shane next week. Janelle tells him they should not start plotting Shane's demise just yet he might be useful for them. Janelle explains that Shane is pretty loyal he plays much the same game that Janelle played in season 6. Wil says if Shane doesn't use the POV he will not get his vote in the Jury.
10:30pm Wil brings up that next week they are going to need to tell Britney to do her own damn dishes. He points out that her dishes were left outside from lunch.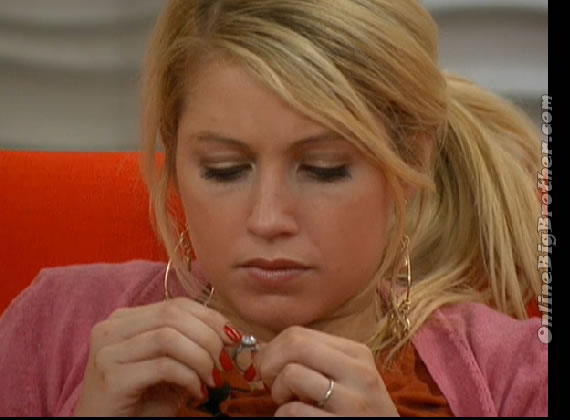 10:58pm Living Room everyone but Frank, Janelle and her team chit chat.. Britney thinking that the stone in ther ring is loose.
11:06pm Cam 1-2 arcade room AShley and Shane Ashley never realized how important alliances and she's thinking her team is going to get picked off. She doesn't see Jenn and Ian not sticking with Boogie, Even though Shane tells her they will. Ashley sees the strongest alliance in the house is Boogie's team. Shane is worried about Backdooring Frank and having Janelle's and Boogies players after him.. Feeds cut..
11:40pm Shane saying that he feels like this week is the biggest move in the game.
11:44pm HOH Danielle and Dan Watch with FlashBack FREE TRIAL!

Danielle says that Shane is leaning towards taking Frank out but Britney is still pushing Shane to take out Joe. Dan: 'I need to talk to Shane alone' Dan asks Danielle what works best for her. Danielle thinks that right now Frank isn't targeting her so it really doesn't matter to her right now. Danielle thinks Shane is educated but he's not very smart.. so her biggest threat is Frank. Danielle: "Shane will never put me up.. he likes me too much"
Danielle says that Janelle is a snake and a liar she's going around the house talking crap about people. She tells Dan that Janelle was trying to get votes for Joe to stay.
Dan is wanting Frank gone he doesn't thinks Danielle and Shane will get a third chance to take him out. Apparently Danielle has been throwing all these competitions. Dan suggests she throw the next HOH. Danielle doesn't want to because she doesn't feel safe.
12:00AM Hot tub Cam 1-2 Shane telling Wil that voting out Frank is the biggest move in the game he needs Wil to act sketchy and depressed. Shane tries to justify that backdooring Frank this week isn't going back on his deal with Frank.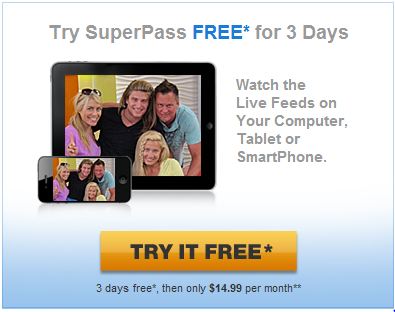 Share it YO!!
Tweet