POV Holder:
Shane
Next POV:
July 28 (Saturday)
POV Used
POV Ceremony
July 30 (Monday)
HOH Winner:
SHANE
Next HOH:
Aug 2nd
Original Nominations:
Ashley and Joe
Current Nominations:
Have Nots (Cereal & Salmon)
Joe, Ian
Coach Competition Winner
Janelle (Wil SAFE)
Next Coaches Competition
August 3(Friday)
Last Evicted Houseguest
JOJO
5:16pm HOH Shane and Dan Watch with FlashBack FREE TRIAL!
Shane telling him that Joe's deal sounds promising because Frank is his biggest competitor and he's got a chance to take him out why not take it. Shane: "He was almost crying"
dan points out that Joe is about to go out the door so if Shane saves him at the last minute Joe will be more indebted to him.
Shane asks him what Dan would do. Dan doesn't answer Dan: "That's a good thing about your position you can do whatever the f—- you want
Shane brings up the wedding ring Janelle gave him as a guarantee that she will not backstab him. dan laughs like crazy..
Shane tells Dan that he was thinking about maybe doing a final 2 with Danielle and Frank, but nothing is final. Shane wants to take Danielle to the final 2 that is his plan so whatever he does now must guarantee Danielle's safety.
Shane: "Do you trust boogie"
Dan: "No I don't.. people don't change their stripes in this game"
Shane doesn't want to screw Dan over so he's looking for input from Dan. Dan says the pros of keeping Frank is he's everyone's target the cons is Shane might not get another chance to take him out.
Dan and Shane both agree that if Frank goes up on the block he has to go home otherwise he'll have both sides against him.Dan explains to Shane that on his season him and Memphis would try to take out the players that would have a good shot of winning the next competition.
Dan: "What are you most concerned with .. going up next week or an easier path to the end?"
Shane: "I dunno… Keeping Boogie in this game with 3 players.. it's risky"
Dan asks what Danielle's relationship with Joe is. Shane has no idea, Shane knows Danielle trusts Frank. They count the votes.. If they take Joe off and leave Ashley they will have Ian and Jenn vote to keep Frank and Wil and Joe to vote out Frank. Danielle stays as the swing vote.
Dan says that Danielle and Joe need Shane to survive but Frank doesn't so the motivation to keep Shane around isn't there for Frank. Dan warns that Ian or Jenn could win a HOH there is always a oddball win. Dan says that the path to the end is easier with Frank gone now..
Dan points out one major issue with Shane and Frank being a team. The house will join up against them because they are the strongest pair there will be no way of avoiding that they both go up. Dan: "If it looks like you are with someone people will want to split you up… that's why i'm harping on you and Danielle all the time" Dan reminds him that during his season no one knew that he was with Memphis. Shane brings up how Frank was freaking out on Janelle because she was against backdooring Shane. Shane: "When Frank gets the chance he will get rid of me regardless if we are aligned I know that"
Dan asks him if Joe has done anything to directly hurt Shane. Shane says no. Dan thinks it always best to pick the person that keeps the most people in the house happy.. but in this case it might be a toss up.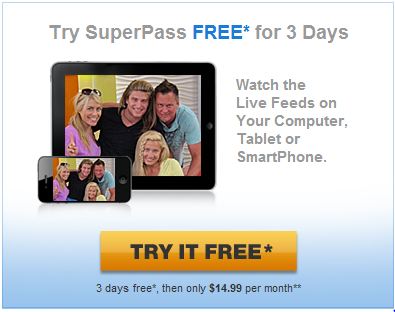 Shane says Jen and Ian haven't come up to talk to him yet, he would expect them to at least offer him a 1 week deal. Dan: "People are thinking they are pretty safe right now"
If Shane goes ahead with this he's going to get Janelle's ring as a guarantee. Dan: "that ring is worth 20 grand at least"
Dan: "If you are going to flip it do not tip your hand to Boogie.. he's going to be able the smell something is up" Dan wants Boogie to have as little time as possible to work to save Frank.
(Dan wants Frank gone… Shane still on the fence)
Britney comes in asks them what is new with game talk. Shane says he's thinking about flipping the house. Britney says if Frank gets out of the house than Shane is the only target and Wil is going to put up Shane if he wins HOH.
Shane: "Even if he gives me his word and Janelle gives me her ring?"
Britney: "what if Boogie wins coaches comp and keeps Jenn safe then who is going up?"
Shane: "that's a lot of what ifs"
Britney points out if Ian or Jenn win HOH next week they will put up Shane if he backdoors Frank.
(Britney wants to take Joe out.. Shane still ont he fence but leaning towards getting rid of Frank )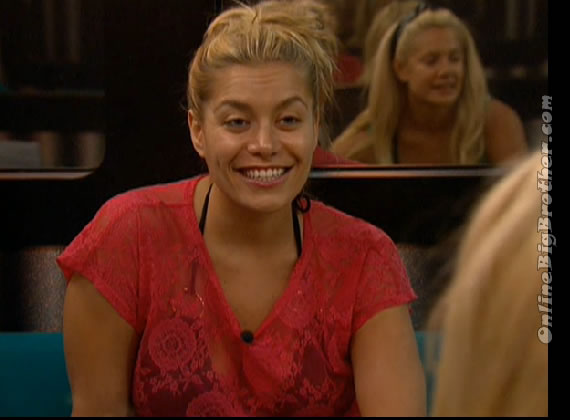 5:40pm Cam 3-4 Arcade Room AShley, Joe and Janelle
Janelle saying that it's looking promising that Shane is going to use the POV and take Frank out. Joe adds that Shane wants to talk tonight just the 4 of them (Britney, Janelle, Joe and Shane)
6:20pm HOH Cam 1-2 Britney, Frank, Danielle and Shane There is a bit of speculation about the twist but talk is mostly non game.
At 6:29pm Wil joins them.. just chit chat.. They do talk about Ian being a member in mensa.
6:57pm Shane, Britney, Wil and Janelle
Wil asks Janelle to please leave so he can talk to them in private. Wil says that sooner or later they have to start getting rid of players on their own team. Britney: "Don't sacrifice 500K so Janelle can get 100K"
Wil says if Anyone from Boogie's side win HOH he's going up possibly with Shane. Wil says Frank and Shane are not his targets, He's worried about Ian because he feels that Ian has the best chance to win Q&A and Endurance.
Wil says that Joe is useless at comps and sucks at the social game at the very least Wil wants Ashley to stay in the game. Wil: "I Have a suspicion that you and Frank are working together..I want you to know I'm not targeting you guys"
Wil is really nervous about Ian he would feel better if Ian would go sooner than later. Wil's reasoning is Ian will be unstoppable in mental competitions and they are due for a mental comp seeing as almost all the contests have been physical so far.
Shane: Can I ask you a serious questions.. last week I heard you had a final 2 deal with Frank" Wil explains that Joe came up to him and told him Frank was wanting a final 3 deal with them.
Wil proposes that Shane backdoors Ian. Wil offers Shane a vote if he's up on the block against Ashley or Joe as long as he doesn't throw the POV. Wil swears he can be trusted.
Britney: 'I think Janelle would Crap her pants if she found out you are saying get rid of Ian over Frank" Wil says Janelle told him specifically not to say to put up Ian.
Wil leaves..
Brintey and Shane cringe as they see AShley coming up. Brintey wants him to lock the door.
Ashley comes up says she wants to have a Big BRother Family to take out Boogies team.
LOL Ashley and Wil are both trying to get Shane to Backdoor Ian .. what do you guys think is this a good idea?
7:47pm Cam 1-2 HOH Danielle, Britney and Shane
Danielle tells them that Janelle has been telling her to vote for a Joe to stay.. Danielle: "She's throwing Ashley under the bus for Joe.. this could be huge" Danielle also mentions that Janelle has really been grilling her about Shane if there is a relationship going on. Danielle tells them not to worry Janelle is off the scent.
Britney asks Shane where his head is at because she's starting to get worried. Shane: "I'm keeping the nominations the same.. just want to keep all the options open" Britney brings up that Wil saying his main target is Ian is more reason for them to leave Ian in the game. Britney thinks there is no benefit getting rid of Frank.
Danielle points out that Janelle and Boogie do not hate each other and she thinks Frank and Wil have a final 2.
(Shane is now leaning towards keeping the nominations the same)
Watch what happens, AS it happens: Big Brother 14 Live Feeds!
Subscribe today for your FREE 3 DAY TRIAL!


Share it YO!!
Tweet