POV Holder:
Shane
Next POV:
July 28 (Saturday)
POV Used
POV Ceremony
July 30 (Monday)
HOH Winner:
SHANE
Next HOH:
Aug 2nd
Original Nominations:
Ashley and Joe
Current Nominations:
Have Nots (Cereal & Salmon)
Joe, Ian
Coach Competition Winner
Janelle (Wil SAFE)
Next Coaches Competition
August 3(Friday)
Last Evicted Houseguest
JOJO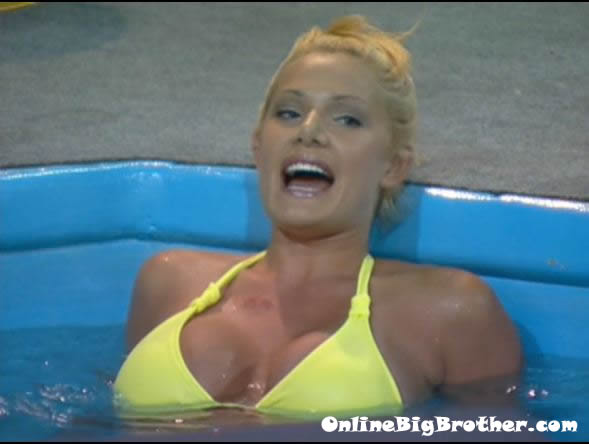 12am Shane and Will are sitting around the hot tub alone. Shane tells Wil that he has to be on board with getting out Frank this week. Wil tells Shane he is 100%! Shane tells Wil act worried though. Wil says he knows. He says that he will. Shane says that this week is the only week we have a swing vote and I think we can get to Danielle before Boogie. Wil says this is the only opportunity we have. Shane says I know, and then it is going to knock Boogie out and he will have no one … he will have Ian. If Ian win HOH we are basically going on the block. Shane says if I put up Frank this week it is going to be really tense in the house .. but I kept my word I didn't put him up this week. Ian comes out into the backyard and the conversation ends. Janelle joins them. The conversation turns to talking about the events leading up to coming on the show. Janelle says that she is so embarrassed about her tweets, trying to throw her fans off. She says that she wanted to trick the fans and surprise them coming on here. She says that there was a spoiler, but none of the fans believed I would do this again. She says that she just grabbed a google image and used it and the fans figured it out.
Re-Watch ALL THE DRAMA on FlashBack: Big Brother 14 Live Feeds – 3 Day Trial!
12:20am Ashley and Wil are in the arcade room hugging. They are celebrating quietly saying that each of them are not going home this week. Ashley says this is perfect, she told Shane that if he wastes that POV on Joe you are an idiot. She says that all he (Frank) cares about is keeping his integrity, making big moves and looking like this great BB player. She says that he is getting all of those because technically he had a chance to play for the POV and he didn't do it. Wil says yup, and it's 5 against 3 this week. Ashley says that Boogie is going to try and break us up, but we just need to be as thick as thieves. Ashley is super happy. She says it will be way better when it is black and white and the house is divided. She says we did it!! We just need to stick together and be blood brothers, and whatever tomorrow is a great day. Ashley tells Wil that they need him. Wil says that he is totally down, this is great. They leave the room.



12:30am Ashley heads up to the HOH room. Britney, Dan, Danielle are talking. Danielle and Dan head down stairs. Ashley and Britney start doing facials. Ashley talks about how she really didn't want to talk so much game with Shane but whatever it was fine. Ashley says that it is such a big move if he does something with the POV. Ashley says that she offered Shane a deal where if Wil goes against his word she will put him up on the block if she wins HOH. Ashley asks Britney what she thinks. Britney says that we don't have the votes to get rid of Frank this week. She says all you need this week is 3 votes, Ian and Jenn are going to vote to keep Frank this week and there is one other person that will vote to keep Frank. Ashley says yeah who is that?! Britney says Wil. Ashley says Ahhh.. no …no he won't that is what I am saying. Britney says yeah he will. Ashley asks how she knows this. Britney says that she doesn't know it but she suspects it. Ashley says she doesn't think it's true, I just spoke to Wil and he is so on board with it because he thinks he is going home next week. Britney says she thinks Wil and Frank have a final 2 deal, and it speaks volumes that Wil came up here trying to convince her not to get rid of Frank. He only wants to get rid of Frank when Janelle isn't around. Britney says again we don't have the votes to get rid of Frank this week … we just don't, Shane doesn't know that yet but he will when I talk to him. Shane and Danielle join them. Britney asks why Ashley is drinking to cool aid so hard. Shane says that he was just going through option, and that he hasn't made up his mind. Britney says Wil comes up and who does he want to go home, Ian …why not Frank.. because they are working together, duh! The only way you will get Frank out is if you put him up against one of his alliance members. Ashley starts crying. Britney tells her that she is safe this week don't worry.
Watch what happens, AS it happens: Big Brother 14 Live Feeds! Subscribe today for your FREE 3 DAY TRIAL!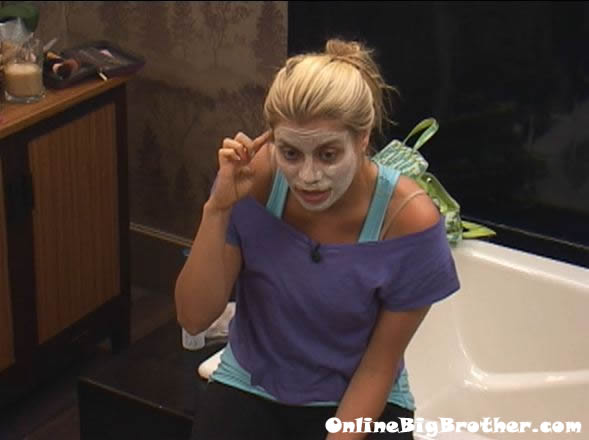 1am – 2am
Britney, Danielle and Shane talk up in the HOH room alone about how brainwashed Ashley is by the other side. Wil comes up and talks to Britney alone. Britney explains that come tomorrow the HOH room will be a ghost town because the HOH doesn't have power anymore. Meanwhile, Ashley goes and talks to Janelle in the arcade room. She tells Janelle everything. She says that Britney told her that if she wants Frank out so bad she should win HOH and do it. Ashley says that it is fine, she was just having a debate with Britney. Janelle leaves to go talk to Britney. Janelle goes up and says again that she wants to talk to Britney alone. Britney tells Wil that she is worried that if Frank and Joe were on the block Wil would vote out Joe. Wil says why in the hell would I do that. Britney says because Frank will promise you the world. Wil says why would I want to work with Frank, he said he was working with Willie then blew up, then the homophobic thing. He took what Willie joked about and made it homophobic to get the votes. Wil says that Frank is the most dangerous player in this house. Britney tells Wil that she was worried about him because he was pushing to get out Ian and not Frank. Shane joins them. Britney tells Shane that Wil says that he will vote out Frank. Shane tells Wil to tell Frank all the way up till Thursday night that he has his vote. Wil says if you want me to tell him that I will, done! Janelle, Ashley and Danielle join them. They all continue to talk about getting Frank out and about needing to win HOH next week. They talk about how nasty it is going to get in this house. Ashley says that if anyone goes back on their word she will not talk to them… she says I know that doesn't mean anything in this house because we are playing for 5 million dollars. They all laugh. Britney says Ashley doesn't even know what the grand prize is. Britney says that Ashley thinks she is on The Bachelor. They talk about how it will be a rough few days. Danielle is uncomfortable with lying and Boogie and Frank coming at her. Britney tells Janelle that she told Frank that you (Janelle) just float to whoever is in power… just so you know if they come to you and say that to you … I did say that. Shane says yeah and I may have agreed. Janelle says that she knows that, and that her team is going to win HOH soon. They continue to laugh and joke around.
Re-Watch ALL THE DRAMA on FlashBack: Big Brother 14 Live Feeds – 3 Day Trial!
2:35am – 3am Shane goes down to the hot tub and talks to Joe. Shane tells Joe that he is probably going to be kept on the block just for leverage, but that they are going to take Ashley off. Shane says and you won't say anything, because my life is in your hands, if it plans out Frank will go up and Danielle is the swing vote. He says that Danielle is going to tell Boogie and them that she is going to vote for them, so that if you hear that but Thursday night… Joe tells Shane that he will protect him at all costs, when you need me I will be there. Shane says just remember that I took you off… well took the steps to make you safe. Joe says thank you and you will get loyalty like you have never seen before. Shane says that he thought he could trust Frank, but he just can't. Getting Boogie out of this game is the best thing. Joe says you need something in this game, come tell me and you've got it. You just gained the strongest loyalty in big brother history. They discuss the past events of the house. Joe says you just made the best decision of your life. Shane and Joe shake hands. Shane heads inside.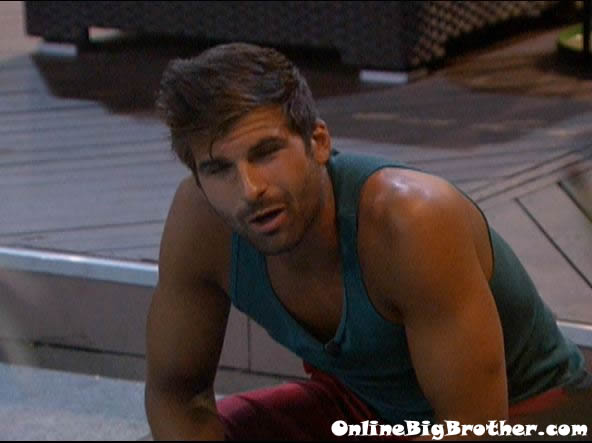 Joe talks to himself and says thank you, thank you, thank you. Got another shot! Another shot Sarah! We got another life girl. I'll take care of you Shane, see what we can do! OH man! We did it Sarah, we're back in the game!


3:20am Out in the backyard, Wil, Janelle, and Joe are talking about the plan. Janelle says Frank the tank is gone! Joe says that we need to start winning stuff. Wil says that he is ready to get verbal, because Boogie is going to get mad. Meanwhile up in the HOH room Danielle and Shane are wrestling in bed. Back out in the yard, Janelle, Joe and Wil talk about how this will be a big move. Joe says one of the biggest moves in bb history. They talk about how Frank is going to be blindsided tomorrow.
3:50am All the house guests are asleep..
6:55am All the house guests are still sleeping..

Share it YO!!
Tweet