POV Holder:
???
Next POV:
Aug 4 (Saturday)
POV Used
???
POV Ceremony
Aug 6 (Monday)
HOH Winner:
Danielle
Next HOH:
Aug 9
Original Nominations:
Wil and Frank
Current Nominations:
Have Nots (Cereal & Salmon)
Last Evicted Houseguest
12:50pm Up in the HOH room Britney, Dan and Danielle are talking about how Janelle is down there scheming with Frank. They guess what they are scheming about. Britney brings up how much Frank hates Janelle. They talk about not wanting to piss off Janelle because they need her vote. Danielle asks if they should get out Frank or Janelle, she says that everyone will be too scared to put her up. Britney says what if Frank wins the veto, then what? Dan says it's a one out of six chance he will win. Britney heads down stairs.
FREE 3 Day Big Brother Live Feed TRIAL: Join Now!
Britney comes back up and tells them that Joe told her that if anyone is telling you I am holding a coaches convention to get the coaches out, and that is a lie. Britney says that Janelle was the one to tell then that. Dan says that is how Janelle plays this game, she lies, so at least you can predict what she will do. She is predictable. Danielle asks do you think Janelle would not go after Shane? Britney says yeah, she absolutely will, she says she would put up Wil and Joe but that is not true. Britney says that Janelle for some reason thinks they have some loyalty. Britney says that we have a good pool for the Power of Veto. Dan says you roll the dice, it is part of the game. Britney says that Shane doesn't scheme with us, he is asleep. Dan says don't worry about Shane, he is the most trustworthy in this house. Danielle says thanks Dan! Dan says well, besides you. Dan then thanks Danielle for picking him to host the competition. He says that he is excited about it. They talk about how Janelle asked Danielle if she could be the host, but that Danielle didn't pick her. They say to tell Janelle if she asks that Britney wanted to host it too so she didn't want to chose between them so she picked Dan. Britney wonders if the fish are looking for their own poop to eat. Daneille wonder how Britney's mind works. Britney that people trapped in a building would eat their own poop. She asks Dan if that would happen. Dan says answer C, they would eat each other. Britney heads downstairs. Dan tells Danielle not to feed too much into Britney's hate of Janelle.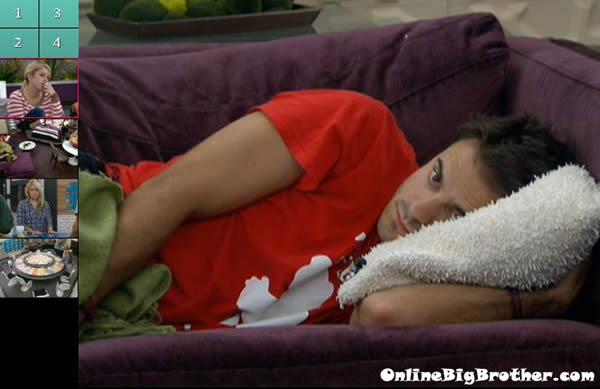 1:40pm – 1:50pm
Janelle and Ashley are in bed talking. Janelle tells her that she told Frank that she is all alone and how she said she thinks Trixie isn't even working with her. Janelle says of course I know you are but I want him to think I am all alone. They talk about how last week was all for nothing and it made her (Janelle) a target for Frank and Boogie. Janelle says that Boogie would never do the same for her. Janelle says that she can't believe Frank approached her to form an alliance. Janielle says that there is no working with people who lie or stab you in the back. Janelle asks you would obviously vote Frank out this week right? Ashley says yes. Janelle says good me too. Janelle says that she would never vote out Wil. Ashley says even though he is being a sh*t head I wouldn't vote him out. Janelle says that Ian said he is really going to try and win the POV. Ashley says that she does want to work with Dan, Britney, Danielle and Shane. Ashley says that she always feels indebted to Shane because he used the POV on me.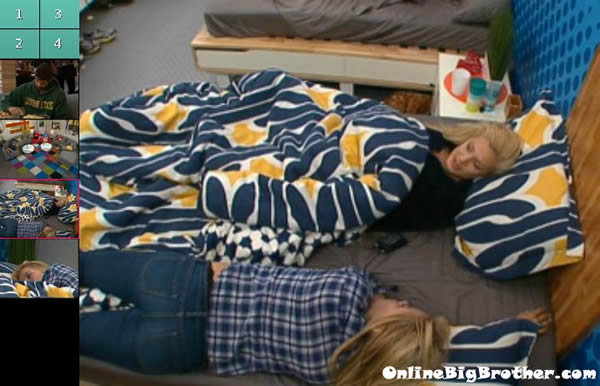 2pm – 2:15pm
Frank and Jenn are talking in the arcade room. Jenn tells Frank that he and Boogie are golden and that all they care about is each other. Jenn say so why would I have your back? Frank says that Boogie spends more time with me because I was the bigger target. Frank says I have been on the block three times, so obviously it's true, I hope you see that. Frank says that the trade thing is that I was telling Wil whatever I had to. He says that Boogie and I were thinking we were going to pick up a fourth player, but not Wil. Frank says that him and Boogie did not want to burn any bridges, we just wanted to get Janelle out. Frank says that we thought there was an opening because we heard Janelle told Wil that I was trying to back door him. Frank says that he told Janelle he wanted her to trade for me week two, but you know that is not true. Frank tells her that to get Wil's vote, Boogie and I had to lie to him that we were going to trade to get him. Frank says that Joe is a piece of sh*t, Wil is a piece of shit. And Ashley she will vote the way Janelle votes so that is why I was trying to mend that bridge with Janelle earlier in the bathroom.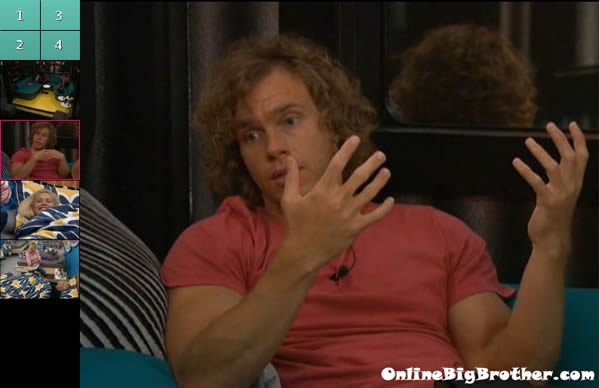 2:30pm Ian is in the have-not room pacing around and around the room. (He is nervous about the competition and when he gets nervous he fidgets or paces around. In the living room, Frank, Joe, Danielle, Britney and Shane are talking about sports mascots.
2:45pm Ian and Jenn join the house guests in the living room and they continue to talk about schools. Everyone is waiting for the Power of Veto Competition to begin. Dan is called to the Diary room. The competition will be happening soon! Big Brother switches the feeds to TRIVIA..
3:30pm TRIVIA…
Share it YO!
Tweet