POV Holder:
Danielle
Next POV:
Aug 11 (Saturday)
POV Used
???
POV Ceremony
Aug 6 (Monday)
HOH Winner:
Danielle
Next HOH:
Aug 9 (Thursday)
Original Nominations:
Wil and Frank
Current Nominations:
Have Nots
No Have-Nots for the Week
Last Evicted Houseguest
DANIELLE IS THE POWER OF VETO WINNER!
Power of Veto Summary: Danielle won the VETO, Jenn got a Maui trip, Wil got $5000, Frank has to wear a spirit-tard for a week, and Ian took a punishment of 24 hours as a dog where he has to live in a kennel in the have-not room for 24 hours. No Have-nots for the week.
4:35pm When the live feeds come back, the house guests are gathered in the kitchen. The congratulate Dan on his hosting job. Britney, Danielle and Janelle are in the storage room celebrating. They talk and laugh about how Frank has to wear a spirit tard. They congratulate Danielle for winning the Power Of Veto! They laugh about how Frank will be evicted in his spirt-tard outfit.
Watch what happens, AS it happens: Big Brother 14 Live Feeds! Subscribe today for your FREE 3 DAY TRIAL!
4:50pm Dan and Danielle are in the storage room talking. Dan says that it's awesome that Shane won a veto ticket. Dan says that he can understand why Ian didn't take Power of Veto and that he didnt take the trip to Maui instead he took the punishment to be locked in a kennel like a dog. Dan says that Ian didn't want to be put in position to have to make a decision. Danielle says see I told you I could win stuff. Dan says that he is stunned! Danielle asks if she keep a good poker face and didn't act too excited. Dan tells her she did good! Dan told Danielle to squeeze this power of veto for every ounce of protection she can get. Danielle tells him to do the same. Danielle laughs that Frank will be walking out the door in the spirit outfit!
Wil and Janelle are talking outside the HOH room. Wil talks about how he didn't know who he could trust. Will say that he can't trust Joe, he isn't loyal. Janelle says that the coaches took his strategy. Wil asks if she would go after Dan to get him out. Janelle says yes! They talk about how they will talk later. Janelle says that she doesn't want to be seen together because of how people talk. They head downstairs.
5pm – 5:10pm Britney and Danielle are up in the HOH room. Britney tells Danielle about how she saw Janelle and Wil talking and whispering outside the HOH room. Frank joins them and congratulates her on the win. Danielle tells him sorry for giving him the spirit-tard. Frank asks when he will have to put on the spirit-tard. Britney tells him some time tonight. Frank says that he wonders if it will help him get sympathy votes this week. The talk about how Ian will be locked in a kennel and have to stay in there for 24 hours! He will be locked in the have-not room. They says that whenever he wants to come out he has to wear a leash. Frank says that Joe thinks he will have to do a cheer whenever they tell him too. Frank asks what he has to do to stay in the house. Danielle says that she doesn't even have a vote. Frank heads back down stairs and says that he will talk to them later..
Britney and Danielle are talking in the HOH bed alone. Britney tells Danielle that Janelle will be coming after Dan to get him out. Danielle asks when. Britney says probably after we make it past jury. Danielle says well I will just have to get her out. Dan finishes his shower and comes out and talks to Danielle and Britney. Britney talks about how mean Boogie was to Ian during the competition so we have Ian's vote for sure! Britney says that Boogie was making fun of Ian, laughing at him and pointing at him. They talk about how now we for sure have the votes to get rid of Frank. Dan says we have one more vote than we need, which is good. Danielle says that Frank and Boogie didn't congratulate her when she won HOH and they didn't when I won now. Dan says who wins HOH next week would we be screwed? Britney says Wil or Boogie. They talk about how Wil and Janelle were jiggling and happy outside the HOH. Britney says that she saw the whole thing. Britney says that Boogie was so pissed off and mean to Ian, calling him an idiot and saying over and over again that this kid just doesn't get it! Britney talks about how Ian didn't take the trip and instead he took the dog in a kennel punishment. Ian gave the trip to Jenn because he had gotten the 3 grand whereas Jenn had gotten 1 grand from the coaches comp last week. Britney heads downs stairs because Dan warns her that she should not be seen being up here too much.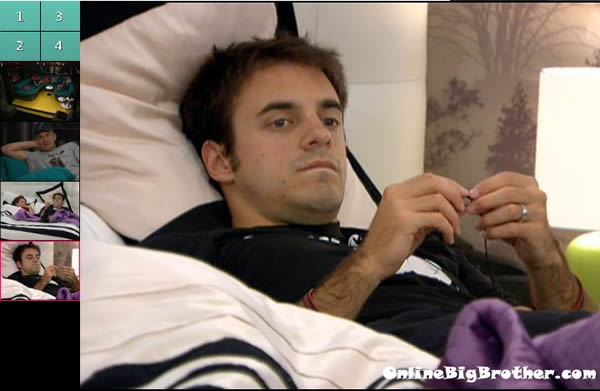 5:30pm Dan tells Danielle that her and him should make a deal with Wil. Dan says that Danielle single handily knocked Frank out of the game. He says that a lot of other people are going to benefit from it. Danielle talks about how happy she was that she got a 10! Danielle says that Boogie called Ian stupid for not taking the Maui trip, she says that Ian snapped back at Boogie and said that he wasn't going to be greedy …she only got $1000 and I got $3000… this makes it even. Dan and Danielle talk about how Ian loves that kind of stuff that he doesn't like the attention. Dan says that it was smart of him to do that, it made him not look greedy.
Share it YO!!
Tweet