| | | | |
| --- | --- | --- | --- |
| POV: | Tyler | Next POV: | Aug 4th |
| POV Used | ? | POV Ceremony | July 30th |
| HOH: | Bayleigh | Next HOH: | Aug 2nd |
| Noms: | Brett & Rachel | Have Nots | Fes, Tyler, Scottie |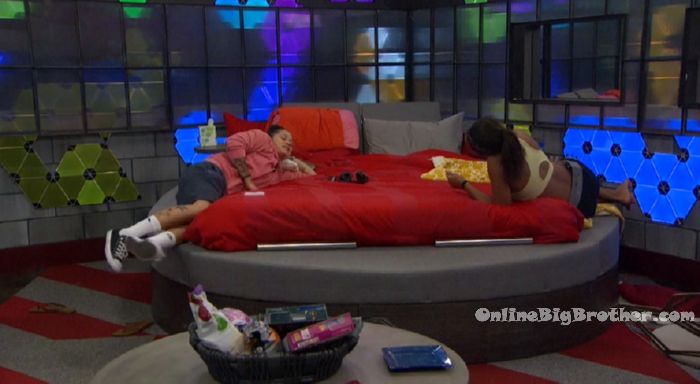 Big Brother Spoilers 9:33pm HOH room. Kaycee and Bayleigh. Bay – All I want is a family and a simple life. And now I'm on a reality tv show. Like how does this happen. Everything in my life is spot light, spot light.. Bayleigh what are you doing? Leave me alone! Kaycee – this is all happening for a reason. You just have to embrace it and take it in. Just think of the positives. Bayleigh – I am just worn out. Bayleigh – its like not even this.. When you find out my situation. When you find out my secrets you'll understand that this is like.. Kaycee – I don't understand why the f**k you just won't tell me. Bay – because it's random. Kaycee – why won't you just tell me? Bay – because it's weird. Kaycee – I don't give a sh*t. Bay – this is so annoying. I don't mind I will just tell you. Just coming into this house I didn't want to talk about it because its overwhelming. kaycee – you can tell me and I promise I won't tell anyone. Bay – its not a big deal its just not something you say in random conversations. Okay so we will go through the timeline.. Kaycee – am I the only one in the house that knows? Bay – Swaggy knows. Here is my timeline. When I was 17 I was a v***in and I got r****. Kaycee – I'm sorry. Bay – thank you. Big Brother switches the feeds.
9:55pm Backyard. Sam and Tyler. Sam finds a honey bee. She catches him in a wine glass. Tyler – are you going to feed it to your spider? Sam – no they've got a job to do. She then tells Tyler all about honey bees.
9:55pm HOH room. The live feeds switch back to Kaycee and Bay. Bay – I just want this week to be unanimous again. That's the plan and then we can start fresh and see what happens. It depends on who wins HOH. Kaycee – I am f**king going to go for it. Bay – my game plan and my friendship plan are way different. That's where I don't want to get my emotions involved. Kaycee – sh*t is about to get weird. Bay – sh*t is about to get weird and I'm ready for it.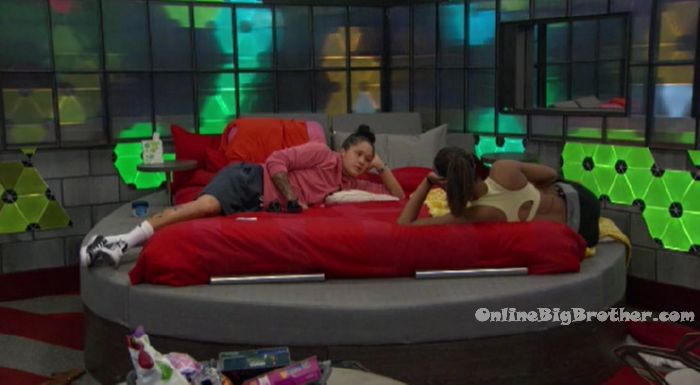 10pm – 10:20pm Rachel and Angela. Rachel – someone lied and I think it was Bayleigh. Angela – I feel like her strategy is to just tell everyone what they want to hear and that's why things aren't adding up. Right now we're at the point where everyone is everyone's target. This is the point where things get vicious. There is no such thing as big targets. Rachel – because of this nomination thing.. like how she (Bay) can change the nominations (Power App). If Tyler were to use it on Brett and Say Scottie went up and Scottie went home… she would put up Tyler and Brett next week. For sure and one of them would go home. Angela – you're absolutely right. Rachel – if Tyler uses that thing he would be target number one and he would go home. Angela – she can change the nominations.. can she change them after the veto? Rachel – no, only after the first nominations. Angela – okay so we need to stay on Bay's good side. Rachel – for the next two weeks. Angela – bring her in and ask what do you think I should do and then just do exactly what she wants. Rachel – just don't put up Fes and Haleigh. I think its mainly Fes .. she doesn't want Fes on the block. Haleigh will do whatever Fes wants. Haleigh is a follower. She is never going to think for herself in this game. I am pissed at myself for not pushing for JC to go on the block because she was toying with putting me or JC up. I feel like this whole week is my fault.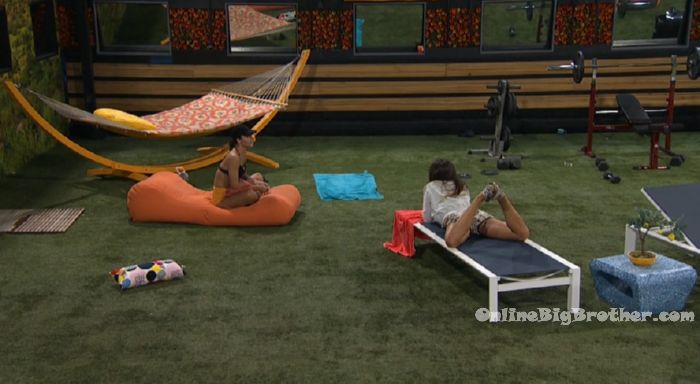 10:50pm HOH room. Bayleigh, Kaycee, JC and Rachel chatting ..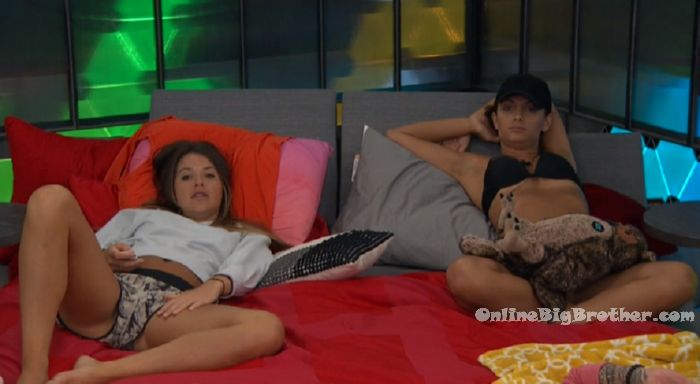 10:53pm Outside the HOH room. Haleigh and Scottie. Haleigh – Bay and I had a pretty good conversation. I think with enough time and effort she could be useful. We just need to get past the next 2 or 3 weeks. If we can consistently stay in power, this will be a cake walk. Scottie – of the 10 competitions played 7 of the wins are me, Fes and Tyler. Haleigh – that does make me feel good because I think I have you and Fes on my side. Tyler, I don't know where his head is at. I don't think he wants to make any big moves. But then he won the veto.. but I think he did that out of fear of possibly going up. Haleigh – they think you were the rogue vote. Scottie – they don't think it was me, they're hearing that from Angela and Rachel. Haleigh – they're going up next week.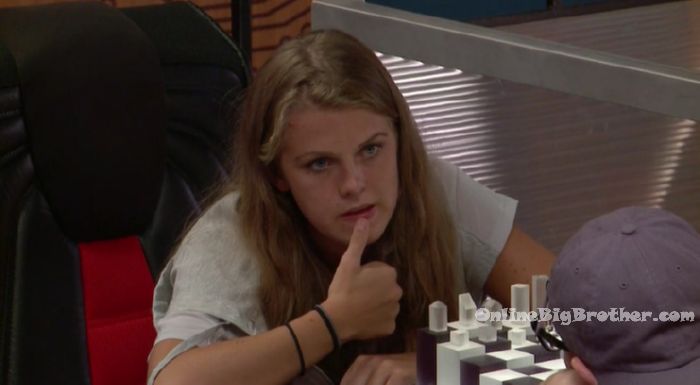 Booty poppin school #BB20 @bigbspoilers pic.twitter.com/fzMhHDZuTU

— Dawg (@DawgsBigBrother) July 30, 2018
11:30pm HOH room. Haleigh, Bay and Rockstar. Rockstar – our best move is to keep gassing Fessie up. Bay – someone is going to have to get JC away from Fes. No offense to JC but that one is ours. When I told Fes that I was thinking of putting up JC up as a pawn he lost his mind. He was like he's the biggest, I'm the smallest. We're good.. No! Haleigh – That's why when I made that comment .. its not that I question Fes's loyalty. My question to Fes is if you don't want to take the shot… tell me when we can!? When are we allowed to take that shot? JC's priorities and ours don't align. Bay – Fes's priority is to us.. and now you're adding people to the party. Speaking of Brett needs to go tomorrow because Fes came up to me and he had a conversation with Brett. Brett brought up the girls alliance. He wanted to know where he lies. Bay – he knows where he lies.
12:14am- 12:50am Havenot room Brett and Tyler. Tyler – this is going to start out bad but its not bad. Angela told me that Rachel told her the Bay has a power with the ability to change the nominees next week. Brett – Next week? What does that have to do with right now? Tyler – I don't know maybe we can use it back to this week? The point is I can't be pissing her off because then its me and you on the block next week. But I have been working as hard as f**k .. Sam, Angela, kaycee, me and JC are going to vote to keep you. All you have to do is keep hanging out with Scottie. Because JC is worried about it. We're going to pin the vote on Scottie to save JC's face. I made JC promise me that he would vote to keep you. Me using that veto would piss everyone off. It would be obvious that we're all working together if I used it. Brett – I was thinking of outing the girls alliance in my speech. I don't really have an option here, I am trusting you guys. Tyler – I need you to stay. The fact that Bay might have that power it would f**k me and you if I use it.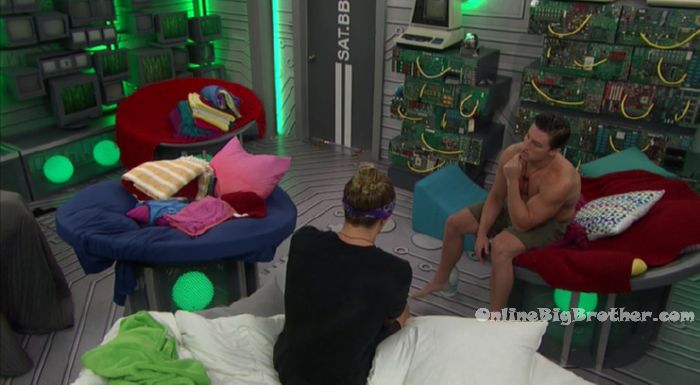 1:26pm Rachstar starts screaming. Tyler and Scottie come out to see what's happening> Rockstar had a bee in her skirt. She says she squished it because she didn't know what it was. She feels more bad about killing the bee. Tyler – don't tell Sam.
1:30am – 2:45am All the house guests are lazing around chatting about past house guests and other random things..
3am Sam is up cleaning the dishes in the kitchen.
4am All the house guests are sleeping..
A real easy way to support the site if you are an amazon shopper is to make your purchases through our link. You pay the exact same thing but we get a small % commission. It doesn't cost you anything and helps us out.
Amazon Canada
Amazon USA
Rank the houseguests!
Easiest way to Rank the house guests use link below