Check out our BB19 Ranking Grid. . rank your houseguests here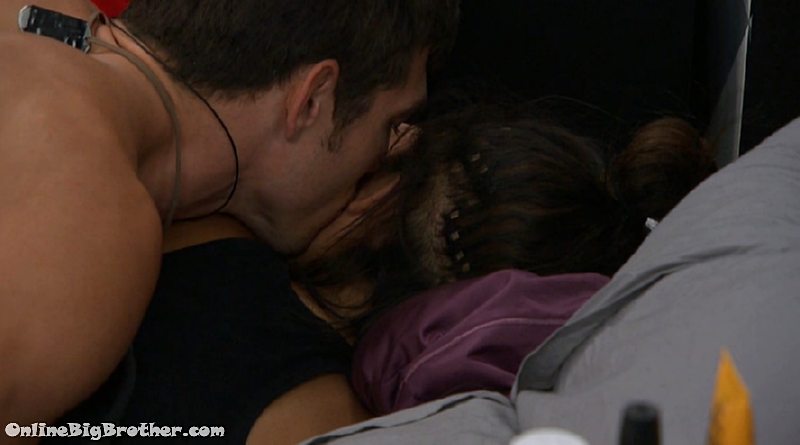 10:10am Cody and Jessica
Cody says Christmas spend two hours just sitting there, this morning.
Cody – being emotional about something
Jessica – cool, I had dreams all night about arguing with her
Cody – you can tell she really really hates tension, that's why she came to us after
Cody – she just wanted to remove tension she didn't want to smooth things over.. she was just trying to make herself more comfortable in the house
Cody says with the 2 of them around it'll make her EXTREMELY uncomfortable "I love it"
Jessica – the feelings mutual
COdy – she gave me poopy dog eyes and I walked right by her
Jessica – ohh please
Cody – I'm the king of awkward so if any of these don't like awkward
Cody says if Mark tries to talk to him, "All I'm going to do is look at him then walk away.."
Cody – then they are going to have the same conversation about me..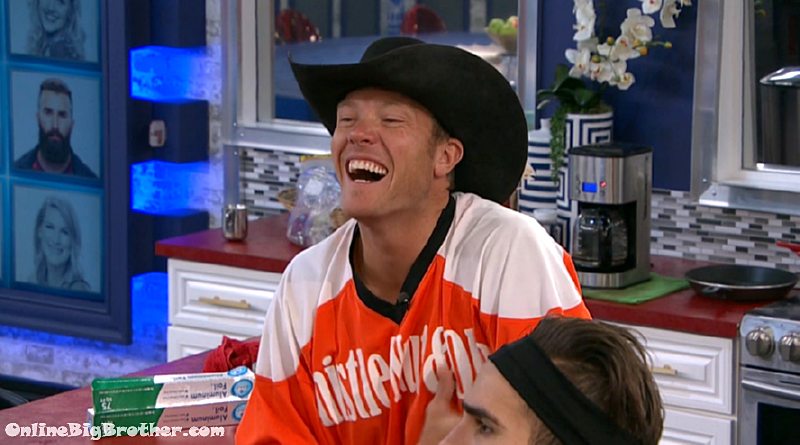 10:20am Jason and Paul
Jason says he would have done better in the HOH last night if he wore his cowboy hat..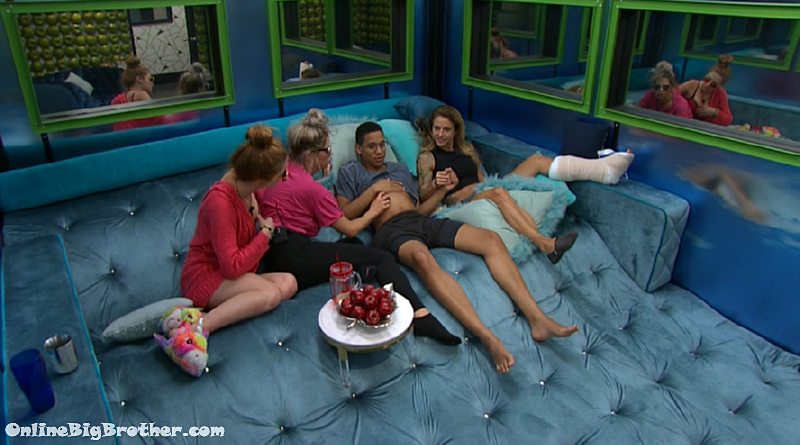 10:51am
pretending to give Ramses a ultrasound…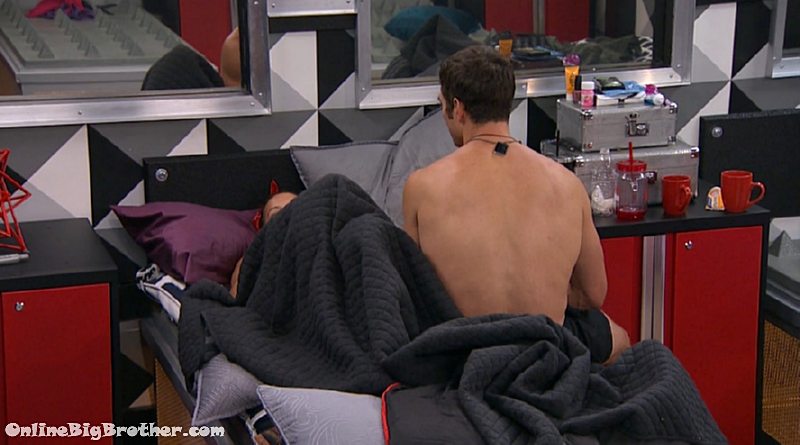 11:44am Cody and Jessica
They talk about the storage room getting stocked.
Cody saying he would love to dump all "the sh1t in the storage room"
Adds that he also wants to see them "get fat" so "Chow down"
Cody – I don't think Raven's cookings that good
Jessica agrees.
Cody – I liked her macaroni, but the rest of it..
Jessica – I agree
Jessica says she was looking forward to using the kitchen but Paul, Raven and Matt have taken it over Day 1
Cody calls Josh and "man child" wonders if anyone has changed him this morning.
Jessica laughs.
Cody – it's like the cloth one with the pin
Jessica says she heard Christmas saying "there's no point arguing with them because all they care about is themselves at this point"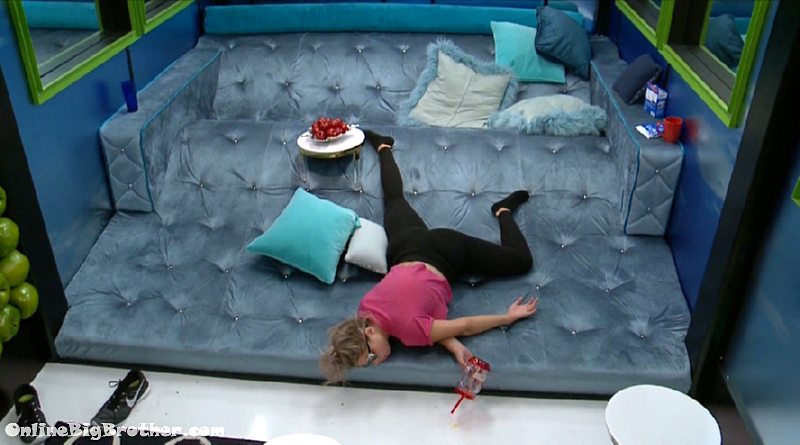 11:58am A MESS
MESS #BB19 @DawgsBigBrother pic.twitter.com/kSHhnvmbhQ

— OnlineBigBrother.com (@bigbspoilers) July 7, 2017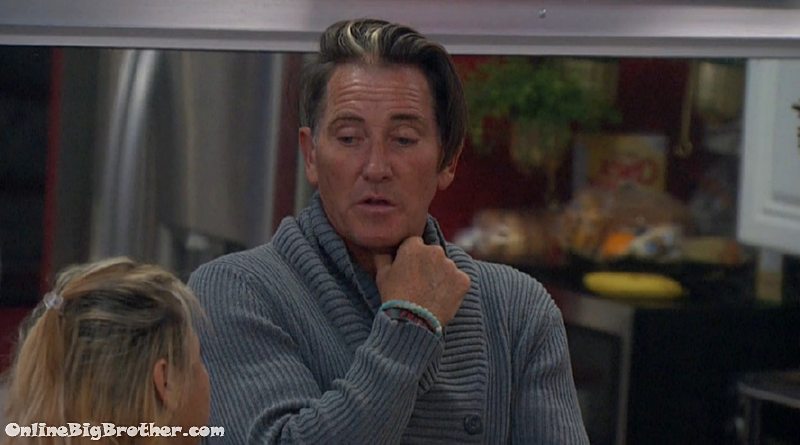 12:08pm Kitchen Kevin and Alex
Kevin – so Alex, who's he going to put up
Kevin – he's going to put you up
Alex nods
Kevin – I'm not voting you out, Who cares who else is up there.. no more am I doing anything or anyone else. Ever again f*** that
Alex – I want to punch Ramses in the face
Kevin – yup
Kevin – you know in the end, no one is going to remember the first couple weeks.. I guess Jillian will remember, and Meghan.. and what's that kids first name
Alex – Cameron
12:17pm Raven and Elena talking about having hangovers today.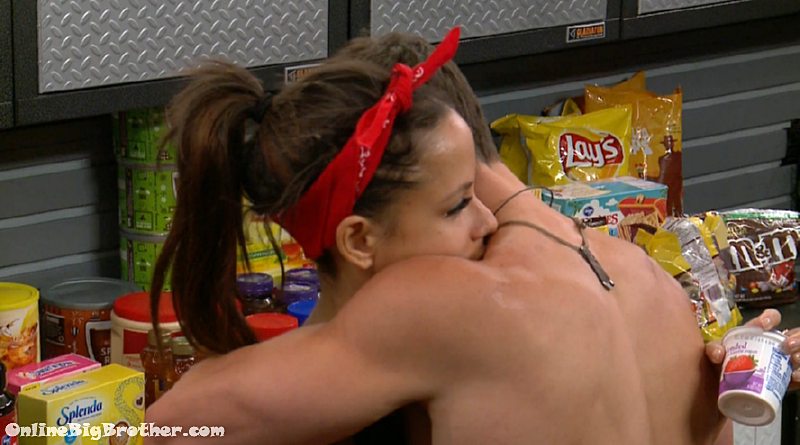 12:19pm Cody and Jessica
in the storage room surrounded by junk food
12:24am Feeds on Cats
2:28pm Feeds on Cats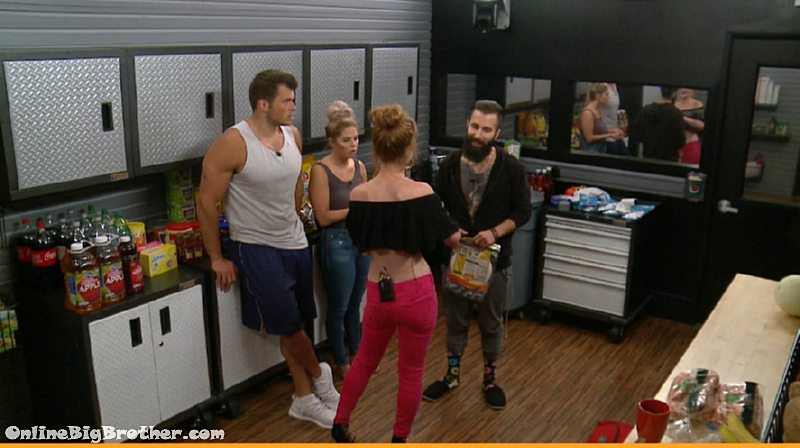 2:53pm Feeds back
Talking about what the Curse is. No idea who has the temptation yet. Elena mentions how Christmas was pissed. (maybe she got the temptation and is pissed because it doesn't really help her given her foot)
There's conversations about seeing voodoo dolls of the houseguests.
Elena – mine had big b**bs
This is what the second temptation does
If the HouseGuest accepts this offer, they will have the power to swap with one of the 3 chosen players in the Power of Veto competition and take their place and have the power to participate in any veto competition. This temptation can be only used once.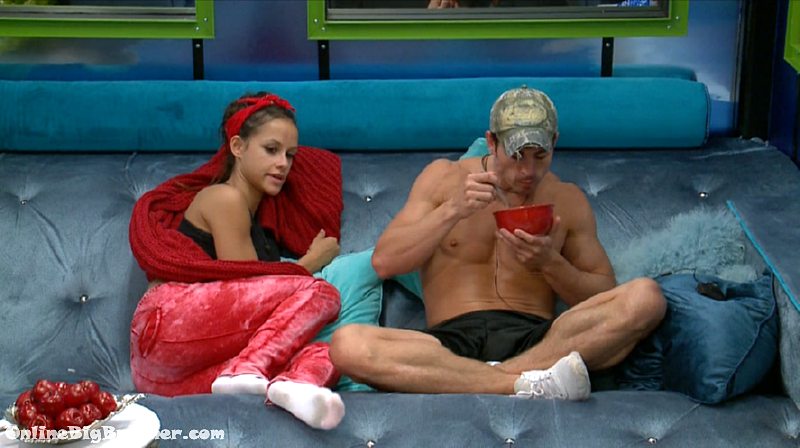 3:02pm Cody and Jessica
Talking about during the den of temptation they were told it would affect 3 people. They think the curse applies to 3 people.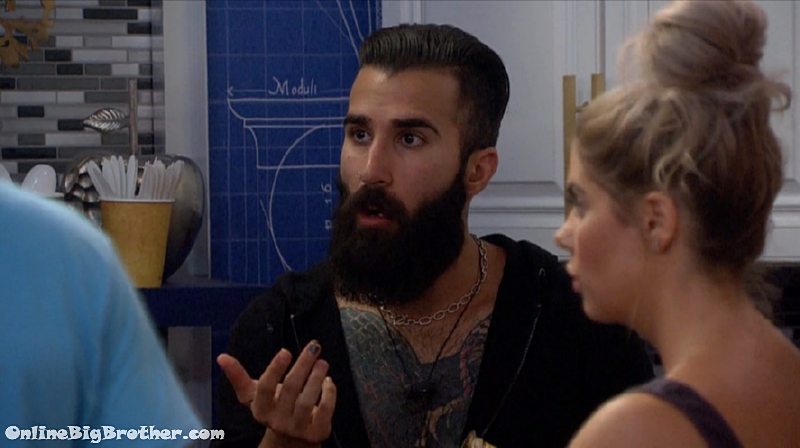 3:07pm Paul and his mind slaves
Trying to figure out who got the temptation.
They say Jason was pretty happy.
Elena – I would guess Christmas… Kevin.. lovable guy
They agree that Kevin has no f*** what is going one
Paul – he's a really smart guy though..
Paul says if it's not Raven, Christmas and Dom It could be Kevin.
Paul tells them it's nominations today.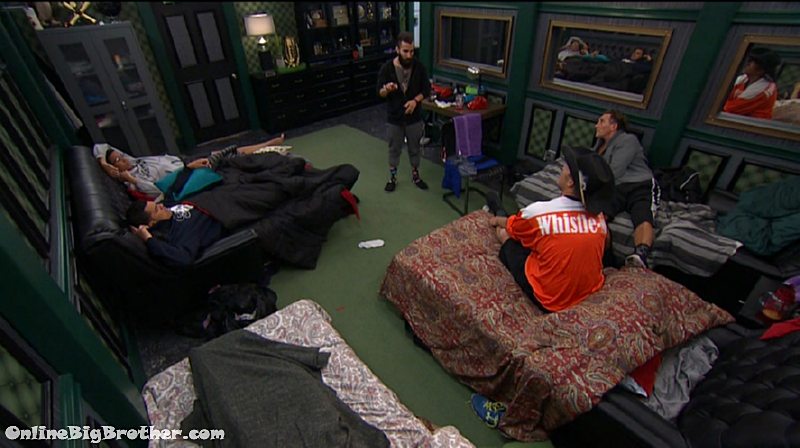 3:08pm Paul telling them it's not Jessica and Cody he heard them talking in the Austin power room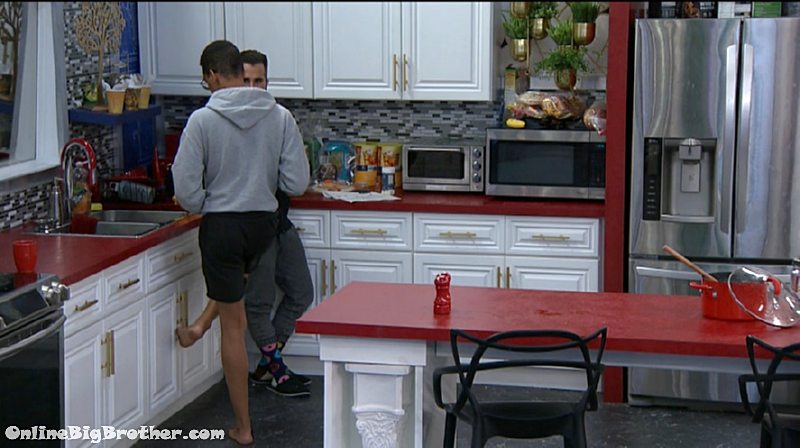 Ramses – aren't you going after the people targeting you… Jess and Cody
Paul tells him he's backdooring them
Paul – everyone's on board.. so .. if there's a week to do it.. I don't think the house has been in one consensus until now..
Ramses – I agree
Paul – it can only get stickier
Ramses – I wanted you to win HOH
Paul – Yeah.. everybody wants Cody out of this house
Paul says as HOH his objective is Cody. Cody will only get 1 vote.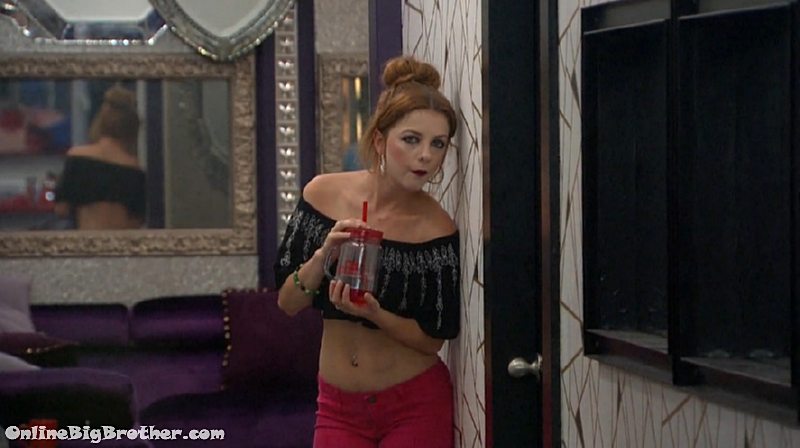 Raven sneaking around..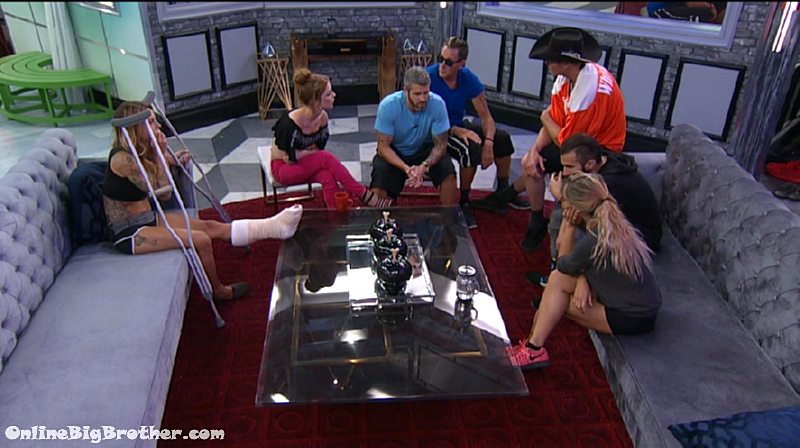 3:27pm Paul losing his mind that he's not in 100% control. They have no idea what the temptation is and who has it and it's troubling him.
Links to the ranking system
Rank your house guests here
For those of you that like Statistics here are some expanded reports.