Check out our BB19 Ranking Grid. . rank your houseguests here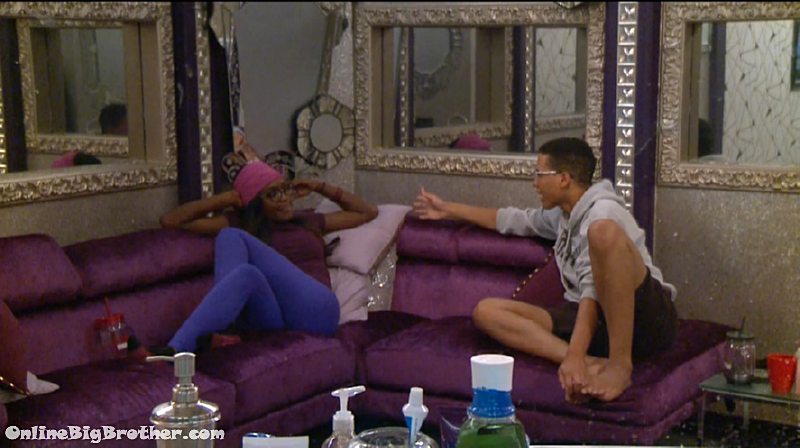 3:35pm Dom and Ramses
Dom tells him she's not targeting Ramses at all.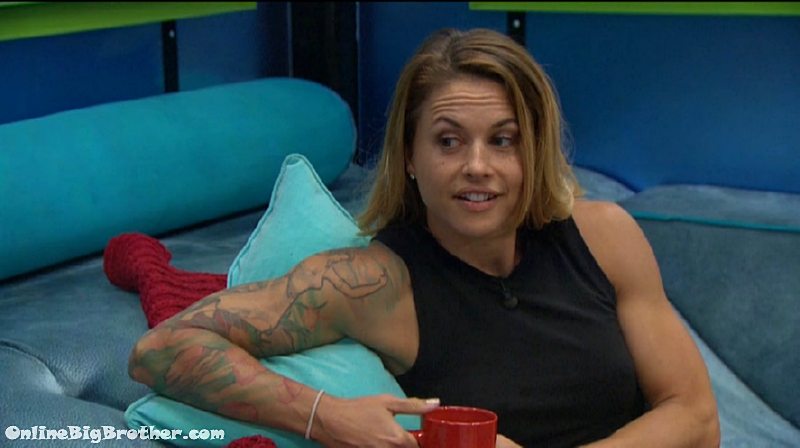 3:36pm Christmas and Jason
Xmas – I know what happened yesterday I wanted to sit down and see what you have to say
Jason – do you feel like I directly told you that I was going to vote to keep you.. I want to know…
Xmas – do you feel you gave me the indication that you would vote that way
Jason says he led her one way but was giving body language "and sh1t" indicating he wasn't sure about the vote.
Jason – Paul and Mark those guys were riding my a$$ like Zoro.. and I kept telling them I'm voting for Jillian.. I was like man I have to get these people off me..
Jason says all he was telling them was "i'm solid"
Jason – Why would I want to keep you over Jillian honestly.. becuase you're not as cool as Jillian, give me a break.
Jason – You're not a vote for me..
Xmas – ok then.. why did you say that to me .
Jason says he kept Jillian for a vote.
Xmas- You did allude to the fact you were voting for me. you played in a heavily persuasive grey area.
Xmas says other players gave her a straight up answer.
Xmas – you're right you never said yes or no..
Xmas just wish he was straight with her.
Xmas – I feel pretty darn f***d over
Jason – by me
Xmas – not you, you lost Jillian I told you, you'll lose Jillian
Xmas tells him his team is wavering "I know that can be unnerving"
Xmas wants to move on reminds him she knows what the f*** is going on in the house.
Jason – for the first 2 weeks in the house I didn't see none of y'all
Jason says she's on the strong side, "I'm on the weak side I needed to get rid of a strong person on the inside .. I felt like I was on the outside"
Xmas says the reason why he hasn't been brought into her group is because he's "wavering"
Xmas – Alex and I got off to a rough start… we let Meghan get to us
Xmas I feel quite fucked over literally.. figuratively and physically.
Jason- I will take all of that
Xmas says Jillian is going to go home and be like "I got beat by a broke b1tch"
Xmas – I am broken hearted that I can't compete now.. I thought we had a good connection..
Xmas – if you were going t vote for Jillian all I wanted was honesty
Jason says Paul and Mark really pushed him
Jason – I told Paul I got your back but I got none of your front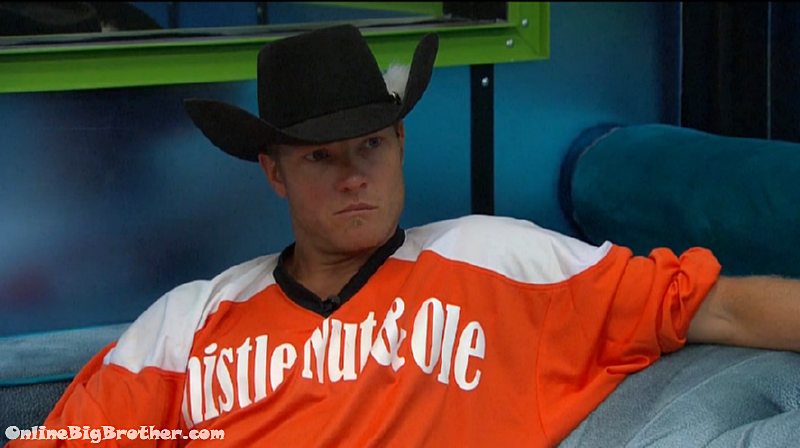 Jason brings up that yesterday Ramses called Kevin a snake.
Xmas says Cody and her danced one morning and Jessica saw. The reason Cody put her up was because Jessica said she made the girls uncomfortable which means Jessica was uncomfortable.
Do you think I wanted to vote for Jillian f that
Do yo think I wanted to sit in the jury house and listen to Julie F that
Xmas – Jillian..
Xmas – Jillian, Nobody knows her name how awful is that
Jason going back to how he never told them his vote all he said "I'm solid I'm solid" highlights how aggressive Mark and paul were.
Jason says ramses told Jillian he loved her and she was his best friend and for him to vote Jillian out.
Jason says Kevin, Jessica, Jason, Alex voted to keep Jillian.
Xmas asks how does he know Kevin didn't
Jason – I guarantee you Kevin isn't lying.. He's old school .. Ramses called him a snake
Jason is adamant that Ramses voted out Jillian and Kevin didn't
Xmas keeps questioning it.
Jason says he would love to make an alliance with 4 people
Xma s- who
Jason – i dunno.. Paul is badass but I'm scared because he's soo good..
Xmas says her and Paul are in the same position if they lie and backstab it'll hurt themselves in their real life so they have to play smart and creative.
Jason says his hands were shaking during the HOH competition if he had his cowboy hat he would have been calmer.
Jason says Alex is calm like a tiger but she really trusts Ramses.
Jason says he cancelled 47K worth of contracts to come on Big Brother.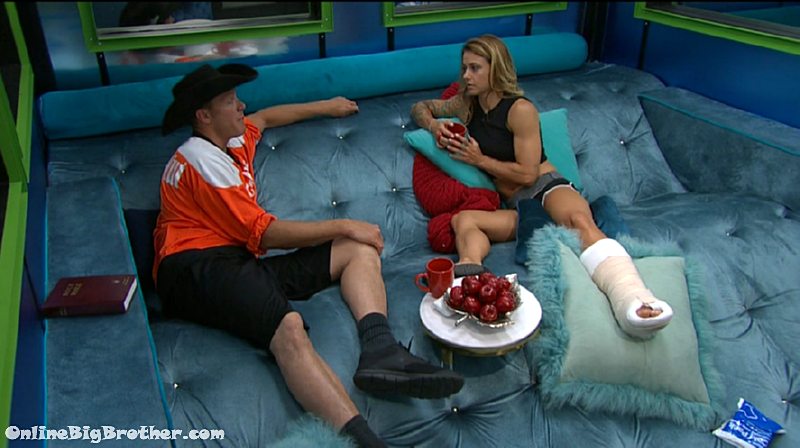 Jason – what's the f*** plan
Xmas – you have a conversation and you let him (PAUL) know what the deal (with Cody) was
Xmas – in this situation it's best to be truthful with paul
Jason – I've always been truthful…. No greywater.
Jason – you running with Paul
Xmas – I have zero Alliances, I trust my team but I'm uneasy what happened to me
Jason – everybody wants to be on Paul's team the mother f***er is going to win
Xmas – you're not being put up this week, do you trust me
Jason – yes
They agree that if Cody wins POV he'll use it on Jessica "Pull a military move"
Xmas – let me tell you my goal..
Xmas – I want to be in Jury
Jason – That's not going to not happen
Xmas – It won't if Jess wins HOH next week
Xmas says she'll help him stay off the radar with her team if he helps her get to jury.
Jason – done … done
Jason – how do you feel about showmances.. You're not in a showmance you and I should be on the same team.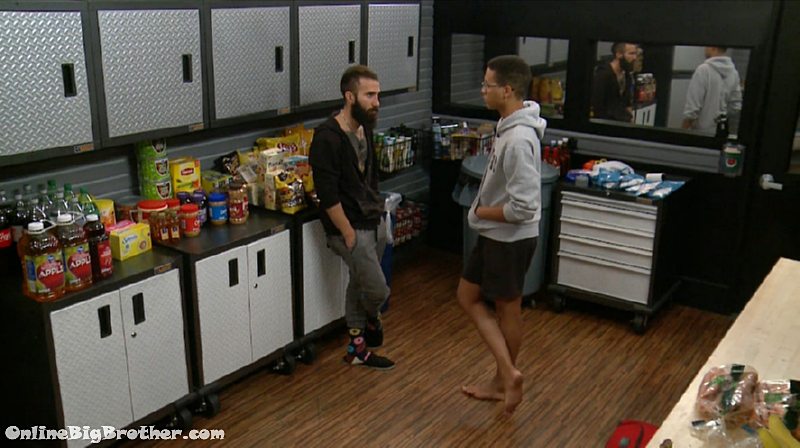 3:55pm Ramses and Paul
Paul – my objective is to get Cody up there and I know for a f****g fact nobody is keeping him here..
Ramses – he yelled at me
Paul – he Yelled at you
Ramses – not really… he came at me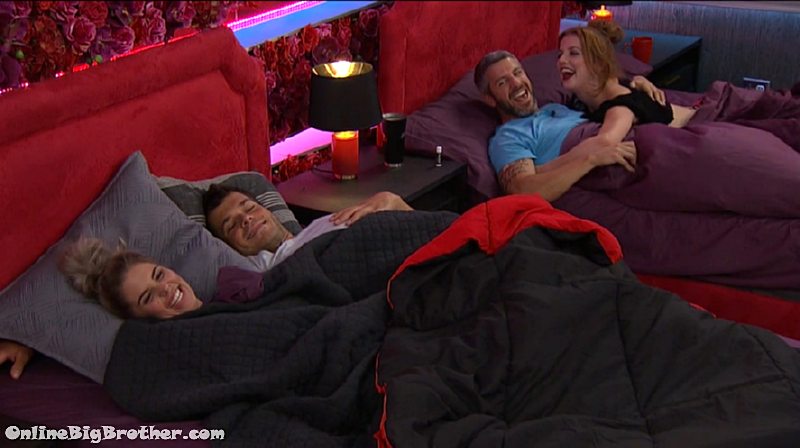 4:05pm Showmance barfville
Paul is in they're as well tells them Ramses is going up as the third nomination.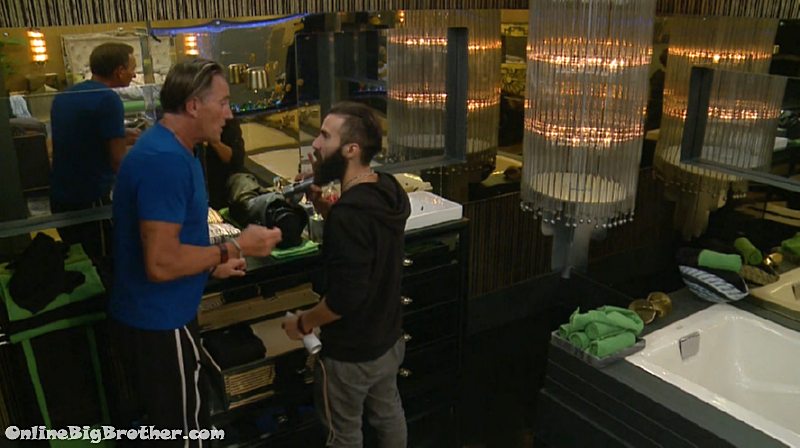 4:13pm Paul and Kevin
Kevin says he has no idea who has the temptation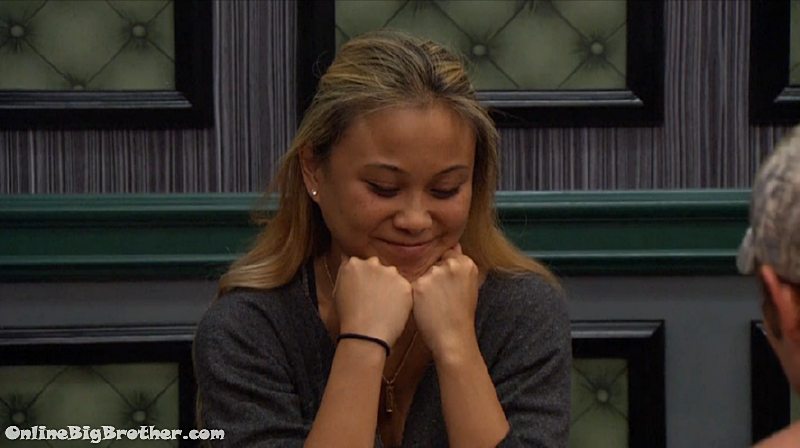 4:56pm Alex and Cody
Cody – you got a better chance at this game then me
Cody says if Jess is safe and he has the veto he'll use it on Alex
Paul says the warriors are down here and "all Paul groupies and c** s****r are all up there"
Alex – they let him win becuase htey were afraid
Cody – it'll take a team to take you out
Alex – all these girls make us look stupid we can't beat them when they have 8 people getting tickets..
They complain about a vet coming back with 3 weeks safety
Alex – our backs are against the wall .. what do we do.. we have 2 people..
Alex – Ramses I can't stand he follows me everywhere
Alex calls Josh "the dumbest person in the world"
Alex – not one of those girls took a goddamn shot.. (in the HOH)
Cody – I should have listened to you about Dom right from off the bat
Alex – I knew your circle was bad
Alex – Jillian was going to out Xmas for being a cheater.. at the last minute Jillian flipped it because she thought she had the votes.
They can't believe Ramses and Josh flipped they could have had the numbers and controlled the house.
Cody – I want to go after Mark's closest chick Elena and Dom
Alex – YEAH YEAH (YA YA YA )
Cody – they think i'm going after the dudes F no I'm going to take out where your heart is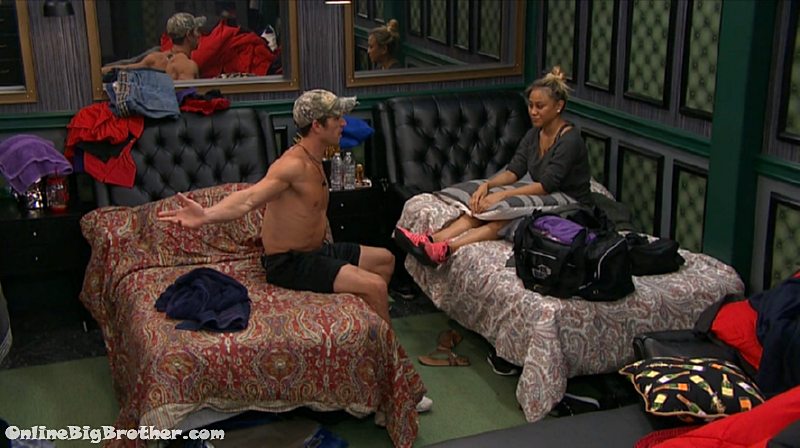 Cody – Elena lives in Dallas and she thinks we're going to be friends after.. F* no, they don't care about this side of the house
Alex – The MArk and Dom thing was a fake (the apparent banner plane that Ramses made up)
Cody brings up how in the beginning it was him, Dom, Mark and Matt that were all solid.
Alex – I want to go to Jury but do I want to get stuck with all these f* heads for 7 weeks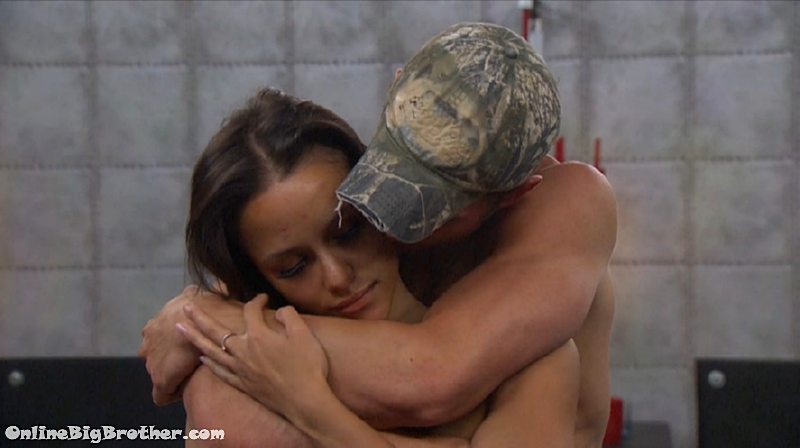 5:22pm COdy and Jessica
Says he just talked to Alex she told him they are using Alex as a pawn to get Cody out.
Jessica says she doesn't feel well, "My heart is beating really heavy and it hurts"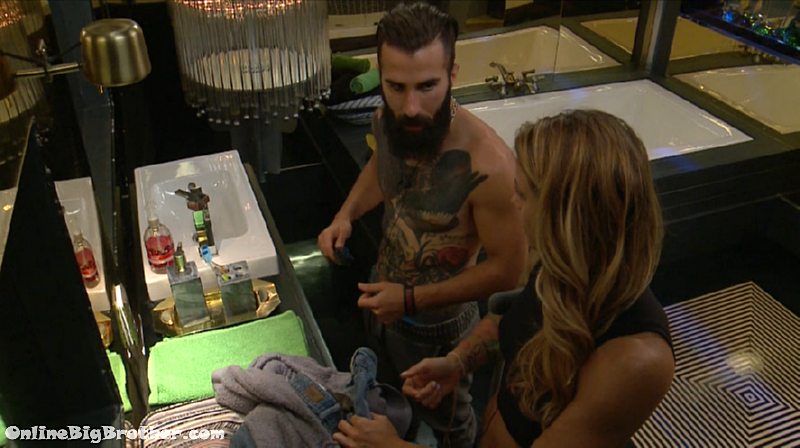 the temptation rules ..
If the HouseGuest accepts this offer, they will have the power to swap with one of the 3 chosen players in the Power of Veto competition and take their place and have the power to participate in any veto competition. This temptation can be only used once.
5:41pm Christmas and Paul
Christmas – I got the temptation.. it's really not a great one
Christmas – I got to pick the 3 people… Cody, Jessica and Ramses
Paul – Gawd you're such a babe
Christmas says the temptation would have been good is she didn't break her leg.
Paul – who knows
Christmas – you
Paul get picked.. swap and throw it (picked for POV)
Xmas says she can use it "anytime"
Xmas – I know how hard you campaigned for me so thank you
Paul – I told you when I got you a f*ing got you
xmas – my word is the same
Paul – good play
Xmas – thank you
paul – 10 outta 10 good job
xmas – I believe that everybody thinks we're ride or die
6pm Big Brother blocks the feeds.
6:40pm The live feeds are still blocked .. the nomination ceremony is likely happening now.
Links to the ranking system
Rank your house guests here
For those of you that like Statistics here are some expanded reports.