Check out our 
BB19 Ranking Grid. 
. rank your houseguests 
here
11:10pm Paul comes out of the diary room and asks who wants to see my HOH room?! All the house guests head up to the HOH room. Paul gets sushi socks, beard oil, more life by Drake music, mustache comb. Cody stands my the door with his arms crossed Paul then reads his HOH letter:
Hello my boy! The house is very quiet, cricket cricket. We are all having a Paul withdrawal. We miss you so much and I bet you miss PAAUUL everyday. Thank you so much for leaving us your sick pets and a hefty vet bill. (Paul tells the camera – that does not make me feel good mom!) So this is the break down – King is old and the vet said to keep a close eye on him. Blair's dark spots are not getting better and its moving towards her eye. I see her not opening her eyes again. Hades one day thinks he's a horse, the other day a dog. The vet said not to let him jump, its bad for his hips. Boy you know is like a ghost, one day she is quiet and then she will disappear. Button is getting fatter. He can't decide who's food to eat so he goes from one bowl to the other and then looks at me like its not me. And that is the updates on your zoo but overall its not bad, its all fixable. I have a follow up next month with the vet. Now about us, dad has his knee surgery and is doing okay. Nat started her job at the hospital. She finally got a pay cheque hahahaha. Your boys are all good and proud. And finally me, work is good and things are moving forward. I do get overwhelmed some times but I am the super mom as you call me. I know you are probably screaming quit your job already. I got this son. Of course there are days that I am so pissed and want to strangle you for leaving it all on me but its all friendship. Love you, love you, love you. Miss you is the message you are getting from all of your friends. Love you and behave. Always stay true to yourself and NO HUMPING! Love and kisses everyone!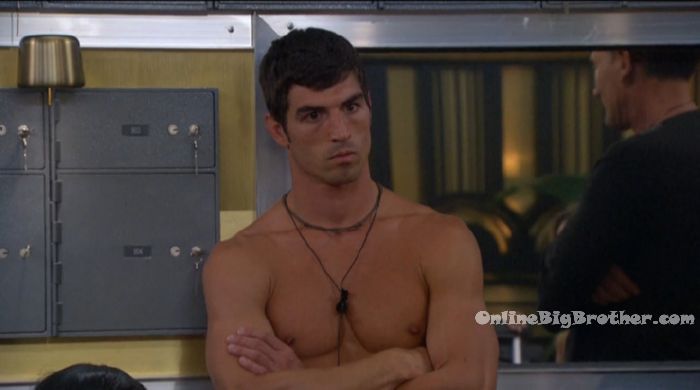 11:30pm – 11:40pm Havenot room. Jessica & Cody.
Jessica – I am going to f**king lose it! I need to go lay down before people start coming down or I am going to lose it. Cody and Jess head to the havenot room. Cody – it was getting pretty bad in there. The fake laughs. The excitement over a box of cereal. Its just all fake! Jess – I can handle this game but when you have two girls standing outside your door… the way that I came after Christmas she had to hold herself back because what she was about to do would have gotten her kicked off the show. That's what she said. I don't take well to threats and if it happens again I am going to f**king go after them. I am not going to hold back. Cody – I've got your back. Cody and Jessica get into bed.

11:40pm HOH room –
Paul – so in order for this to work, you all need to play along and not crack. Paul – What I am thinking of doing is putting Marr and Raven up as pawns. Obviously, I'm not going to say this. I got stabbed in the back lest week and I'm still trying to figure it out. The only reason I want to do that is so I have two guaranteed people compete for the veto. The other issue I have just putting Jessica and Cody on the block. That's two of them playing (in the veto) for sure and then the third is a f**king gamble. The whole point is that I am trying to trap Cody. My target this week is Cody and I don't even want to give him a chance to compete for the veto. He didn't give me or you (Christmas) the chance. My plan is to guarantee 3 people compete for the veto. I think you two are strong competitors and I think I am too. The whole ultimatum is to pin Cody up next to Raven. If you put someone next to Raven .. its a f**king no brainer. Even if you don't hate Code. They question what Josh will do. Paul – do you really thing Josh would vote out the girl with 2 terminal diseases. Kevin joins them. Paul – if Raven was next to crazy and rambunctious would you ever vote Raven out? Kevin – no, I would vote out crazy and rambunctious. Elena brings up how Ramses would use the curse nom this week because he would want to be next to Cody. Paul – I can't just put home boy up there. Matt – if you main plan is votes, you're not taking away 2, you're taking away 2. Elena – well really 1 person. Paul – so you guys are telling me that Cody up against anyone is the house .. he is still going home. Mark gets frustrated that his points are being heard. He gets up and leaves.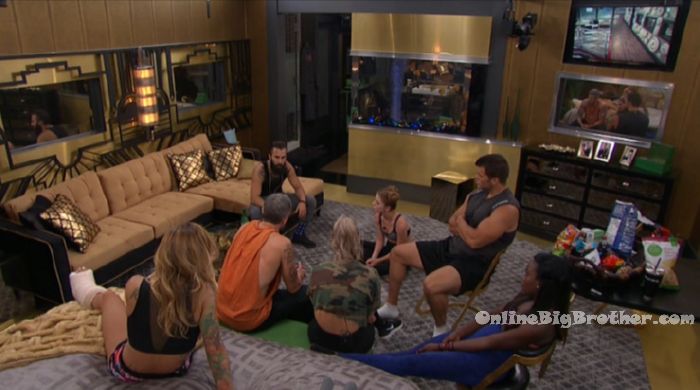 Jessica – I wouldn't be surprised if Raven had a crush on you because the first chance she got she took a stab at you. Elena has said so many times that she does not have any friends. She is going to go with the masses because she has such a desire to be liked. D, I don't even understand what that girl has going on because she is so bipolar. She talks about how she deserves everything to be handed to her on a silver plater. The whole point is that I'm trying to keep him busy. The target this week is to get Cody out. Jess – then you have Alex who acts like such a bada$$ but as soon as her foot is in the door she starts sucking D**K for money. And then you have Christams, I am not a beta female, I am an alpha female. Oh god, she just doesn't intimidate me. Your muscles do nothing for me. The breakdown too is just bullsh*t. I offered these people genuine friendships too. It was not received.
12:50am HOH room – Matt, Raven and Paul
Paul – f**k ever talk in front of Ramses and I don't want to talk in front of Kevin. Now that I thought about it the risk of one of you (Matt or Raven) going home is a terrible idea. Putting both of you up and even a chance of one of you going home is a terrible idea. Things could still go wrong and I'm not willing to gamble. What I am going to try and do is convince Alex to …. I'm going to run some options. Matt & Raven leave the HOH. Alex comes in to talk to Alex. Alex – so the pendant is fake. Paul – it is fake. It was from OTT and I hosted that comp and it was fake. Paul – I am going to tell you now. …your homie Jason is really f**king up. You're beating him in the trust factor. You letting me cut you in line today really showed me that I can trust you. Alex – that's why you won. Paul – I am telling you for your own game that Jason is no good. Whatever Jason is promising you it is f**king bullSh*t. Alex – theres no deals. Paul – everyone is on board with us backdooring him. I need to execute this plan as best as I can. Some of those people like you and some don't. But in the beginning none of them trusted you. You're definitely killing it. How cool are you with Ramses? Alex – I sold him a line and… Paul – it got around the house. Alex – yes, and he sold our Jillian who was his best friend. You're the only person in this house that isn't a pu$$y. Cody is expecting to be backdoored and that's what I'm going to do. My idea is maybe we do a one and one … one person we are all okay with seeing leave and one person I can f**king trust to play the veto with me well. If you are my pawn, I put you next to someone like Ramses. If all else fails.. f**k you Ramses. I am thinking if it is me and you guaranteed competing in the veto. Paul – would you vote Cody out over Ramses. Alex – if I had to yeah. Paul – the only advice I have is be careful with Jason. Paul – who is going to expect an Armenian and an Asian to team up. They come up with an alliance name AMF! Paul that is funny as f**k. Alex – I trust you even more now. Alex agrees to go up as a pawn.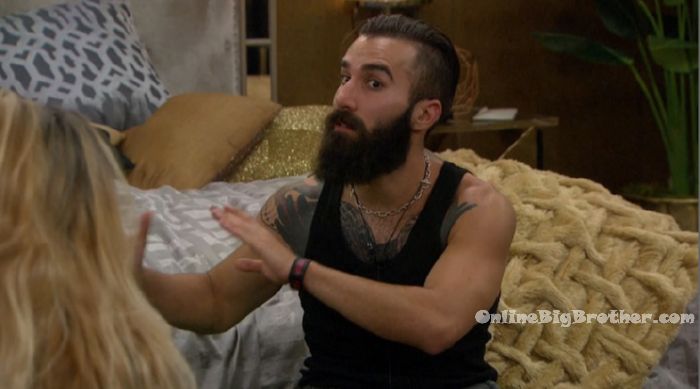 1:40am HOH room – Paul, Christmas, Kevin, Don, Matt, Raven.
Paul – I need to know that if it is either Alex or Josh up next to Cody that you guys will vote out Cody? They all agree that they would.
2am Kevin and Paul chug a beer each to see who can finish first.
The old man against the LA kid https://t.co/iS7BSBNzgP#bb19 @bigbspoilers pic.twitter.com/pMQsGH466m

— Dawg (@DawgsBigBrother) July 7, 2017

2:05am HOH room – Paul & Josh.
Paul – here is the game plan. I might need your help. If you don't feel comfortable with it then you can say no. I convinced Alex to go up as a pawn. I need another pawn. Alex has vengeance to get Cody out. You have vengeance to get Cody out. I have vengeance to get Cody out. All of these people up here will vouch to get Cody out if it is you up against him. No matter what. Everyone wants Cody out. And this is your opportunity to be a part of something. You're stepping up when they're not. I don't want you or Alex to go over Cody. If you tell me no, I am not going to do it. Everyone agrees Cody should go home. No one will care if we take Jess out first. If we take out Cody, then Jess will cry and be a mess. If you and Alex are up there, then we are all playing in the veto. Ramses has the curse. Josh I don't know what this curse is. Paul – let me tell you, the curse is that Ramses has to go up on the block every week for 3 weeks. (Not true, Ramses has to volunteer to go up in one of the 3 weeks.) And guess what nobody likes Ramses. If either you or Alex are up next to Cody .. Cody goes home. Josh – I trust you. Paul – what you can do is if Cody gets picked to play in the veto you call him a pu$$y the entire time. Josh – oh my god what are you doing. Paul – you know this is a good plan. The plan is flawless. Josh – Okay I'm in. Paul – okay, you're playing for the team. All these people have your back. Josh – I know this show and pawns go home. Paul – I was a pawn 4 times last year and I didn't go home. Josh – Okay, I trust you. Paul – in the worst case Cody gets picked to play in the veto and wins .. Ramses will go home. Nobody likes him did you not hear people call him a snake piece of sh*t. Josh – I trust you.
FLASHBACK and watch everything you missed: Live Feed 7 day FREE Trial!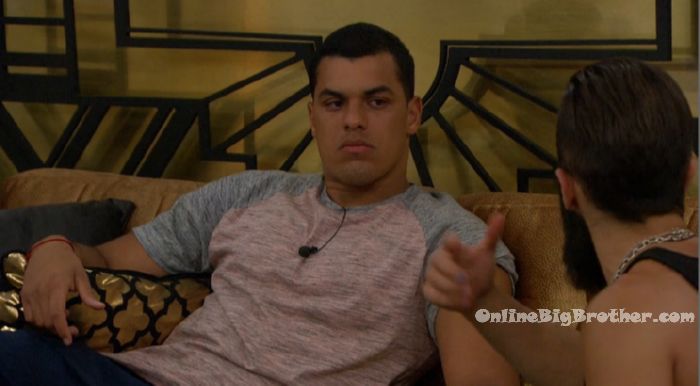 2:10am Bedroom – Alex and Kevin.
Alex – put me on the block next to Josh. Convince Josh that he is the target. Play in the veto. Me, Josh and Paul. And one of us win the veto. And then take myself off, put Cody up and backdoor him. Kevin and you agreed with that? Alex -its a good plan. Kevin – it is a good plan.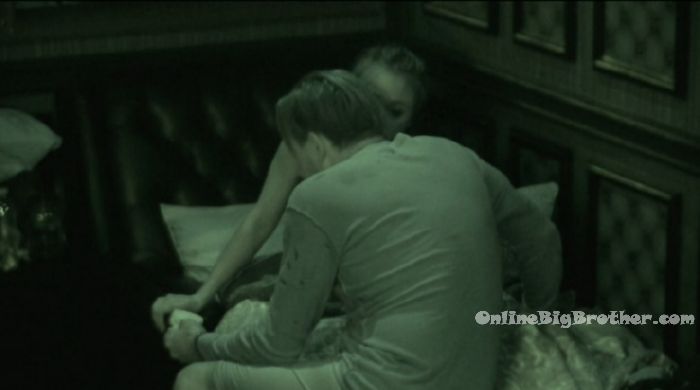 4am All the house guests are sleeping..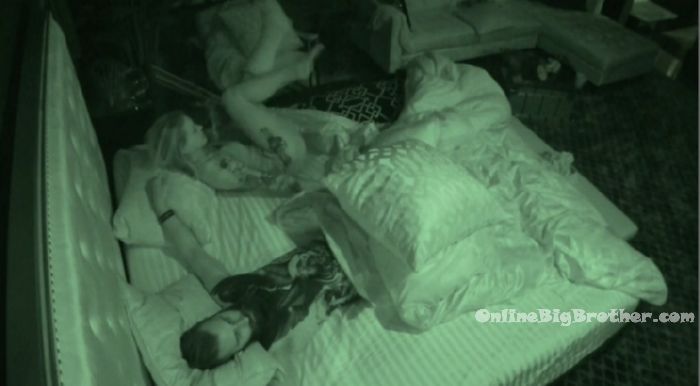 See what they can't show you on TV Try the live feeds for FREE!
Links to the ranking system
Rank your house guests here
For those of you that like Statistics here are some expanded reports.