Check out our BB19 Ranking Grid. . rank your houseguests here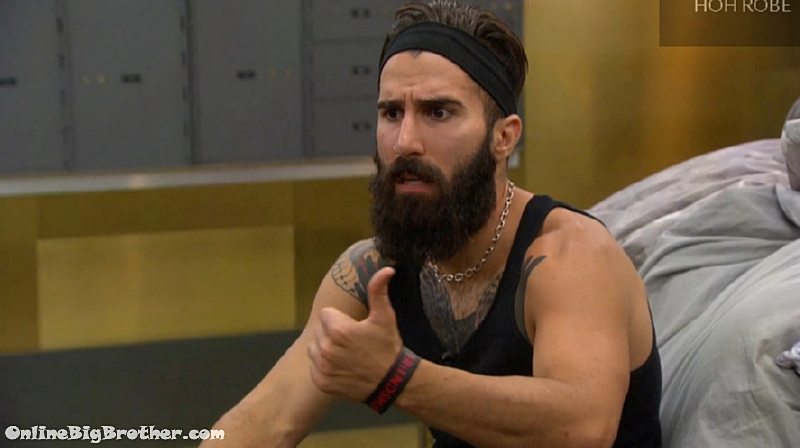 10:40am Matt, Josh and Paul HOH
Matt is complaining about Cody
Kevin joins them.
They keep talking about Cody …
Paul likens the George St.Pierre Nick Diaz feud in MMA to the feud with Cody.
Paul – I'm going to hand him his bag on Thursday and open the door.. Give him a little wink
Josh – this game is crazy man.. Crazy
Paul – there's no room for egos in here
Josh calls Cody a F*ing idiot for putting Paul on the block, "America loves this guy and you want him out week 1"
Paul goes on about how he played a honest straight forward game last season and that's how he's playing this season. (he told Josh he wouldn't go up "even as a pawn" )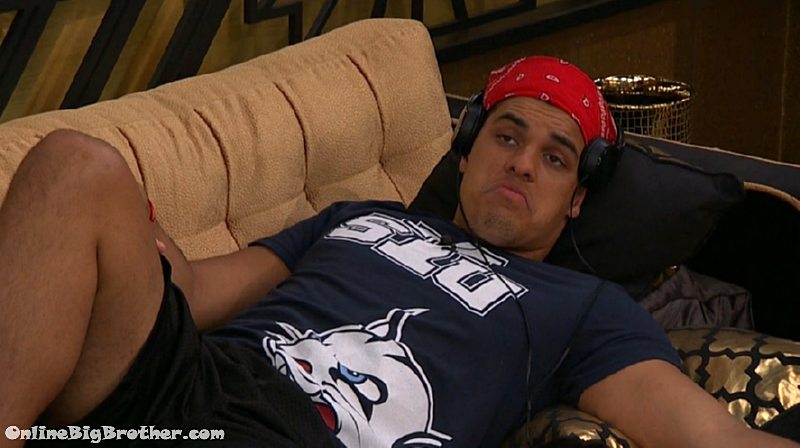 Paul likens Cody to Paulie.
Paul says the fans watching the show saw that Cody was planning to backstab him so they game PAul the power.
Matt says Cody is like Devin.
Paul says he had a hunch day one there was something up with Cody
Josh pipes in calls Cody a idiot.
Paul goes on about how nice he is and how people tell him he's so nice. The world in general has a lack of niceness.
Paul – pffff going to make the army proud
Josh says out of the house Cody is a solid dude
Paul says when the feeds were off they talked the entire time
Josh – this environment
Paul – it amplifies your negative traits
Josh – do you think Jason has a good sense of the game
Paul – no
Matt – no, doesn't know what the hell is going on (sadly Matt is right)
Matt goes about how it's not a good look for Jason to be talking to Cody right now. Paul agrees.
Paul – I get it you're a frog and you have to be on a lillypad.. But f**g..
Paul doesn't think there will be a person coming back pre jury. He thinks it'll happen once they hit Jury.
They all agree if Cody comes back it'll make great TV.
Paul says Paulie was a better player than Cody.
Paul – if it's not 9 -1 (on thursday) I'll be at a lost for words
Josh says he doesn't trust Ramses. Paul agree.
Josh – Ramses f*d me
Josh says ramses told Jillian that he was voting to keep Christmas when he never said that to him.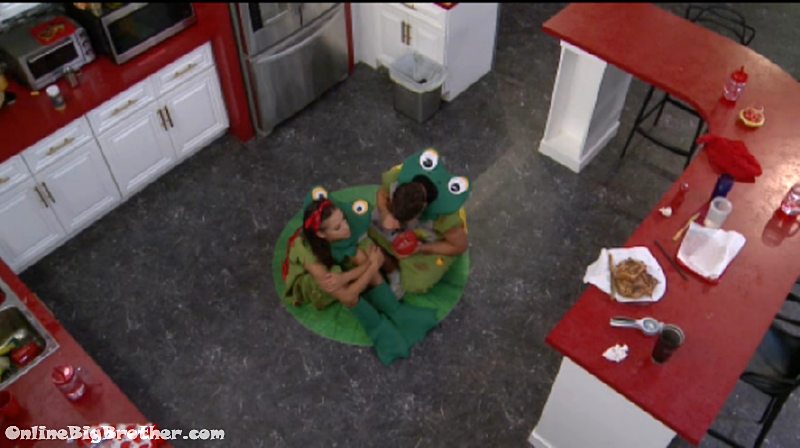 10:48am Cody and Jessica
Cody tells her he doesn't mind that it's Cody Vs the world.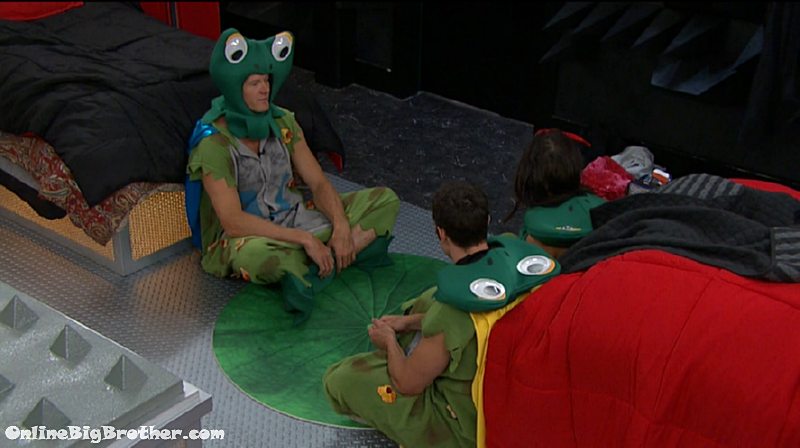 10:57am Frogs
Cody says him and Jess have plans to keep things going after the show.
Jessica joins them.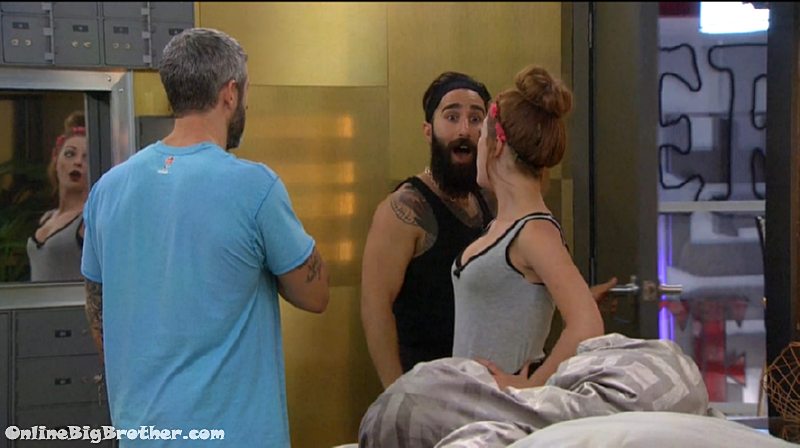 11:04am Matt, Raven and Paul
Freaking out about Jason and Cody whispering in the kitchen earlier. .
Paul – how f*in more stupid do you have to get, how many more people can you piss off
Matt – it's unbelievable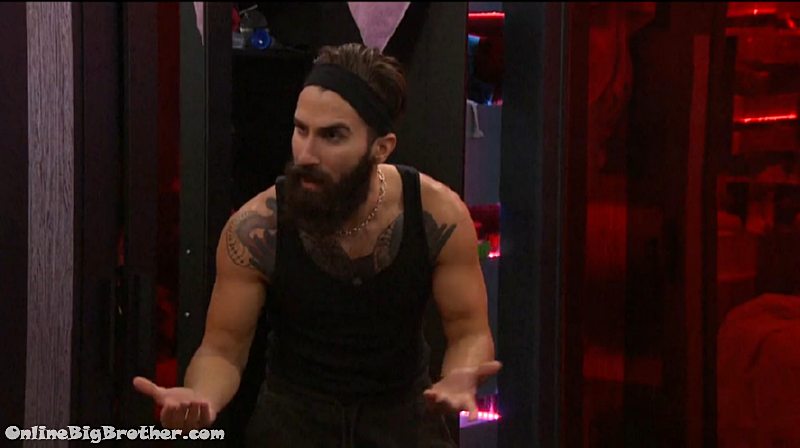 11:16am Paul, Dom, Mark
Paul still losing his shit over Jason and Cody talking.
Paul – how much more stupid can one human being get..
Paul – how much more of a f*ing idiot can one person be
Paul – I'm HOH and I made my agenda clear and you went behind my back.. you're on the shitlist buddy.
Paul – I'm baffled.. Matt and Raven.. they're pissed
Paul needs them all to give Ramses a little tap to not worry about the POV.
Paul – I'm also gunning for it.
Paul thinks it's going to be a word comp
Matt and Raven join them
Paul starts talking about there being something about Cody that didn't mix with him.
Paul says Paulie was Stronger smarter and a better social game than Cody.
Paul calls Cody a muscle meathead
Paul called to the Diary room..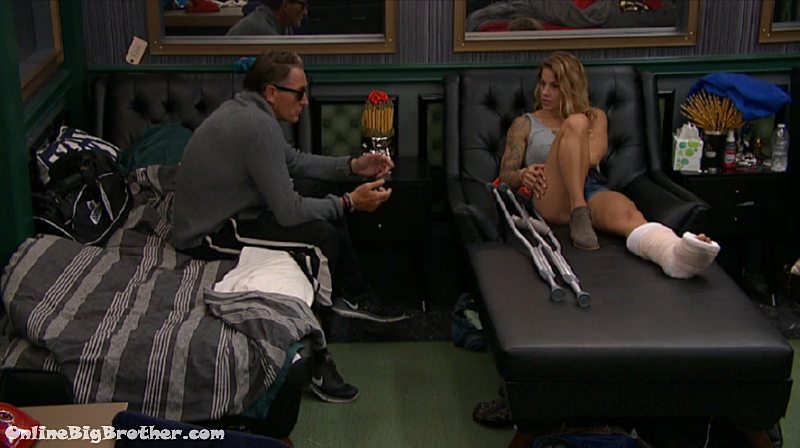 11:39am Christmas and Kevin
Talking about Jason hanging out with Jessica and Cody is making him a target.
Xmas – Jason thinks you voted for Jillian
Kevin – I know
Alex joins them, starts freaking out about Jason talking to Cody and Jessica. She says if Jason can't get onabord with their plan they won't be able to help him. He's hurting the integrity of the group.
Alex says she's going to give Jason one more warning after that she can't help him.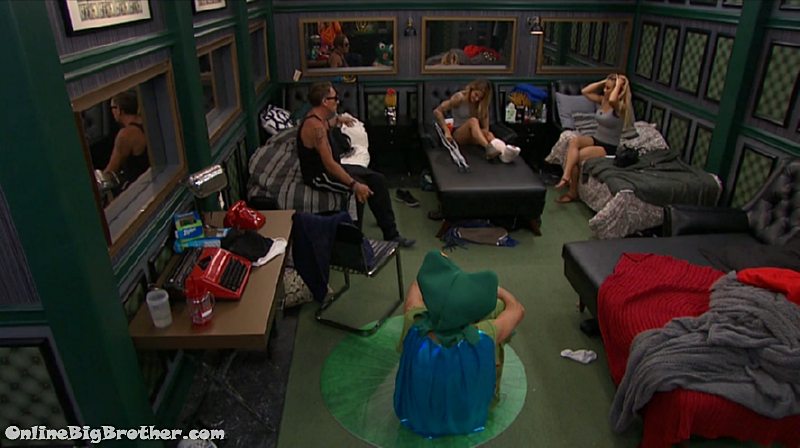 11:52am
Everyone can now relax Jason has stopped talking to Cody and Jessica.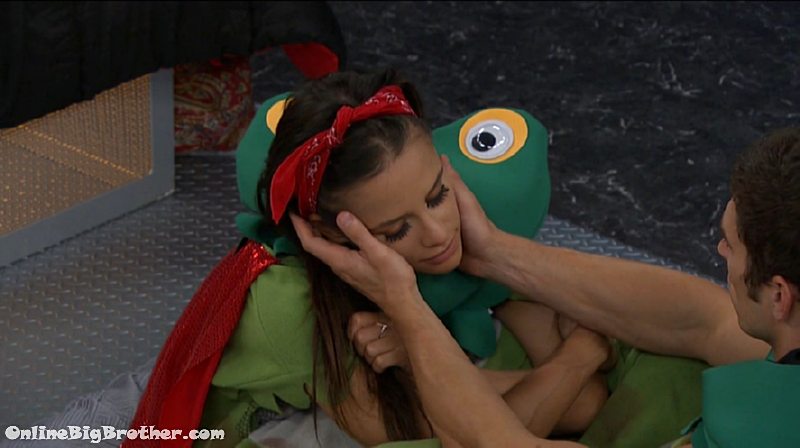 12:19am Jessica and Cody
Jessica – "You know I'm getting my boobs done after this"
Cody – you don't want to wait until after kids.
Jessica – I'm 26 I want to look good now
Cody – you do look good.. they're seriously perfect…
Jessica says she has a "Client" that Paul wanted to meat for his clothing business. Now that Paul made them Have nots she's not going to make those introductions.
Jessica says it cost Paul a couple thousand dollars.
1:38pm Lotsa loitering around waiting for the POV
Links to the ranking system
Rank your house guests here
For those of you that like Statistics here are some expanded reports.