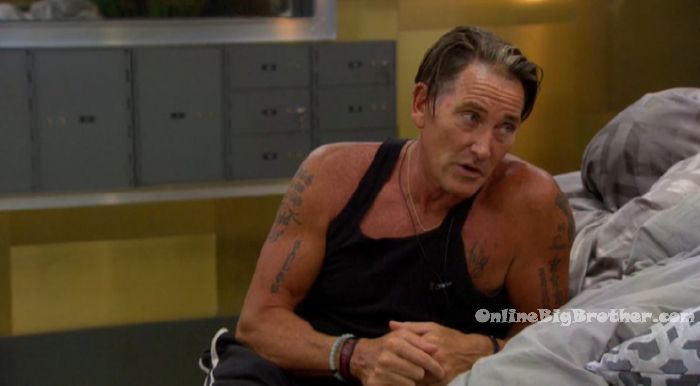 Check out our BB19 Ranking Grid. . rank your houseguests here

See what they can't show you on TV Try the live feeds for FREE!
2pm HOH room. Kevin, Paul and Mark.
Paul – have you talked to Ramses? Kevin – no. Paul – can you give him a little word and be like.. Kevin – oh today? He isn't going to f**k around. I'm sure of that. Paul – do mind going down there and be like man everyone is in on it. Everything is going good. Kevin – yeah. Paul – can
Mark – I'll even be like Ramses, take it easy. Really stick it to Cody. Paul – Cody got called in already so just it might be soon. Mark – the environment is so much better than last week. Paul – he won't even look at me. He just looks down. Kevin heads downstairs. Paul – I can't wait to find out more about Kevin. There's something more to him. I think he is very very intelligent. Like next level intelligent. I think he is so smart that simple instructions confuse him. Like clip your mic to your shirt. I think he invented something. He is rich.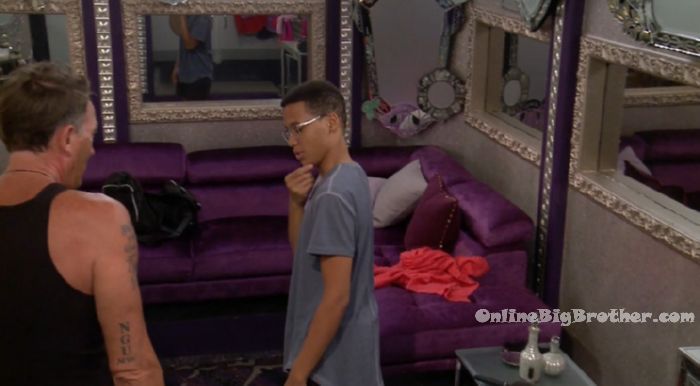 Bathroom – Kevin and Ramses.
Kevin – the powers that be want to make sure everything is going to go down alright. Ramses – that's what I'm wanting. I trust the house. Kevin – you have to. They said make sure Ramses is on board. Ramses – I'm not the type of person that lies. Kevin – that's cool.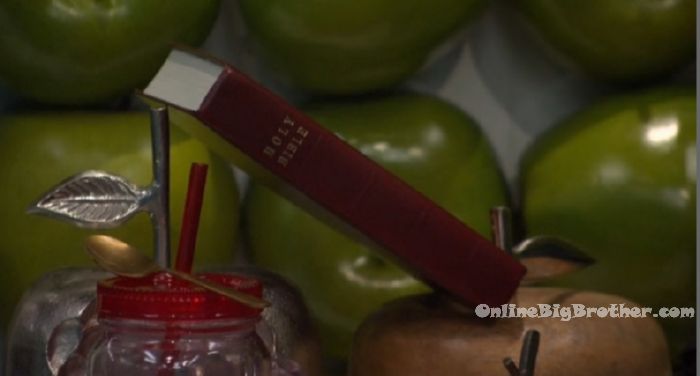 2:17pm Lounge room. Elena, Matt, Raven, Josh.
Matt – I think I am going to go for it just so that Ramses doesn't get it. Elena – I would rather not have it just so I don't have to keep having people come at me. Josh – I am going to give the most epic speech and I won't stop until the tell me to stop. That would be so good to pull myself off.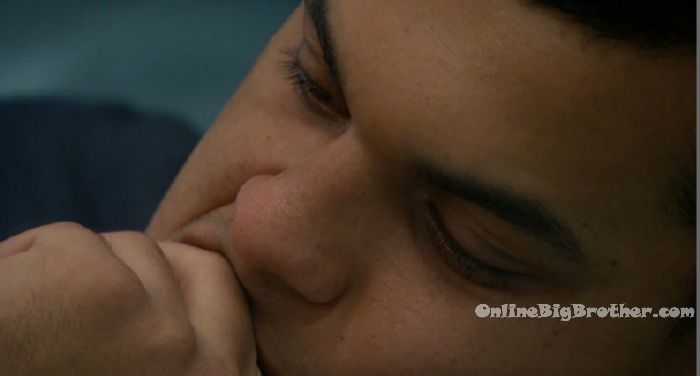 2:25pm HOH room – Raven, Elena, Mark, Paul, Jason
Paul – I'm waiting for them to call this pricks name. (Jason's name because he is the veto host. When he gets called the veto comp will start soon after.) Jason – yeah come on. Am I ever going to get to beast it?

FLASHBACK and watch everything you missed:
Test out the feeds FREE for 1 WEEK!

2:30pm Kitchen – Alex and Christmas.
Alex – I don't trust him (Ramses). Christmas – That's why I'm having this conversation with you. We've been set up beautifully. I can't remember any other villain, with the house at agreeance and it works perfectly. If he (Ramses) pulls this rug out. Now I think there would be 4 of them because I think Cody is sweet talking Jason. Alex – but what could he do though. Christmas – if Ramses gets on board. Alex – I want to punch him so hard. Christmas – Cody is very manipulative. And then all 4 of them could compete for HOH. If one of them got HOH, I know I'm going up. It would be really stupid for him to do it but I'm not putting it past him. I'm not at the point were I trust him. They head to the bathroom to talk with Raven and Matt.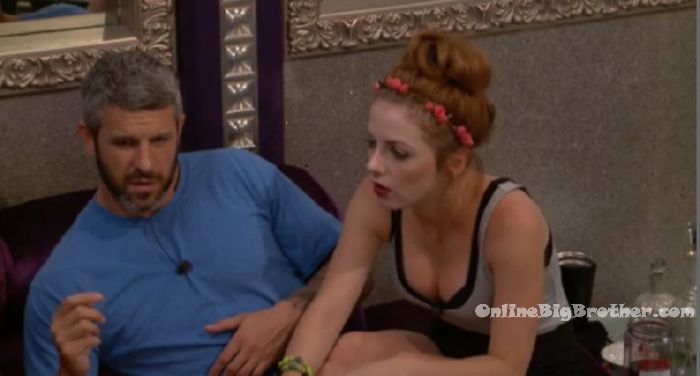 HOH room – Mark, Elena, Paul, Jason
They're talking about Cody and how he won't talk about things. Elena brings up how he mentioned he worked in this small town. Elena says she lived there to and wanted to talk to him about it. He told her he couldn't talk about it. Jason – what is he CIA or something? Paul confirms with Kevin that he talked to him and he isn't going to do anything to mess up the plan. Ramses joins them. Ramses – you can trust me that I am not going to f**k this up. We're all on the same page.

Watch the NEXT WEEK of the Live Feeds for FREE!
Click here for your: 1 Week Trial
3:05pm Bedroom – Alex & Kevin.
Kevin – I was going to say the f**king guys can't even spell zebra. My point is whatever Paul said is right and whatever I said is wrong. I had a dream that it was me and you in the final 2 Paul. Kevin you weren't even there. Who the f**k do you think you are? It's all it is is a dream because you ain't going to be in the final 2. I can tell you that right now. They get up and walk away and do you know what Paul said to me. They asked me to talk to Ramses. I ain't talking to f**king nobody. Alex – so Christmas thinks Ramses is going to flip. Kevin – he couldn't beat you if there were 20 games. He wouldn't beat you in one. Alex – he's smart. If its a mental one he could do it. But what they're thinking is he is going to win it and that Jason is going to team up with him. He's going to be the next one out. Christmas is bad news dude. Kevin – what about the girls. Alex – Christmas is the only one smart enough. Alex – Paul asked me to throw it and I said no. Kevin – for who? Alex – to him. Kevin – why, he's won everything. Alex – because its his show now. Alex – if they had listened to me we would have control of the house right now. If these two had listened to me, Jillian would still be in the house, those two would be on our side. Me, Cody and Jason. We would have taken everyone out. They f**ked us. They're dead to me. I can't wait till they go home. Now we have to play their stupid game and bend over. Kevin – you need to win HOH. Alex – I don't want it for the next couple weeks because they'll want me to take out these two (Ramses And Jason). We don't want these two (Ramses & Jason) on the jury because they might vote for people on the other side. They're so stupid. Alex – they're going to take out Ramses, Jason and Jessica. Kevin – they're going to head hunt Jason, Ramses and Jessica. We need to stick together. You watch my back and I'll watch your back. Paul joins them. Alex – we have a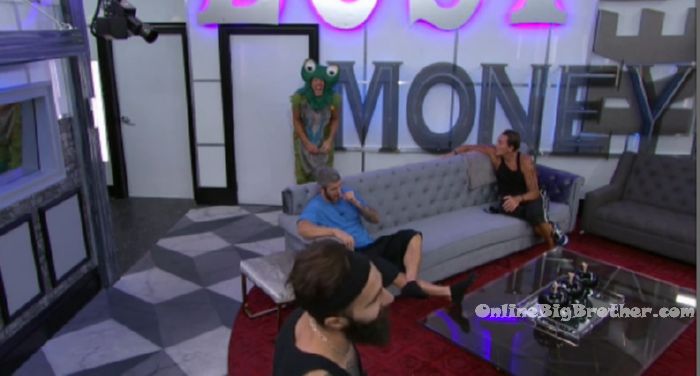 3:25pm Jason comes out of the diary room with the havenot temptation key. They all head to the havenot room to see if he's unlucky or lucky. Jason picks the purple box. He opens it and he says I knew I should have gone with the f**king orange!!! Jason has to be a havenot for 2 weeks.
Havenot Temptation – Jason gets 2 weeks as a havenot@bigbspoilers #bb19 pic.twitter.com/H5EaqarNOf

— Dawg (@DawgsBigBrother) July 8, 2017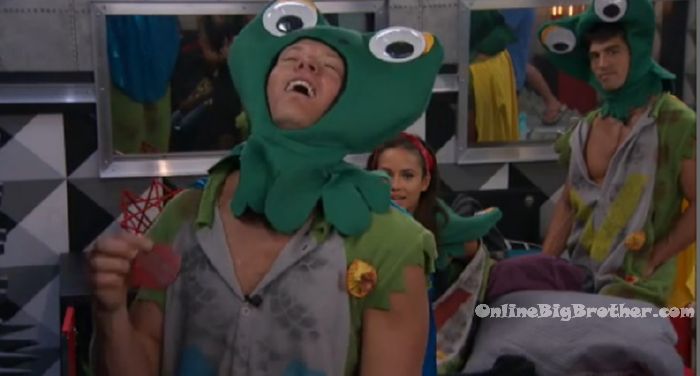 3:55pm Big Brother calls Jason to the diary room .. the POV competition might start soon..
4pm Big Brother blocks the feeds…
6pm The feeds are still blocked..
7:25pm No feeds for you ..
8:15pm Nothing yet..
9:05pm You thought the feeds would be back after 5 hours …NOPE!
Links to the ranking system
Rank your house guests here
For those of you that like Statistics here are some expanded reports.