Dom is the POV host.
POV players: Cody, Alex, Jillian, Jason, Matthew and Raven
Paul won the temptation.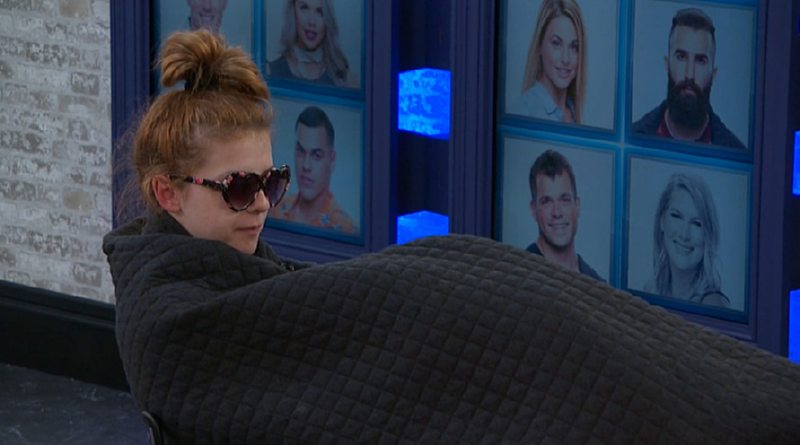 First off check out our Houseguest ranking system . Every day you assign between 1-5 "Stars" to a houseguest. We then track this data and craft it into a handy graph. Matt, Christmas and Mark currently the most popular.
8:32am Finally the houseguests wake up in mass.
They think they're might be "Something BIg" coming up today because they are being woken up earlier than usual.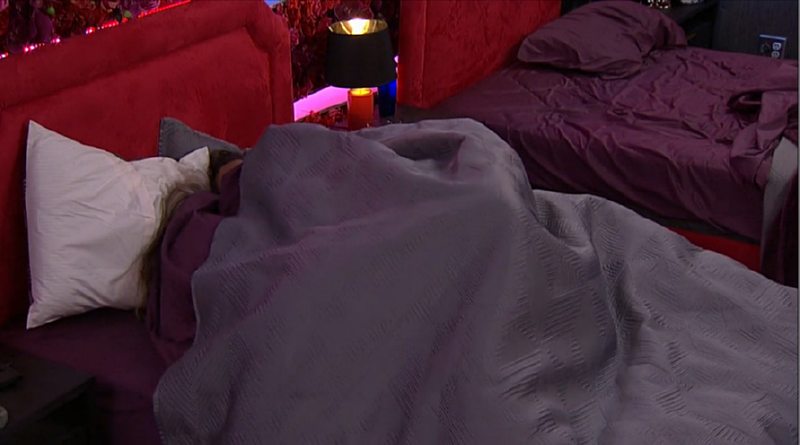 8:39am Christmas, Elena and Paul go back to sleep.. (sounds like they are allowed to sleep for bit longer but lights remain on)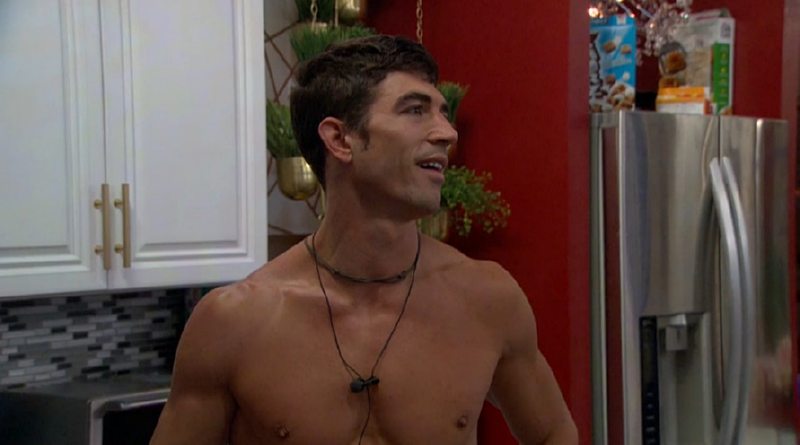 8:46am Kitchen, Kevin, Raven, Jason and Cody
Talking about the late night Diary rooms and sleeping in the BB house in general.
Cody – I keep saying, If they want to get action from me and Jessica up there they better f****g get us some AC . I'm like UGH a furnace up they're..
Cody – you guys want it cause it's not going to happen with that f****g air
Kevin complains about Paul waking him up calls him the Tasmanian devil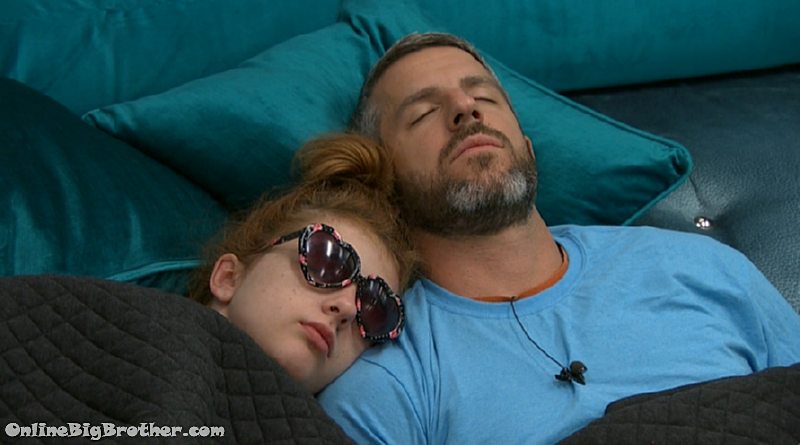 Proto showmances .. Matt and Raven
They say they can hear construction going on outside. There is speculation the POV is today.
Raven mentions the weak reason Cody gave for putting Alex up as the replacement nomination. "I dunno I put her up"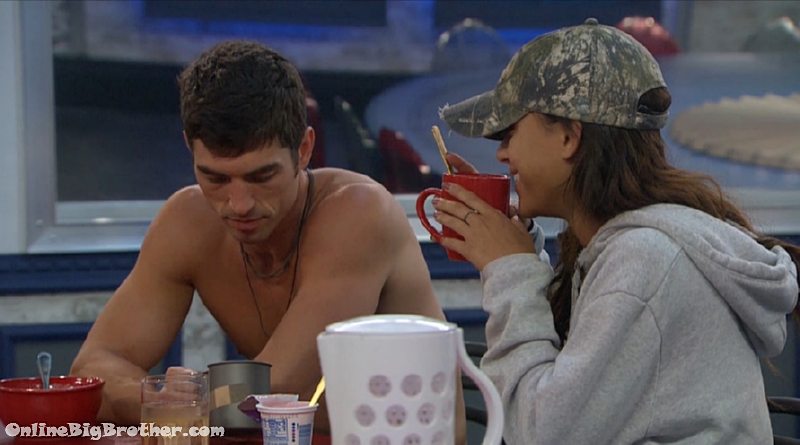 Jesscia and Cody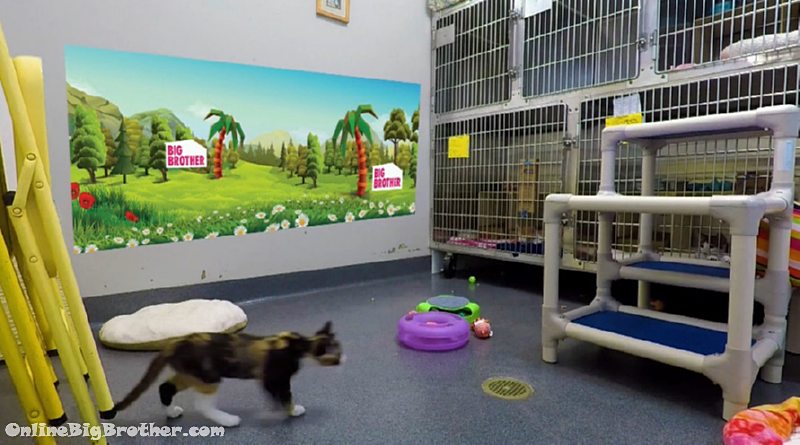 Feeds go down and we get KITTENS!!
(I got two new Kittens this year. Whoever thought of showing kittens during feed outages was a genius)
9:28am Feeds on kittens
9:49pm HOH Jessica, Cody and Dom
Jessica is saying since the POV players were picked the competition will be later today. She suggests they bring snacks and water.
Dom leaves..
Paul and Matt join them .. "this one is going to be a balls to the wall POV"
Cody asks if it'll be a spelling comp. Paul isn't sure tells them Jason can't spell.
Cody says Josh came and talked to him and through that conversation Cody "solidified" that all information will come to him.
Jessica – do you think he'll follow through with that
Paul – he'll fill his ear with fluff
They talk about how dumb Josh is. Cody calls him pathological because he believes his own lies.
Christmas joins them.
HOH bed this morning #BB19 pic.twitter.com/OrUhL1CMbG

— OnlineBigBrother.com (@bigbspoilers) June 30, 2017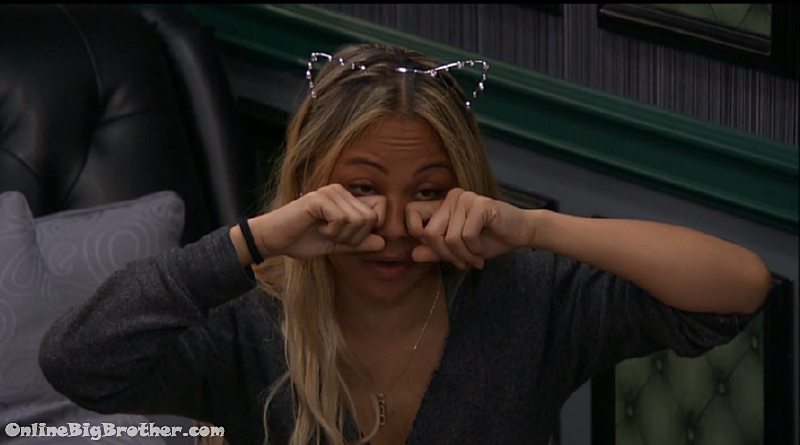 10:00am Alex and Jillian questioning if all the houseguests chips were in the POV bag during the pick.
They complain that on "older" season they were allowed to nap. Jillian complaining that her legs are swollen. Blames it on no potassium in the slop.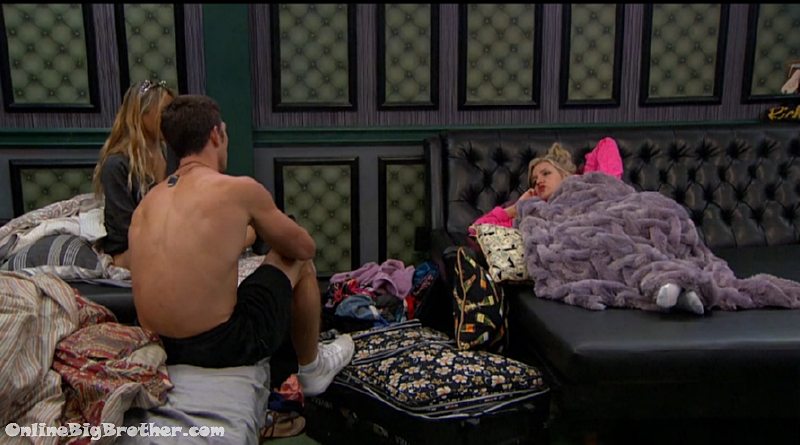 Cody joins them asks them why they have isolated themselves. He points out that Megan was the only person in the house that was disliked.
They start talking about Megan and the feeds cut.
When we're back they talk about the temptations. Sounds like it was already given out but they don't know who got it.
Cody stresses to Jillian how everyone talks about how sweet she is.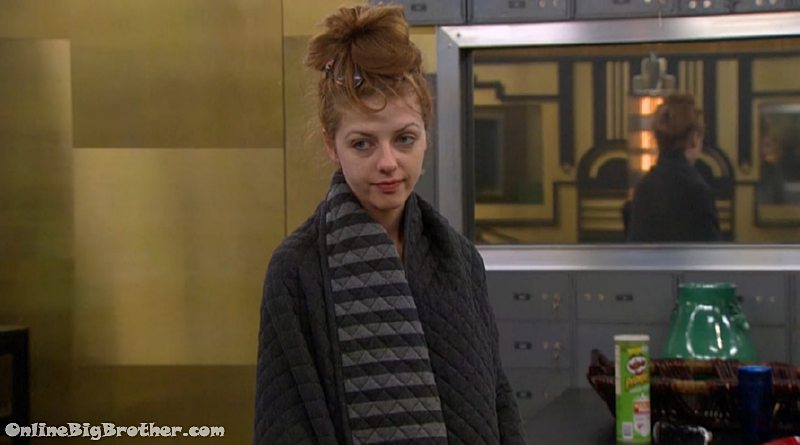 Raven is taking her time getting ready today..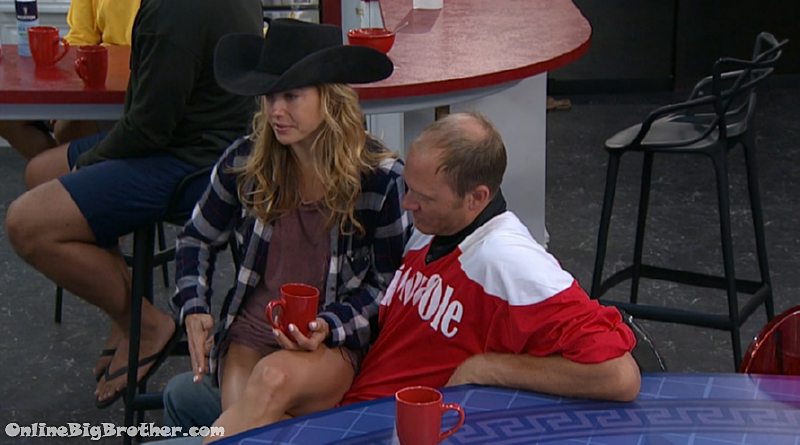 10:22am Christmas… . (love her)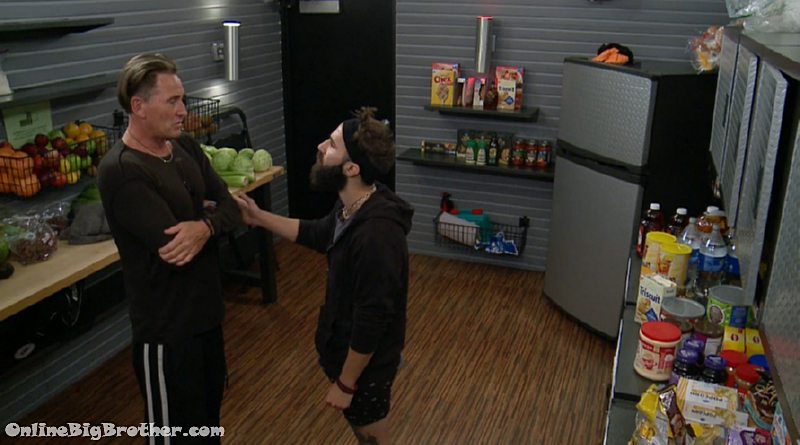 10:21am Paul and Kevin
Kevin- I'm talking about over all what is going on.
Kevin saying that Alex has told him there's 6 people in a couples group
Paul – listen did you hear yesterday that they all think Ramses won the 25 thousand dollars.
Paul – do you see how I'm spilling it.. what you gotta do is just be cool, I've already told them that YOU are Okay. They all like you, they all think you're fine"
Paul – Cody picked you, you are in a really good spot.
Paul tells him whenever he hears stupid shit from "them" (Alex) relay it back to him and they can asses if it's something to worry about or not
Paul – the fact they haven't put me on the block is incredable
Kevin – that's because there's so many jerk offs, early jerk offs. (LOL love it)
10:30pm Cody prepping for the POV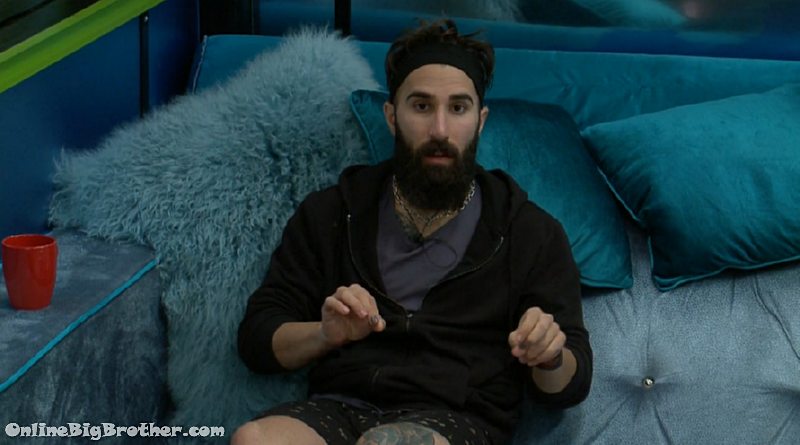 10:32am Paul alone
Alex, Jason, Ramses, Jillian and Josh vs the other side that is 7
Says he's positioned himself in a way that he's a sense of comfort.
Calls this season – Moth to flames
Paul is going to take each players paranoia and "pump the gas"
Paul – thank you for the Temptation Thank you for the 3 weeks of safety.. (OF Course he won it. )
Paul says because he's a vet the people in the house are believing everything he tells them.
Likens it to "training a dog"
Paul – everyone is giving me information for no reason.. i'm not even involved in the mess of things.
Paul goes on about how it blows his mind he's not on the block. (cause you're getting backdoored.. well not now because you have the gold key)
Paul says he can keep this going for a month.
Says Josh, Jason, Ramses are destroying themselves.
Paul – it's almost like I'm putting a bomb inside these people and they're blowing themselves up.
Paul – Like Megan did
Explains that at first he gives them good advice then gives them bad advice so they blow their game up.
Paul – Moths to a Flame
Paul – just filling you guys in because I know you f***g nerds love that.. (well thanks Paul.. a f****g nerd)
Paul says this season the girls in the house are vicious.
Paul adds that last season the girls were duds.
"the guys.. they're a little plain Jane in my opinion"
Adds that the girls are mentally more strong. The guys are athletic.
Starts trying to take credit for Megan leaving the game.
Paul – Cody is very militant.
Paul thinks he's better positioned with the girls than the guys. the guys are really "broing"
Paul predicts Cody is the next target, "people will be banding together and take out Cody he's making himself out to be this tough..Marine.. I don't give a f*** character. Similar to Paulie but Paulie at least was charming.. had an act. . Cody has no act.
Paul goes on about how much of an advantage being a vet is…
Paul – people are going to start banding together and attacking Cody because he's making himself out to be this tough..Marine.. I don't give a f*** character.
Goes lists his strategy
1) Step 1 Build a connection, build trust build a solidarity
2) Continue doing that
3) Start giving some not s go good advice, fuel the paranoia, fuel the anxiety, fuel the angst. "You know I would be careful about this, you kbnow I would look out for that, maybe you should go call them out.. maybe you should go do that, start giving them BAD BAD BAD advice"
Paul – you can't come and blame me for taking my advice cause it's just advice i was just suggesting it.
Paul stresses how he has to keep the temptations a secret.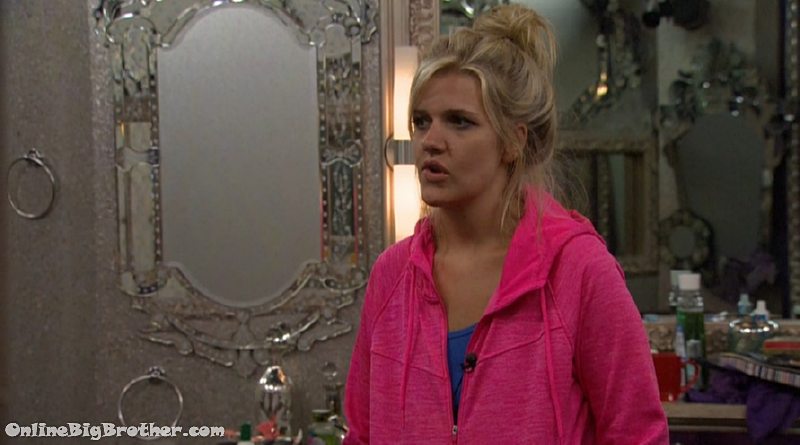 11:14am Jillian, Ramses and Elena
Jillian says she went to the Diary room and they gave her electrolytes. It's because she's "lacking in vitamins"
Jillian – because we can't eat anything and the only thing we can have is the shake so.. I miss a lot of vitamins.
Elena – I'm sorry it's the worst
Jillian – I feel better now after I took the electrolytes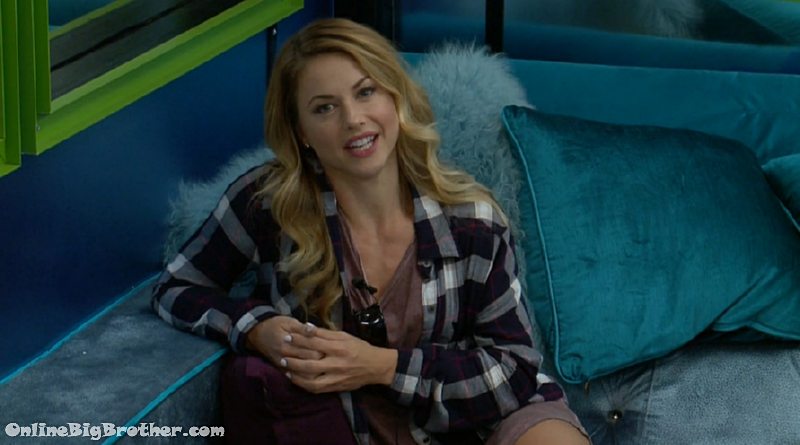 Christmas is trying to sell us one of her fitness books. ( UGH ) Feeds flip fast..
Links to the ranking system
For those of you that like Statistics here are some expanded reports.