POV Holder:
Danielle
Next POV:
Aug 11 (Saturday)
POV Used
???
POV Ceremony
Aug 6 (Monday)
HOH Winner:
Danielle
Next HOH:
Aug 9 (Thursday)
Original Nominations:
Wil and Frank
Current Nominations:
Have Nots
No Have-Nots for the Week
Last Evicted Houseguest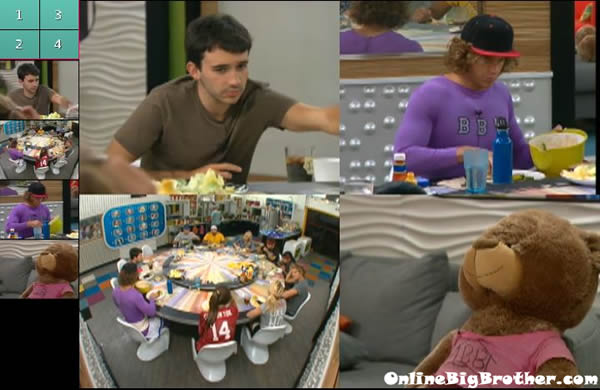 7:35pm All the house guests are in the kitchen eating and making dinner. They are eating turkey burgers. Ian gets called to the diary room. He jumps up from the table and runs to the diary room for his dog punishment costume. Britney comments on how Ian isn't allowed to be on the furniture. They ask her if that's a rule and she says yes. They talk about how they think Ian's kennel will be out in the backyard which means when he isn't on the leash he has to stay out there. Ian comes out of the diary room and yells who wants to see the first big brother dog!! WOOF WOOF WOOF! Ian is really excited about his costume. He comes into the kitchen and gets down on all fours. He tells them that his dish is out in the backyard. Shane ties up the back of his costume. Big Brother cuts the feeds and then shows the backyard where Ian's dog house is with a little fence around it. They open up the backyard and he says that it is better than have-nots. Ian says that he has to be served out of the dog bowl.
Watch what happens, AS it happens: Big Brother 14 Live Feeds! Subscribe today for your FREE 3 DAY TRIAL!
8pm Dan says you can't just feed, make him do a trick. Danielle walks Ian out into the backyard with his dog bowl. Jenn tells him that if they get beer, he can have hers. They tell Ian that he is being such a good sport about this. Ian says you have to be a good sport about things like this. Danielle puts the dog bowl on the ground and tells him that she will sit with him, she doesn't want him to be alone. Shane tells him that they won't leave him out here alone.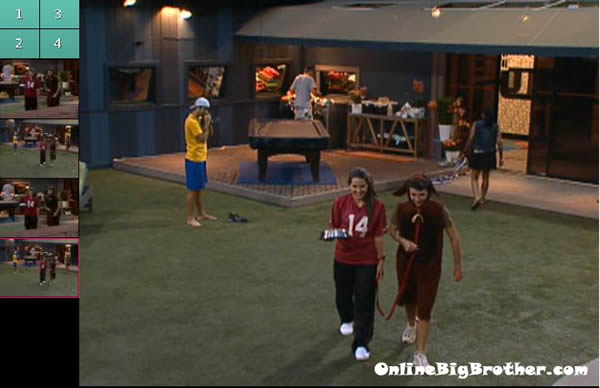 8:15pm Shane says thank you for letting me keep my veto ticket. (The veto ticket means that Shane automatically gets to play in the veto next week.) Ian explains that it is only good for next week and that 7 people will play in the veto instead of 6. Ian says that if he needs to go in the house or go to the bathroom all he has to do is wave at the camera and a barking noise will play over the whole house. Ian says that this is great and it's only 24 hours so by 7pm tomorrow it is done. Ashley says that she thinks it is so cool. Dan brings Ian a treat and makes him catch it. Ian says woof woof woof. Ian then asks Dan if he can take him to the fire hydrant. Dan takes his lease and takes him inside to the bathroom.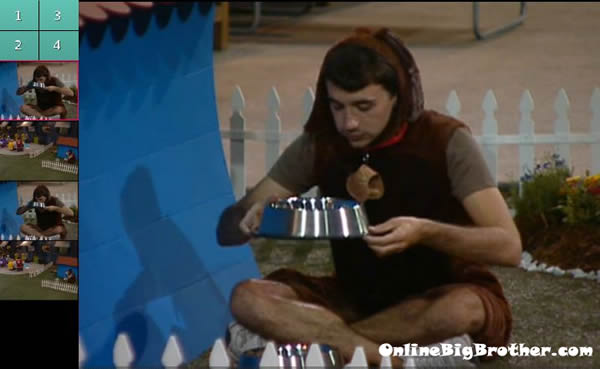 8:30pm Britney, Mike and Wil are in the kitchen talking. Britney is telling them about when she went to the Dominican republic and there was a storm the whole time she was there. Meanwhile out in the backyard, Ian, Ashley, Janelle, Danielle, Shane, Dan and Joe are all sitting around the hot tub talking about random stuff. Janelle and Ashley talk about a guy that was eating a homeless guy. Janelle says that she saw there video of it and the guy was eating the guys leg and face. She says the cops shot him and he kept eating him. She says that he died. They continue to talk about sporting injuries.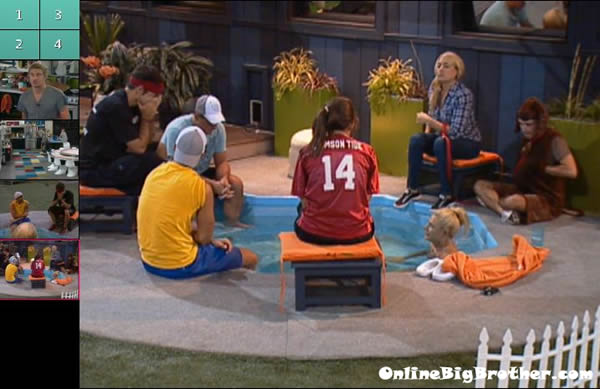 8:35pm Wil and Ashley are in the have-not room talking. Wil tells her that he wants to work with her. Ashley tells him that she wants to work with him too. Wil then explains all of the lies and things going around the house about him. Meanwhile, Boogie, Frank and Britney are in the arcade room. Boogie is pushing for Joe to be put up and voted out this week. Britney says that Joe is an obvious target; he has been pushing to get the coaches out. Britney says that she wasn't prepared to play this game like this, we as coaches gave away all our secrets and now we are in the game playing against the people we gave our secrets too. She says that the newbies are annoyed and so are we, we are equally annoyed.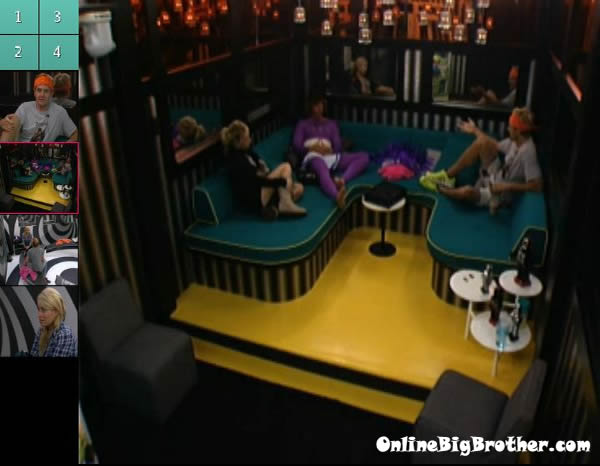 8:45pm – 9pm
Mike asks can I throw one crazy, crazy curve ball to you what if we try and get out Janelle. Britney says that she isn't opposed to the idea, and that she might be open to it if they get the wheels in motion. Britney tells Mike and Frank to talk to Dan and Danielle. She says I'd like to be part of something. Britney says if she were him and she had two angles she would throw the curveball. Frank says that if Janelle wins HOH next week she's not going to be all coach, coach, coach. Britney asks Frank about what he was talking to Janelle about earlier. Frank explains the conversation he had with Janelle. Britney tells them to do some talking and says that she is interested to hear what happens.
Re-Watch ALL THE DRAMA on FlashBack: Big Brother 14 Live Feeds – 3 Day Trial!
9:12pm The barking dog airs throughout the house to signal the house guests that Ian needs something. Meanwhile Wil and Janelle are talking in the bathroom. Wil says that Boogie is pissed because he fell for my lie and he fell for it hard! Janelle says yeah, that's what he said. Janelle tells Wil that if people go to jury and you blindside them they will not vote for you. Wil says that he doesn't see how people can lie throughout the game, he says that it was hard enough to do it for one week. Wil says that Jenn might vote for me, she said she wanted me to stay. Janelle says that this is the week that the Ogre goes home. They start talking about Joe and how he is trying to get the newbies to get out the coaches. Wil says that he can't believe he let Frank talk to him like that yesterday. Wil says sorry b*tch you got played!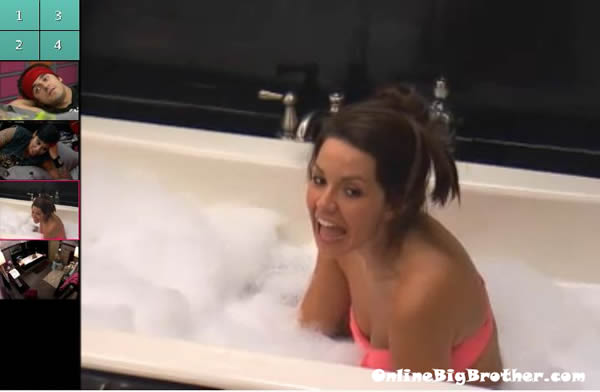 9:40pm – 9:50pm Bath time up in the HOH room. Janelle and Danielle are talking. Dan, Britney, Shane, Ashley, Janelle, and Ian are locked to vote out Frank. They laugh about how Frank is going to get voted out wearing the spirit tard. Janelle tells Danielle about how Frank said he likes his girls young and dumb. Janelle talks about how much she hates Frank. Janelle gets called to the diary room.
10pm Joe walks the dog..
FREE 3 Day Big Brother Live Feed TRIAL: Join Now!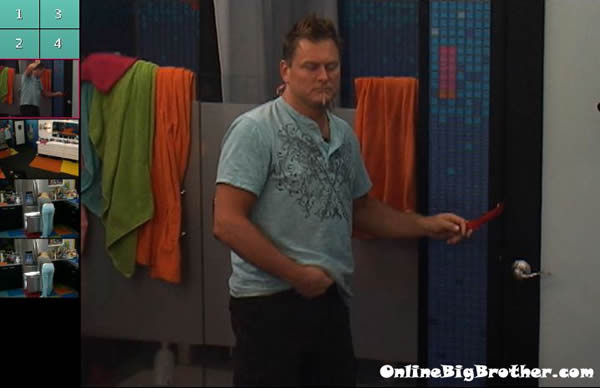 10:15pm – 10:30pm Boogie is up in the HOH room talking to Danielle pushing for Danielle to use the veto and nominate Janelle as the replacement. Danielle says that she has been told that Frank and Boogie are gunning for her… she put him on the block and put him in a spirit-tard. Boogie asks who told you that? He guesses Janelle. Danielle smiles. Boogie says this is what I am talking about. She creates paranoia, and division amongst the people. Danielle says that there is so much he said she said going on in the house. Boogie tells her that he talked to Britney and she said she might be on board with getting out Janelle, if we talked to you about it. You and Britney could be the innocent girls in the background. I will go so far as to offer up myself as the other person to be nominated. He says that he can't work with Janelle and her untrustworthiness. Danielle says Britney hinted you the right way .. I want the drama to end. Boogie says good we can make it end. Frank wants to be here and he holds no hard feelings. He says that Ian just came here to fu*k around, he chose a dog house over a trip to Maui. Danielle says that she is afraid he would turn on us. Boogie says we have the votes to get her out now. Boogie says that twice she was one competition away from winning it all and will do it again. Danielle says that he really needs to talk to Dan about it. Boogie says Frank and I are in it 100% and I will lead the charge and take the brunt of it.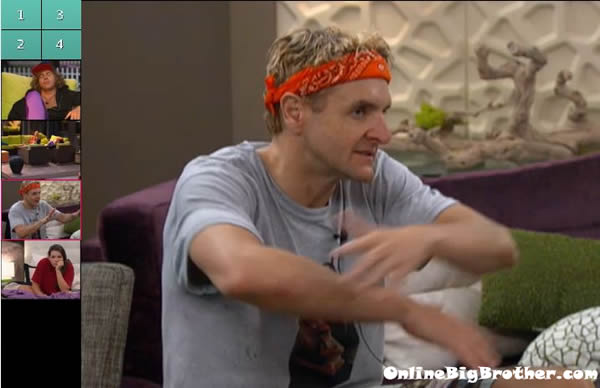 10:30pm – 10:50pm Boogie says you, me, Shane, Britney, Danielle, Frank, join to form the Avengers and straight up gangster get Janelle out of this house! Boogie pitches his plan to Dan. This would be a mean group of 6, who is going to fu*k with us! Frank joins them. Boogie continues saying he wants this bit*h out of here! If we don't get her out we will be sitting in the jury house kicking ourselves in the face like Ian, saying why didn't we get her out. Shane joins them. Dan tells Mike to have a one on one with Shane. Dan and Frank leave. Mike pitches his plan to Shane. Danielle joins them.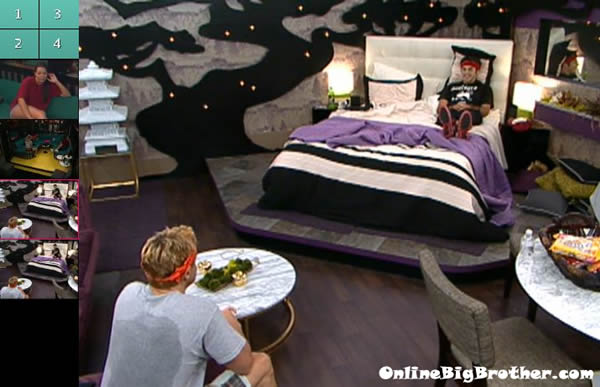 Re-Watch ALL THE DRAMA on FlashBack: Big Brother 14 Live Feeds – 3 Day Trial!
Share it YO!!
Tweet