POV Holder:
Danielle
Next POV:
Aug 11 (Saturday)
POV Used
???
POV Ceremony
Aug 6 (Monday)
HOH Winner:
Danielle
Next HOH:
Aug 9 (Thursday)
Original Nominations:
Wil and Frank
Current Nominations:
Have Nots
No Have-Nots for the Week
Last Evicted Houseguest
Power of Veto Summary: Danielle won the VETO, Jenn got a Maui trip, Wil got $5000, Frank has to wear a spirit-tard for a week, and Ian took a punishment of 24 hours as a dog where he has to live in a kennel in the have-not room for 24 hours. No Have-nots for the week.
5:35pm Ian joins them in the HOH room. Ian says oh in the baseball? Dan says yeah. Ian says that was a crap shoot. Dan says that was not a crap shoot. Dan tells Ian it was so good that he gave Jenn the trip, she won't forget that either. Danielle tells him that it was very sweet. Ian says that he doesn't understand why Frank would try and take the last prize, he had to have known it was going to be a booby trap, especially when Boogie was telling him not to take it. Danielle asks Ian what he is thinking? Ian says that he hopes Jenn enjoys her trip, and that Wil enjoys the $5000. Dan says if you had taken the trip, Jenn would have gotten the dog punishment. Ian says that Jenn having to be the dog would just be wrong. Ian says that Frank is the first guy in big brother history to have to wear a uni-tard. Ian says that Frank's uni-tard will go for a lot on ebay. He says that Casey's banana suit went for like $1200, and that Kriten's hippy-tard went for a lot too. Ian talks about how when he was told he could eat regular food as a dog he took the punishment because that's not that bad.

Re-Watch ALL THE DRAMA on FlashBack: Big Brother 14 Live Feeds – 3 Day Trial!
Ian says that he just hopes people take him out on the leash because staying in the kennel for 24 hours would suck. Ian says that Boogie told Ian that he took the worst thing. Ian says that it wasn't that bad, that the spirit-tard would be the worst because he has to wear it all week, can't go in the pool and has to work out in it. Danielle confirms that he is still good with their deal. Ian says yes. They talk about the votes, they think Jenn will vote to keep Frank, Janelle will vote to keep Wil. Ian asks if he should vote to keep Frank just to throw people off and not think we are together.
6pm Danielle, Dan and Ian discuss the possibility of Ian throwing Frank his vote if they are 100% certain that they have the votes to get rid of them. That way Ian can work Boogie when Frank is gone. Danielle says that she is going to keep the votes the same but that she will listen to what everyone has to say and that she is a team player …that as an alliance we decide things together. Danielle tells Ian that if she ever comes up to him and says I want to talk about something dumb …that means I need to talk to you. Ian says oh yeah I know, I was just wet and didn't want to get out of the pool. Ian describes the alliance, Shane is the jock, Dan is the older wise person, you (Danielle) are the nice girl. They talk about what will happen next week if Boogie won the HOH. Dan asks if Ian agrees with him that if a coach is up on the block with anyone else …the coach is the one going home. Ian says that he doesn't really agree. They talk about how they would never vote against anyone in their alliance, unless two were up. That say that they need to figure out a way to protect each other if someone else gets HOH. Ian brings up how they could make fake side alliances to help control possibilities. He says that Dan make a fake alliance with Janelle and that he (Ian) could with Boogie, Ashley or Jenn.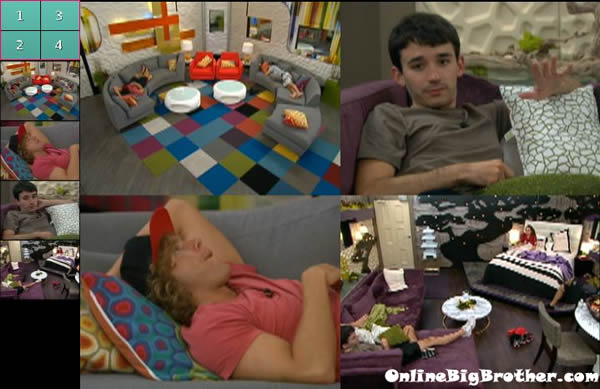 6:10pm – 6:35pm Ashley, Jenn, and Wil are in the arcade room talking and laughing. They are talking about Joe and making fun of him. They talk about how his food isn't very good. Ashley says that she is getting hemorrhoids from Joe's food. The conversation turns to talking about the competition. Meanwhile back up in the HOH, Ian and Dan talk about how there are no have-nots this week because of the dog punishment. They discuss who will get America's Favourite. Ian says Frank or Shane. Ian says that he didn't come here to win $25,000 he came here to win the grand prize. Dan heads downstairs to lay down. Danielle tells Ian that he did really great and that he is going to be the first person to be a dog, and the first person to be on slop for 3 week. Ian says and the first person to voluntarily take a punishment in that type of competition. Danielle tells Ian that he has a heart of gold. Danielle tells him that she will be around him all the time so that he can be on the leash outside of the kennel. She says that she will even wake up early to get him out of the kennel. Ian thought he might need to be on all fours. Danielle tells him no, he can walk around as long as he is on the leash. Ian heads downstairs and says that he will tell them that he hates country music. Ian goes down to the kitchen and says that he hates that music, I hate country music.
6:45pm – 7pm Big Brother cuts the live feeds to the we will be right back screen. Joe, Ian, Janelle, and Britney are all in bed in the Kick's room. Wil, Ashley, Jenn and Frank are in the kitchen eating candy. Ashley says this is why we should be having sex in the house, so that we don't eat so much. Frank asks is that an offer? Frank says that he likes to eat after.
7:20pm – 7:30pm Frank comes out of the diary room wearing his spirit tard. He starts prancing around and everyone starts laughing. Frank says that the skirt is a little low, my butt cheeks are hanging out.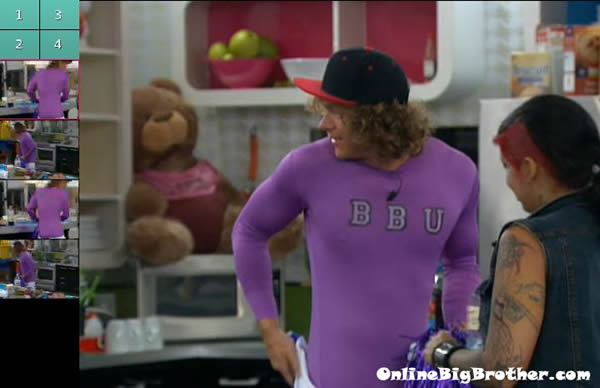 Share it YO!!
Tweet