POV Holder:
Danielle
Next POV:
Aug 11 (Saturday)
POV Used
???
POV Ceremony
Aug 6 (Monday)
HOH Winner:
Danielle
Next HOH:
Aug 9 (Thursday)
Original Nominations:
Wil and Frank
Current Nominations:
Have Nots
No Have-Nots for the Week
Last Evicted Houseguest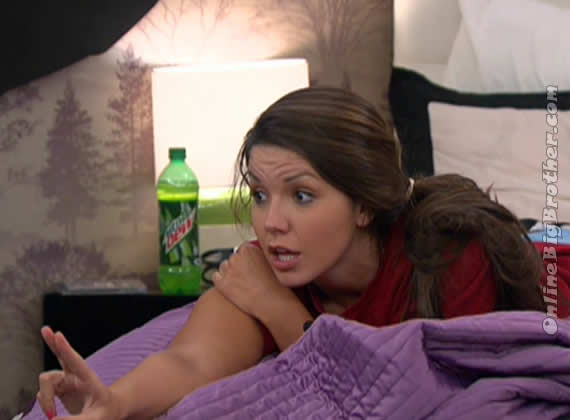 11:10pm HOH Dan, Shane Danielle and Brit Watch with FlashBack FREE TRIAL!
Boogie just pitched his plan for them to put up Janelle and roll with him. Danielle tells them that she trusts Boogie ore then Janelle. She knows how 2 face Janelle is. Britney wants Dan's take on the Boogie offer because she's thinking it sounds pretty solid. Danille and Shane are very much liking it also. Danielle: "I don't trust Janelle at all.. she keeps telling me she's going after different targets.. Last night she said she's going after Joe, Wil and Ian now they are not after Joe and Wil.. Wil told me to my face they are working together "
Britney: "100% chance if Janelle or Wil win HOH they are putting up 2 of our people"
Danielle and Shane are pretty sure they will go up if she wins HOH. Britney tells them Janelle has said a hundred times she wants coaches to make it to Jury so they can vote for each other.
Dan is just worried that if they keep Frank they are keeping Boogie and Boogie is dangerous.
Shane: "I know the rest of the houseguests want the coaches out.. he thinks that Danielle, Frank and him can keep them safe" (Shane and Danielle are really thinking they are competition Beast.. it's true)
Britney says the scary thing is if Ian wins HOH and Dan is up on the block Boogie can do the same thing he just did to them. Walk into the HOH throw a name out and get the power to flip. Britney: "he could just as easily throw one of our names out there" Danielle believes that Boogie tells the truth about the deal.
Dan: "Boogie and truth do not belong in the same sentence"
Dan reiterates how dangerous to Keep Boogie and Frank in the house.. if it was Ian and Boogie he would on board. Dan explains to them that 2 hours ago they were dead set on taking Frank out now they are talking about Sending Janelle out the door. Danielle says she's always disliked Janelle. Britney says that Boogie and Frank will not put them up she can't say the same about Janelle.
Shane wonders if they can still get Boogie and ian onboard even if Frank is gone. Dan doesn't know for sure he never had the chance to talk to Boogie about it.
They start counting the Numbers on Janelle's side. She has Wil, Jenn, Joe and Ashley.
Dan tells them that Boogie made his living in Season 7 flipping votes on people.. that is why he thinks they can only trust the 4 in the room right now
11:26pm Danielle proposes they do the deal with Frank and Boogie send Janelle out and deal with Ian on the side. She knows that the pitfall of this is that Ian and Boogie might start talking game and find out.
Dan says that Ian will find out very quickly, they need to tell Ian he'll trust them more. Dan thinks that getting a couple weeks out of Boogie is the Max they should go for.
They run threw the numbers.. If they can get Ian in with them they will have 5 votes and can take out Boogie/Frank at any time. With Janelle gone ian has said he'll target Jenn.
Janelle told him that if Frank leaves this game Boogie is going to work with Wil. Dan: "Wil told Janelle that" Shane and Britney both think that is a smart move for Boogie. Britney : "You have Janelle Boogie and Wil together"
Dan: "As soon as Janelle goes up everyone in the house will know what is up"
Danielle: "that is why we need to tell Ian before the ceremony"
Dan warns them again that they are counting on Boogie's Numbers but he's a guy that has stabbed a lot of people in the back.
Danielle: "We only need Boogie and Frank for 1 week"
Dan asks what if Janelle leaves and Shane wins the HOH who do they put up. Shane says Joe and Wil.
11:49pm Cam 3-4 HOH Ian, Dan, Shane, Britney
Britney mentions how they've been talking it and they are good to go with what they have planned. Shane chimes in 100"
They talk about Boogie being Rude to Ian during the Power of Veto competition. Ian took the Dog costume and Boogie made some snide remarks about it.
They want people to not know about their alliance and britney has noticed that Ian has kept quiet about it. Ian totally agrees with them secret.
Ian warns them that Jenn may vote out Frank. Ian: "She was saying Sweet sweet Karma today.. frank and boogie we're going to sell me down the river and now frank was going home"
Shane asks him where his head is at with Boogie and Drank
Ian tells them that he likes Frank but Boogie's comments are getting a bit much.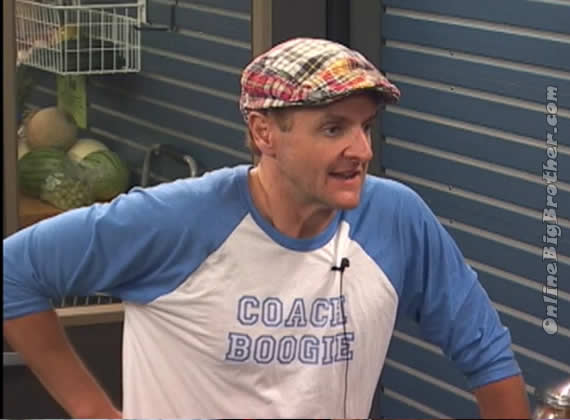 12:01am Cam 1-2 Boogie and Danielle
Boogie tells her he understands that Dan is worried about being a target but he's a target either way. Boogie: "So am I we're all targets" Danielle agrees points out that she'll be a massive target if she goes thru with it because that entire side of the house will come after her. Boogie: "They are not going to nominate you over one of Us… One of us Dies."
12:40Am Cam 3-4 Danielle and Shane
Danielle is saying that Dan is furious with her right now. Shane wants her to play her own game not dan's. Shane cannot stand Janelle. Danielle points out that she went into the HOH wanting to get Janelle out. She's wanted to get Janelle out the entire time but she's listened to Dan. Danielle says that Dan keeps telling her she's playing personal but she thinks that getting Janelle out is strategic. (Dan wants to keep Janelle because Janelle is working with him a bit on the side) Dan joins and they start talking about the batteries in the remote.
1:28am Cam 1-2 Storage Room Ian and Brintey
britney tells him she has no clue what is best for them to do. Britney doesn't think Janelle will put her up but she think Ian, Danielle and Shane are potential candidates. Ian doesn't understand why she would put him up. britney explains that he'll be used as a scapegoat because he's a person that can go up and won't likely go after her the next week. Ian: "Soo not as a target"
Britney points out to Ian that Janelle is saying to everyone she wants to get Joe out but she's with Joe all the time and they've really been together since the very beginning. Ian thinks that perhaps its from Joe saying he wants to get the coaches out.
Britney is positive that Janelle will not put Joe up. ian agrees says he feels pretty confident that Frank will not put him up because Frank still thinks they are kind of together.
Britney asks him if he's never heard Frank say he's coming after Britney. Ian says she doesn't have to worry never once has Frank said he's targeting britney. Britney: "How about Boogie". Ian: "ummm pre reset …" Feeds cut to fish WTF . Ian tells her Boogie wanted to get Shane out at one point and because of the coaches part of the game Britney would go home.
Britney tells him if they cut Frank out Dan and Janelle are going to be working together. Ian completely agrees, he cannot understand why Dan is wanting to keep Janelle safe and take out Frank. Britney tells him everyone has ulterior motives Dan doesn't want to get rid of Janelle because she's not going after Dan.
ian says if Frank or Boogie win the HOH they could put Danielle and Dan up. Britney knows that she knows Dan is worried about himself but she's not going to blame anyone for it.
Britney tells him that her and him are an unlikely pair and they can get long in this game together. Ian agrees.
Ian: "in the long run we're pretty good to be paired up with.. We're stealth as Hell .. and Final 6 onwards the majority of the games will be.. ON Day 22 Who said.. . I know everything that has happened in this game"
They both agree that the HOH is a knock out.
Re-Watch ALL THE DRAMA on FlashBack: Big Brother 14 Live Feeds – 3 Day Trial!
Share it YO!!
Tweet