POV Holder:
Frank
Next POV:
Aug 11 (Saturday)
POV Used
POV Ceremony
Aug 13 (Monday)
HOH Winner:
Frank
Next HOH:
Aug 16 (Thursday)
Original Nominations:
Wil / Joe
Current Nominations:
Have Nots Cod fish/Candy Canes
Joe, Shane, Danielle, Britney
Last Evicted Houseguest
Janelle
11:15am When the live feeds come back on, Ian and Dan are in the pool talking. Ian is telling Dan that as far as he knows Wil is the target. He says that he was talking to Shane and he was nervous he might be the target. Ian tells Dan that if they are going to keep the quack pack a secret, he would need to vote how Boogie and Frank want him to vote. Ian says that it is probably better to get rid of Joe because Boogie and Frank seem to have made a deal with Joe. Dan asks what kind of deal? Ian says that he thinks it's a one week deal to not go after Frank and Boogie. Ian says that if Wil if he stays is more likely to go after Frank and Boogie. They talk about how getting Wil out is better also because joe has a lower chance of winning HoH. Ian tells Dan they Boogie and Frank don't want Shane to get near the end of the game because it's possible to win a number of challenges in a row and win because there is no one would not vote for him to win. Boogie comes out into the backyard and sits on the couch. Boogie tells Ian that he got in the pool fast. Ian says that he and Dan had planned it last night that as soon as the music went off this morning they would run to the pool and do cannon balls into it.
Big Brother 14 Live Feeds – Watch it ALL on FlashBack:
Pick the Day, Time and Camera View!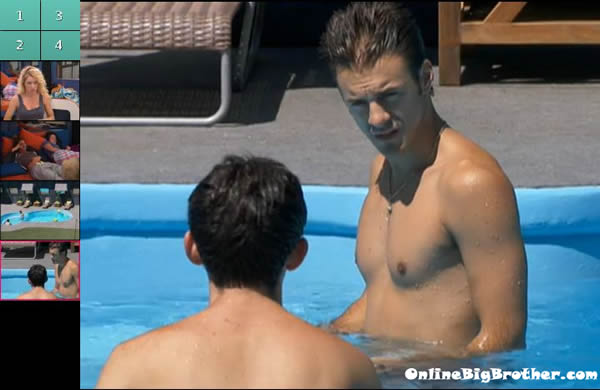 11:25am – 11:40am Dan is in the kitchen with Frank and Jenn. Dan is telling Frank about a dream he had were his wife Chelsea was with Shane and he was getting really mad. He says that it woke him up and he had to really think about it because it was so real. Meanwhile out in the backyard, Shane, Joe and Ian are sun tanning by the pool. Jenn and Boogie are talking on the backyard couch talking about her music career. Jenn says that Big Brother must have did a big segment on her and her music career. Boogie says oh yeah I can't wait to see the show. Jenn comments on how Ian didn't want Shane to be a have-not. Boogie explains that its better for all of us if we weaken Shane a bit. Jenn says that she wants to have the kids back but when he says stuff like that .. Boogie says he knows and that what scares the sh*t out of me is if Ian wins the HOH during a fast forward and starts thinking he should nominate people who haven't been nominated. He says that Ian wont think through things quick enough and might make a hasty decision. Boogie says if that happens I would just step up to the mic in front of everyone. Boogie starts talking about the Zing-Bot saying that he comes in here and insults us, Ian is standing there in his glasses hosting and the Zing-Bot fell over… Big Brother cuts the feeds.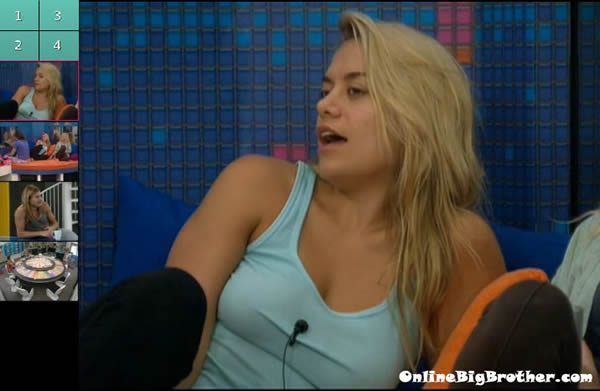 11:45am – 12pm Danielle, Ashley and Britney are in the bathroom talking. Britney tells Ashley that no one was going to fill up her bucket in the have-not competition. She says that everyone agreed not to make you a have-not. The conversation turns to talking about wedding dresses. Danielle starts talking about the type of wedding dress she wants. Ashley wonders what type of dress she would Britney tells her that she doesn't see her as a conformist. Ashley asks what is a conformist? Britney explains what it means.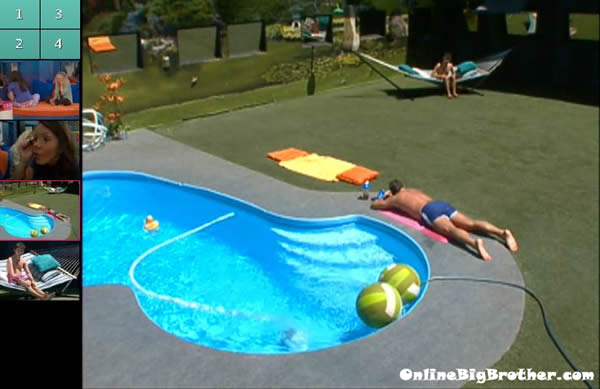 11:50am Joe and Ian are out in the backyard. Joe is in the pool and Ian is on the hammock. Joe tells Ian that he needs his vote this week. Ian says yeah, you never know, I will need to wait to see what happens with the veto. Joe tells Ian that he is going to start doing a little campaigning today. Ian asks you don't think he would use it on you. Joe says no. Ian says yeah he probably won't change his own nominations. Ian tells Joe that he has a pretty good chance against who he is up against. Ian starts talking about how he is only told information from Frank and Boogie on a need to know basis. They are tight lipped.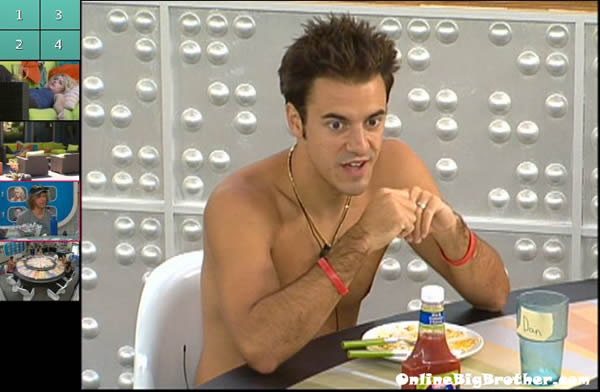 12:15pm – 12:30pm Dan and Frank make a bet on how many songs are on Franks new cd. Dan tells Frank that there are only 7 tracks on it. He says I will even throw this out there, it is 37 minutes long. Dan says that the bet is a full service dinner tonight for the winner. Frank takes the bet and goes upstairs to check. He and Shane check and find out there are 11 tracks on it. Frank wins the bet, so tonight Dan has to cook and server Frank dinner. Dan, Danielle, Britney and Jenn eat breakfast in the living room. Shane is in the backyard water the grass to make it cooler on their feet.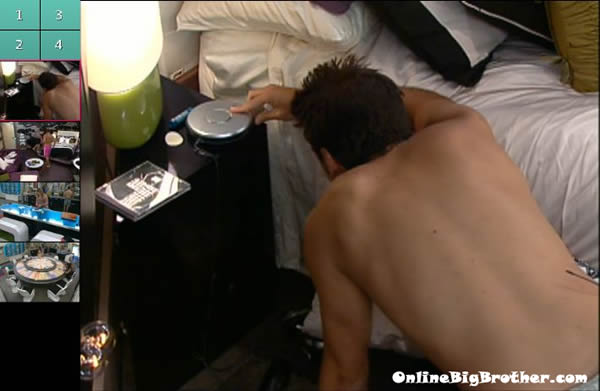 12:30pm – 1pm Frank, Dan, Boogie and Danielle are out on the backyard couch. They start talking about the party after the finale. Shane joins them. Boogie says that it is held in the basement of this studio. He talks about how they party used to be really crazy and recently they scaled it way back and that it's not that great anymore. They continue to talk about random things, past house guests and Boogie's house in Vegas. They talk about when the live feeds, Dan asks Ian if they had the Live Feeds live feeds back on Season 1. Ian says yeah and they were free. The conversation turns to talking about Mac's versus PC computers.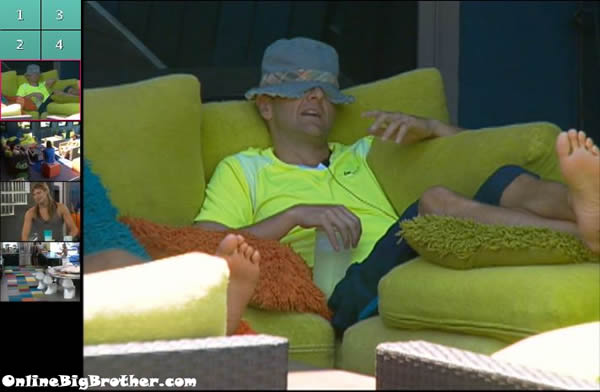 1:10pm – 1:25pm Joe tells Ian that a good attitude will help you on the block, a lot better than a bad one. Ian says the best good attitude he saw was Frank last week, he was on the block and in the leotard and I didn't even see him had a bad attitude. Ian tells Joe if he wants to stay here just keep a good attitude, I don't think Wil realizes this is a social game. Joe says that he didn't expect Wil to be like that, he wasn't like that last week. Ian says that is because he was up against Frank and he thought he was going. Joe gets out of the pool and lays out to sun tan. Ian continues to play in the pool. Meanwhile in the kitchen, Jenn, Frank, Wil and Ashley are talking about how you can get a DUI while riding your bike.
FREE 3 Day Big Brother Live Feed TRIAL: Join Now!
Share it YO!!
Tweet