POV Holder:
Frank
Next POV:
Aug 11 (Saturday)
POV Used
POV Ceremony
Aug 13 (Monday)
HOH Winner:
Frank
Next HOH:
Aug 16 (Thursday)
Original Nominations:
Wil / Joe
Current Nominations:
Have Nots Cod fish/Candy Canes
Joe, Shane, Danielle, Britney
Last Evicted Houseguest
Janelle
1:30pm
Boogie and Dan are talking on the backyard couch. Dan asks if Wil is defeated in this game. Boogie says that he seems like he is but he will bounce back sooner and I don't want to be against him on Thursday's HOH. Dan asks don't you think Joe is going to around a long time as a pawn. Boogie says that he hopes they can get Joe out next week. Boogie talks about how snippy Wil got with him and how he got all gay. Boogie says they says "hell hath no fury like a woman scorned" well hell hath no fury like Wil scorned. Dan talks about Joes stories. Boogie says yeah he has toned it down but if he starts up again we may need to rethink getting him out. Dan comments on how calm Joe was in the competition. Boogie says he doesn't understand why, I would be panicked if I was him; I mean he was the only one to not vote out Janelle. They talk about how Shane thinks he needs to win everything. Boogie talks about this is a dream cast, these people have no idea what is going on. Dan says that there is no way we will win if we are up against a new person. They won't give it to us to win it twice. Dan says that Joe can't make it to the jury because he will make sure we don't win. Boogie says that he really didn't like it that Joe pointed to him during charades trying to get the word millionaire. They comment on how Joe keeps looking over at them and say that it drives them crazy. Dan is really pushing to get Joe out. Dan says that at least with Wil you know where he is coming from. They start counting how many times Joe looks over at them, 6, 7, 8, 9 … 11. Boogie says at 15 I will need to go in to the bathroom and get some lunch.
Sign-up for the Big Brother Live Feeds and get the MOBILE Feeds for FREE!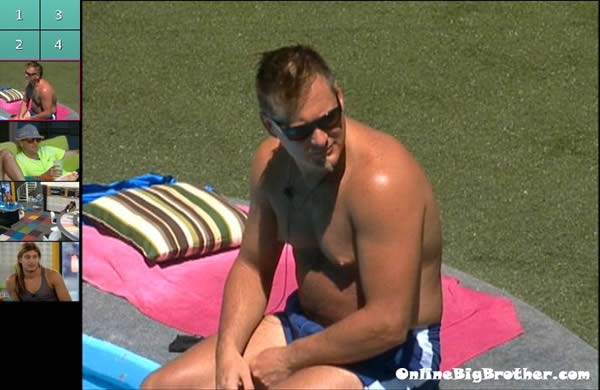 1:50pm Dan tells Boogie if us three can stick together we can railroad through this house. Boogie says yeah for sure. Dan says that he needs to have more conversations with Frank. Boogie tells Dan that without putting words in Franks mouth I think he is concerned about how close you are to Danielle. You have been her protector since day 1. Dan counts 23, 24, 25, looks from Joe now. Dan gets up to 35 looks and Boogie says he needs to head inside.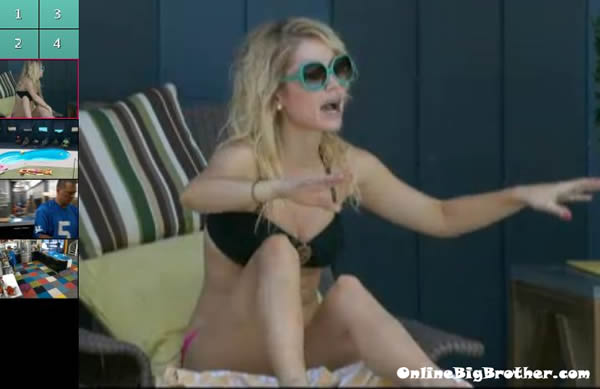 2pm – 2:20pm Ashley asks Ian to move his Fungal cream in the bathroom. Ian asks why its just a bottle. Ashley says because your fungal hands have toughed it. Ashley says that she would rather touch a candy cane. Britney says I would rather touch a candy cane that has been in a rectum. Ashley, Britney and Boogie make fun of Joe and how he is always telling his wife to put up Recipes on the website. Britney pretends to be his wife saying that she has 4 kids to look after, she doesn't have time to post his recipes.. while he sits out by the pool. They laugh about how his son probably hasn't mowed the lawn since he left. Britney says nothing coming out of the Mad Love vegetable patch this summer. Grown with love disparaged with hate. Ashley says Joes kids are just happy they get to eat Mac and Cheese. Britney talks about how Joe's kids will grow up to be like Willie. They all laugh. Joe comes out for a second and they tell him they were just talking about how great of a cook he is. All the cameras switch to Joe in the kitchen cooking lunch for the house guest by rubbing a marinade into the fish with his hands. Camera switch back out by the pool where they are talking about The real Housewives of Orange County and New York.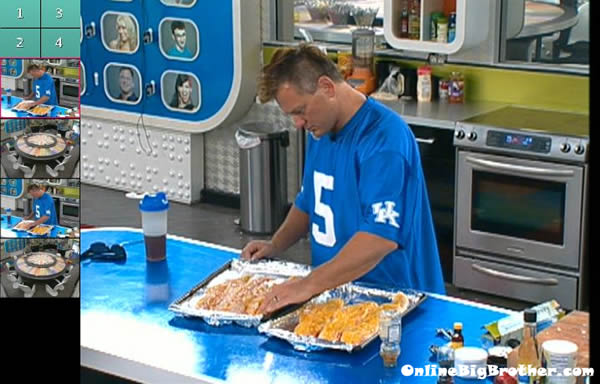 2:30pm – 3pm Ashley joins Joe in the kitchen and starts helping him cook. Meanwhile out in the backyard, Ian asks if the have-nots are allowed to eat the salsa that Joe makes. They say that they are allowed to because it's salsa. Ian says so basically he could put anything in a bowl and call it salsa. Boogie says it's probably better not to talk about it. Ian talks about how he has given out his parents address already. He says what are the crazy fans going to do, send my parents rape threats? Dan says no, it's death threats. Boogie talks about how Geisha House has probably already gotten molotov cocktails from the crazy Janelle fans. They hold a mini-pageant in the backyard.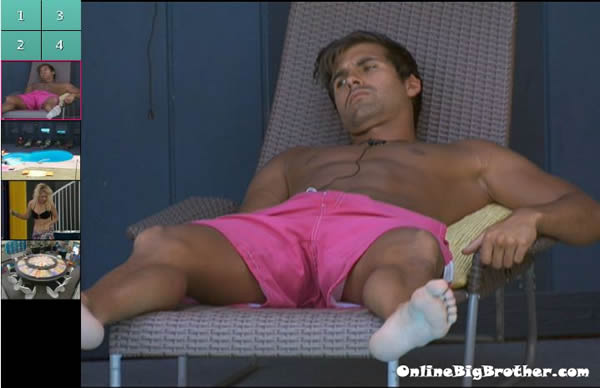 3:24pm Random conversations outside.
Britney is asking ian about what a deal breakers with girls. Ian says someone that doesn't have too much baggage, Has cheated on someone before and Granny Panties.
Everyone starts laughing at the last one.
Boogie: "How many Girls you know wear Granny Panites"
Shane: "Hoe many girls in college wear granny panites"
Ian: "you would be surprised"
Joe: "How many panites you've been in"
Ian goes on to talk about how he he's got Key's to all the rooms in his Dorms except for the Roof and the "Dungeon" He explains there is one room in the basement he cannot enter.
boogie: "That's the janitor's love chamber"
Joe: "Lot's of Granny panties down there. "
Ian: "I Scored a sick toaster once…"
3:30pm Eagle Eye dating stories
Joe tells them a story about a girl he dated. She was perfect, great dates, great chemistry he thought he had found the one. Then on day his friend was on adult friend finder.com and said he found this girl you really resembles Joe's girlfriend. Joe found the girls profile and on it it said she was looking for An@l S$X. Joe adds that there was pictures and posts that made if very clear she was into that sort of stuff. Joe silently broke it off with her.
Wil asks if she every asks for it during their times together. Joe says no, he says at that time of his live he was travelling a lot so it was easy to phase her out of his life. Britney thinks he should have at least talked to her about it, it could have been a ex boyfriend trying to ruin her life. Shane: 'What was your friend doing on adult friend finder under the @n@l S$x category"
I Added a bunch of pictures of Danielle pool side.. She seems to be the most popular player this year ;) Picture link Danielle
4:04pm Cam 1 Ashley is hurt again
4:23pm Cam 3-4 Wil and Jenn
talking about weddings and how people go overboard with the. Wil has known people that have gone into serious debt to pay for weddings.
Wil: "If love is going to cost me that much money I DON'T NEED IT.. haha just kidding"
Jenn mentions that Frank was a bit Drunk last night.. she thinks he was hung over this morning.
4:36pm Cam 3-4 Danielle and Britney Danielle is complaining how fat she is and how she needs to see her trainer as soon as she gets out of the Big Brother House. She comments how Skinny Britney looks, Pinches her stomach fat and says she wishes "this" was gone. Britney tells her she looks hot.. etc …etc ..etc (another successfully complement fishing Trip) )
4:47pm cam 3-4 Wil and Shane
Wil so you feeling good about tomorrow.
Shane: "NO.. I've been trying to talk to him but he's been sleeping"
Wil tells him he's not going to be campaining against him. Shane says he's finished if her goes u. He's got Britney's vote and maybe Danielle but he doubts it.
Wil says if they are both around next week they need to work together. Wil adds he has 3 votes on his side only 2 Shane knows about. Wil: "we can have people next week" (T!Ts and Shane/Britney)
Both Shane and Wil agree that the Frank/Boogie relationship needs to be cut. Wil wants to work with Shane and Britney to get rid of Frank and Boogie. Shane is receptive to the idea.
4:56pm Dan joins them They briefly talk about the zingpot's Zing. Dan's says Ashely's was mean but Jenn's was just "Shitty"
5:25pm Cam 1-4 Shane, Boogie and Frank running
Watch what happens, AS it happens: Big Brother 14 Live Feeds! 
FREE for 3 Days, then ONLY $14.99 per month!
Share it YO!!
Tweet