POV Holder:
Frank
Next POV:
Aug 11 (Saturday)
POV Used
POV Ceremony
Aug 13 (Monday)
HOH Winner:
Frank
Next HOH:
Aug 16 (Thursday)
Original Nominations:
Wil / Joe
Current Nominations:
Have Nots Cod fish/Candy Canes
Joe, Shane, Danielle, Britney
Last Evicted Houseguest
Janelle
12:10am – 1am They are all continuing to play charades. Ashley is up and she having a hard time conveying her 6 words. Ashley tries to re-inact "A thousand years in solitary confinement" from Britney's season when Hayden was confined to the Have-not room and Kristen was outside the door. Ian makes fun of Ashley for not remembering one of the words and having to ask Britney. Ashley snaps at Ian and tells him to shut up, you're mean! They continue to play, Wil has Don Quixote and does really well trying to give them clues and his team almost guesses it. When they realize the backyard is open the game ends.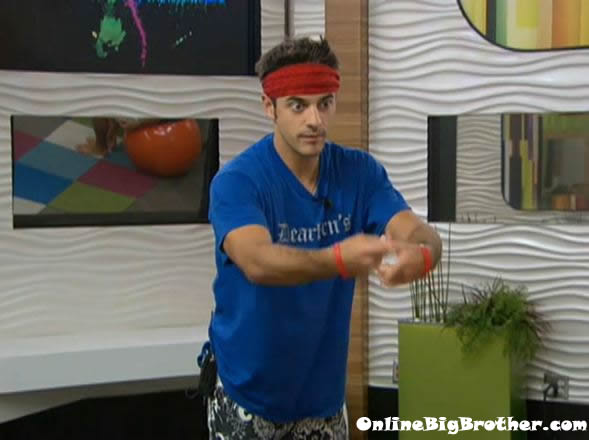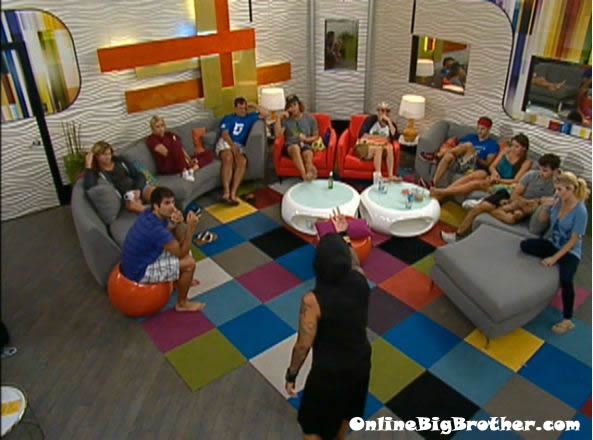 Watch it ALL on FlashBack: Pick the Day, Time and Camera View!
Frank and Boogie are in the arcade room talking about who they should get out this week. Frank tells Boogie that maybe keeping Wil is better so that he goes after the other 4 (Shane, Dan, Britney and Danielle) from the silent 6 alliance. They talk about how they don't think anyone else would win and go after those 4. Frank then says that he still thinks Wil is the better one to evict. Frank says that they will need to talk to Jenn and asks her what she is talking to Wil about so much. Boogie talks about how when they were all in the living room it was so obvious that Wil, Jenn and Ashley were in the storage room talking. Boogie talks about how it doesn't matter how bad we scum bag him, he won't be in the jury. Dan joins them. Dan talks about Joe and explains that it bothers him when people act too comfortable. Frank says that he told Joe not to stir the pot too much and just keep his mouth shut. Frank talks about how Joe just won't win any competitions. They decide to head upstairs so they can talk.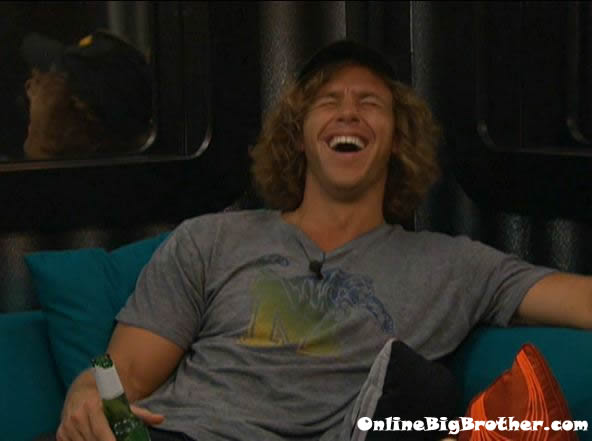 1:25am Frank, Dan, Britney are up in the HOH room. Frank talks about how he doesn't have a vote. Frank talks about how Wil has a better chance at winning HOH but just a marginally better chance than Joe. Ian joins them. Frank starts to head downstairs and Shane comes up. Britney, Dan, Ian and Shane try and talk to Ian about who Boogie and Frank want out and why it benefits them. Ian says that they think they want to keep Joe because he won't nominate them. Boogie joins them. Danielle is in the HOH bathroom and comes out. Big Brother cuts the feeds in and out a lot.
2am – 2:15am Wil Ashley and Jenn are in the stereo room. Ashley talks about how Ian has been getting on her nerves. They talk about how for a super fan none of his predictions have come true. Ashley tells them about how she really took offence to Ian calling her out for not being able to remember a word during the charades game. Jenn tells Ashley that she is proud of her for calling Ian out. Wil says that the only thing he can go up there and offer is that there are bigger threats in the game. He says that it would be a waste not to get a bigger target out. That's about all I can offer, but if they are all working together, that might backfire and shoot me in the foot. Jenn agrees. Ashley says that is so hard, maybe I can talk to Frank tomorrow and feel him out to see what he is thinking. Wil says he could just start a conversation and ask Frank if he is planning on keeping the nominations the same. Jenn says yeah but they are always changing.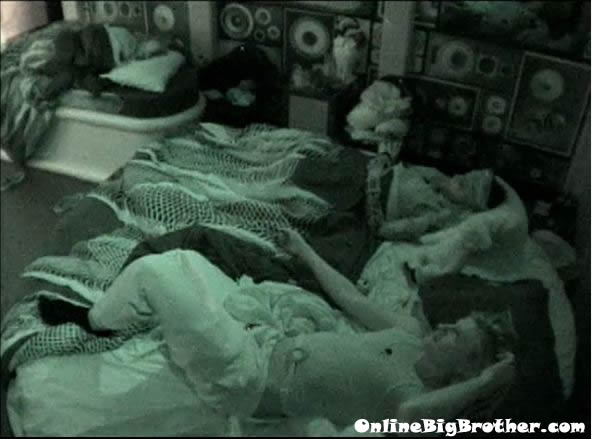 2:40am – 3:30am Joe is in the kitchen cleaning out the fridge. Ian and Dan are in the kick's room talking about religion. Meanwhile Britney, Shane and Danielle are in the have-not room. Britney is making fun of Shane during the competition. Britney is mocking Shane from the competition, she says I am Shane and I am mad. Britney says I am so mad I am going to take my shirt off and let my abs glisten and then I am going to throw it. I'm Shane and I'm mad, I'm just mad at myself but not really. I'm Shane and I'm annoyed because I have to be on the sucky team. I lost this lemons challenge because of these mittens, I'm gonna throw these away and see if they ever betray me again. I'm Shane and I'm mad. Danielle is laughing a lot and Shane keeps telling her to stop encouraging Britney. They talk about how rude and mean Shane was in the competition. Shane apologizes. Danielle talks about Joe bossing her around too. All the house guests go to sleep except for Joe. Joe is in the backyard doing laps around the yard.
Big Brother 14 Live Feeds
 FREE for 3 Days then only $14.99 to watch the last month of BB14!
Watch what happens, as it happens! Plus if you miss any of the action you can use the Flashback feature to watch what you missed.
You can pick the Day, Time and Camera to watch!
Not sure if you should get the live feeds, read up on them here: Superpass Live Feeds
3:50am Joe heads to bed in the have-not room.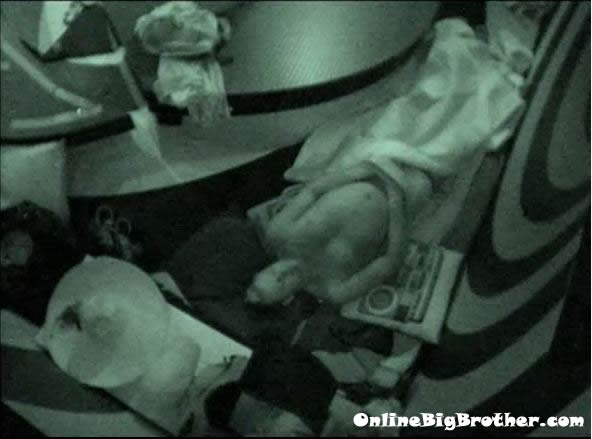 6:20am All the house guests are still sleeping..
9:55am Big Brother is letting the house guests sleep in today…
10:15am They are all still sleeping..
10:45am Big Brother switches the live feeds to the we will be right back screen to wake up the house guests.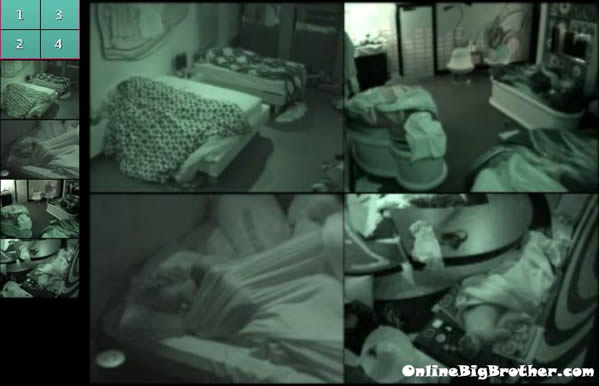 Share it YO!!
Tweet