Check out our BB19 Ranking Grid. . rank your houseguests here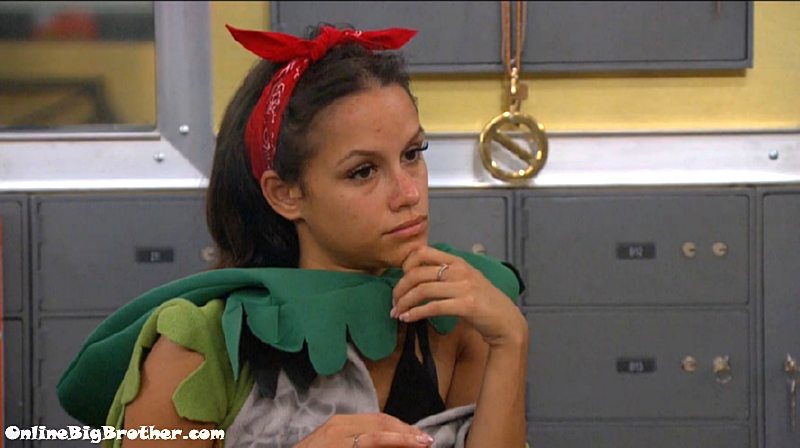 12:10am Paul and Jessica
Jessica – I hope you win this game.. It's stacked in your favour
Paul – the odds are stacked against me and you are ignorant not to see that.
Paul claiming that America gave him the protection because Cody must have been "barking" in his "DR's" that he wanted Paul out.
Paul- people were like f*** that guy Paul is being honest and someone is starting to f* him over.. Here you go Paul.
Pal – Cody did that to himself.. He had some agenda or he didn't like me on BB18.. whatever it was
Paul says he doesn't believe one word about why he nominated him. "I didn't say 1 word about the guy"
Paul – it was all made up by him
Paul explains why would he say stuff about the first HOH in power while he can still make moves and Paul is the only vet.
Paul says Cody stabbed him in the back because he trusted Cody.
Paul says once his 3 weeks of safety are over people will come after him.
Paul – everyone's seen me play, my back is against the wall every week 24/7
Paul says when it comes to the final 8 in comes down to just competition. You miss a competition you out. "It's luck"
Paul – it's literally impossible for me to win this game.. All people have to say is he won this game before. (in the final 2)
Paul – I understood that the second I walked in and I saw I was the only vet.
Paul – I want to go to jury get paid for a vacation.. I had a tough year
Paul – you think it's easy being the only vet F*** no.. F NO
Paul says he knows once his safety is over people are going to take a shot at him.
Paul – I came here to play a game I enjoy Big Brother I like getting dirty.. I have fun in this game.
Paul says he genuinely has fun on the show because he see it as a game.
Paul says some people have a character trait where they hate losing. Paul doesn't have that character trait. Goes on about how he's at the position where he is in the game because he's been working hard.
Paul – next week I don't compete I don't control what other people do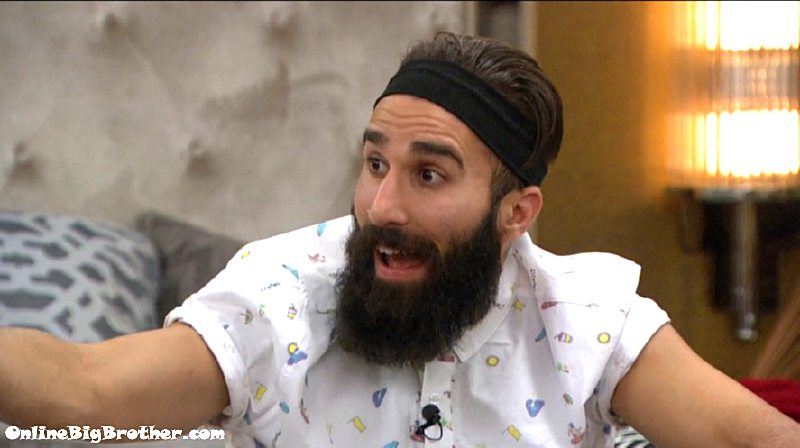 Paul – if you choose to roll over and die..
Jessica – I'm not rolling over.. I'm trying to figure out how to move forward… umm.. This is the first time I don't know what card to play
Paul – there's going to be a lot more of this
Paul says it's week by week, Next week they're's a new temptation, new HOH new Curse.
Paul – lord knows Cody wasn't going to get you to the end of this game.
Paul points out that Cody was always going to be the bigger target than her.
Paul says he's straight forward with who he is in this game he's got nothing to hide.
Paul – everybody knows who I am and watched my season.. I have to be as transparent as I can.. And I am I tell people this is what I'm going to do
Jessica – I do appreciate you not putting us on the block together I'm sure there was people in the house that were.. Trying to get that to happen.
Paul's been in that position he didn't like being on the block with Victor, "it was the most miserable thing ever… I don't need to do sh1t like that I'm not a d1ck head"
Jessica – gave me hope for humankind
Paul says there's bracelets that have friendship written on them "Do yo think I would do sh1t like that? No, I handle situations differently"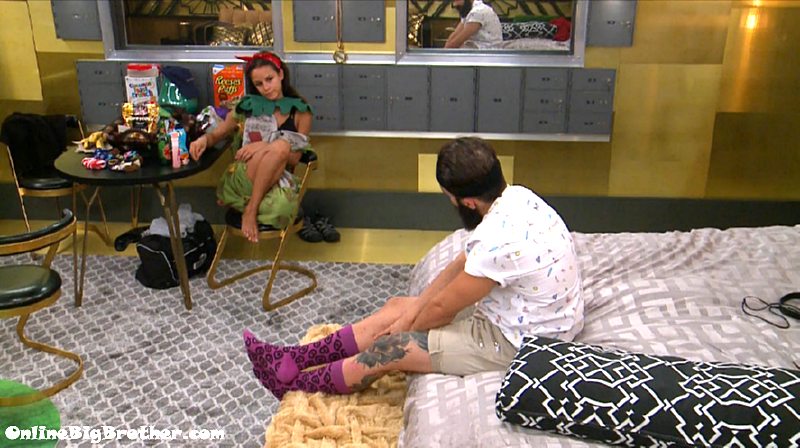 Paul – I'm a lone wolf in this game..
Paul goes on about how nobodies has his interest in this game he's all by himself.
Paul – I hang out with Kevin.. But what is Kevin going to do for me.
Paul – who gave you that curse
Jessica – CHristmas.. For sure
Paul says he "legitimately" doesn't know who has the temptation
Jessica – the hardest thing about the toad thing is the way she laughed after
Jessica – I was a you f*ing deserve this kinda laugh
Jessica- I've always wanted to wear a BB costume it's so cool but it was her..
Jessica doesn't know what happened her and CHirstmas had a heart to heart in the "absr" (Austin power room.. I dunno it's late )
Jessica says she campaigned against Christmas last week. She says they're people in this house that really laid it on think about their vote.
Paul – welcome to Big Brother
Jessica says Ramses came to her and Cody this morning in the bathroom. He told them that Jillian was his best friend in the house and he did not vote to evict her.
Paul explains the comp "we had to go through airport security and terminals. The first one.. You had to hit your button and go through security, It's timed.. They're's 5 or 6 people, it's a graphic. You go into a room and answer a question.. You either get a delayed or you get it right.
Goes on to explain it in details.. Says he thought he had lost after he was done.
They talk about Kevin's story is more than they think. He won't tell people what his job is and his wife is a nurse. They don't believe that he was just a house husband in a family of 8 with a wife that's a nurse.
Jessica- you have all these people kissing your a$$$ that's nice
Paul says it's because he's HOH, if she wins HOH she'll have a lot of people kissing her a$$ as well.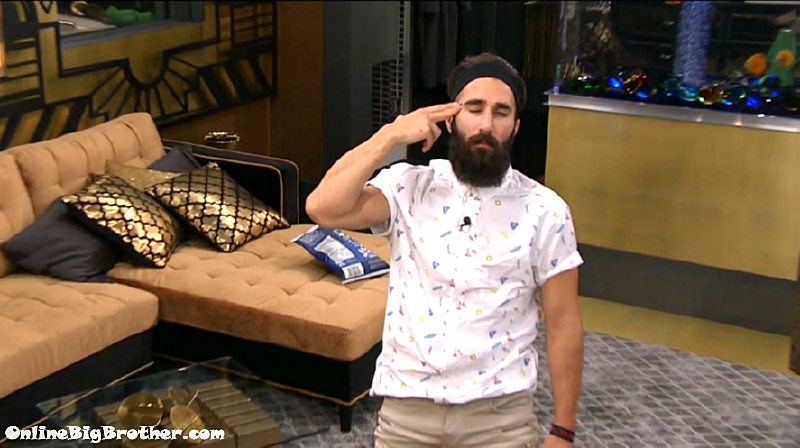 Jessica leaves..
Paul pretends to shoot himself in the head.
After 40 minutes talking to Jessica #BB19 @DawgsBigBrother pic.twitter.com/90psyN3n4p

— OnlineBigBrother.com (@bigbspoilers) July 9, 2017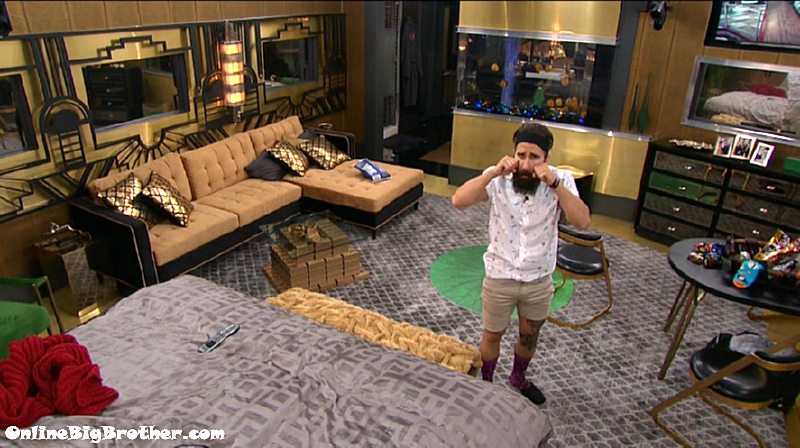 Paul pretends to cry like a baby.
Paul "Give me a f*g break bro.. f*ing babies.. Why did you cast so many babies for BB19"
Paul – so many babies…. So many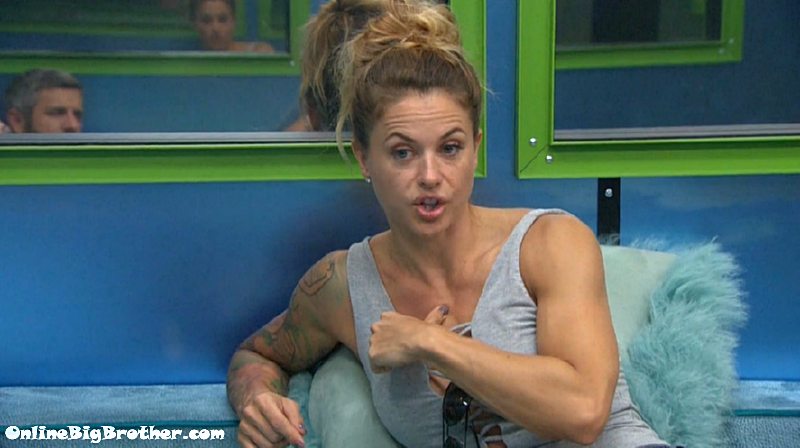 12:39am CHristmas tells Matt and Raven she had the temptation this week. It's not something major that can change the game for her.
Christmas – obviously America saw what happened.. So If I didn't get I would have been What the F* America
Christmas says it's not as good as3 weeks of safety and isn't something she can really participate in.
Christmas starts to warn about Jason saying after Jessica and ramses they have to be cognizant of him, "He's freaking the f out"
Matt – what's wrong with that boy
Xmas explains that Jason feels an obligation to Cody because Cody never put him on the block when everyone else in the house was telling Cody to put him on the block.
Christmas says that Jessica had some insecurities with her. Getting rid of Paul was always the plan. When Paul's power saved him Cody panicked and picked Christmas.
Christmas – I know I can bring out insecurities in Women.. I try and temper that but If I f*** wanted Cody I could have had Cody
Christmas – I think they are perfect for each other
Matt – Alex hates Jessica
Christmas – so does Jason
Christmas _ i'm telling you a lot right now
Matt – not really
Christmas – Ok
Christmas says Jason and her are on good terms but, "He is a blabber mouth.. He is a really good person to … .Create"
Christmas – he told me what their f*ing plan was
Matt – he's not the next 2 to go but he's gotta go
Matt asks if Jason is playing with a full deck (Matt thinks a lot of people in the house aren't playing with a full deck.. Josh… cody and now Jason. All i know is he's the only person with boy2men lyrics tattooed to his arm)
Matt – I'm being serious.. Dead serious
Christmas – I'm not sure he knows what the f*** he is doing in this game.
They mentions Jason getting kicked in the head by a bull.
Raven calls Ramses a "Little Snake" says he was the one that voted against her.
Xmas – I need to get recasted next week..
She doesn't want that to become a distraction from their goal of getting those 3 people out. (Ramses, Cody, Jessica and Jason)
Xmas says if the next HOH is "messy" she might have to take a knee during it.
Matt and Raven are OK with that.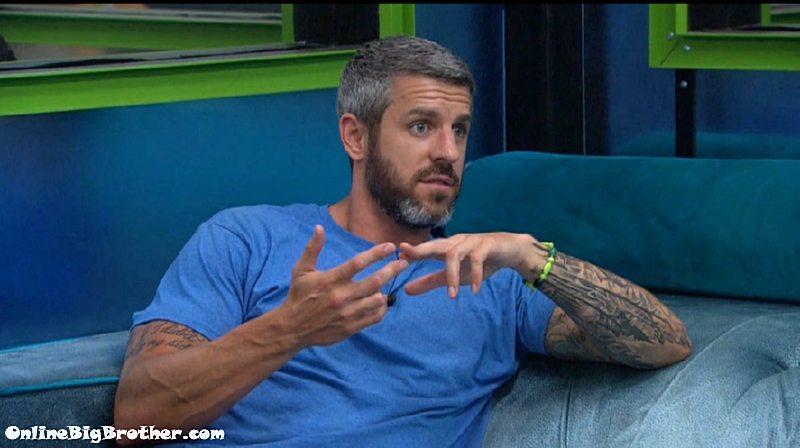 Raven leaves.
Xmas asks him what his opinions of the group is. Are there areas of concern?
Matt – not really.. I misread Cody and Jessica.
Xmas – I know who I'm no misreading.. Little raven
Matt – she's the best
Xmas – the best
They talk about how good of a spot they are in as long as they keep winning HOH
Matt says there's a lot of fracture in the other group that benefit them.
Matt says they have JOsh 100%
Xmas – I'm proud of him I feel very proud of that work
Matt going on about how Cody goes this week, Jessica won't be in a position to win HOH that all leaves Rasmes.
Xmas warns him that Jason performs well under pressure.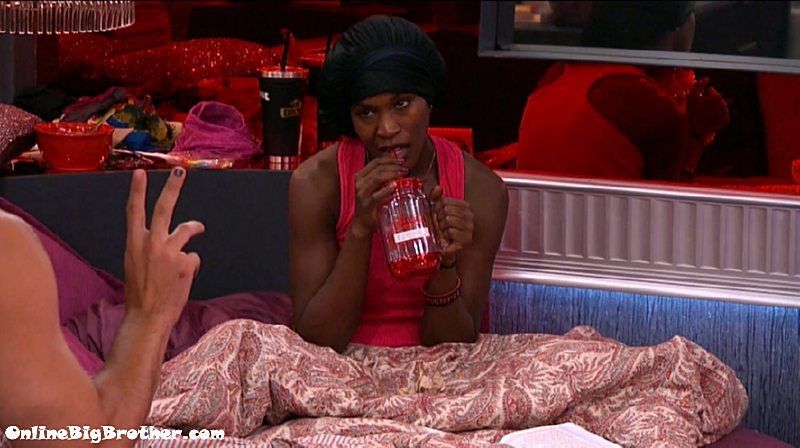 12:42am Dom and Paul
Paul complaining that Jessica told him the game is stacked in his favour.
Paul – the agenda for next week is Ramses and jessica to send one of them out of here .
Dom agrees.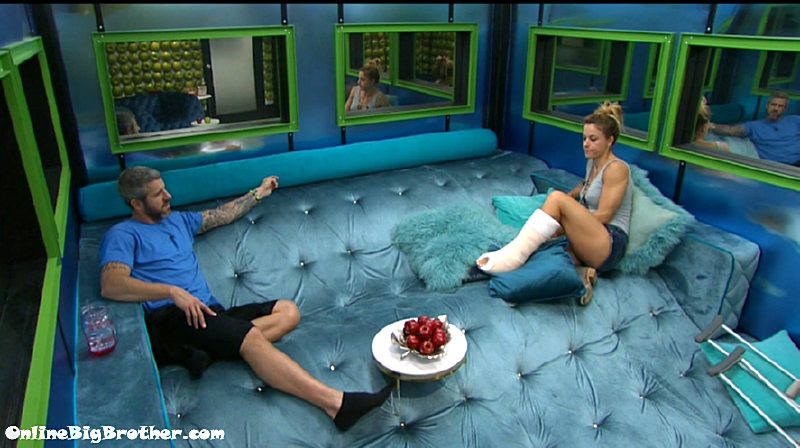 12:52am Paul,. Christmas and Matt
Paul Complaining about his conversation with Jessica to Christmas and Matt.
Paul – oh my f*ing god that was the weirdest conversation of my life
Xmas – what was it
Paul – just personal how can I get through this game.
Paul says it was 80% about Jessica 20% about other people.
Paul complaining about Jessica telling him the game is stacked in his favour.
Paul – she's like now everybody's kisses you a$$
Matt scoffs. (it's true Boys2men)
Paul – she's like you're their new leader
Paul – you fool have you ever watched this show.. I'm HOH. I had a plan I executed it
Paul – I kept saying once Cody's gone maybe you can finagle something.. I don't have power next week I don't compete.
Matt says Jessica is safe what is she worried about
Paul – I need to put my foot so far into ramses a$$ as I can.
They all jump in and start complaining about Jessica..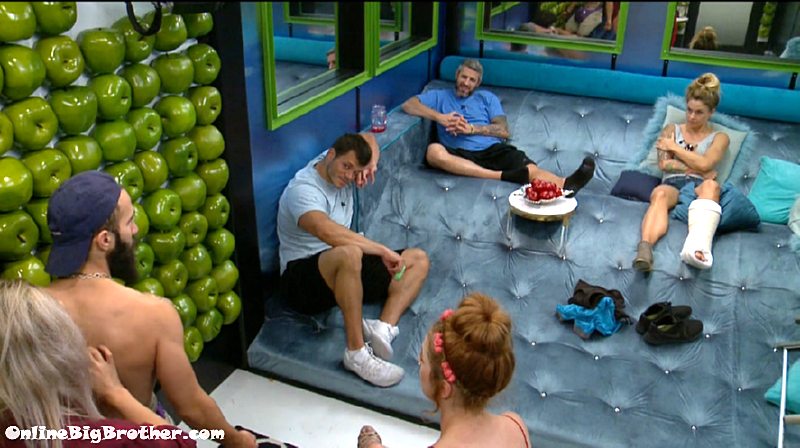 12:59am Raven and MAtt join them. Paul starts from the beginning again talking/Trashing Jessica.
Paul says Ramses told Jessica that he voted out Jillian and if he wins the veto use it on himself/
Raven asks if they should confront Ramses about that.
Paul – NO save it for the speech put him up they're (on the block) and watch him diarrhea all over his face
Paul – I can't wait for this veto speech I've been dreaming about it in my sleep..
Christmas points out that the house is choosing JOsh over Cody.
Paul – I'll be like Josh you deserve it
They laugh.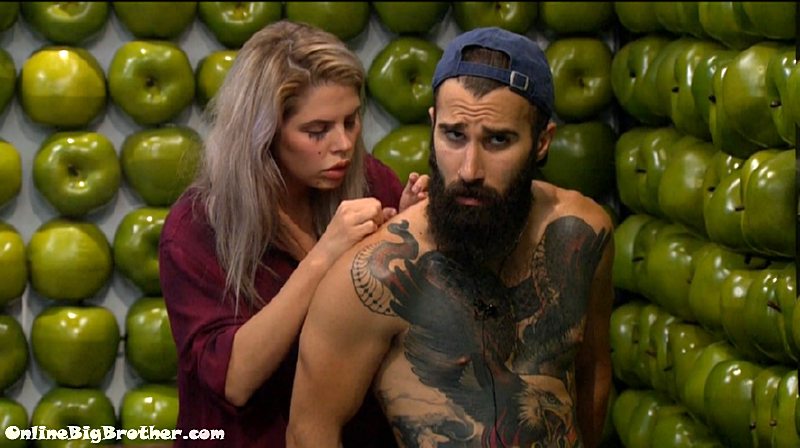 Elena joins them and starts picking Pauls's back zits.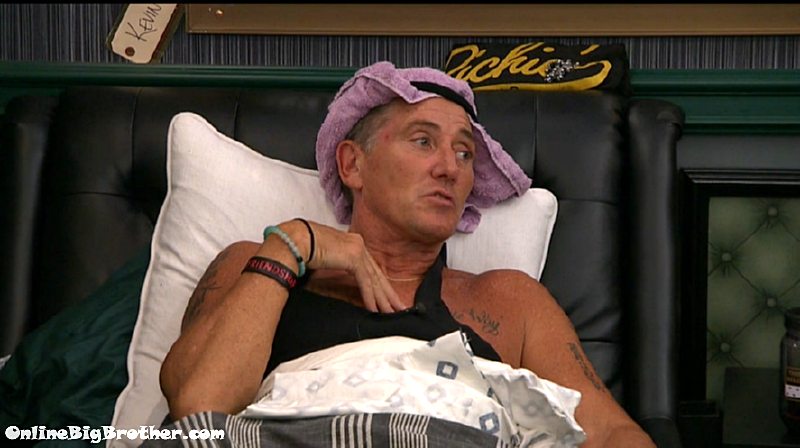 1:08am Alex and Kevin
Kevin – what you thinking..
Kevin – Josh is so lucky he might make it to Jury and He's a mental case.
Alex – yes
Alex – I'm losing my sanity in here
Alex – Christmas is crazy.. You know what she told me She's like… she slipped up..
Alex – When Jason's gone he voted against me … he f* up
Alex – I was like (gives a look)
Alex – she was like well… I don't have any power he shouldn't have voted against me it's a numbers thing and I have numbers
Alex – She thinks she's going to win the show dude
Alex says Christmas is trying to get jason out
Kevin – I guess I should be quiet say nothing for awhile
Alex agrees.. "Keep your head down and your mouth shut"
Alex – if we keep our head down they'll wipe each other out.. Be friendly with everyone, stay level, let them fight.
Alex – let them think they are in control then start winning.
Kevin – the targets right now are 4 people… Jason, Josh, Ramses
Alex – NO, Cody, Ramses, Josh and Jason.
Alex warns Jason might get pushed up in priority by them "if he doesn't stop f*ing up"
Alex says if Jasion can't get on board and not be a hot head they have to distance themselves from Jason.
Alex – I've warned him multiple you can't be a hot head.
Kevin asks about Dom.
Ramses walks by
Alex says she can't stand Ramses "f*ing snake"
Alex says she's playing one of the best games in the house she's staying out of all the drama.
Alex tells them they have to get Jason onboard otherwise they don't have the numbers. Warns him about trusting Christmas.
Alex – she's the one trying to get Jason out, keep her close to you let her talk to you.. but she's trying to get Jason out
Alex – she's bitter about him not voting for her and her foot
Kevin – I gotcha
Alex says Christmas is starting this whole thing about Jason.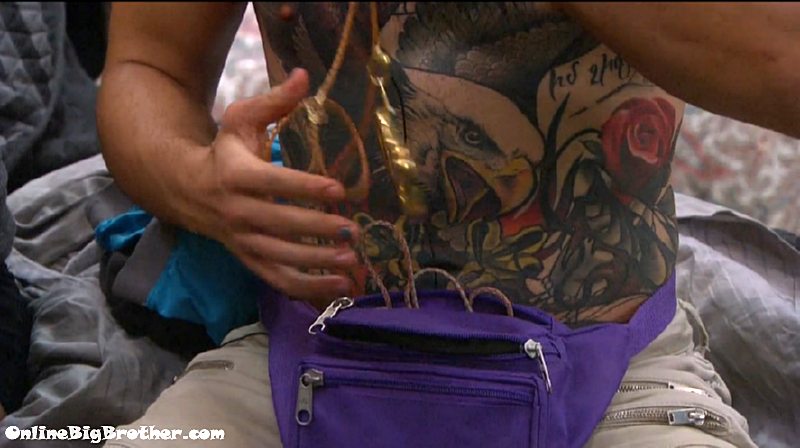 1:16am Paul's fanny pack
Says he's going to pull the veto out of the fanny pack during the POV ceremony. Kevin calls it a man purse.
Paul mentions in his conversation with Jessica she told him that Ramses was going to use the veto on himself and pull himself off. Leaving Alex and Josh on the block. Ramses knew the plan was to backdoor Cody.
Paul says he wants to get Ramses out next, "You know how you can tell he's lying, he turns pale"
Kevin asks for more about Paul's conversation with Jessica
Alex calls Jessica a C**t
Paul says she asks about how she can help herself go further in the game.
Paul – I said I don't have any advice for you I'm sorry .. maybe once Cody is gone this week maybe things will change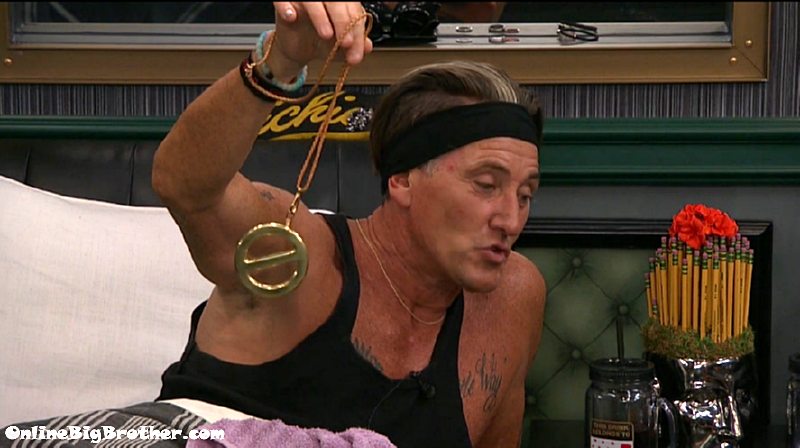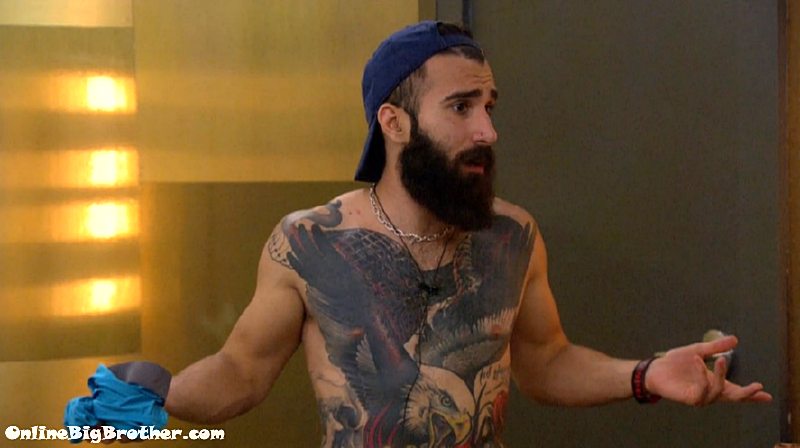 1:27am Paul and Dom
Paul complaining about his conversation with Jessica.. Cracking jokes etc etc..
Paul – I broke it down for her (Jessica)
Paul – I chewed it up and put it in her mouth.
Paul – I've called everything so far… at what time don't people say this guy knows what he's talking about maybe he can get us far.
Paul – she asked for personal advice
Paul – LIke, this is a really hard game and it'll only get harder. If you think it's tough now it'll only get worse so either you tough it out or you let it break you
Dom – did she say anything after that
Paul – no she hugged me and said thanks.
Paul says he would have done none of this week if Cody hadn't "Stabbed me in the back"
Dom – no he looks crazy.. (Cody)
Paul – he's in a frog costume .. and he was going to make all his Marine buddies proud
They agree Monday is going to be "Such good TV"
Paul says that a week ago Cody had told Matt. Cody wanted to tie in Alex and Jason so that they could take shots at Raven and Jessica so that he wouldn't have to.
Dom – I figured the whole Alex ting was to get Jessica outta the way
Paul – that's on camera people saw it (It's a OBB title 🙂 )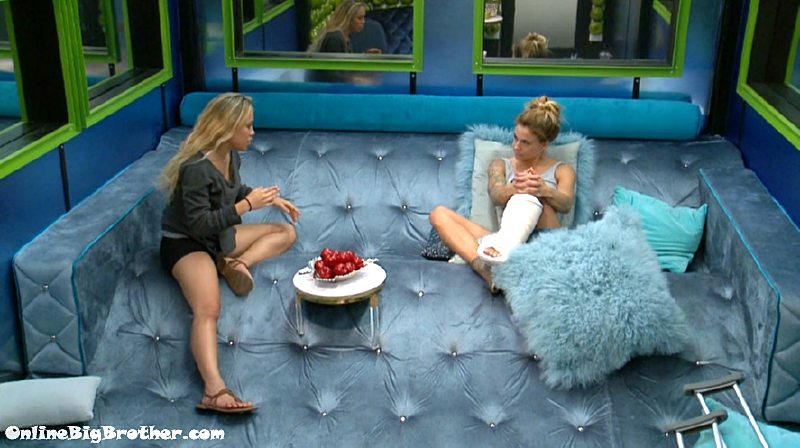 1:33am Alex and Christmas
Christmas complaining about Jason.
Alex – I told him Dude you put a target on your back I can't help you .
Alex says she tried to tell Meghan and Jillian the same thing and they didn't listen.
Alex says Jessica isn't so nice but with Cody as long as you don't talk to im too much he's OK. (LOL)
Alex about Jessica – You can see right through her
Alex and Christmas talk about weather or not Cody/Jessica will last if she goes to jury and he goes out this week.
Christmas highlights how long they've known each other, "not even a full 18 days together"
They start to list off the things that make Jessica and Cody incompatible.
Alex says Cody is a active person he likes to go Backpack etc etc.. but Jessica once her extensions, eyelashes fall out she'll be done.
Alex mentions how much makeup Jessica puts on her face
Christmas – she's actually a very pretty girl it's just all the extra stuff.
Alex – she paints her forehead white.. why are you doing that.. why
Alex – I usually don't like tearing people down but I gave her a chance.
Alex – Meghan may have made up the racist comment but the rest of it was true I'm thinking.. her (jess) being jealous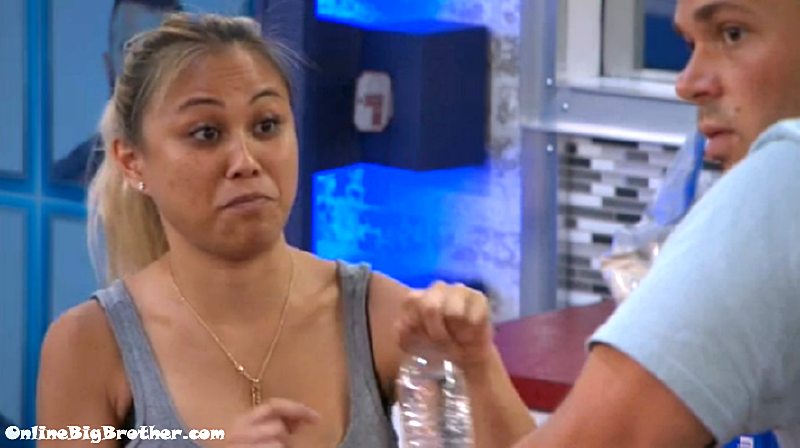 1:41am Alex and Mark
Trying to figure out where the votes went on Thursday.
Alex is convinced Kevin voted for Jillian.
Ramses is close. Marks asks him
Ramses says he voted to evict Christmas. Explains that Jillian was his best friend in the house.
Alex now suggesting that it must have been Kevin that voted out Jillian.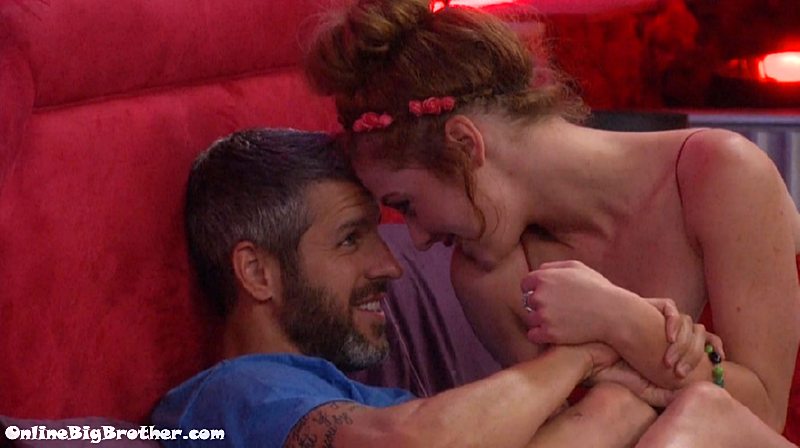 1:52am Matt and Raven
Raven – Paul's pissed.. Is that someone you want pissed at you?
Matt – no
Raven – the people in this house are not mentally adults.. what are you thinking? use your brain.
Raven – we have this thing in our heads called brains there very useful
Continue talking about how stupid everyone is in the house that's going against a person like Paul .
Matt – we're in a good position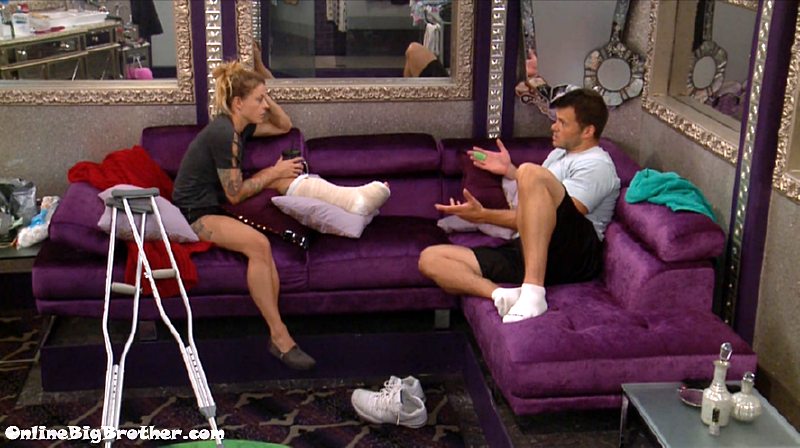 1:54am Mark and Christmas
Christmas says she's so thank you to be on Big Brother.
Says she has trust issues etc.. etc.. says she doesn't want to talk game.
Xmas – the past 5 years of my life have been like Big Brother but amplified.. super down times but at the same time best things of y life happening.
Xmas – I've been crushed multiple times, like Big Brother there's super highs and equivalent lows..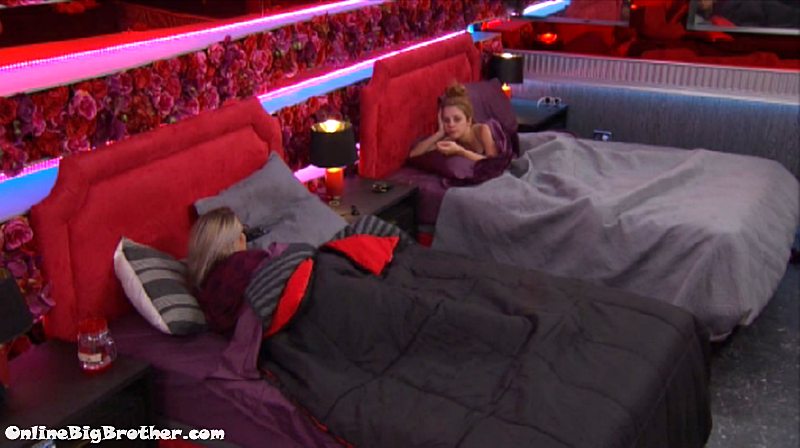 3:19am Telling each other they don't hate Cody and Jessica..
Elena – you made a selfish move.. it sucks that Cody is my target but that is the way is has to be
raven – it has to go that way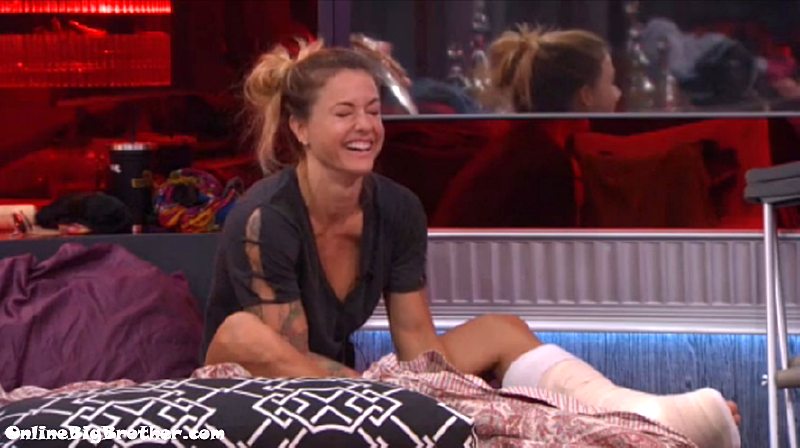 3:34am Showmances and Christmas
talking about how shitty Jessica is.
Christmas bring sup how eventually they'll have to turn on each other but for them it won't be personal it'll be strategy and game.
Christmas – Cody made it personal Jessica made it personal
(LOL you people will cry harder than anyone the second you lose power)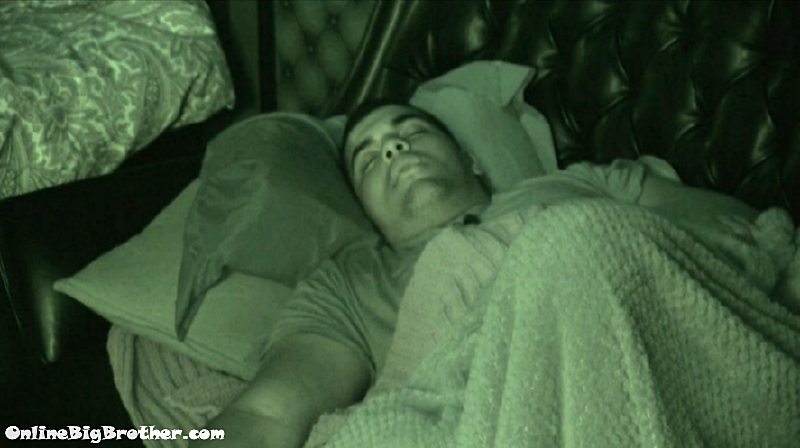 4:03am ZZZzzzzzzz.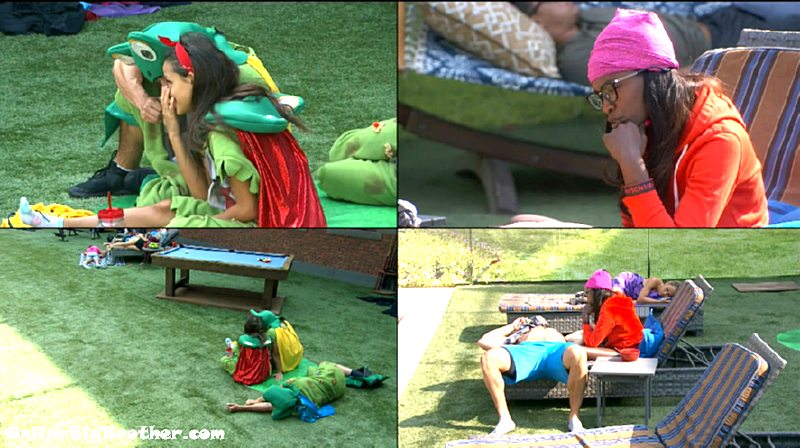 9:13am Houseguests up and the backyard is open. Chit chating..
Mark and Dom are having a heart to heart. Mark is missing his mom and was crying. Mark doesn't think what he has going on with Elena is a good thing right now because he's vulnerable. He hasn't told Elena yet that he's falling for her.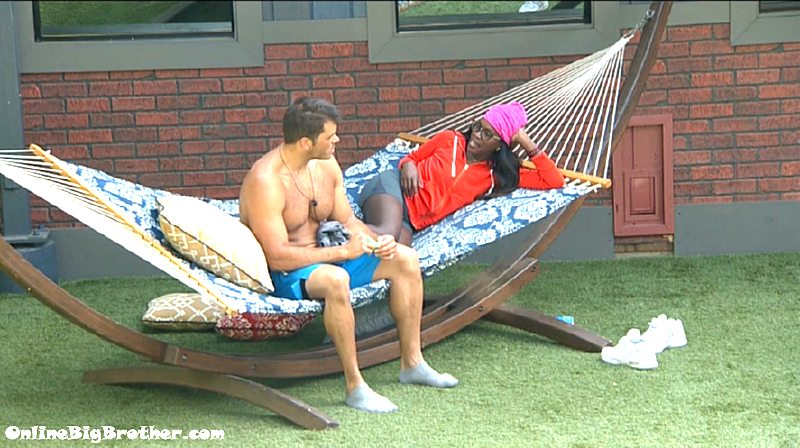 9:45am Dom and Mark on the hammock
Dom says you can never trust anyone that is jealous. Dom points out the who Jealousy thing that Elena has because of their relationship.
Mark says once they get to Jury he needs to get rid of Elena. She so fake with Paul.
Dom highlights that Raven, Matt and Elena are all close.
Dom offers next time he misses his mom just to find her and talk any time.
Links to the ranking system
Rank your house guests here
For those of you that like Statistics here are some expanded reports.