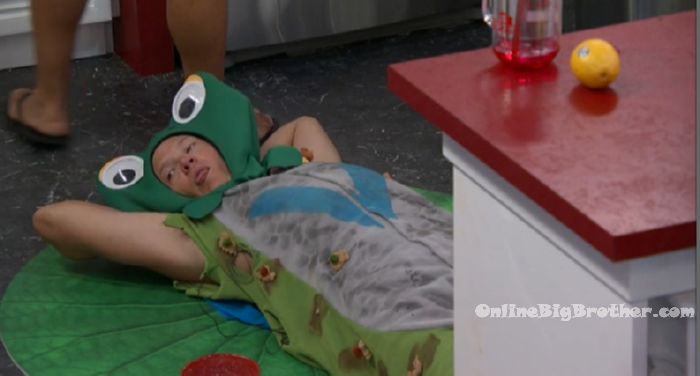 Check out our BB19 Ranking Grid. . rank your houseguests here

10:20am Kitchen floor.
Jason – they're crawling all over me … little f**kers. I'm going to start eating them. I am a toad! Jason heads to the living room lily pad and talks to Alex on the couch. Alex is still talking about the plane banner in the backyard. I don't know if Jillian actually saw it or if she thinks she saw it because he convinced her. Jason – she saw it, she was standing right there. Alex – she thought it was real. Jason – she's a f**king idiot then. Alex – what did it look like? Jason – it looked like clouds by the time we saw it. Alex – because I was going to say if it was a real one they (production) would have made her go inside immediately. Jason – why are you still stuck on this? Because you're trying to decide if Ramses is a liar or not? He is! Alex – yeah but also because they think Kevin is the one that flipped and not him (Ramses). The other side completely thinks it was Kevin that flipped on them and not Ramses. Jason – they're trying to f**k you up! Alex – but if they don't trust him why would they think that. Jason – because they're trying to take you down from me and him. They're trying to break us up. Alex – okay, fair enough. Jason – but it was nothing. Alex – you better be nice to Christmas because she hates you. Jason – I hate that girl. Alex – she even said he voted against me, he's f**ked. She was like I don't have any power but. Be nice to her and kiss her a$#. Jason – I'm not doing it! Alex – Jason! Do it. KISS HER F**KING A$$! Jason – it doesn't benefit me. Alex – yes it will because then she will change her opinion of you. Jason – no it won't. Alex – whatever.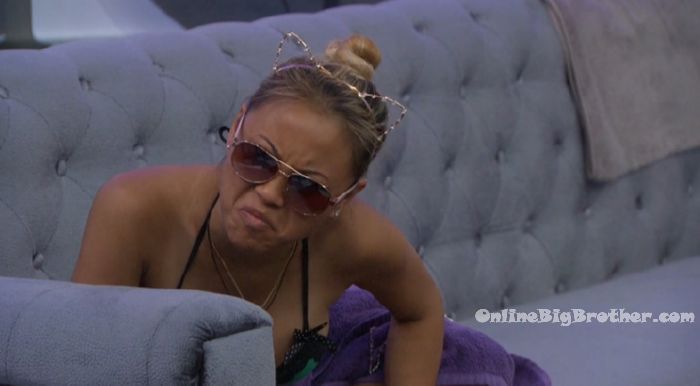 See what they can't show you on TV Try the live feeds for FREE!

10:35am Cody joins Alex and Jason. Alex tells Cody – they put me on the block because I wouldn't vote against you. Cody – I know. Alex – and they're going to leave he there. Cody – WHAT?! So they're going to pull Josh!? Alex – I don't know. Cody – Alex, they ain't keeping me here .. there is no way they're letting me compete in the next HOH. Jason – maybe they'll put me up there. Cody – I 1000% guarantee you I am going up. They literally had to chain me up, take away my weapons, build up their defenses, have a team of a 1000 followers to give them a temptation, curse me and then have me not play in the POV. Like literally! I don't know if I should be flattered or what? Its like they chopped off my limbs and still chained me up. Cody – You know what's funny?! The guys think they're going to be targeted… target their hearts. The women. You know who is really sweating about being at the bottom of the totem pole .. Elena.. her head will explode and put her up next to Christmas. You'll see how loyal they are to each other after that. GO for the women.. way more effective. Way more! Plus if there is a battle back, I will smoke all of them! And then I'll be back with you guys.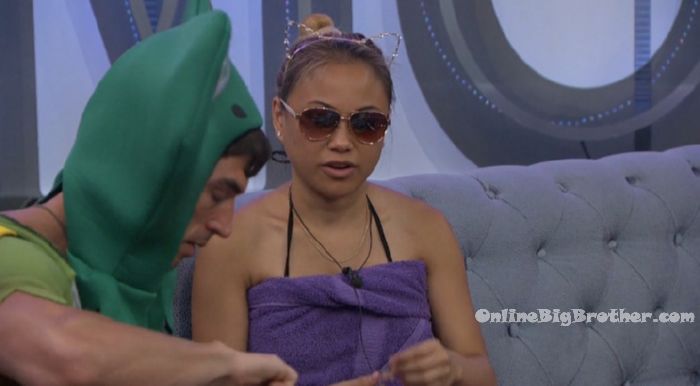 10:50am Cody leaves. Alex tells Jason – Cody is trying to use us .. he wants us to get out all the girls in case there is a battle back so he only has to battle them. Jason – yeah but he could beat the guys anyway. Alex – true but he wants it the easy way. ..and he wants the guys in jury.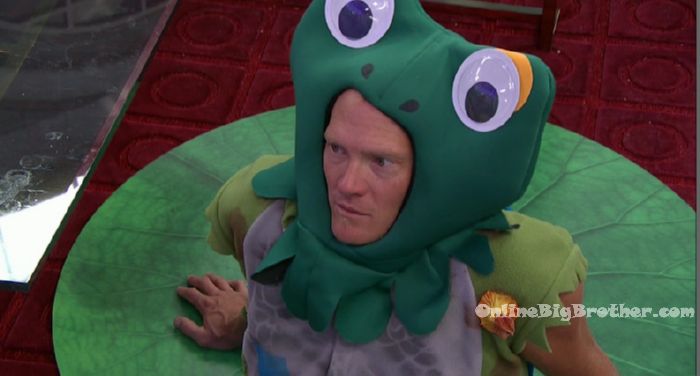 11am Cody comes back – I have never seen grown men be afraid of a woman in a competition. Cody – you know what's great, I bet people compare you to Pow Pow but .. and now you're like the anti-Pow Pow. I don't know how well you guys are salvaging your games but .. Jason – I'm not. Cody – they're going to get from what they want from you and then turn their backs on you next week .. so its not like there is anything you guys can salvage. Alex – I want to get to jury. Cody – they ain't going to allow that. The only way you can get that is buy winning HOH. Alex – Paul is going to be out next week.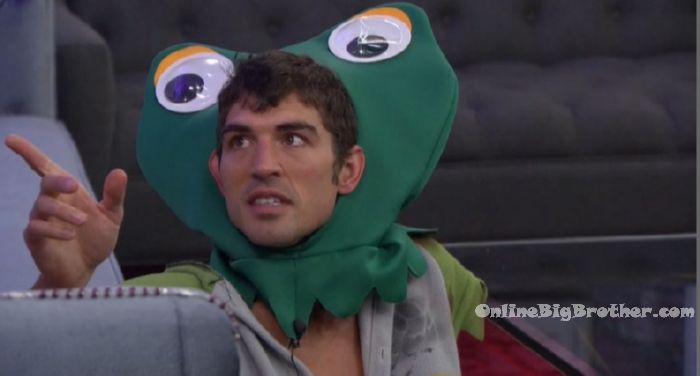 11:10am – 11:40am Jessica enjoying not having to wear her v-toad costume in the pool. Cody joins her in the pool. Cody – I have no regrets.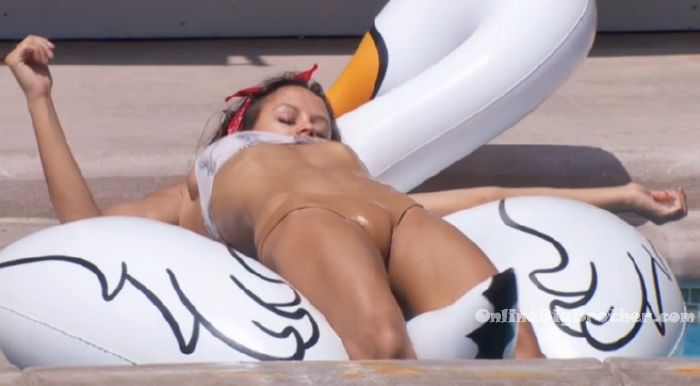 Jessica getting comfortable in the pool @bigbspoilers #BB19https://t.co/sLQeY1KjzC pic.twitter.com/0v1Icc1WS3

— Dawg (@DawgsBigBrother) July 9, 2017
12:10pm In the kitchen – Ramses, Josh, Raven, Matt and Kevin are cleaning the kitchen trying to get rid of the ants.
12:20pm Pool. Cody – Paul has a hell of an edge. He is as sharp as a tack. He will win this especially if he makes it to the end. People will vote for him. Cody – he knows the strategy to make it to the end. Cody – they gave it to him. Who is at the bottom. Me, Jess and you. If I go out and I get boo'd, I will tell everyone that all my actions were my actions and no one elses. Jason – you don't mind taking the load.
12:50pm Josh talking to the cameras.
Josh – I think that the outsiders think that I am not with them. Not true. I need to distance myself from them and make it look like I'm in with the 7 because if I don't I'm going to get picked off. Once it comes down to jury these little showmances … Marlena .. just falling in love. Christmas I love her. Matt (Josh pretends to cut his throat.) Dom pokes her head in and leaves. Josh – she is cool but she doesn't talk game with me at all. In the outside world I take shots, I'm the aggressive one … I am the leader. But in this house I have to take a step back so I don't come off .. so that people don't look at me as a threat. I love that people look at me as the underdog. The young kid. The loose cannon. Moving forward I am playing this game for me. I would love to see myself playing this game with and see myself with Christmas, Paul, Marlena, Dom, Jason, Kevin. ..And see how it plays out. I am in the middle and I need to play it right. The minute I get the chance to cut these showmances .. I am going to take it.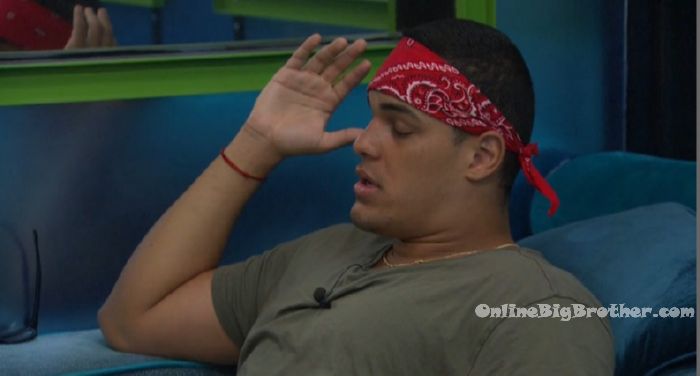 1:25pm Pool time…

1:30pm – 1:45pm Lounge room. Josh & Christmas.
Christmas – if I were to win HOH who would I put up. Lets back up a moment .. say that you're nervous in the group and that you still don't have a place. Be nervous about telling them that. A little bit of something will create a door later. Jason feels like Ramses screwed him over. Its okay, they'll still work together. You're good. Josh – I feel like I am right in the middle. Christmas – so we're going to distance ourselves just so its not obvious. We just have to pluck them off one by one. They're toxic. Josh – I can't believe I'm going to make it to jury. Christmas – you're going to make it further than jury if you play your cards right. Josh – do you think I should talk to Paul about the veto? Christmas – oh he's definitely going to use it on you. Josh – really!? Really!? Oh my god. Christmas – save that reaction. Don't poke the bear. Josh – I'm not going to attack him (Cody) but I'm going to have fun. Otherwise if my brother saw that and I didn't stick up for myself my brother would beat the sh*t out of me. Christmas – just make sure the other side still sees you as being confused. Elena joins them.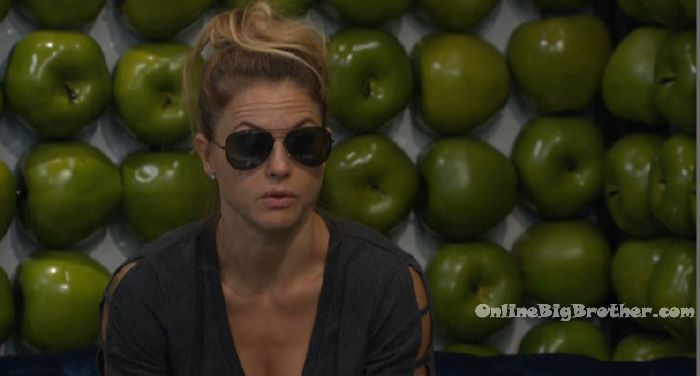 Links to the ranking system
Rank your house guests here
For those of you that like Statistics here are some expanded reports.