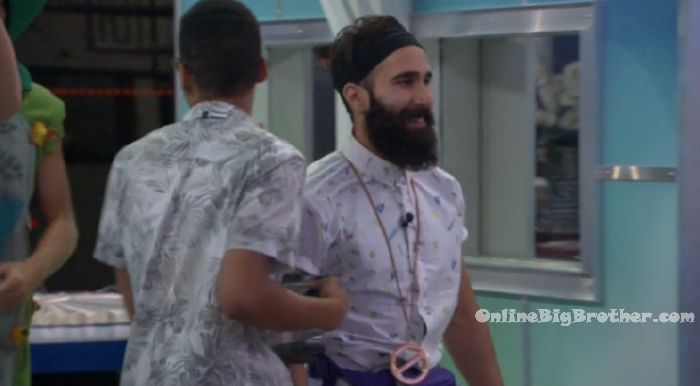 Check out our BB19 Ranking Grid. . rank your houseguests here
POWER OF VETO WINNER: PAUL

See what they can't show you on TV Try the live feeds for FREE!
4pm – 9:40pm Big Brother blocked the live feeds for the Power of Veto competition. The POV players were: Josh, Alex, Paul, Matt & Elena.
9:40pm When the live feeds return – Cody and Jessica are in the havenot room hugging. They are silent. She kisses him. Jessica – one day we're going to laugh about this. Cody – its okay, its first world problems. Jessica – getting voted off a reality tv show. I'm just glad you were here. Cody – when was the last time your loyalty was tested. Jessica – I don't think ever to this extent.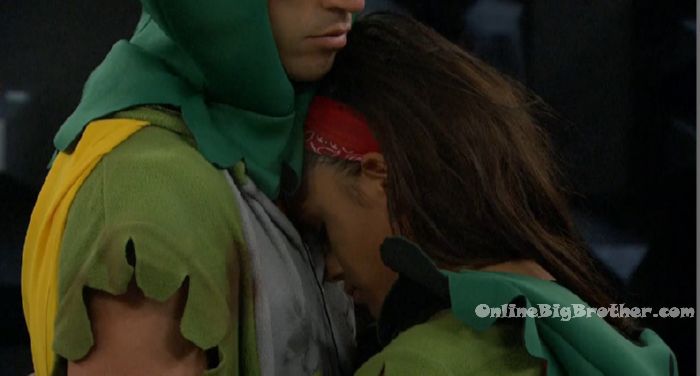 In the kitchen.
Paul – I had a f**king mission and I did my mission! Kevin – how come you're not wet? Paul – because I won the veto. When your boy says he's going to do something he f**king does something. Matt – there were 5 different stations with a question at each station. Paul – I walked … wrong. When to the next one .. MATH .. F**k! Alex – you had to eat caviar (Elena says it was escargot, pate, fish eggs.
In the bathroom – Paul tells Alex – lets discuss who comes down later. We will get you and Josh in a room and weigh out options. Whoever wants to give a speech to Cody live .. its up to you. Alex – oh I don't want to give a speech I would rather be out of it. Paul – we'll talk about it. Right now celebrate.

Paul explains to Kevin what the competition was like. Paul – so you're at the airport and the first thing you have to do is go through security. And on the security wall there were 5 or 6 passengers. Alex – there were 6. Paul – so I ran past it and you have to answer a question in every room you go to … you either get delayed or you can run past it to the next one. I ran to the first one and it asked how many people were in line. I was like motherf**ker. I guessed it wrong because I was too excited and ran past it. So I got delayed. In the next room it was a math competition 75, 25, 99, and you had 3 cards that said buy, buy, buy, the items. So you had to add up the 15 items … 2.99, 8.99 and you have to do stupid math in your head. Alex – I could not do it. I could not f**king do it. Paul – so I did that. And I went to the next one .. which was a question about the other one… what time did it say on the wall. F**K! I don't know. Got that wrong. Went into the next room and it was Tokyo and there were a bunch … there were like 40 panels so you had to punch and kick them. So I was like perfect .. ba, ba, ba, I did it in like a second. Literally! And then I paid attention to sh*t. Then the next one I got right… Big Brother switches the feed.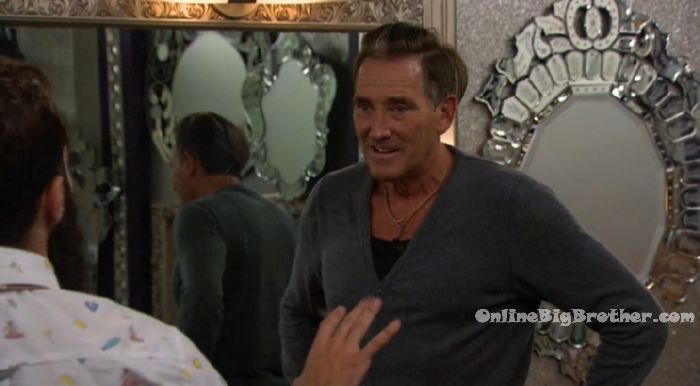 9:40pm Christmas comes into the bathoom and tells Paul something. Paul – so lets talk about that time. When I said max out your time. I don't think it was clear. (Ramses got a pretty good time in the comp.) Dom – no. Paul – but you save it, you save that aggression.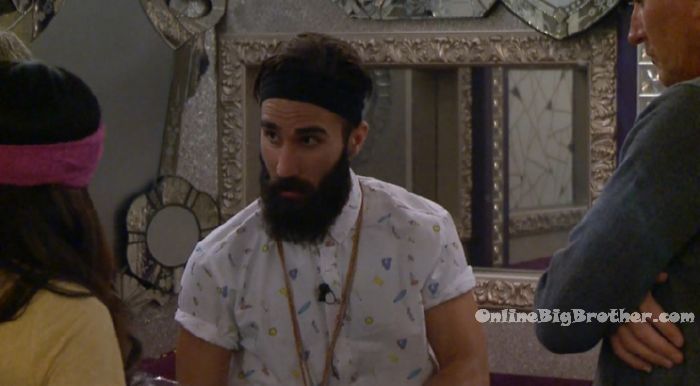 9:43pm HOH room – Raven and Paul.
Raven – I'm so glad you won that. Paul – Ramses is the biggest piece of shit ever. Raven – I told you .. he wouldn't look me in the eye. He wouldn't talk about it. I told you he was going to do that. Paul – okay, I'm going to publicly humiliate him. Mark joins them. Paul what is up with Ramses? Mark – I told you from the get go. Paul – I want all of us to scare the sh*t out of him .. and be like Ramses .. after Cody goes home this week if you don't win the competition you're going home. Mark – did you hear him down there.. he said I was shaking I was so nervous I was going to win. Paul – no he wasn't shaking. Mark – when I saw that time. SHUT the f**k up Ramses! Matt joins them. Matt – I tried as hard as I could. I only missed one pass. Paul – Elena tried and got 22 minutes. Ramses got 7 minutes. Ramses is DONE! Paul – Alex volunteered to go on the block, we need to make Alex feel as good as possible. Mark – Ramses is a f**king snake. Matt – Ramses, Jason and Jess are… frankly I would rather take out Ramses and Jason before Jess.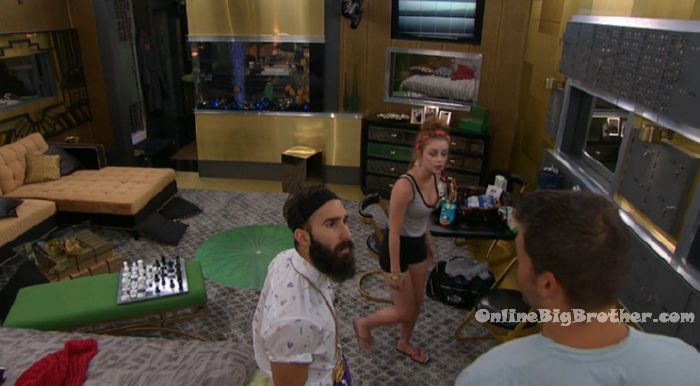 9:50pm Ramses comes up to the HOH and asks if its okay he come in. Paul – yeah, we're just balancing out the options on how to get Cody out. Ramses – okay.. I understand how sketchy that looked. Paul – very sketchy. Ramses – I know and you're going to think whatever you're going to think but I swear to you.. I was not trying to win that. Paul – I thought you were going to win. Ramses – I did too! I didn't want that responsibility. Paul – I told you to just max out the time. Ramses – I didn't want to max it out. Paul – its okay. The plan is still the plan. I'm going to do what I said I was going to do as HOH. The veto is in my hands. I trust myself. Its done. Book closed. Ramses – I know that looked sketchy. Paul – it does. Matt – are you seriously going to hand him (Cody) his bag? Paul – I'm going to hand him his bad and smile. Raven – are you going to tell him to hop on over to the bog. Paul – yes. You attack my character. You stab me in the back and tell me you want to go to battle with me. Raven – I love you so friggen much.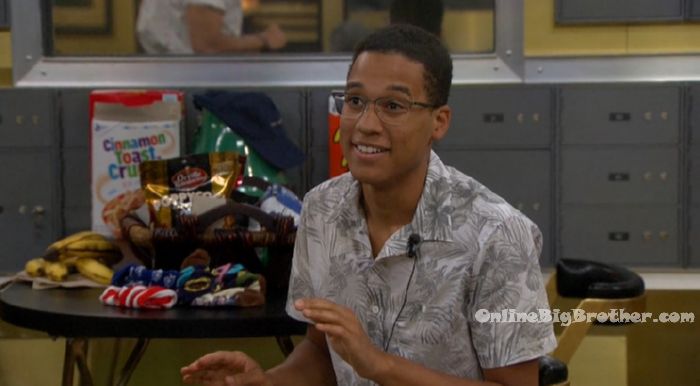 10:05pm HOH bathroom. Paul – what is clear to me is that Ramses, Jessica, Cody have .. are trying to do a long shot f**k around. And we need to have a group discussion about who the target is next week. Paul – but those three people have definitely sh*t the bed. Paul – he said he really tried to lose. He said he went through every delay. So you're telling me you went through every delay and finished it in 7 minutes?! Elena – I went through every delay and probably spent 10 minutes on the last two. Paul – so here is what I am thinking … that kid was going to pull himself off the block and band together with Cody, Jessica and Jason and try to win that HOH next week and take a shot this way. Alex though is a team player. Clearly. Mark – she understand the game. She knew the plan. Elena – what was her time 16 minutes and 45 seconds? Paul – can you just intimidate him? Mark – I said to him (Ramses) if that is you trying to throw a comp .. I would hate to see you compete. Paul – you guys need win next week. If you don't, they're going to take a serious shot. It will be either you (Mark) or Matt. Mark – yeah and you're safe. Mark – be cool with Jason. If he wins, Alex can talk sense into him. There is a very good chance he could win. Elena – I wasn't going to kick him in the nuts but I wasn't going to be nice.
FLASHBACK and watch everything you missed: Live Feed 7 day FREE Trial!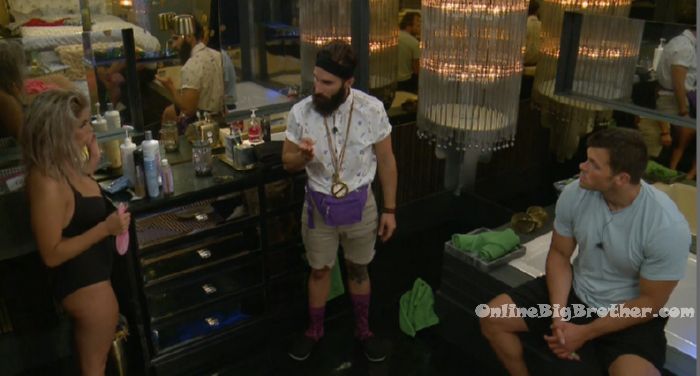 10:20pm – 10:35pm HOH room – Kevin comes up dressed up in his suit. Kevin leaves after telling them about the Dom show.
Alex comes up to talk to Paul. Paul – lets talk about the obvious. Ramses. Alex – he is not on our side. Paul – everybody pulled me aside and side Alex is a f&*king beast, we want to work with Alex. People are pissed about him talking to Cody today. That f8*king kid said I tired my hardest to throw it. SEVEN F**KING MINUTES! Matt said he went ham. Here is what I am telling you. People like you a lot. You are in the F**king! Advice.. stay the F**k away from Jessica and Ramses. You need to make it clear to Jason that he is now on people radar because of the shady sh*t he is doing. Talking to Cody today.. what are you doing?! Kevin hates Ramses. If we keep the power .. next week we put up Jessica and Ramses. No backdoor. Put them up and let them squirm. Jason is the backup plan if one of them come off. Paul – I trust you more than pretty much anyone in this game. If we leave Josh up there I know Cody is going to try and do this whole underdog sh*t. He is going to try you. I know you aren't going to crack. He will convince Jason because Jason is f**king stupid sometimes. Alex – I will trust you because honestly I don't want to vote against Cody. If you want to leave me on the block .. that's chill because I owe him one for not putting me on that first time. Paul – I know Jason doesn't like Josh .. so I don't even want to humor the idea. I want it stacked 10 – 1 bye b***h, bye! If he (Cody) comes back in a battle back you can say whatever you want.
Try the Live Feeds FREE for 7 DAYS!
Click here for your: FREE Trial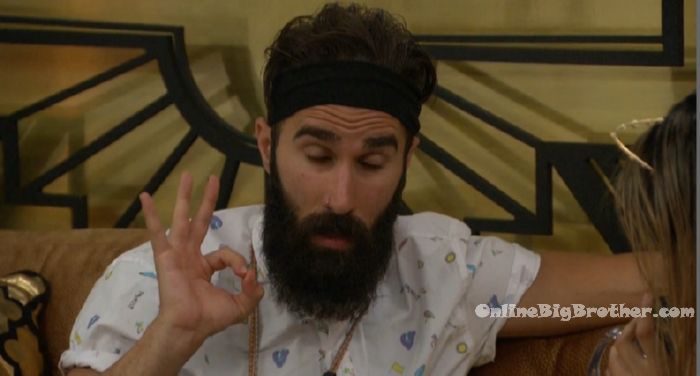 10:45pm HOH room – Paul alone talks to the camera about every move he has made since day 1.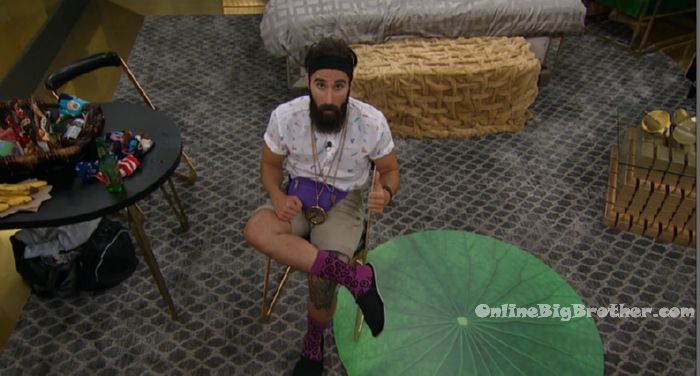 10:50pm – 11:20pm Lounge room – Dom does her show. Raven says that maybe god gave her this disease (gastroparethis) so that her mother would have someone that would truly understand what she is going through. Raven tells them about how she was born with the disease. She says basically her stomach is paralyzed so when she eats it just sits in her stomach and rots. They were told it would cost 25K. She says she is alive today because her mom went to the media. Eventually her story was on CNN and the attention helped raise the 25K needed for the surgery.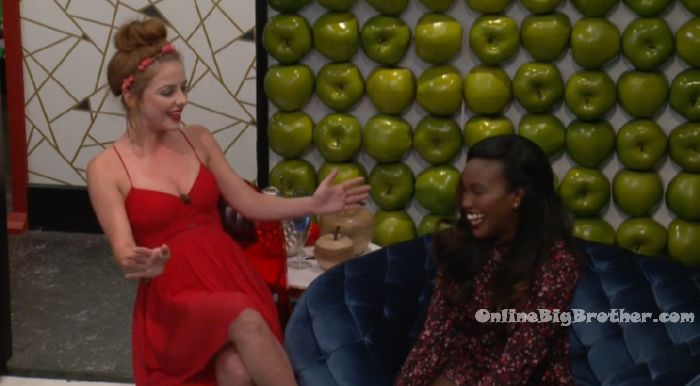 11:25pm Jason is up next to be interviewed by Dom. He shows off his auctioneer skills.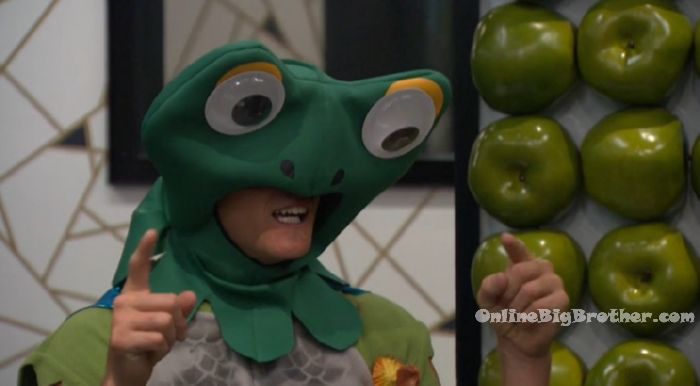 11:40pm Kevin – can I ask you a question.. and honestly I hope you don't think it sounds mean or rude. Is Raven really sick like that? Matt – yeah, she has a limited amount of time left. Kevin – is there like a time frame that they can keep her going? Matt – hopefully but yeah its serious dude. Kevin – wow.. fun kit huh. Kevin heads back to the lounge room.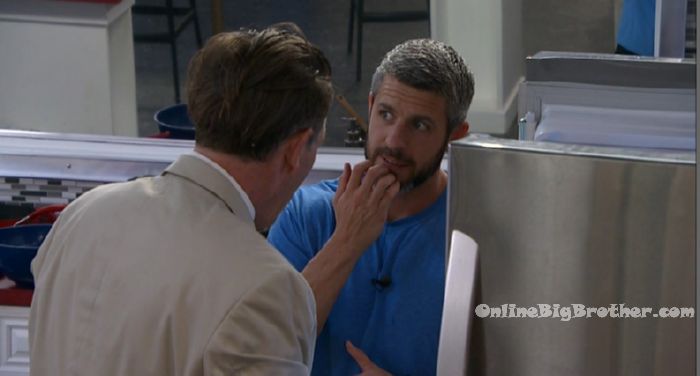 11:50pm – 12am HOH room – Jessica & Paul
Jessica – I wanted to chat about everything that's been going on in the house. Paul – I thought it wasn't game related. Jess – its not game related, its personal. I'm just confused. I feel like I had a talk with everyone on her side of the house initially about how I didn't want it to affect out personal relationships. And I feel like it did and I don't understand. Paul – you can't trust what everyone says in this house. On a personal level, I am just confused.. I was really curious about her leg and how and how she was feeling. I am curious how I should proceed. Paul – remember we had that talk and I gave you two options.. that was the best advice I could give. I promised you I wouldn't put you both us. I don't think you secluding yourself is helping you.
Links to the ranking system
Rank your house guests here
For those of you that like Statistics here are some expanded reports.