POV Holder:
Elissa
Next POV
July 27th
POV Used
YES
POV Ceremony
July 29
HOH Winner:
JUDD
Next HOH:
July 25
MVP:
AMERICA
Original Nominations:
Aaryn, Kaitlin, ELISSA (MVP – America)
Current Nominations:
Aaryn, Kaitlin, GINAMARIE (MVP – America)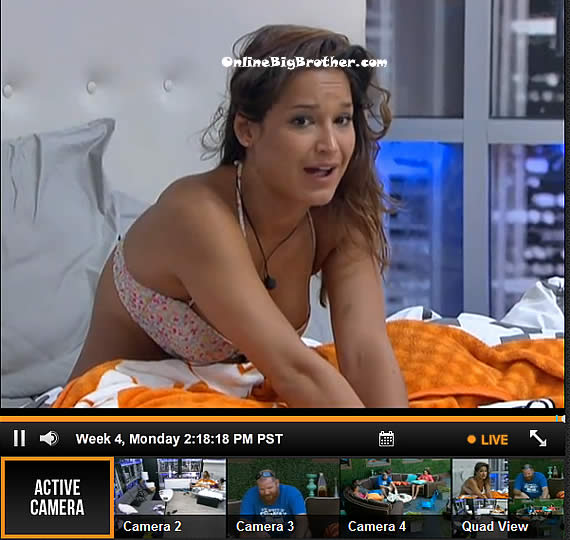 4:22pm HOH Elissa, Jessie, JUDD and Helen (friends!)
Helen saying she will vote for whoever the group decides. She's been hearing that Kaitlin is targeting her she's thinking that kailtin the better target
Jessie thinks that Kaitlin is the MVP.
Helen says Kaitlin hasn't talked game with Andy for 2 days. Helen thinks Kaitlin got the MVP after Jeremy was evicted because people felt bad for her.
Elissa: "I don't think Kaitlin got it.. I don't think she even liked Jeremy up until he was nominated"
Elissa asks them if it could be McCrae. JUDD: "I don't see how McCrea got MVP all he does is lay around with Amanda"
Elissa: "They talk game all the time"
JUDD knows but doesn't think viewers like them they really don't do much.
Helen thinks because 3 showmances have left the house maybe the public wanted to give the showmances a chance.
Helen next guess is that maybe because it's been all guys voted out the MVP went to a guy
Jessie doesn't think they would gender based.
Elissa says she wants Aaryn gone all day every day. The rest of them think Kaitlin is a bigger target.
Elissa: "Aaryn is consistently talking about me.. she's affecting my game"
JUDD tells her that the house doesn't trust Aaryn anymore plus she's not as strong in competitions kailtin may be the more beneficial player to get rid of from a game stand point. Jessie says Kaitlin is a snake she will try and work on both sides.
Elissa says it's not personal she wants Aaryn out because of her game.
JUDD: 'We can predict what Aaryn will do we cannot predict what Kaitlin will do"
Helen: "Who would Aaryn out up"
Elissa: "ME"
Spencer joins them KABOOM
4:27pm Cam 3-4 backyard couch Howard
Howard: "Public enemy number one and two is Amanda and MCCrea"
Spencer: 'MVP is going to dissolve then Elissa isn't a problem"
Candice thinks Amanda or MCCrea may have won the MVP and they picked GM because their plan backfired. Their plan was to get Elissa out.
Candice: "I saw Elissa go Cra Cra to my face and it wasn't fake"
Spencer thinks if it was Amand or McCrae they would have put up Helen.
Spencer says if America picked the nominee they would not have picked Elissa then GinaMarie it doesn't make sense.
Candice thinks at the very least it was someone that was privy to the conversations going on in the HOH. They knew that putting up GM would not ruffle any feathers it was a safe nominee.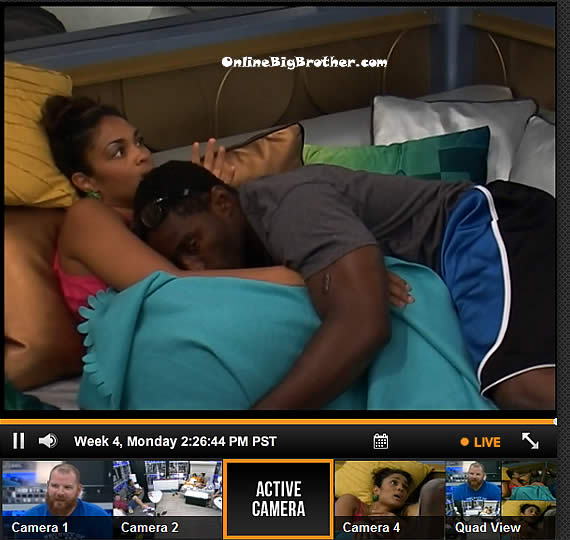 4:33pm Cockpit pit Howard and Candice
Candice says all the information she tells Howard about Elissa and Helen he cannot tell to Spencer. If he wants that information he's got to keep it to himself. She thinks eventually Spencer will target her and use that information against her.
Howard: "OK I respect that"
Candice says that Elissa and Helen are not the MVP. She adds that Elissa is more loyal to Amanda than Helen is. Helen doesn't like Amanda she just wants to work with McCrae.
Helen would go against Amanda but she's not sure Elissa will it will take some work. Candice definitely see that there is a rift forming Between Amanda and Elissa.
Elissa doesn't like what Amanda did when she dressed up as a dominatrix.. "She's conservative and she doesn't want to be linked to that with her husband"
Candice says that Helen and Elissa won't put Howard up in the short term and he can't put them up
Howard isn't worried about Helen and Elissa he wants Amanda and McCrea out.
Candice: "Helen is on the fritz with Amanda.. she doesn't like the dominatrix sh!t.. it's one of those thing that they aligned quickly because they wanted to use Elissa's MVP power and now they want out" .
Howard says he's got to get Andy on their side they need to spend a lot of time together, not necessarily talk game just quality time . Howard thinks that Andy just wants to belong to something.
Candice says that the rift between the Amanda and Helen/Elissa started last week when Amanda was trying to get Elissa to put up Howard up but Elissa wouldn't. She adds that Helen's reasons to get Jeremy out were personal and they got upset when Amanda and MCCrea tried to keep Jeremy. Candice: 'Helen didn't want to play the game with a person like that"
Howard: "Eventually Elissa's MVP is going away "
Jessie rolls in HEY
Jessie is upset because she doesn't have someone to cuddle like Howard and Candice have each other. Candice says that JUDD adores her and he will protect her. Howard says that JUDD hasn't been around women as attractive as Jessie so maybe he doesn't know how to act around her. "He's probably use to Southern women.. you are strong willed"
Jessie wishes she has a snuggle partner like Candice and Howard have she thinks it's so cute. Candice and Howard take turns building up Jessie's confidence telling her how smart and beautiful she is. (They need her vote this week big time so really playing it up )
4:40pm HOH Spencer, JUDD, Elissa and Helen
Spencer thinks that America may have voted in some fashion. If America voted they can't figure out why they voted GinaMArie. Judd points out there is no way of knowing how she is being portrayed.
Elissa: 'Do you think people would not like me"
Spencer: 'To me anything that America votes on you have the upper hand"
They start coming to the conclusion that the viewers see GM laying around sad all day not playing the game so maybe they wanted to send her packing.
Spencer says Elissa nominations is a odd ball, GM makes sense.
Elissa: "I think the people that support me are enough to outweigh the people against me"
Spencer agrees says she has an advantage.
Elissa starts getting defensive thinks that they are telling her the public doesn't like her.
Helen doesn't think America would ever nominate a mom for eviction, she says as a viewer she would never do that.
JUDD doesn't think being a mom has a impact.
Elissa doesn't think that production would trust the viewers to vote someone as a nominee.
Spencer says the public voted Aaryn but she was on the block so then they voted Kaitlin but she too was on the block so the 3rd person in line was Elissa and the 4th place of votes was GM.
Spencer: 'Your fans could have voted Aaryn but she was already on the block those votes were thrown away"
Elissa is getting upset that people would hate her so much to nominate her, "It hurts that people don't like me"
Spencer says that Elissa knew coming into the house she was going to be polarizing like Rachel was.
JUDD: 'It's just people trying to spice up the game"
Elissa: "Do you think they would let America determine the MVP based on the edit"
Spencer says there is a lot of people that have an intimate knowledge of what is going on in the house.
Elissa: 'You never have the correct knowledge"
Elissa says that GinaMarie may be getting a really good edit. Elissa starts crying because she thinks America hates her she says she's been treated so poorly in the house.
Elissa refuses to accept that CBS would give America the power she thinks it was one of the three evicted houseguests.
Elissa asks them if people like Amanda more than her.
JUDD says some people will like Amanda some people will not.
Helen tells Spencer he cannot trust Aaryn because she was throwing his name under the bus.
Spencer: 'I'm voting her a$$ out of the house this week.. "
5:33pm HOH Spencer, Helen and Elissa
Spencer says he was the reason in dismantling the moving company he wanted to be aligned with y'all because they are "Good People"
Spencer asks them if the target has changed from Aaryn. Helen says no but mentions that JUDD has been mentioning Kaitlin to.
Elissa: "a a lot of people have mentioned getting Kaitlin out"
Elissa wants Aaryn out because the longer Aaryn is in the game she was going to end up working with Amanda and McCrae.
Elissa doesn't hide that she wants Aaryn out this week says that Aaryn says worse thing every week she's in the house. Spencer aggres.
Elissa: 'She needs to learn etiquette"
Elissa is certain that Howard and Candice are not swaying. Helen: "We just got to get JUDD onboard"
Helen starts in on the superfriends plan how they need to as a group get the 3 girls out then come as a group and decide how to get the HUGE power couple out.
Elissa: "Howard and Candice"
Helen: 'No.. McCrae and Amanda.."
Helen adds that there are 10 people in their super friends someone of them are not going to jury. Elissa asks if Jessie is going to jury because that the obvious one to be cut early to her. (valuable info Spencer is collecting)
Helen: "JUDD is going to flip out that she isn't in Jury"
Elissa: "She doesn't even like JUDD she has a boyfriend back home.. she got cast on this show with her boyfriend. "
Spencer says that McCrae and Amanda are very strong in the Jury house it would be best to get one out before that.
Elissa: "Do you think JUDD would ever vote them out"
Spencer: "I don't know"
They agree that McCrae and Amanda do a lot of Scheming and people notice that all they do is see them in the hammock
Elissa: "everybody wants Amanda gone"
Helen: "at some point they will be tough to beat to get to the end.. "
Elissa: "nobody has the balls to put Amanda or McCrae up
Spencer says Amanda goes around and spreads venom.
Elissa: "They run this house"
Helen: "This stays between us… it's going to have to be a total blindside"
Spencer: 'I agree"
Helen: "None of us can beat them"
Elissa: "Amanda is't playing it competitively"
(Classic Helen talking too much)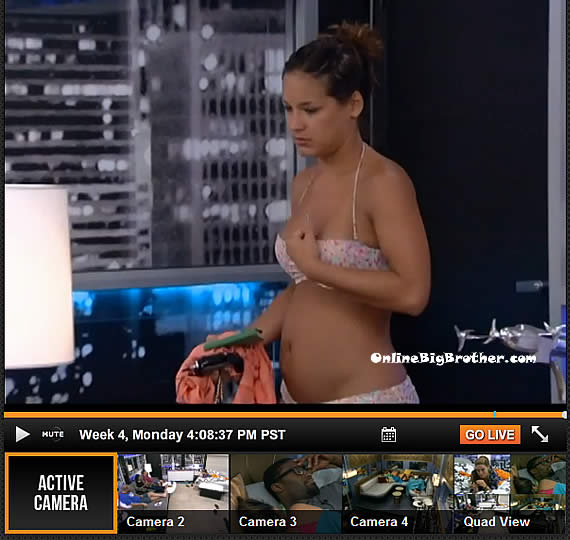 6:15pm HOH Spencer ,Elissa, Helen, JUDD, Jessie, Candice
Friends just chit chatting
[polldaddy poll=7268963]