POV Holder:
?
Next POV
July 20th
POV Used
?
POV Ceremony
July 22
HOH Winner:
JUDD
Next HOH:
July 25
MVP:
?
Original Nominations:
Aaryn, Kaitlin
Current Nominations:
Last Evicted Houseguest
David, Nick, Jeremy
Have Nots
Jessie, Candice, Andy, Spencer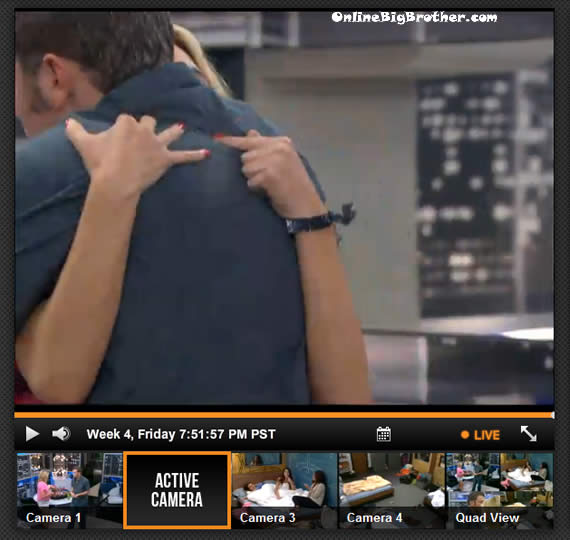 7:29pm Aaryn and JUDD HOH
Aaryn is asking him what words did she twist.. he can call her out she'll tell the truth. JUDD: "people think you did but I don't think so"
JUDD asks her if she's mad. Aaryn starts to tear up says she's not mad.
JUDD: "Don't cry just trust me"
He tells her she and Kaitlin are not the targets he wants to Backdoor somebody
Aaryn is upset about something JUDD said in the nomination speech she's scared the house will think she's a liar now.
JUDD tells her not to worry.
She asks JUDD if he'll throw the POV to her and he says he will.
JUDD: "You just have to trust me.. I know it seems shady right now but I have a plan.. I'm keeping it to myself not telling anybody else in case it backfires"
JUDD tells the the worse case scenario is someone wins the POV and doesn't use it.
(He called her Texas Tornado)
Aaryn: "Are you working with spencer and howard.. because Howard ask me if I stay to work with him"
JUDD: "everyone is talking to me now… they mentioned it but kinda just go along with it now"
They hug and Aaryn leaves
7:51pm Bathroom Spencer, Jessie and Aaryn
Talking about the have nots competition. Sounds like Gina did great she was really eating the ice cream fast. Spencer: "Who would have thought she was a freak of nature" Aaryn brings up Gina telling her she's battled a eating disorder all her life. Adds that she sometimes she's Gina eating ice cream in the middle of the night.
You can re-watch ever second on the feeds using their flashback feature.. It's super easy to use click this link for a free trial —> Subscribe to the Big Brother Live Feeds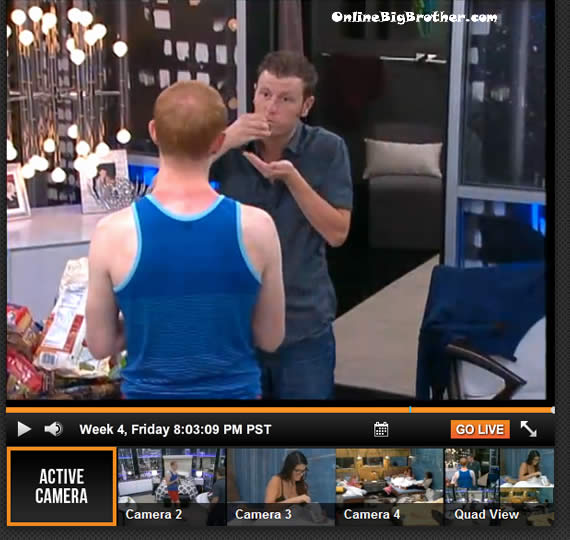 7:34pm HOH Andy and JUDD
Andy brings up Howard being a shady F*** says he's trying to cover all his bases, "He's super scarey.. I caught him red handed"
Andy wants to know what JUDD told Aaryn. Judd say he told Aaryn she better win the VETO. Andy mentions that Kaitlin is freaking out she thinks if Aaryn wins Veto she will be the target,
Andy: 'I need to know what to tell her.. what would you do who would you put up"
JUDD: "GM .. just make sure Aaryn doesn't win veto"
Andy: "Howard is freaking me out"
JUDD: "Maybe elissa should put up GM and GM is going to do terrible.. I mean she might win POV but I wouldn't bank on it"
JUDD: "Would be stupid to put up Howard first"
Andy: 'If Howard is going home this week he needs to be backdoored.. my red flag is on high alert.. I'm getting the same feeling with Howard as I was with Nick"
Andy says like with Nick if you don't get Howard out soon that will be your downfall.
Andy is worried that Howard is going to get Kaitlin, Aaryn, Candace and Spencer into an alliance, 'That will f*** us"
JUDD tells him they have to start playing down him and Jessie because people are coming up here thinking they are a pair.
7:50pm bedroom Amanda and McCrae
Laughing about JUDD saying Aaryn is the texas tornado twisting everyone's words. Amanda is wondering about the twist. McCrae says it could be a coup d'etat someone will change the nomination right before the eviction. Amanda: "You can't change the nomination right before eviction.. that's too much power" McCrae tells her about the Big Brother 11 coup d'etat and how Jeff was voted it from America and he put up Jessie and Natalie and Jessie left.
Amanda says they have to lay low this week so if a power is out there no one will think of them as being a target.
Andy Joins them..
Andy tells them JUDD told him he would put GM up if Aaryn/Kaitlin won the power of Veto.
Amanda: "He wouldn't there would be too many people going after him… he'll piss off too many people"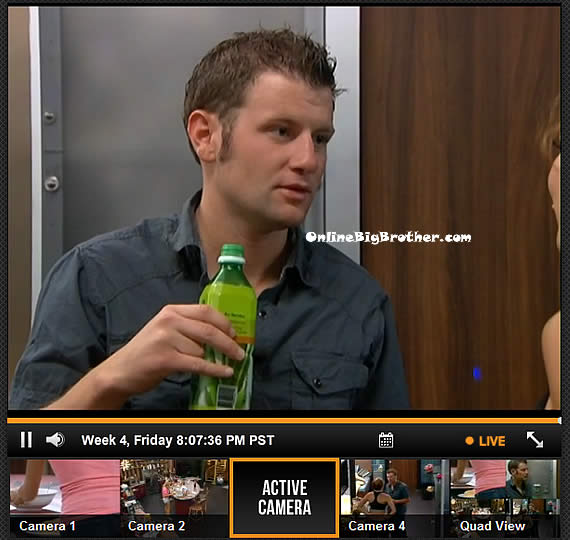 8:07pm JUDD and Elissa
She's asking him why he was called into the Diary room. JUDD explains it was just a regular DR session.
Elissa: "If you got the MVP you can say it"
JUDD asks her if she has it.
Elissa: "They haven't told me anything"
JUDD: "Maybe it will be later"
He says he'll tell her if he gets it.
Elissa: 'You promise"
JUDD brings up that he's worried about Aaryn being mad at him.
Elissa doesn't think he should worry: 'She's going home anyways"
Elissa thinks that JUDD knows about the twist and keeps asking him if the Diary room told him.
Elissa: "I'm so nervous what it could be"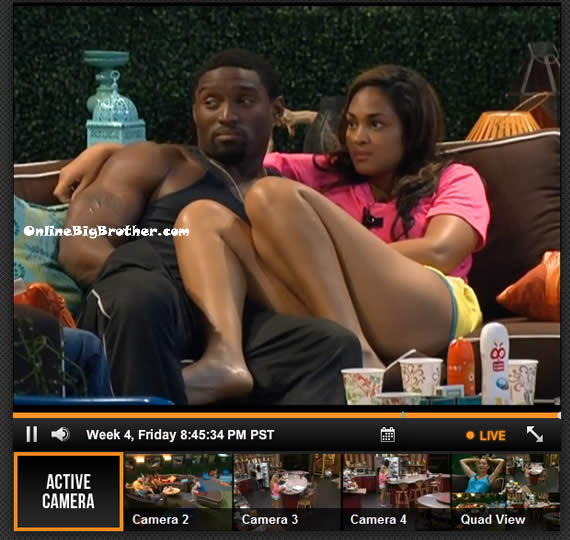 8:37pm Backyard Random chit chat.. Andy brings up Casey Anthony
8:38pm HOH Amanda and McCrae
More talk about the twist. It seems like they are convinced the twist will be a coup d'tat
McCrea says that Elissa is very worried that Jessie is spending a lot of time in the HOH room. They start making out..
Gina is called into the Diary room 'GinaMaria Please go to the Diary room"
Amanda: "GinaMAria please go to the mental institution"
8:54pm JUDD joins them in the HOH
Amanda: "Whats up BOO"
Amanda jokes that she's going to put JUDD up last when she wins HOH.
Amanda says if they give them the option to keep MVP or get rid of it they should keep it because it's working out for them right now.
JUDD agrees goes into the bathroom to "Take a dump"
Amanda says that she's glad JEssie is a have nots becuase it means she won't be up in the HOH all the time.
McCrae points out that Spencer is up here a lot. Amanda: "he's a idiot"
McCrea :'So if I won't Kaitlin who do I take down.. Kaitlin"
Amanda: 'Ya"
McCrae says he hopes it a luxury comp I will take all the F*** stuff
Amanda says it feel like Jessie comes up to the HOH an annoying number of times.
Judd joins them from the bathroom. He says he made it pretty clear with his speech what his intentions are he think she's cool with Kaitlin now
Amanda: "You're being weird.. whats wrong with you"
JUDD says he's tired he wants to go to bed early tonight.
McCrae says now the entire house will know what Aaryn says is a bunch of lies because of JUDD's nomination speech. McCrae thought it was great.
JUDD says that he was called into he diary room and as soon as he came out Elissa was right there asking him if he got the MVP.
McCrae: "she's obsessing over it"
Amanda: "She knows her only value in this game is that she wins MVP" Amanda adds if Elissa doesn't get MVP she's gone
Amanda asks JUDD: "Why did you tell Andy that you won't backdoor Howard… Don't be annoying JUDD.. I hate yo so much (joking)"
JUDD: "Backdoor who?.. I don't know what I'm doing yet"
JUDD: "I'm going to backdoor GinaMaria"
Amanda: "JUDD don't go all Elissa on us"
JUDD: "My new target will rattle the house"
They laugh that he's going to put up Jessie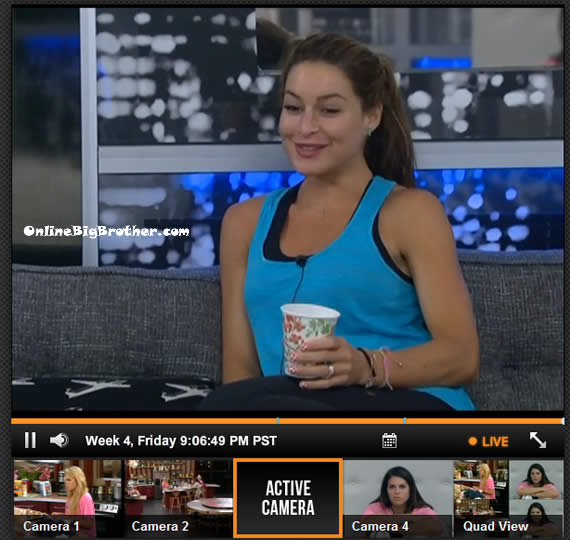 9:08pm HOH Elissa Joins MC, JUDD and Amanda
They ask her if she's won MVP. she says no
Elissa: "You think I'm going to get it"
Amadna: 'I don't know.. depends on the twist"
Elissa says that Ginamaria was in the Dairy room for 30 minutes.
Mc: "She's a joke.. nobody will vote for her"
JUDD: "She's America's sweetheart"
Elissa :'Guys I'm so embarrassed for throwing up.. it's so gross"
Amanda says they all threw up today no need to feel embarrassed.
Amanda jokes that Elissa is acting supper sketchy.
McCrae says if Elissa doesn't get MVP tonight they know something is up.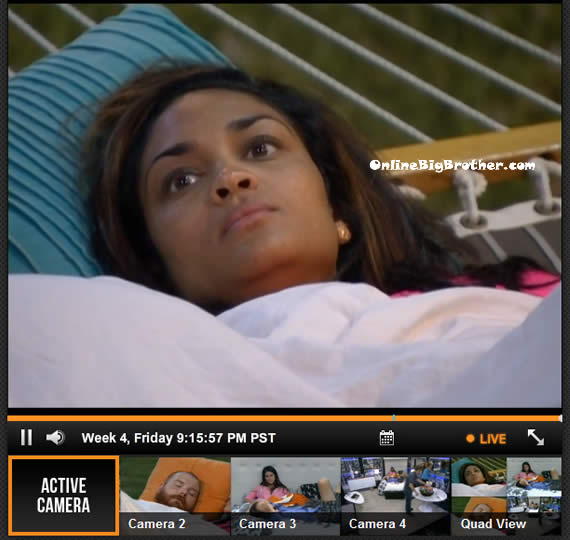 9:15pm Hammock Spencer and Candace
Spencer says Aaryn is the target so if Kaitlin wins VETO a pawn will go up. He says it really depends on what Elissa does with the MVP. He points out he went up last week so it's really hard to predict says it could be him or Howard.
They agree that Elissa won the last 3 MVP's and McCrae was just covering for her. Spencer says they wanted him up so they got McCrae to say he was MVP so Spencer wouldn't be mad at them. They start talking about Jeremy's boat the are not believing he had a nice boat.
9:16pm JUDD Rollin with robes
[polldaddy poll=7260936]