Head of Household Winner – Jess
Have note are:
Nominations are:
Power of Veto Players are –
Power of Veto holder –
Power of Veto Ceremony –
Powers in the game
Christie – Panic
At any of the next four Power of Veto Ceremonies, Christie can turn the Golden Power of Veto into the Diamond Power of Veto and allow the current veto holder pull someone off the nomination block, but instead of the Head of Household naming the replacement nominee, the veto holder names the replacement.
Field Trip
Choose three houseguests they compete while on a field trip. The winner gets safety for the week the loser gets nominated as the third nominee.
Doesn't affect this week it affects the following week. 8 days of voting.
Head of Household of the applicable week are not eligible to receive votes
Grab your live feeds —-> BB21 Live Feeds Subscription Link
Rank your houseguests —-> Big Brother 21 Ranking
8:16pm The live feeds return. Christie and Sis are in the boat room. Christie – literally he just showed his cards to everyone that he is feeding everyone little bits.. little bits.. and I don't care if my personal feelings about Jackson came out. I wanted to work with him until it was convenient for us. I still wanted it to be me, you, Tommy and Holly. But I don't know if that's risky. Sis – the Holly thing makes me nervous. Yesterday when we went upstairs and you were in the DR.. Sam had just told us all. I think that we need to talk to her. Holly had no idea and Jackson knew the minute he and Sam were in the boat room. Jackson knew for that long and he never told her. Christie – I agree, I want to talk to Holly .. the three of us. And not anyone else. Tommy doesn't need to be there. Jack doesn't need to be there. And Jackson definitely doesn't. Just the three of us. I want to let her know that I don't think its her. I do think he left her in the dark but they are still a couple so I guess we will see what happens. But I love her and I don't want her to think that I'm mad at her. Sis – me too. I think its best for you and me to lay low. Don't say a lot. Literally only tell me, don't go and tell Holly how you're feeling. We definitely should not be caught talking about game. Christie – I'm not talking about SH*T! And to be honest I feel safe with Jess. Its also the last week that I can use my power and if I don't have to use it… great! Sis – all the other people getting blown up let them come to light and you just relax. Don't even go up and tell things to Jess. It will come back to you. I am entering the second half of the game with completely different mindset. In my eyes the six is no more. There is no six. Clearly there is no trust. So everyone just play with the person or two people they want to play with and that's it. And to be honest.. the only people I TRUST right now are you .. and I know you're mad at Tommy but I still trust Tommy. Even though I am a little mad at him that this decision was made between him and Jack. I still trust that he wouldn't come after you and I. And I do trust Jack. I am good with Kat because I stood by her with my game. He (Jackson) was really trying to bury me, like really. Listen I may have said I don't like him and I don't like the way he talks to me. And I don't like the way he treats women. That's all true but that wasn't deterring me from working as a six. You tried to bury me today.. Like you're a piece of sh*t! Good job honey .. you got out first in the HOH competition. Christie – at some point you me, Jack and Tommy should talk. Sis – please don't talk to them without me. Christie – I will not. They hug and leave the room.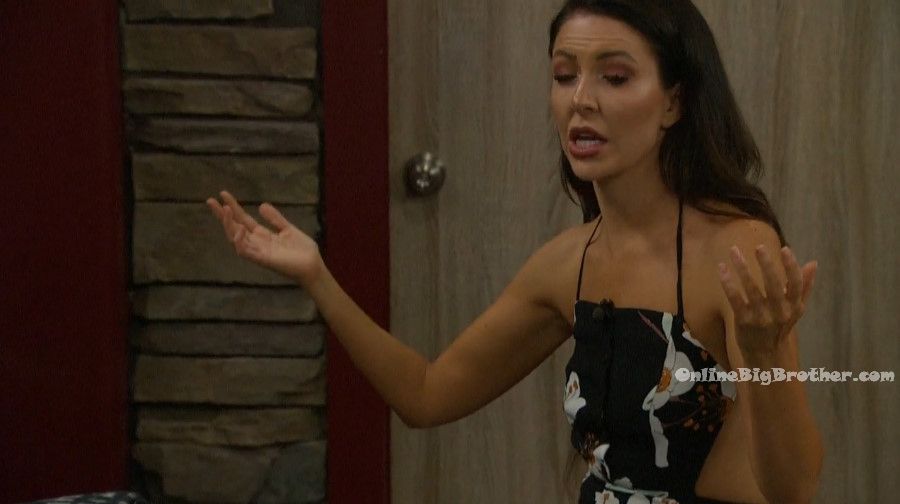 Jack, Holly and Tommy in the bedroom. Holly – In my head I would like to try and salvage the six .. I don't know if that is very naive and Wyoming of me but F**k. Tommy – its not really up to us. Its up to the other two. Holly – he is paranoid and he is hot headed as Sh*T. And with every little new revelation I was like just absorb it, don't act. And I guess he didn't want to hear that. Tommy – I came down and was like this doesn't feel right .. and Sis was talking to him and he said I know y'all are lying to me. I was like we're f**king taking the heat for this but its between them to hash it out. Then Jackson came in and we flat out said it Cliff and Kat giving you information and he is like no Christie is the enemy. Christie is the enemy. And then I hear about that he's forming another thing and I'm not included in it. He doesn't trust me and Sis anymore. Holly – I think because of the association with Christie. And Sis because thinking she had a hidden agenda for keeping Sam. Jack – we brought up the idea of keeping Sam and she got f**king pissed! She got f**king PISSED!! She was like f**k that, not doing it.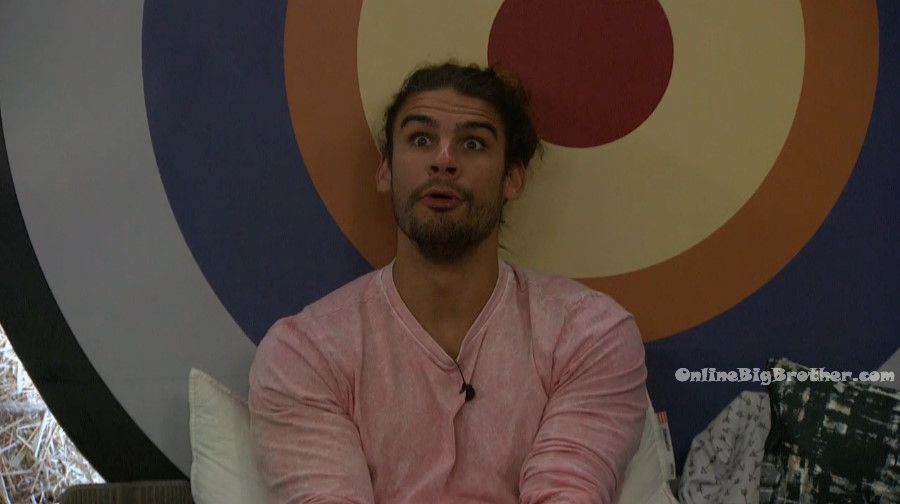 Kat and Nicole. Kat – I don't like the way he talks to me and I've literally had talks about feeling unsafe. It has tainted my whole experience here. It's been very difficult to separate the personal from the game. And I do love Holly… I think. I don't want to make it awkward.. and I don't want to make her feel like she's mad a bad decision by getting into a showmance with him. I don't care about that. I don't care about how we had a thing for a week and then he chose Holly. Here is the thing… I feel like I can't talk without him attacking me. It doesn't make me feel good and there is no reason why I should have to put up with that. That's why I have been feeling so down because I am afraid that my parents will see that and be worried or think that I am crumbling or think that I sacrificing my beliefs, morals and character to go along with the game. Sorry that I am vomiting all of this on you. Nicole – I get it. Christie and Sis going them. Christie – I even said it to you guys.. I would be stupid to go to the end with two couples. I would have liked to go to the end with the dream six if that is possible. If we can consequentially win HOHs then we could get to the six and none of us would take shots. Would do not want to be in the end with two strong couples .. no. and I've been honest about that. I don't want to take 5th place. I didn't come here for 5th place. But after today I feel like everyone's true colours are showing… He tried to bury me today. I heard a few conversations with my ear to the door and I was told a few things. So clearly in my mind there is no six going forward and I will tell him that. Jack – he is sitting outside the door right now… him or Cliff .. whoever you are you can come in!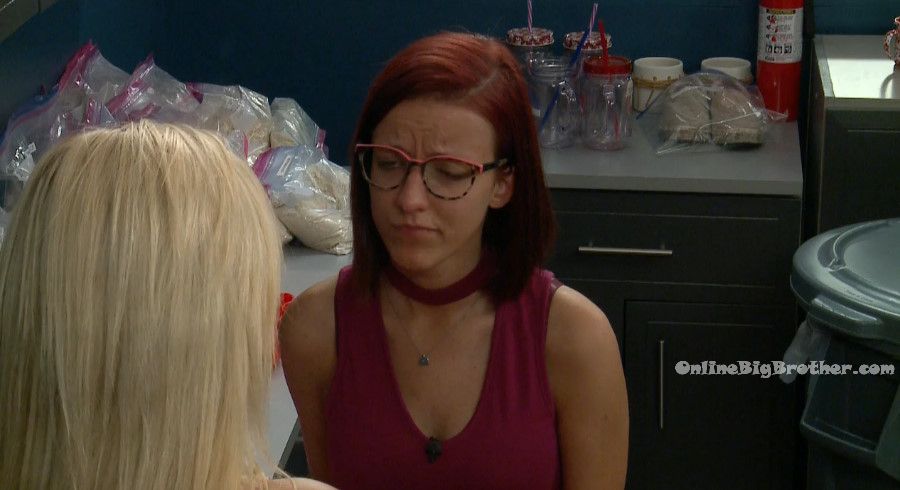 Cliff and Jess. Cliff – I feel like we're all free agents. Jess – I don't want to come out with the double eviction looking like a target you know what I mean? Cliff – I know. Cliff – I think that however it goes you won't be the primary target. Because there is going to be bigger targets now that this group has split up. Jess – I think I need to figure out how it split up. Cliff – let me know if I can help. Use your power to buy yourself some safety. You won it .. you deserve to make some deals. I did. Cliff – when I saw that 9-0 vote I was scared they would get back together. Jess – I was surprised they all voted that way.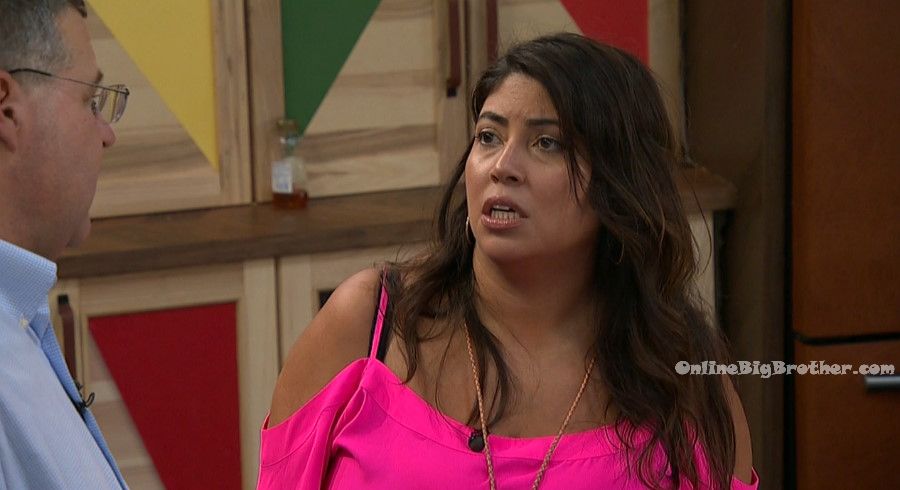 8:40pm Bedroom. Nick and Kat.
Nick – I don't know .. I try not to ask questions. From what I heard sitting outside the Boat room .. it just sounded like people thought you guys (Kat & Holly) knew each other or something. Kat – but that would be like a game twist! Nick – yeah for sure .. and it probably would have gotten announced. Kat – I don't know.. really strange. We have a mutual friend. Nick – you don't have to explain.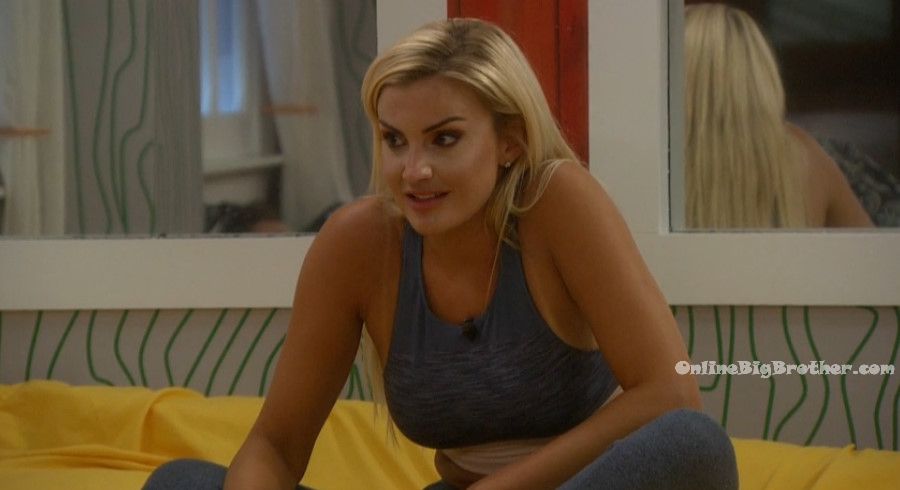 8:45pm Bathroom. Jess and Christie.
Christie – pretend that the power doesn't even exist because I am not going to use it. Especially if you don't want me to .. unless its you want me to use it.. but I am not using it. Jess – I want you to check .. is it good for double eviction? Christie – this might be the last time. It was good for four veto meetings and I am pretty sure this is the last one. I don't think they would let me keep it for that quick one because that wouldn't make sense. I had to go in there 25 times to clarify details because there were so many things. Jess – I want to be very honest and diplomatic. I really don't feel like blindsiding anybody.




9:10pm Jackson stewing..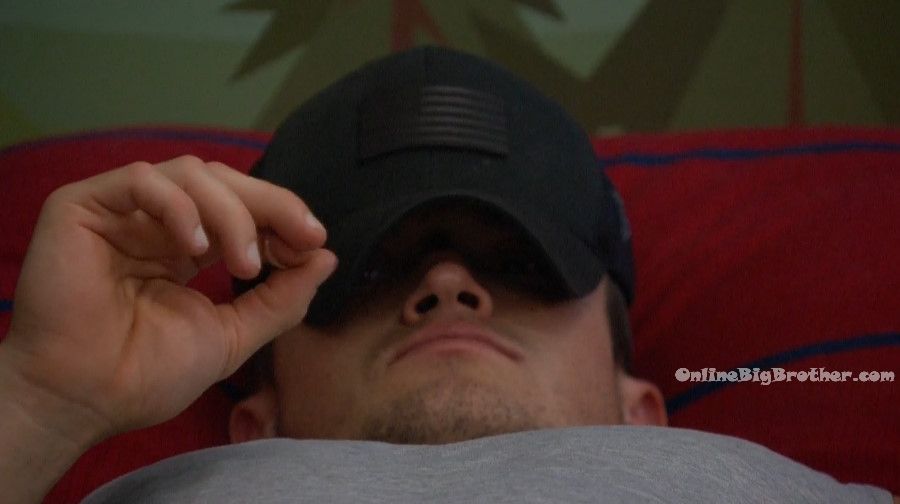 9:15pm Bedroom. Holly and Jackson.
Holly – Jack is worried that you will not trust him ever again. Jackson – I won't! he's f**ked me twice. Holly – you might have to fake it. I've said that you were feed information… and that's when the paranoia started to build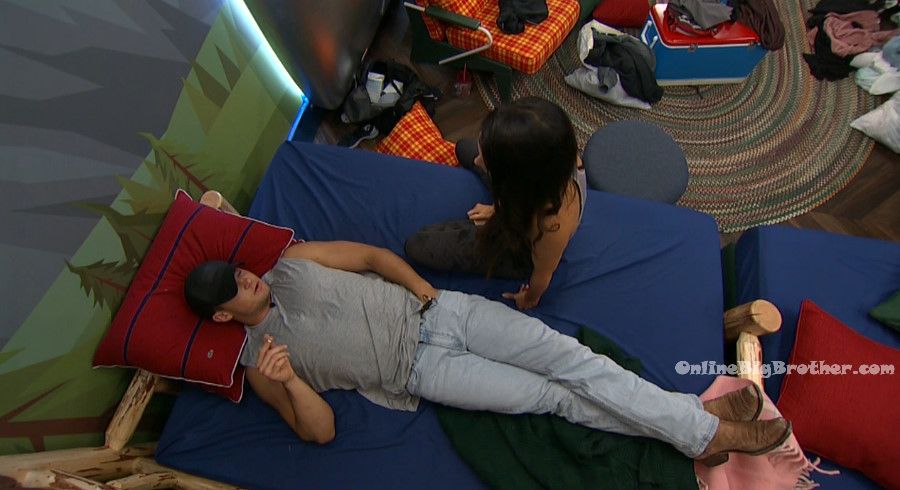 9:12pm – 9:25pm Bathroom. Nicole and Jess.
Jess – I need to figure out how to get rid of Jack. Jack needs to go. Or Michie (Jackson) either or. Nicole – you you know I view everything in numbers .. the six broke up. These four are together and they're mad at Michie and Holly. Originally it was 8 and Nick and Bella got the boot. Now its Michie and Holly with these four over here. They're already going after Michie and Holly. Do you go after Michie and Holly and help these four? Or do you go after the four and break that up? They're already mad at me. Why should you do their dirty work? Jess – because Michie put my name in a situation that wasn't true. Nicole – just be aware that you're going to have a lot of people come up to you saying .. oh you're doing Michie and Holly right?! Jess – it has nothing to do with me. I got Christie's word that she isn't using her power. Christie knows that she isn't a target for me. She's a straight shooter in my eyes. Jess – one causes a sh*t load of trouble for everybody (Jackson) and the other is sitting in the background running the show (Jack). Cliff joins them and tells them what rooms everyone else is in.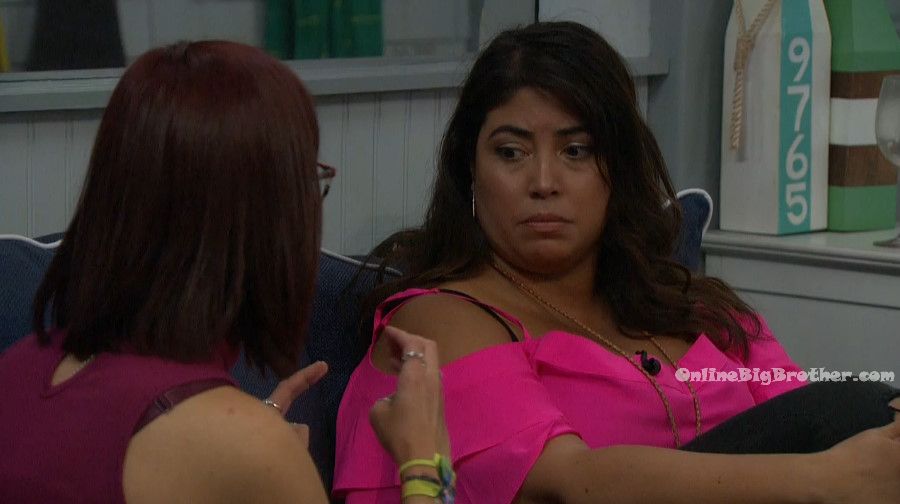 9:30pm Bathroom. Cliff, Jess, Holly, Christie and Kat.
Christie – I don't know where this rumor came from. Kat are you, me, Cliff, Nicole and Jess in an alliance? kat – no. Christie – have the 5 of us ever even been in a room alone together? Ever?! I really don't know when this was formed or spoken about Kat – is Tommy in it? Christie – Tommy was questionably in it. I literally heard this right after the HOH. Apparently Jackson said that all of us were in an alliance. Cliff – if we were in an alliance I wouldn't have told Jackson what I told him. Christie – no offense. .. but if you want to form it right now we could? With Jess! Christie goes to get Sis because she was upset about it. Jackson and Holly join / listen. Christie – if we were in an alliance why have we all voted different in two out of the four evictions? Jackson walks off.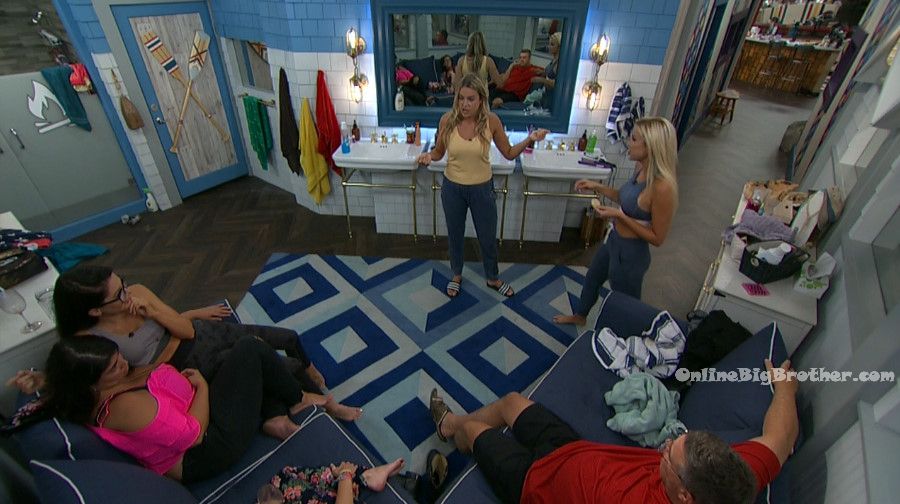 10pm – 10:10pm Kat and Holly boat room.
Kat – from what I'm hearing .. I heard that everything I've been saying in confidence because I thought we were a final 3 has been told to everyone else. He is degrading to women and I am sorry and as your friend I can't let you sit there and stand by it. I am sorry but I don't want you to look bad. Holly – I have never seen him be degrading to women. kat – its not even a degrading to women thing.. its that he is f**king aggressive! Holly – Aggressive is not the right word. Hot headed? Yeah. Aggressive sounds .. you have to be careful with your words when you're on tv. Kat – he literally made a gesture that he was aggressive. Holly – aggressive sounds like physically aggressive. Kat – I am not the one getting called in for things he has said .. he is. Holly – you don't know what he is getting called in for Kat .. this is serious. Things that you say have massive repercussions out there. You have no idea what he is dealing with out there. Kat – he blew up your game too. Holly – oh I know.. I litteraly don't know what he was thinking. It was the worst big brother move in history!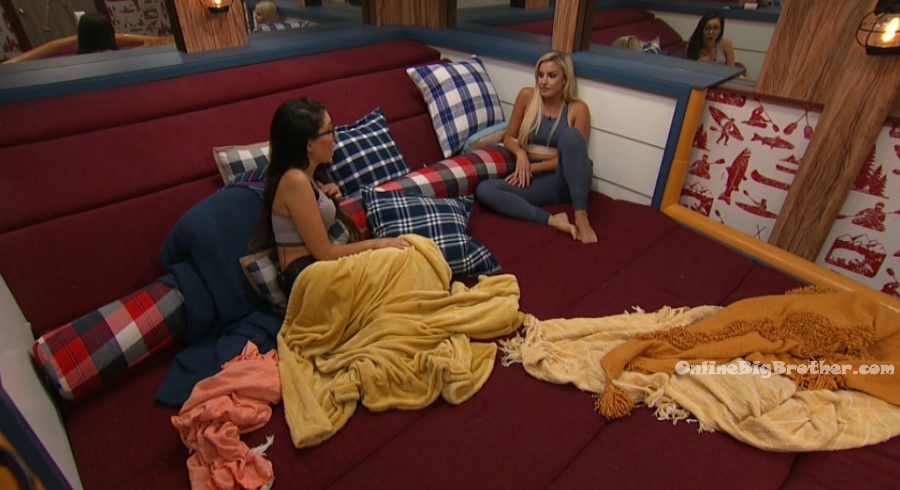 10:35pm Bedroom. Jack and Sis.
Jack – I just don't feel like talking. I feel like a wiener. I feel sh*tty. Sis – I'm sorry. I feel bad. Jack – its okay, I had to do this whether it was a wrong or right play. I will never know the truth until the end of the season. I just don't want to sit out there and be happy and put this fake face on when I feel like sh*t for doing what I did. Sis – do you feel like it wasn't the right thing to do? Jack – I will stand by it. Sis – I feel like it was the right thing to do. We were able to see and hear a lot of things that we didn't know were going on. And it brought light to a lot of situations and the way people are playing and the people we can and can't trust.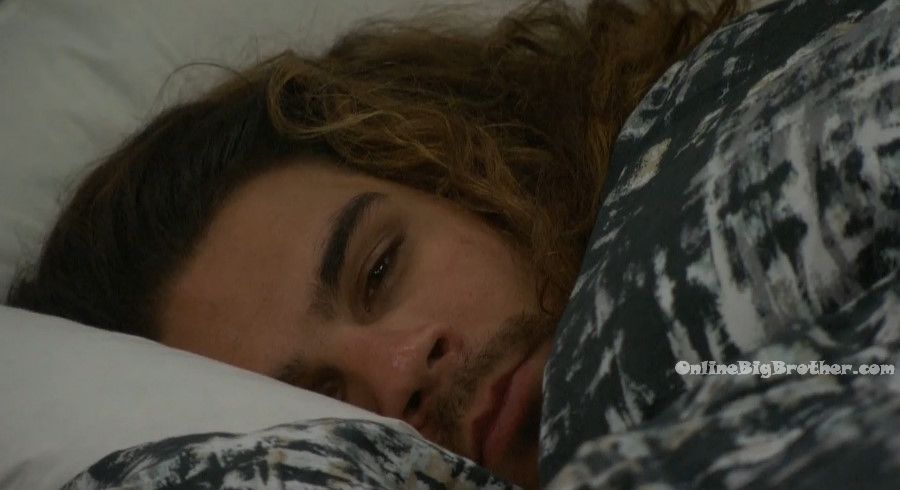 11pm Tommy talks to Jack. Tommy – I do believe you guys (Jackson) will be fine. Jack – its not even so much that I even care about his friendship. Like its more along the lines of a moral think or you know I care about character .. he trusted me and I disobeyed that trust. Its fine. I stand by my decision. It just at one point he looked at me and I said something to him.. he was like I trusted you and you broke my heart. It sucked. I started crying. Its just a game. I don't want to hurt people.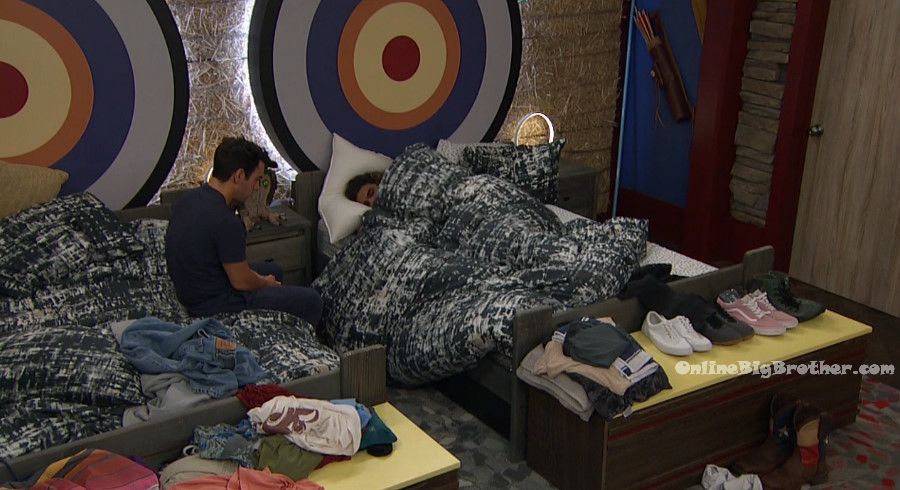 11:25pm Bedroom. Holly, Tommy and Jackson.
Holly – he upset about being in the house with not a single person that trusts him. He is just like defeated and given up and sad. I just think we all need to process and sleep. Jack – a good 12 hours will do some good. We just all broke up. Holly – we didn't break up .. we had our first fight. The six is who I am invested in… personally .. game.. everything. Jack – he looked at me today after I said something and he said you broke my heart.
11:30pm – 11:40pm Jess comes out of the diary room – Who wants to see my HOH room!! All the house guests head up to the HOH room.
Jess reads her HOH letter.
12:30am – 2am Cliff – can we not use the name. At this point it will only.. Kat – we all know the name "Cliff's Angels". They all sit down an chat. Cliff – Christie has never screwed me over. Jess – the fact that Christie could keep you safe on a week that she is not HOH.
Kat – what if it is Jack and Jackson up there .. do we have the votes? They count theories and realize. They talk about putting up Michie and Jack. Cliff – you can say we'll these are the two that have been causing problems in the house. Jess – I am not afraid to make big moves. I feel empowered that I can keep all of us safe. I don't care what people are thinking … I want them to scatter like cock roaches. Holly joins them. Kat – is everyone okay? Are the six back together? Kat laughs. Tommy joins them. They talk about what the have nots will be. If its based on who fell first it would be Cliff, Michie and Sis. Tommy offers himself up as a havenot if Jess has to pick and needs someone to choose.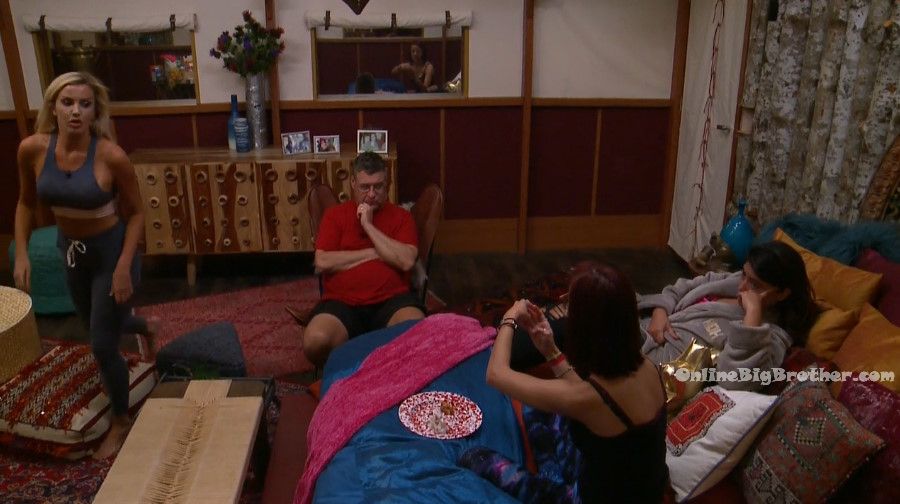 OBB wouldn't be possible with our your support!
If you are one of the generous people that donate to help keep the updates coming, we're giving out a bit more this year. Check out this page for more details: OBB Members