Head of Household Winner – Jess
Have note are:
Nominations are:
Power of Veto Players are –
Power of Veto holder –
Power of Veto Ceremony –
Powers in the game
Christie – Panic
At any of the next four Power of Veto Ceremonies, Christie can turn the Golden Power of Veto into the Diamond Power of Veto and allow the current veto holder pull someone off the nomination block, but instead of the Head of Household naming the replacement nominee, the veto holder names the replacement.
Field Trip
Choose three houseguests they compete while on a field trip. The winner gets safety for the week the loser gets nominated as the third nominee.
Doesn't affect this week it affects the following week. 8 days of voting.
Head of Household of the applicable week are not eligible to receive votes
Grab your live feeds —-> BB21 Live Feeds Subscription Link
Rank your houseguests —-> Big Brother 21 Ranking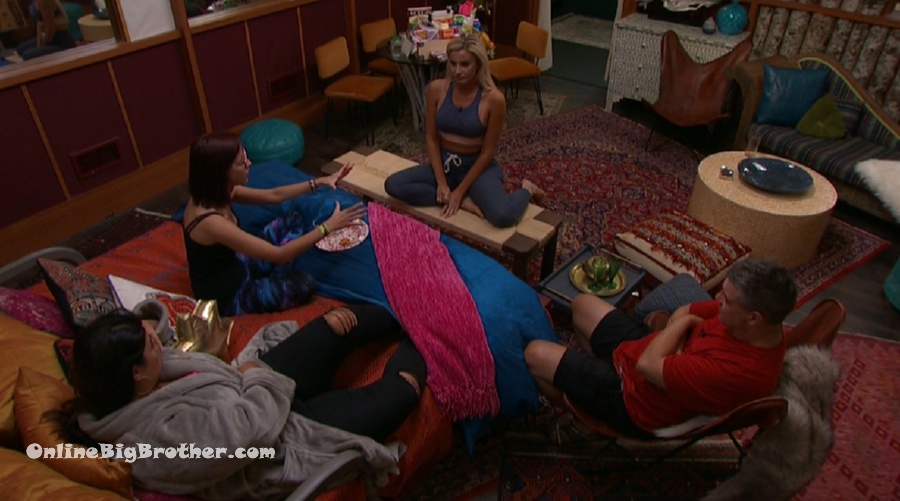 1:00 am HOH Cliff and his angels
Talking about the flip.
Cliff – jack promised Ovi that he is good. Jack has lied repeatability. Jack went out of his way to tell Ovi he's good he could have easily said I don't think the votes are their man
Cliff – I don't trust Jack
Kat – if it was up to me I would put Jack and Sis up and if Veto was used then put Jackson up
Nicole agrees with this plan "Put up Jack and Sis that's one couple"
Jess – Sis has repeatedly said they are not playing the game together
Kat – Girl they are having sex .. TOTALLY
Kat – you can't be f*ing someone and not talk game to them unless you are a total sociopath (Kat's the best)
Nicole lays it out for Jess. You have 8 then Bella, Nick popped off. you then had 6 composed of 3 couples. Now you have a 4 and a 2.
Nicole – do you go after Michie and Holly and do what these four already want to do or do you try and attack this four
Nicole – if you put up Jack and Sis you could bring in Holly
Cliff – well you could count on their vote
jess – I don't have an excuse for sis
Kat – she hates being here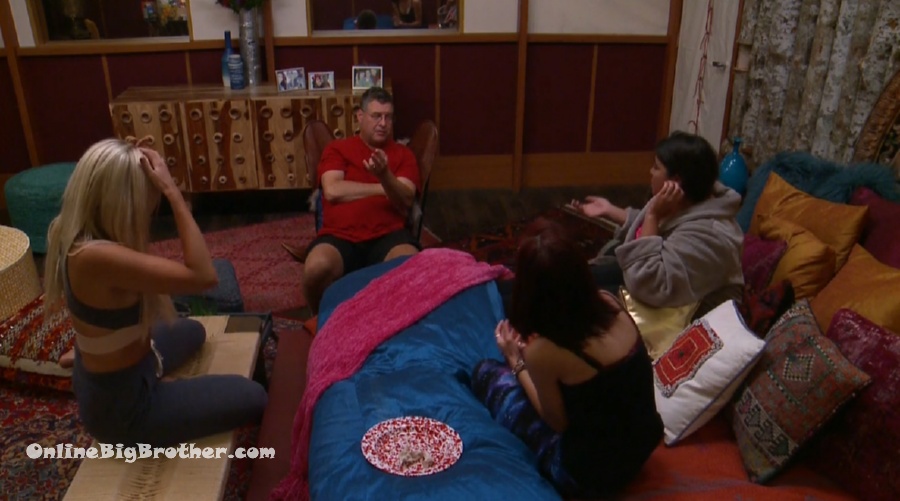 Cliff -what are you thinking Jess
Jessica – I'm trying to think .. this comes down to two big guys that have some type of pissing war going on right now
Jessica says it looks like there's a 4 and a 2 but "guys they get over things so quick"
Jessica says she could put Jack and Jackson up and have them duke it out. If one of them comes off put one of the four up
Jessica – I have an excuse they both put me up
Cliff says to make sure you go to the 3rd couple and secure their vote if they don't go up.
Kat warns them about Christie's power
Jess – she looked at me today and told me she won't use it (heard that before)
Jess- deep down she knows if I can get rid of jack it would be better for her
Kat says jack will never work with them
Cliff agrees. they also agree that they have a better chance of working with Jackson
Nicole points out that Holly will work with them bit Sis won't
Jessica – I know Michie is rough around the edges.
They got back and forth about Jess' plan. it's' coming down with jess will put her main target Jack up beside Michie and if Jack comes down she puts up the secondary target.
Cliff suggests they tell Jack that Jackson is the target to keep jack off guard.
Jess starts to cry about the attempted flip and how she was left in the dark she felt so powerless.
Jess – I don't give a f* what people are thinking right now I want them to scatter like cockroaches I want them to throw each other under the bus so I can see everyone's colours.
2:18 am HOH
Chit chat .. people coming in and out to chat with Jessica.
Christie in the HOH – I'm so proud of you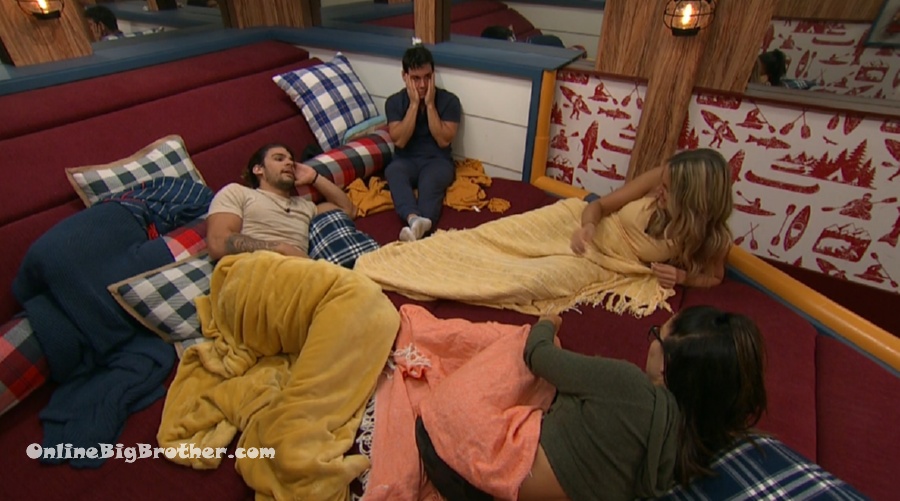 2:30 am Christie, Tommy, Holly, and Jack
Christie going over the advice she gave Jessica. She told her to only listen to her gut.
Christie – she said just so you know you are not going up. I was like Ok I know now thank you so much. That was it.
Christie says she feels good with Jess if it was Nicole different story "last night we had a MAGE moment" (major moment)
Christie – I don't think she'll put up girls
Jack says him and Jackson were the only people that haven't gone to talk to Jessica
Christie says Jessica is probably wanting Cliff gone she's tired "He's planted up here'
Jack – He's a Weiner
Tommy – yea
Tommy and Jack each go around making fun how Cliff talks
They bring up how Cliff was saying he's glad they're all a family
Christie – the man was jumping out of his chair to make me a peanut butter sandwich .. sit down old man you will f* me
Feeds cut to the HOH
2:40 am Cliff, Jess, and Nicole
Cliff says if he goes out next week at least he's got a group of people he can cheer for until the end of this game. (the angels)
Cliff – that's all I ever wanted in this game to feel like I was part of a group
Jessica – it's insane seeing those alliances crumble it was my biggest fear the whole black widow's thing it happened and it didn't feel right and I did it because Nicole was there
Jess – someone like Bella like in the beginning my gut was telling me there was something off. Kemi was kinda off for me to. I jumped into it because I knew Bella at some point was going to be like I know how I feel about her and I didn't want to give her a reason
Nicole says night one first impression she told Kemi the only person she was unsure about was Bella
Jessica – yeah
Nickole – I love her
Jess- I love her as a person
Nicole – I should have gone with that first gut instinct .. she was talking to someone she turned around and said shut up let me speak and I was like this struck me ..
Cliff – what a crazy path, We've all been on the block we've all been targeted and here we are
Jessica wonders if the black widows was the shortest alliance in history.
Cliff – Holly, and Michie pulled me in after the battle back they said we are so glad you are back that was part of the plan. I said what plan are you talking about
Cliff – they said we figured Nicole wouldn't win a battle back and you had a better chance so by voting you out it was giving us the best possible chance of bringing you and Nicole back into the game.
Nicole – no that was not the plan they are so full of it
Cliff – we really wanted y'all back but we couldn't tell anyone because they would have a fit but we voted you out knowing you had the best chance.
Cliff says he just got back into the game and he didn't' want to piss anyone off so he's like "WOW that's quite the plan well I'm glad it worked guys"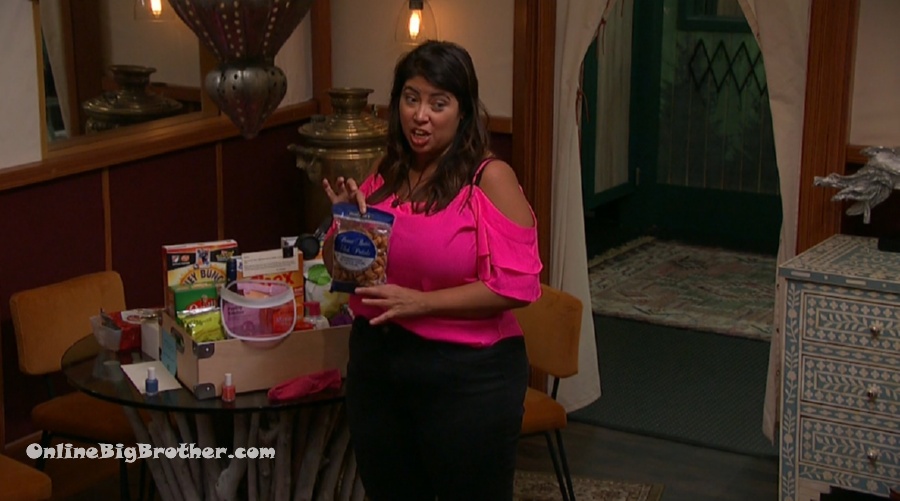 Jessica – these aren't my favorite but they're good, Peanut butter filled pretzels.
Jessica – they have chocolate-covered peanut butter pretzels those are my favorite.
Jess goes on how she likes the chocolate ones better.
Cliff says he use to always go alone with Michie so he wouldn't piss him off "He's a frat kid"
Nicole – he's a loose cannon
Cliff – he's a frat guy mentality still.
Nicole – he is very chivalrous
Jessica- I don't fault him he's playing a game
Cliff – some of the stuff he's done seems mean
Nicole – Christie said he threw out the cookie dough, so people would fight, He dumped mouth wash down the sink, he's peed on the floor just so people would fight
Jessica notes that Nick is trying to act COOL in front of Jack.
Cliff – I cannot figure them out
Jessica says she's worried that Nick will take a veto win opportunity to take Jack off the block "to prove a point"
Cliff – possible
Nicole – it's possible
Cliff – if he (nick) won a veto do you think you could talk to Christie to talk to him to not use the veto.
Jessica – I don't know I think Christie would talk him into using the veto so he could save Jack so she doesn't lose him.
Jessica – I thought about putting Nick up as a pawn
Cliff – everyone will vote Nick to save Jack
Nicole – I wouldn't change it
Jessica – Nick is so good at winning vetos. he could win his veto take himself off and I would put up Jack
Jessica – I want to create something with Nick I just don't trust him
Cliff says he doesn't owe anyone in the 6 or Nick squat "I'm kinda tired of having to kiss a$$ and beg for attention or for a place" (you've finally had enough after 6 weeks)
Nicole brings up how she's worried people will get suspicious if they sleep in the HOH room
Jessica says the top three in the HOH competitions today was her, Nicole and Kat. Those girls can sleep in the HOH.
Jessica points out that Sis, CHrsitie, and Holly slept in the HOH for 3 days straight
Jessica points out the other side has been sleeping in the HOH for that last 44 days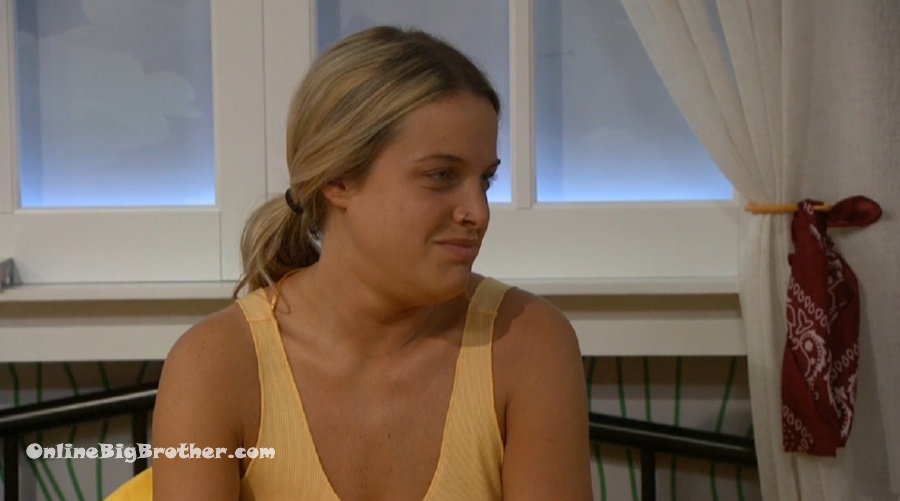 3:20 am Christie and Jess
Christie – use your gut you know what is right. do what's right for you it's easy to be mind f*ed
Jess – everything that happened today was a today mind f*
Christie – it's so crazy nobody knows how to communicate with each other now
Christie – think about your game. be careful who you discuss it with.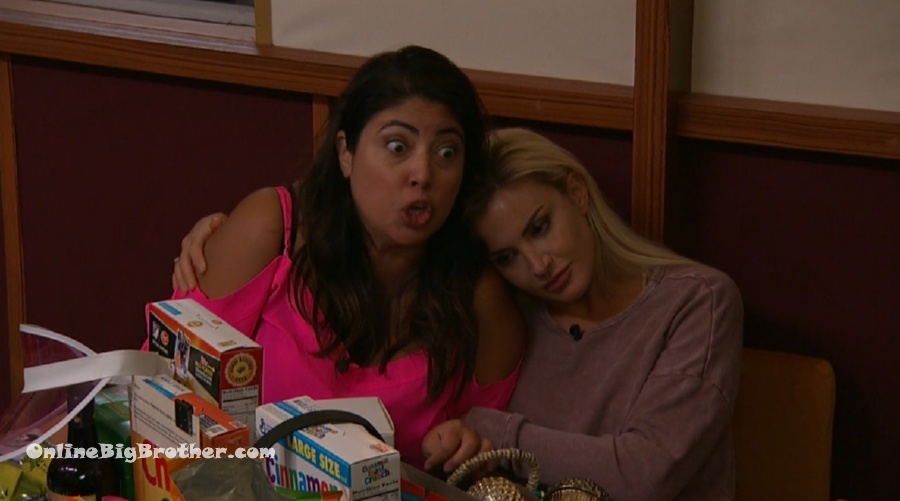 4:07 am Holly, Jessica, and Kat
Holly is going over some of the excitement before the feeds.
Holly said she listened into sis and Tommy talking about they were going to flip the vote but not tell Sam because they wanted him to go ahead with his original speech so that they weren't onto them flipping
Holly – did that just happened.
Kat – what got to me is they both looked me straight in the eye and said I swear to god. Sis you're such a bad liar
Holly – that made my heart sink. She also told me today she called me a b1tch
Kat – Jack and Sis were scheming all-day
Holly says everyone lied straight to her face yesterday except for Tommy. "they were about to send you home and not even let me know on my HOH"
They joke around "on my friend's daughters birthday"
Kat – it should me how disposable I am to everyone
Kat says she knew Holly didn't know anything about it
Kat – were they not going to tell you and have it an 8-1 vote
Jess – yeah
Holly – yeah
Holly – what was Cliff doing, how were Cliff and Nicole going to vote
Kat – Nicole was pulled into some conversations
Jess – Cliff was pulled in Nicole was pulled in everyone except me
Holly – they knew you wouldn't vote against Kat
Jess – it's shitty it's happened to me once already with Nicole
Jessica says she's upset for Holly that they tried to highjack her HOH
Kat points out that Jackson was the only one that left Holly to make her own HOH decisions
Holly agrees points out that everyone else was saying that it was Jackson that did but it was them (Christie and her ilk)
Holly goe son about how Jackson was the only one that would listen to her during her HOH the rest just wanted her to do what they wanted.
Holly – they pushed their agendas
Kat finds it strange that there are so many random alliances this season.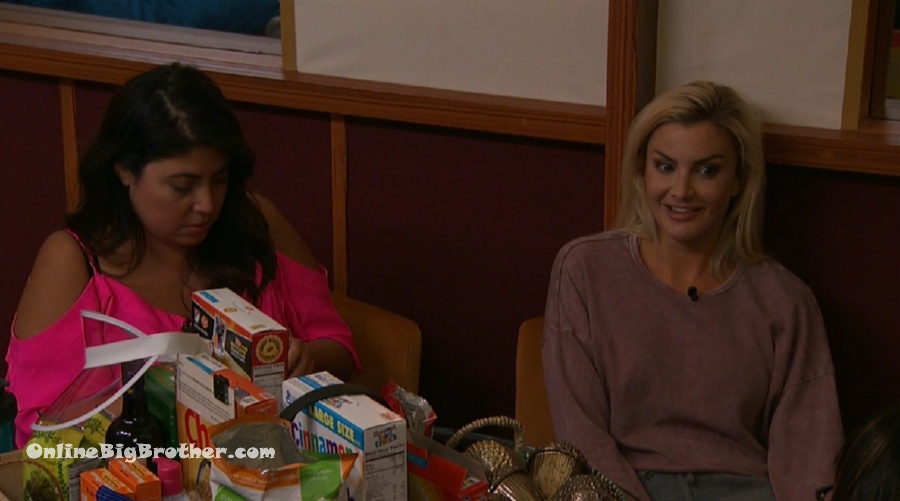 4:29 am Kat, Jess, and Holly
Kat – I was in the boat room with Jack and Tommy and they seem to think everything was OKAY with y'all 6
Holly – NO, jack said the opposite to me
Holly – they had a breakup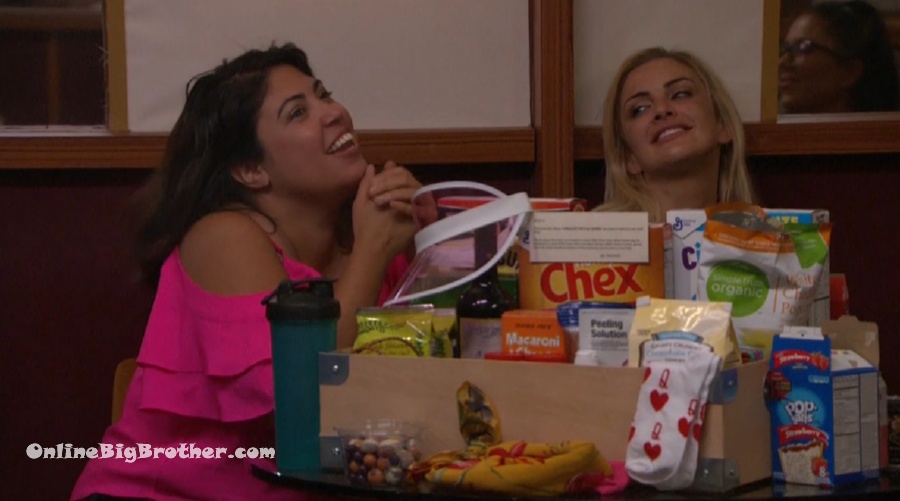 Between conversations about the snacks in the HOH basket. Jessica starts talking about her husband. He's 14 years older than her, they met on match.com, he's got a sweet tooth.
Jess – he's a corny joke guy because he's older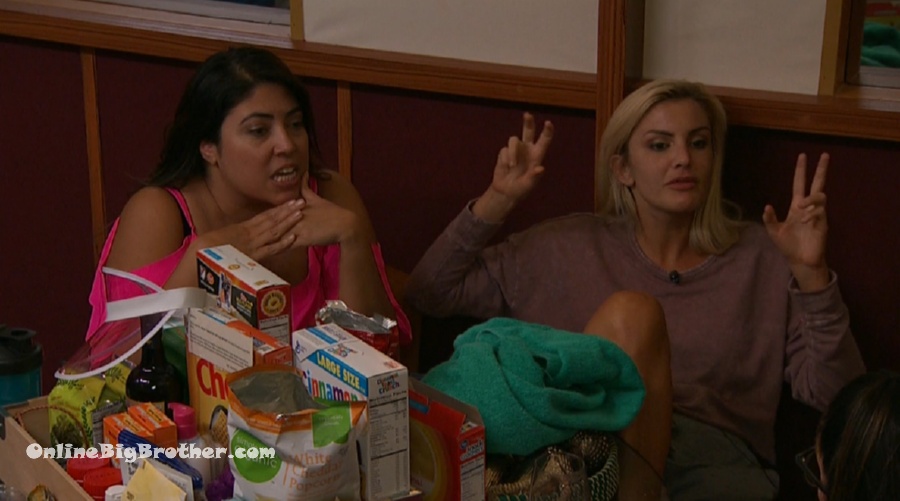 They go back to talking about the flip that almost happened yesterday.
Kat – even if we did know each other do they really not respect me as a person that they wouldn't clarify with me first
Kat – I felt like I wasn't a person
Holly – you got treated like livestock
Jessica – people don't communicate well in this house
Kat – Jack said If you won I knew you wouldn't put me up. I'm like where did you hear that from I will absolutely put you up after today without a doubt.
Holly – says the guy that was spearheading getting yo out with no sh1ts given
Kat – no sh1ts given
Holly – he wanted you out without you having a chance to defend yourself
Kat – YEAH
Holly – they had zero intention in telling me
Jess – was Christie really out of the loop the entire time were thy really planning on not telling her
Kat – I know she was in the loop because she was in the room with me
Kat – she was like I don't know who to believe. I was like Beleive me
Kat says Tommy and Jack never told her how they were voting only Christie said "I can't vote out Kat"
Holly – When we were on the couch I still didn't know where Jack was voting
Kat – I lost a lot of respect for Jack today
Kat says "they" (jack etc) didn't even respect her enough to come to her and listen to her "truths"
They agree the motivation to blindside Kat was gameplay the execution was personal and heartless.
Jessica says the reasoning they gave about not having people that know each other in jury is weird to her she's never heard people use that as a reason on Big brother.
Kat brings up how Christie, Jack, and Sis are all super close.
Holly stresses that jack's and Christie's bond "is way closer anything else "
Jessica – there's still a power at play there's not much I can do
They start talking about Christie's power. kat thinks it's been overblown a bit "sensationalized".
Jessica enjoying her HOH! #BB21 pic.twitter.com/5xsAz6iC38

— OnlineBigBrother.com (@bigbspoilers) August 2, 2019
4:53 am Holly, Jess, Kat and Nicole
Joking around in the HOH.. Holly pretends to pay tribute to Jess..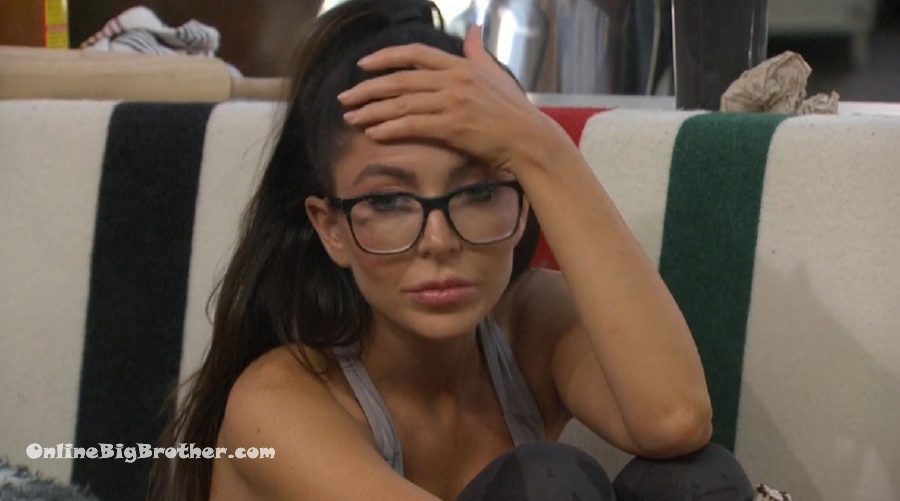 6:00 am Holly and Jackson
Holly fills him in that the target may be Jack. Holly stresses that they need to drop "the Christie thing" for Jessica's HOH. Kat warned her.
Holly – She said Just trust me you need to f*ing drop it
Holly – the only thing that seemed to resonate with JEss is that Jack tried to flip the vote.
Holly says not to throw Jack under the bus when he talks to her push that you were not part of the flip you did not want Kat gone.
Holly is unsure who Jess will put up with Jack, "Maybe Tommy"
Holly says that Kat told jess straight up that Tommy has lied to her multiple times about flipping the vote. Adds that Sis was also big on flipping the vote.