POV Holder:
Elissa
Next POV
July 20th
POV Used
?
POV Ceremony
July 22
HOH Winner:
JUDD
Next HOH:
July 25
MVP:
?
Original Nominations:
Aaryn, Kaitlin, ELISSA (MVP – America)
Current Nominations:
Tomorrow is your LAST CHANCE to SIGN-UP for the:
Live Feed SEASONS PASS for $26.99!
Starting Tuesday July 22, ONLY the Monthly Pass will be available for $9.99 per month.
10am – 10:40am Big Brother wakes up the house guests. Helen has been up since before seven this morning cleaning the bathroom and Kitchen. When the live feeds return from waking up the house guests, up in the HOH room Big Brother tells Amanda and McCrae the bedroom lights must remain on during the day. They turn on the lights, then McCrae unlocks the door and they go back to sleep. Meanwhile in the backyard – Helen and Spencer are out in the backyard. Spencer is talks about how he has low energy being on slop. Helen tells him that she thinks its good that he was on slop this week. Spencer says that he figured he was going to be a havenot sooner or later any ways and wanted to lose weight. Helen talks about her early 8pm curfew punishment was so difficult to go to sleep. She says she talked to Judd this morning at 6:30am. She said he has 2 loafs of bread left. Spencer asks if he went to the bathroom in there. Helen says he isn't going to do number 2 in there. Helen says she asked Judd if he was going to come out of Solitary with a funeral. She says he said no.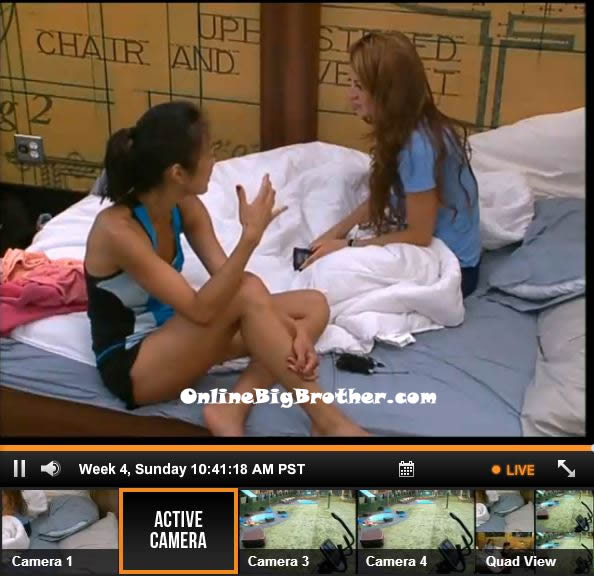 10:50am – 11:10am In the bedroom – Helen talks to Elissa. Helen says I can't believe you can't play in veto next week. Elissa says I know, I just need to win HOH. Helen agrees. Elissa says that she hopes its an endurance so she can win it. Helen thinks it will be. Helen says that she is worried that some of the house guests will vote to keep Aaryn. Elissa says that Aaryn needs to go. Helen says we need to help Howard and Jessie win so that they can get out Amanda. Helen says she doesn't know what she would do if she won HOH. Helen says that they tried to pressure Judd to put up Howard. Elissa says if he's not the target why would you put him up. Helen says that she told Judd it's his HOH and she would support him. Helen says it upsets Judd a lot that McCrae and Amanda were pressuring him so much. Helen says we have to be really careful with them because they are making deals with everyone. Helen then heads to the bathroom and talks to Andy about the same thing. She talks to Andy about how she and Judd don't like Amanda and McCrae thinking they are running the show. Helen says that yesterday Amanda was pushing her so hard to win the POV. Helen says then McCrae took the $5000. Andy says that he would have taken it too because if I get voted out I need the money. Andy says that he still believes Amanda and McCrae have his best interest in mind. Helen tells Andy that there are people here that are thinking of back dooring Amanda. Andy asks who? Helen says all the girls – Candice, Elissa, Jessie. Helen says I trust McCrae but not Amanda. Helen says I just don't want us to be caught in the middle of back dooring Amanda. Andy says that he had no idea that Candice and Elissa were aligned. Helen says they aren't they just hate Amanda. They talk about who will be nominated in Elissa's spot. Elissa joins them. Elissa says that Howard talks in circles. Jessie joins them. Helen tells them all that Aaryn has to go home. Jessie tells them about how scandalous Amanda's strip tease was last night in the HOH room for McCrae. Helen, Jessie and Andy discuss having a backup plan in case of a double eviction. Andy thinks Ginamarie and Kaitlin go in that case.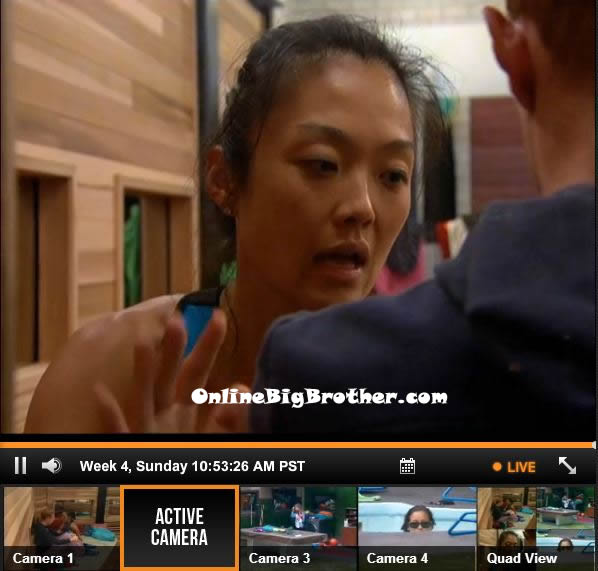 11:20am In the bathroom – Andy, Jessie and Helen continue to talk about the MVP. Andy says that he really thinks America was MVP this week. Andy says that he thinks as a view of Big Brother if he was watching and Elissa continually got MVP I would vote to nominate her. Andy says for every one Rachel fan there are 2 that hate her. Helen and Jessie both agree and say that makes sense.
Andy says he thinks America was MVP – for every 1 @RachelEReilly fan there are 2 that hate her. #BB15 #CBSBigBrother pic.twitter.com/Nv9RGKJEF6

— Dawg (@DawgsBigBrother) July 21, 2013
11:25am Andy and Jessie talk outside by the hot tub. Andy says that he is fine with getting Amanda out if that is what the house wants and if she is untrustworthy. Andy tells Jessie I just want you to know that I am with you. Jessie asks Andy who he thinks should make it to jury. Andy says me, you, Helen, Judd, Spencer because it's his dream to make it to jury. Andy says maybe McCrae. Andy says that he likes and wants to protect Elissa, but that she needs to watch out because of the things she's saying. Jessie says that Ginamarie can't do much, she has Aaryn and Kaitlin's back though and that's all they have. Andy talks about his theory of America being MVP again. In the kitchen Elissa comments that everything looks so much better now that Jeremy is gone. Helen says well I cleaned this morning. Elissa talks to Judd and he tells her about how Amanda was crying in the bathroom last night. Elissa wonders who she was upset about. Judd says that he really wasn't sure what it was about so don't say anything. Judd tells Elissa they should tell production that the alarm doesn't bother me so they should stop setting it off. (Production has told him he has to turn off the alarm when it goes off because he has been letting it go.) Elissa leaves the door. Judd looks at the camera and asks if he should I turn on Amanda and McCrae?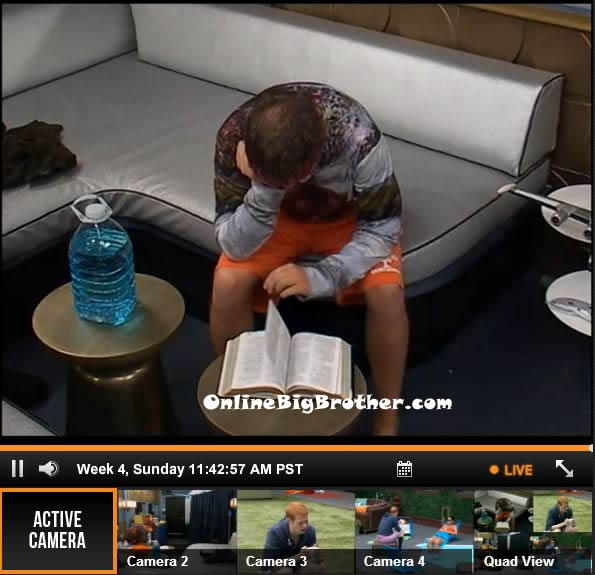 11:40am – 11:50am Helen comes over and joins Jessie and Andy by the hot tub. The conversation turns to talking about the Elissa and Amanda fight last night. Jessie says that Amanda completely overreacted. Jessie says that she wonders if sh*t is going to hit the fan with the between them. Andy and Helen talk about staying out of the drama. Over in the hammock – Helen and Spencer talk about the moving company and past events of the house. Jessie joins them. The conversation turns to talking about how scandalous Amanda and some of the house guests are in the house. Spencer says that Amanda might be trying to set her self up for something more risqué when she gets out of the house. Helen says that it makes it really uncomfortable. Spencer says "My mind frame in terms of a showmance is my Mom is watching I don't want to do anything that would disappoint her." Jessie warns Spencer that in a different reality show some guys got kicked off for playing a prank and trying to shave a guys head and they got kicked off the show.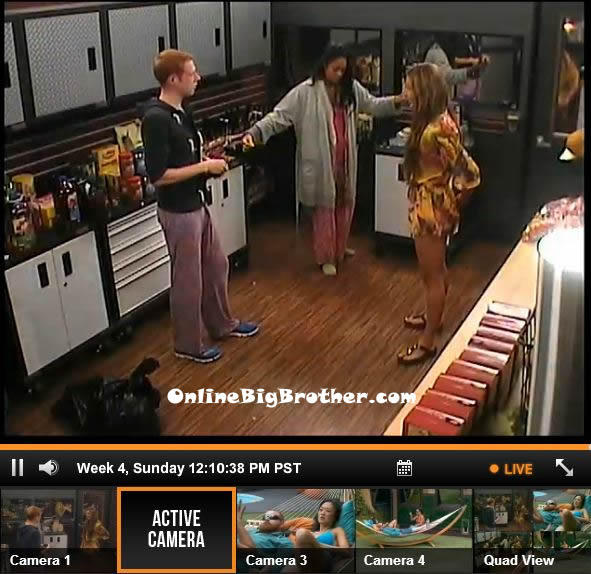 12:10pm – 12:25pm In the storage room – Andy talks to Candice and Elissa about the events up in the HOH room last night. Elissa asks Andy what he has heard about Amanda being upset at her. Andy tells Elissa to just apologize to cover her bases just in case. Elissa leaves. Andy and Candice talk about who will go up as the replacement nominee. Candice tells Andy about how she told Amanda and McCrae last night not to fu*k with Howard and I after all the racist things that Aaryn has done. Aaryn needs to go this week. Candice thinks Elissa won MVP. Andy tells Candice about his theory of America being MVP. Candice talks about how how she thinks Elissa and Amanda are having fake fights. Candice says that Amanda even smiled when Elissa won the POV. Andy says we just need to wait until after the veto ceremony to see what happens. He says no matter what the votes should be 9-0 and if it isn't then we know we have trouble. Candice agrees and they leave the storage room.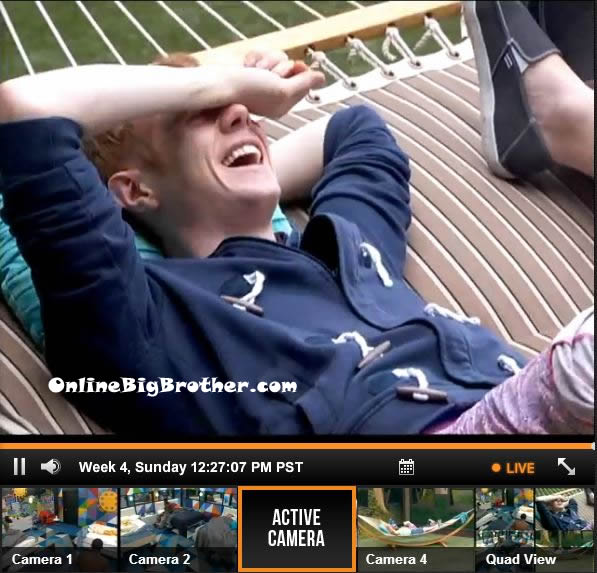 12:30pm – 12:45pm Spencer and Andy are in the hammock talking and joking around. Spencer talk about how good Jessie looks in her bathing suit. Spencer says I like looking at her more than I like talking to her. Spencer says ah shut the fuck up Helen – just because you squeezed a couple kids out of your vagina doesn't make you a good person. Andy says Helen is pure evil. Andy says that Helen took things too far with Jeremy and he went home when he is a nice guy.

Meanwhile over on the lounge chair – Helen and Candice are talking. Helen talks about how she is pissed that McCrae didn't go hard for the POV and took the $5000 instead. Andy walks by and jokingly yells GET MY NAME OUT OF YOUR FU*KING MOUTHS! Candice then talks about her whole conversation with Amanda and McCrae about how this was supposed to be a simple week because of all the derogatory stuff that was said. Andy joins them.