POV Holder:
Elissa
Next POV
July 20th
POV Used
?
POV Ceremony
July 22
HOH Winner:
JUDD
Next HOH:
July 25
MVP:
?
Original Nominations:
Aaryn, Kaitlin, ELISSA (MVP – America)
Current Nominations:
Last Evicted Houseguest
David, Nick, Jeremy
Have Nots
Jessie, Candice, Andy, Spencer
1:40am Up in the HOH room – McCrae, Candice, Spencer, Amanda and Andy are talking. Amanda says especially after tonight I know we have Jessie and Ginamarie. McCrae says that he wants to reconnect with Gina right before to be sure. Andy says Spencer and Howard could be pulling the wool over his eyes but they trust me right now and so does Candice. Amanda says however Candice balled me out earlier. McCrae says that he talked to them after and said that he was voting out Aaryn for sure. Amanda asks even if Howard goes up? McCrae and Andy both say yes. Amanda says okay. Andy says that they don't suspect the three of us and Judd. Andy leaves the room. McCrae tells Amanda that we should always be pushing for Aaryn to leave. Amanda says okay. I don't want to talk any more game tonight. Will you just shut off the light and come to bed. McCrae shuts off the light and gets into bed. They immediately start making out and start getting really into it under the covers and then Big Brother switches the cameras. (The cameras don't show the HOH room all night until 4am – Pretty sure they did a lot more than just making out.)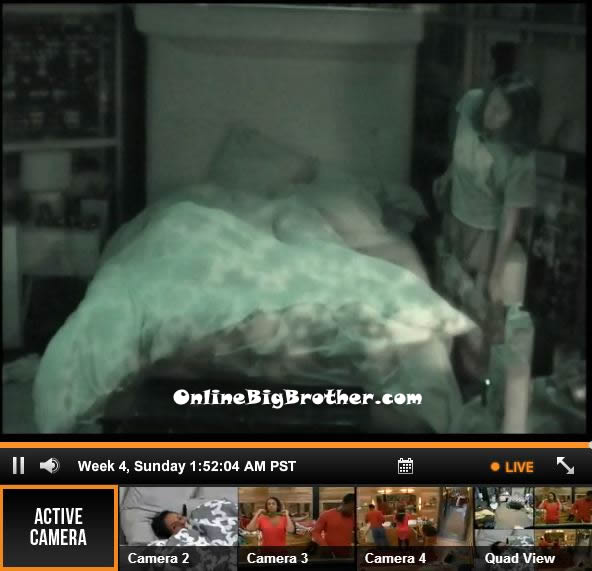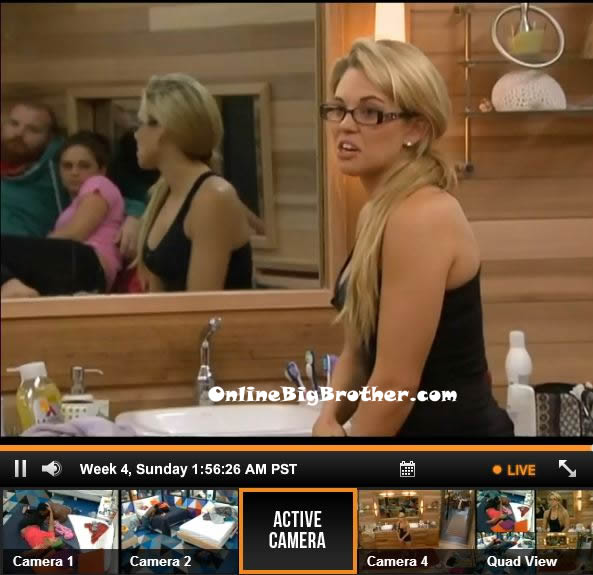 1:50am Meanwhile in the downstairs bedroom – Aaryn, Kaitlin and Gina are talking. Aaryn says Candice is campaigning for me to leave. AND still calling me racist! Candice walks in to get ready for bed. The conversation turns to Andy's list of the guys in the house he would fu*k. Candice brings up how the big black guy isn't on his list. Andy says it's nothing about black guys, it's just not his preference. Aaryn asks how he can say sh*t and get away scot-free, while anything she says is racist. Aaryn says that she is sick of it all! Aaryn says that there are things in real life that can be messed up because of this! Aaryn says that people in like public figures take one wrong picture and they are gay. Aaryn says if I ever get asked one question about it in an interview I will never acknowledge it. Aaryn says I am going to self-evict if she doesn't get any self-tanner. They will be like um you're leaving in a few days anyways. Kaitlin is annoyed that people keep talking sh*t about Jeremy and he is gone. They talk about getting reprimands – Spencer says he got reprimanded from production for unplugging Candices mic. Andy says he got reprimanded for that too and for .. Big Brother cuts the feeds. Aaryn says that you are damned if you do and damned if you don't people will make you into what they want you to be. I can't change what people say about me. Aaryn says that she is just going be herself and that she doesn't care anymore because no matter what she says, she is always going be the bad guy. Aaryn says I want to go to Africa and..
Spencer says I admire you girls for keeping up with your shit, look at me I am a piece of shit! #bb15 #CBSBigBrother pic.twitter.com/G5ZDMcXaZq

— Dawg (@DawgsBigBrother) July 21, 2013
2:30am – 2:50am Spencer says that there is something fishy going on in this house and I can't put my finger on it. Aaryn says the only fishy thing going on are Ginamarie's farts. Spencer says that Jeremy drank the wine and went on a tirade and those were the reasons that he got evicted.. And I see the same things being exhibited from Elissa. Andy says a part of him wants to say shame on you Elissa you got treated poorly the first couple weeks and now you are acting like this. You know how it feels. Andy says I just want you to know if either of you (Spencer/Gina) go up on the block, you have my vote to stay. Kaitlin joins them and talks about how Elissa is going on a power trip. Gina farts and Kaitlin freaks out. Kaitlin says EWW.. GROSS it literally smells like dead fish on the beach. Gina says it's the fibre pills. Andy asks Aaryn what her most embarrassing moment in here was? Aaryn says when she cried hysterically like a child when she found out people were calling her racist. She says I couldn't even breathe. Kaitlin talks about the weird conversation she had on the couch with Elissa. Kaitlin says when Julie Chen said the thing about the twist, Elissa says she knew she was going up. Something is up, she is acting weird. Andy agrees. Kaitlin says I think she got a power. I think she nominated herself. Andy thinks she did too. Gina asks can we say deep throat? Aaryn says I said open up your mouth and let it slide on down. Something I have never been good at! The conversation turns to talking about the POV competition. Howard showers and when he finishes he heads out of the bathroom. Aaryn asks him if he is okay, are you stressed. Howard says no mam. Spencer heads to bed. Spencer tells Aaryn that Howard is worried about going on the block.
GINA asks can we say deep-throat? AARYN says I said open up your mouth and let it slide on down. Something I have never been good at! #BB15

— Dawg (@DawgsBigBrother) July 21, 2013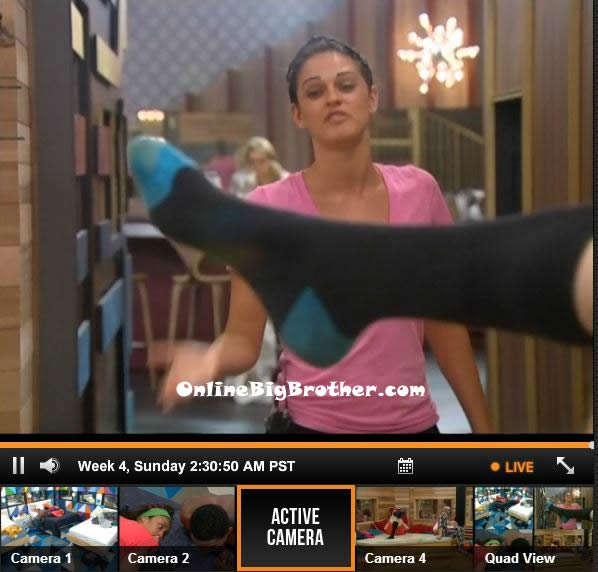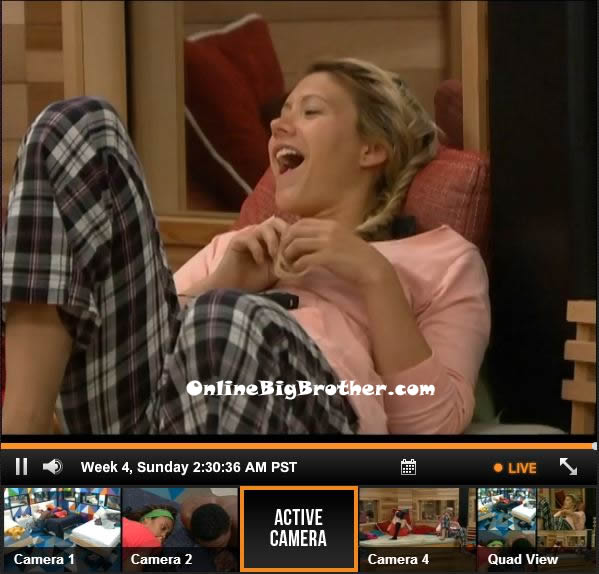 3:05am Aaryn says that she can't wait to find out what this twist is. Spencer says that he wishes he would get called to the diary room to be told he is the saboteur. Spencer says for like $20,000 I would take a sh*t in the slop. Andy asks what if we were saboteur's against each other. Andy and Howard talk about the habanero peppers affecting the skin on their fingers. Andy shows Howard his middle finger. Howard shows Andy his middle finger and asks do you see my middle finger. Andy says no do you see mine?
Big Brother 15 Live Feeds: FREE 2 DAY TRIAL
Howard asks do you see my middle finger? Andy says no do you see mine? #bb15 #CBSBigBrother @bigbspoilers pic.twitter.com/TjuLrEYGnA

— Dawg (@DawgsBigBrother) July 21, 2013

Andy asks what's that Kaitlin? Kaitlin says hydrogen peroxide and baking soda. Aaryn asks are you bleaching your butt hole? Kaitlin says no my teeth. Aaryn comments that havenot aren't allowed to have bleached butt holes. Kaitlin complains about gums being weird from it. Gina says she'll try it and goes to grab the hydrogen peroxide to take a swig of it. Kaitlin grabs it from her hands and tells her NO that's not how you do it!!! Gina says what, I'll do it. She then takes a swig of the hydrogen peroxide and brushes with it. Kaitlin says don't swallow it, you'll throw up. Gina says it tingles the top of my mouth. The conversation turns to talking about horror movies. Aaryn wonders what it would be like to hook up with Freddy Krueger. Gina keeps farting and the others can't stand it. Aaryn pulls her sweater over her mouth and nose. Gina complains that he mouth hurts. Aaryn says of course it does you guzzled hydrogen peroxide.

WARNING: GRAPHIC Conversation
Aaryn asks do you know that there are sh*t funnels? Aayn explains that this guy had a funnel tapped to his mouth and this girl sh*t diarrhoea into his mouth. She says that he threw up and then swallowed it. Spencer tells a similar story about an email he was sent and his mom saw it when he opened it. He shows where the girl was sh*tting in the photo below.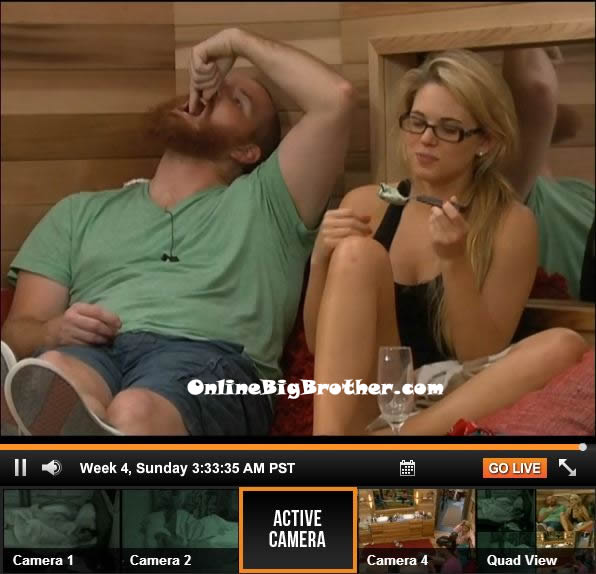 3:45am – 4am Aaryn talks about how her dad took her to the shooting range and she got all of the deadliest shots by just pulling and shooting – forehead, eye, throat and chest. She says that she has a gun and loves to shoot it for fun. The conversation turns to talking about not shooting someone to kill them if they break and enter because you could be charged with manslaughter. They all decide to head to bed. Gina and Kaitlin stop at the memory wall and look at the photos. The go to head to bed and Gina kisses her hand and then touches it on Nick's memory wall photo.
4:35am All the house guests are now asleep, even Judd in his solitary confinement hell where the alarm has been going off all night.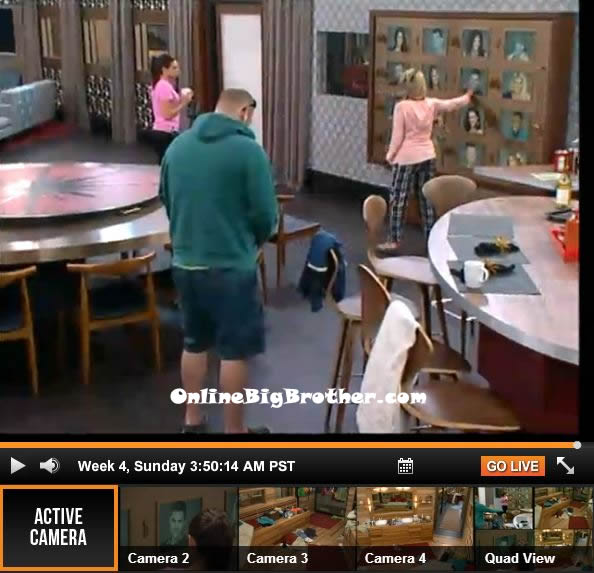 6:40am – 7:30am Helen is in the bathroom cleaning up the huge mess the other house geusts left. Helen is awake in the kichen doing dishes. Big Brother asks Helen if she can clean the two windows. Helen cleans the floor and then goes to get window cleaner. She then starts making her breakfast.