POV Holder:
Elissa
Next POV
July 27th
POV Used
YES
POV Ceremony
July 29
HOH Winner:
JUDD
Next HOH:
July 25
MVP:
AMERICA
Original Nominations:
Aaryn, Kaitlin, ELISSA (MVP – America)
Current Nominations:
Aaryn, Kaitlin, GINAMARIE (MVP – America)
Last Evicted Houseguest
David, Nick, Jeremy
Have Nots
Jessie, Candice, Andy, Spencer
4:24pm HOH Bathroom Elissa and Amanda
(Dawg covered this event a bit in his previous post)
Elissa is upset because apparently Andy and McCrae were making fun of her religion and laughing at her. (Flash back to it if you like but that is not how it happened)
She feels like she can't even read her bible anymore. Amanda says that Andy takes jokes too far sometimes. Elissa says she wants to go home. The derogatory comments and the slurs against her religion are unacceptable.
Elisas: "You are on the show for three months and you can't you hold it together and not make fun of race and religion"
Elissa: 'I'm going to talk to them (Production) about this.. this is ridiculous"
Elissa says it's disgraceful she doesn't want to be in the house anymore. Elissa says that Andy means nothing to her he's just a vote.
Elissa just keeps saying how unacceptable the comments about religion and Race are "I just don't think it's funny.. leave me alone give me space"
Elissa goes on and on about this…
Elissa now saying that the comments about families are horrible
Amanda: 'Who said anything about families"
Elissa: "Aaryn"
Elissa: 'I'm going to talk to production.. I don't want to subject myself to the disrespectful environment.."
Elissa now saying she is a good person and "They" are not (Howard, Andy, McCrea, Aaryn). Amanda turns this conversation to focus solely on Howard says he swears on the bible and preys on people that are weak.
Elissa: "I don't go around forcing my religion on people.. they are so rude"
HOH LOCKDOWN OVER
You can re-watch ever second on the feeds using their flashback feature. It's just like a DVR and it's super easy to use. Click this link for a free trial —> Subscribe to the Big Brother Live Feeds
4:45pm Backyard Amanda, McCrea and JUDD
Amanda tells McCrea that Elissa is not happy with him or Andy.
McCrea: "Dude I don't get that"
JUDD brings up how he asked Elissa if she was going to try the cinnamon? and she told him "I don't try stupid sh!t that kills me"
McCrea: "She's a f****** lunatic"
Amanda: "She's on her period.. She's in a really bad mood.. She's crazy.."
JUDD: "What"
Amanda: "she's crazy.. don't even worry about it.. leave her alone..even when I tried to defend you guys for a second she doesn't want to hear it.. she just wants to go on her rant"
JUDD: "What made her so mad I missed it"
McCrea explains that Elissa was sitting outside talking really loudly about how Howard is so bad about his religion and stuff..
Then Andy was trying to get her to be quiet but doing it in a way so the "People over there" don't see him doing it. McCrea was laughing at Andy trying to be tell her to keep her voice down wihtout anyone noticing. Elissa thought McCrea and Andy were laughing at her religion
Amanda: "She's nuts we all know she's nuts"
JUDD: "I thought she was over it.. this is the BIG BROTHER house you cannot be that sensitive"
Amanda: "she's got to go soon"
McCrea says he's pissed off right now
4:48pm Storage room Helen and Aaryn
Helen tells her she is safe this week they have the votes. "Don't tell Ginamarie or Kaitlin about it"
Helen adds that they are trying to get Howard and Spencer Out next week so if Aaryn wins HOH she will put those two up. Helen: 'If you do not win HOH you will help us get them out" Helen explains the plan is to tell Howard, SPencer and Candice right before the vote that the house wants Kaitlin out.
Helen: 'Everyone is going to act like they want you out.. but you are not going home.. you are the one that is going to stay"
Helen: "You are staying and KAitlin will be blindsided.. but.. I heard she was coming after me. "
Aaryn says that Howard and Spencer came to her about a deal it must have been the same thing they offered Kaitlin. Helen adds that Spencer and Howard are making deals all over the house.
Helen says the "ONLY" people that know about this plan are Amanda, Jessie, McCrea, JUDD, Elissa, Andy, Aaryn . "All those people if they win HOH Spencer and Howard are being put up"
Aaryn: 'OK"
Helen: 'We're all going to work together next week" (Superfriends)
THey shake on it and Helen leaves.. Aaryn does a happy dance (Image in gallery below).
"Rosco" had babies while they were in HOH there are BB Ducks in the bathroom and the pool (Rosco is the name of the Pool duck)
4:57pm Storage room Andy and Amanda
Amanda: "She's super pissed at you" (Elissa)
Andy: 'At me.. and McCrea"
Amanda: 'Ya.. she completely interpreted it wrong"
Andy: "She's f***** insane"
Amanda: 'I know.. I tried to defend you… just give her space.. leave her alone today"
Amanda says Elissa is being so ridiculous they shouldn't even worry about it.
Andy: 'She's a crazy person"
Amanda: 'She's a Crazy person"
Andy brings that people could hear everything she was saying about Howard. All he told her was she needed to be quiet about Howard because GinaMarie and Kaitlin were across the hall. He points out that Jessie heard her so GM/Kait must have to.
Andy: 'What did she say"
Amanda: 'She thinks you were insulting her religion.. I know it's crazy"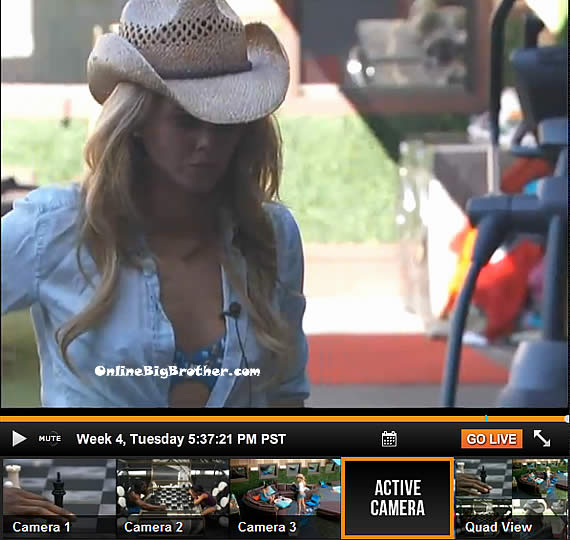 5:36pm Backyard Aaryn and Amanda
Amanda says if Howard and Spencer ever come to her she needs to tell McCrea and her right away.
Amanda asks if Aaryn has heard about the newest fake alliance. Spencer, Howard, Kaitlin, Ginamarie and JUDD.
Aaryn: "Is he making the shit up with me.. JUDD.. if anyone ever says i'm in a fake alliance please tell me"
Amamda :"They're over playing their hands.. that is why they cannot win HOH this week.. That would be really bad"
[polldaddy poll=7268963]