POV Holder:
Elissa
Next POV
July 27th
POV Used
YES
POV Ceremony
July 29
HOH Winner:
JUDD
Next HOH:
July 25
MVP:
AMERICA
Original Nominations:
Aaryn, Kaitlin, ELISSA (MVP – America)
Current Nominations:
Aaryn, Kaitlin, GINAMARIE (MVP – America)
Last Evicted Houseguest
David, Nick, Jeremy
Have Nots
Jessie, Candice, Andy, Spencer
5:56pm Bedroom JUDD and MCCrea
JUDD: "I want him gone and his little sloth b!tch Candice"
MC: 'Ya"
J: "I can't stand her.. I hate to be like that.. I want to think ya it's a game.."
JUDD explains he wants to personally like everybody but it's starting to to not be like that
McCrea agrees that the little things are getting to him.
JUDD says he's getting sick of people talking about all the money they have, "I guess this is what they are use to"
They agree it's not right to talk about how much money you have all the time. JUDD: 'I don't think Helen talks about it but she did mention to spencer because he's in his thirties he should get a 3 carat ring.
JUDD: "I asked how much is that.. she said around 30 thousand"
They laugh.
JUDD: "and Candice is a gold digging sl*t"
MC: 'Yup absolutely"
JUDD: "That is why she likes Howard so much.. something is up with the mother f***** "
JUDD thinks Howard might have the coup d'état they need to "Flush it out"
JUDD: "I'm tired of being nice to him.. so f***** tired of being nice to him.. F*** you f**** you f***** you " (Fingers the camera)
JUDD: "Is Elissa still sleeping in the HOH"
MC: 'Ya"
JUDD: "F**** get up b!t*h.. I'm hateful today"
6:04pm HOH Helen and Elissa
Superfriends Hating on Howard
Helen is convinced Howard is MVP. Elissa doesn't think Howard will get MVP again unless he's related to someone famous or if they only allow a guy to get it.
Helen thinks Howard winning MVP has to do with Race. She says Howard has been the recipient of a lot of racial conflict in the house. "Those racial Slurs and he went to Candice for protection.. maybe America.. the black vote and the minority Vote is really supporting Howard"
Helen: "You know in elections the minority vote is HUGE"
Helen says that people that are minorities like her and are watching the show would support Howard, "I would get really upset and I would vote for him"
H: "you know they probably made him out to be a family man a powerful man"
Elissa: 'It's all an act"
Helen :'Of course.. but who knows what they are showing America.. it's just weird he gets all the Diary room every day for as long as he does.. He's not even on the block he's not even HOH.. He's MVP that is what it is"
Helen: "Howard put you on the block dude.. it had to have been.. then he chickened out so he put GinaMarie up because it was the easy option.. he was hoping that no one would figure him out"
Elissa says putting her up was such a stupid move
Helen: "The fact he tried to make a final five with JUDD, Kaitlin, GM and Spencer to try and switch the house is unbelievable to me"
Elissa thinks Spencer is a joke. Helen scoffs at Howard and Spencer trying to go against her and the superfriends.
Helen says because of that Howard isn't getting to go to Jury she was going to help him but not anymore, "GinaMarie deserves to go to Jury not him .. at least she's entertaining"
Elissa: 'He's like not entertaining at all… I would be so offended if I was his girlfriend with him going around saying I love seeing Jessie in a bathing suite"
6:20pm HOH JUDD, Helen and Elissa
Helen going off about how Jeremy never won the HOH. She brings up that Jeremy told her he gave the HOH win to Aaryn because he wanted to be able to play in the next ont. H: 'I thought that was so rude to say.. even if you think that don't say it "
Elissa says he is the reason Aaryn won that HOH
JUDD: "He did win a veto"
Helen admits it was a hard Veto to win.
Doesn't take long for them to start chatting about Howard having the MVP. Elissa thinks that only guys were eligible to win the MVP this week that's the reason he won it. Elissa mentions that all she did last week was talk about how nice of a guy he was.
JUDD: 'So they thought you liked him alot"
Elissa: "Hmm imm hmum mhum Yeah.. they thought he wouldn't put me on the block for sure"
JUDD tells them to stop talking nice about Howard in the Diary room. Elissa mentions Howard was nice to her when everyone else was mean.
They all start going off at how disgusted they are at Howard's game play..
Howard appears and asks Helen if she wants to finish the chess game. When the door closes JUDD fingers teh door *See the gallery below.
You can re-watch ever second on the feeds using their flashback feature. Just like a DVR It's super easy to use. click this link for a free trial —> Subscribe to the Big Brother Live Feeds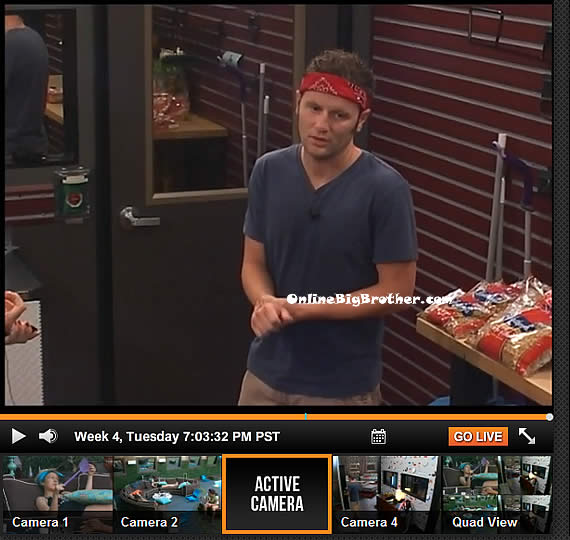 6:39pm Storage room Amanda and JUDD
She asks him what's wrong, "You think things are out of control.. not in our hands"
JUDD: "I dunno"
Amanda: 'I think howard is MVP for one"
JUDD :'MVP don't matter"
JUDD is worried that Howard has a power because he's getting called into the Diary room
Amanda: "This is why I want him gone for weeks"
JUDD says he's low on his medicine "Don't tell people that though"
Amanda: "you're acting weird.. your eyes are really dilated.. go into the Diary room get medicine cause you're acting funny
7:18pm JUDD hunting around for a special power it's Howard's bed
You can hear him mumbling about getting his medicane (I believe he's been taking lorazepam for the past 7 years..)
7:34pm Elissa and Kaitlin Kitchen
Elissa says she better start calling people out because right now Aaryn is going to stay. Elissa says they have to call a house meeting and find out who is lying.
Elissa: "I'm telling you Aaryn is trying to flip the vote"
Elissa: "I'm giving you a heads up.. I want you to stay"
Kaitlin says if the house is flipping the vote to get her out then they must be turning on Elissa to, "Everyone does what you say Elissa.. you have your little minions"
Elissa says she's trying to help Kaitlin she truly wants her to say.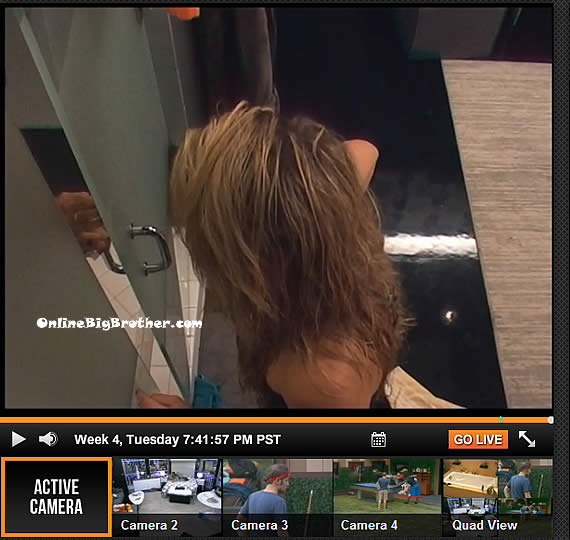 7:37pm HOH McCrea, Amanda and Aaryn Aaryn overheard Elissa telling Kaitlin that she is going home because rumour has it she is in an alliance with Spencer and Howard.
Aaryn is freaking out wondering who told Elissa to tell Kaitlin she is going. Aaryn: "Now she is going to talk her self out of it"
[polldaddy poll=7268963]