POV Holder:
Elissa
Next POV
July 20th
POV Used
YES
POV Ceremony
July 22
HOH Winner:
JUDD
Next HOH:
July 25
MVP:
AMERICA
Original Nominations:
Aaryn, Kaitlin, ELISSA (MVP – America)
Current Nominations:
Aaryn, Kaitlin, GINAMARIE (MVP – America)
Last Evicted Houseguest
David, Nick, Jeremy
Have Nots
Jessie, Candice, Andy, Spencer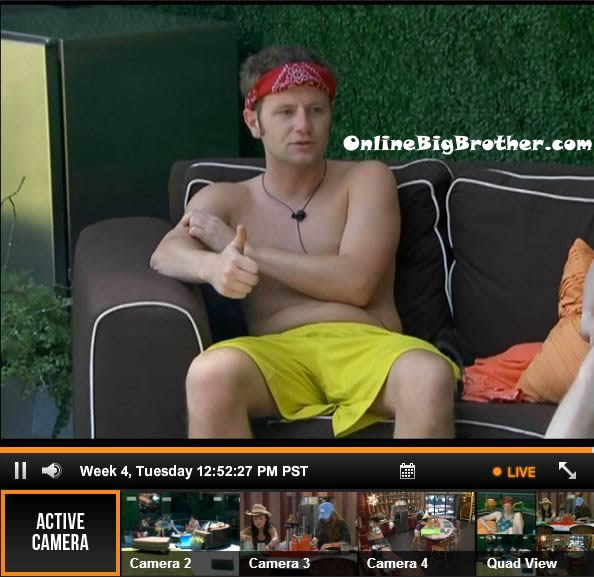 12:40pm Out in the backyard – Judd, Andy, Helen and Amanda are talking. Judd fills Amanda in on his conversation with Ginamarie and the plan to get Howard and Spencer to vote out Kaitlin. Judd tells Amanda we might need to make a fake alliance with Gina just to keep her loyal to us. Amanda tells Them that they can't give Howard and Spencer any indication that we are voting out Kaitlin because Candice will go bat sh*t crazy and Howard and Spencer will go scrambling to get the house to vote out Aaryn. We have to wait until the day of so that they don't have time to do anything. Amanda says if I win HOH I am putting up Howard/Spencer and if one of them wins Veto I will put up Candice. Judd says she is a money hungry wh*re and I am sick of her. Amanda brings up how Howard has lied on the bible so many times. Judd says don't make him do it any more we already know he lies. Amanda says that she will out them like no other. Andy says I want to win HOH because I will make that nomination ceremony as dramatic as hell. Amanda says Howard uses his religion, his race and swears on the bible. Judd says that now Spencer is using the bible too, it makes me sick! Judd says I am not swearing on the bible in here, I won't do it. Amanda says how funny would it be at the nomination ceremony if we asks for everyone to raise their hand if they have a secret alliance with Howard and Spencer and then all of us raise our hands. They talk about the possibility of a double eviction. Judd says he thinks he will go home on a double eviction. Kaitlin joins them. Kaitlin complains about how she thinks someone threw out her water bottle. Kaitlin says that's fu*ked up America! Andy jokes and says he saw Helen throwing out a water bottle and laughing. Judd asks Amanda which one she likes better (Aaryn or Kaitlin). Amanda says Aaryn, I trust her more. Howard comes out and gets on the elliptical to work out.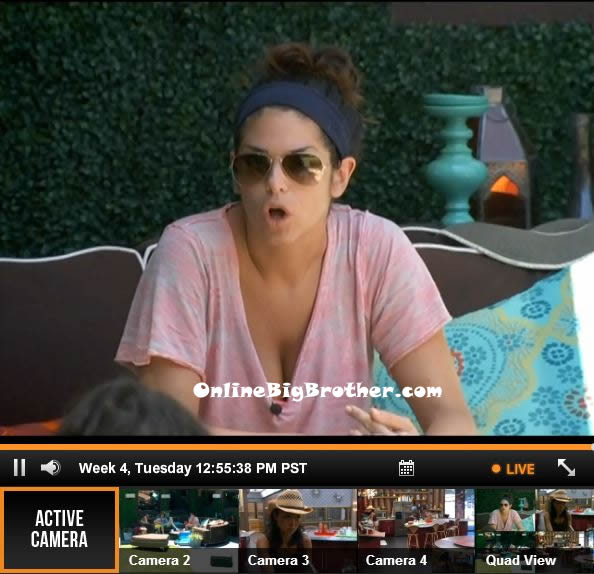 Everyone heads inside but Howard and McCrae. McCrae talks to Howard. Howard says that he's good just there are a few things that are bothering him. He says he has been truthful lately. Howard says he is hearing he is the target. McCrae says he hasn't heard that, he's heard Amanda which scares him. Howard says you can't hustle a hustler, you can't con a conman. I know where it came from too so if I hear it again I will know where it came from. The toughest thing isn't the game I got that, its the bullsh*t. If you've got a good heart it shows. Good always overcomes evil. Howard says this is a big HOH coming up. I am prepared for the war but if it comes to it and there is an easy way or a hard way I will take the easy way every time. Don't get me wrong though I am ready to go to war. It's getting to the point though were I can't look some people in the eyes, it was like that this morning. Amanda comes out and she and McCrae head over to the pool.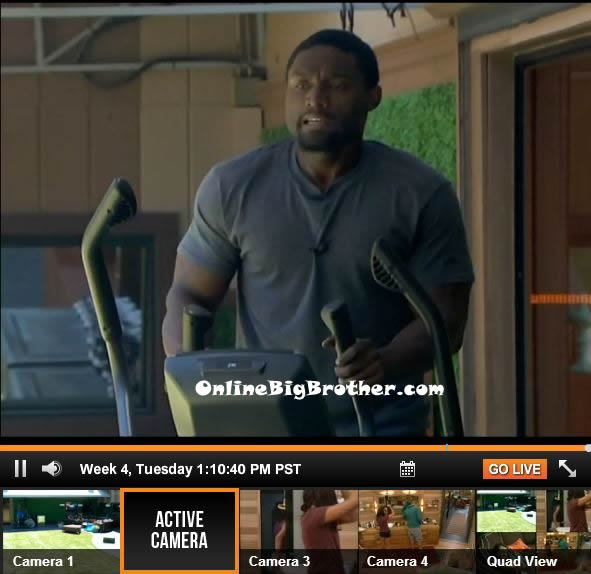 1:20pm – 1:30pm In the bathroom – Andy tells Kaitlin to stop acting so excited for the upcoming compeititions. He says it makes you seem like a threat. Kaitlin tells Andy that from talking with people he's been told that she needs to campaign because Gina is definitely safe. Kaitlin is talking to Andy about how she was told there could be a couple votes against her. Andy asks who?! I haven't heard that, I definitely would have told you if I heard that. Kaitlin says I am going to get HOH this week but I feel like I am going to have target on my back over it. Kaitlin says she's heard that Howard has formed alliances with everyone. Andy says that Howard hasn't formed an alliance with him. Andy says this is an easy week getting out Aaryn. Kaitlin says that Helen and Elissa said Candice is voting against me. Andy says I will keep my eyes and ears open and let you know if I hear anything. Kaitlin says yeah let me know if I need to campaign. Elissa joins them. Elissa talks about all the gross comments Spencer says about Jessie and wonders what his girlfriend thinks about it.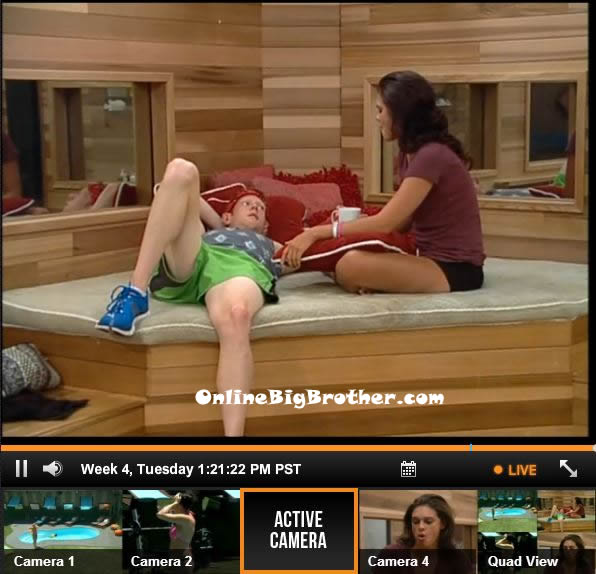 1:45pm Amanda, McCrae, Candice and Andy are out by the pool talking about musicals and movies. Amanda asks how Candice can wear the onesie when it's so hot. Candice says that she is trying to warm up because the havenot room is so cold. Amanda looks at her boobs and asks why is this one sagging why more than the other one?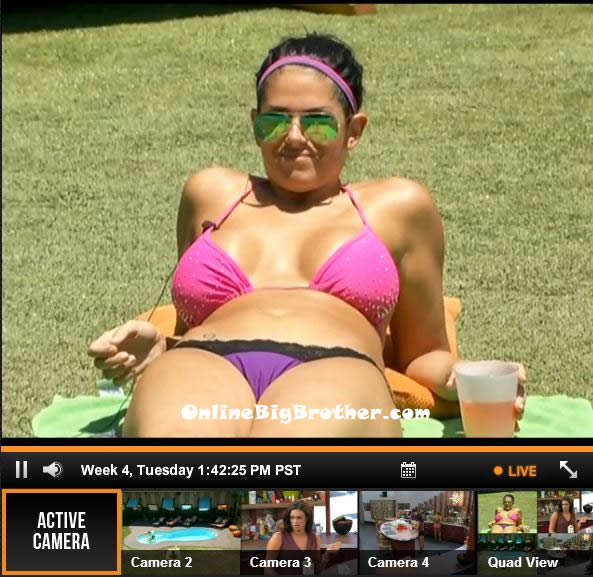 2pm – 2:20pm Helen is in the kitchen making sloppy balls while she talks to Elissa and Aaryn about travelling and losing their passports. The talk about how if they were on Survivor they would have been finished already. They comment that Big Brother is the longest reality tv show. Helen and Elissa talk about how they would want to be on The Amazing Race. Aaryn is surprised that the grand prize is 1 million. Meanwhile in the backyard – Amanda and Howard talk about past acting they've done.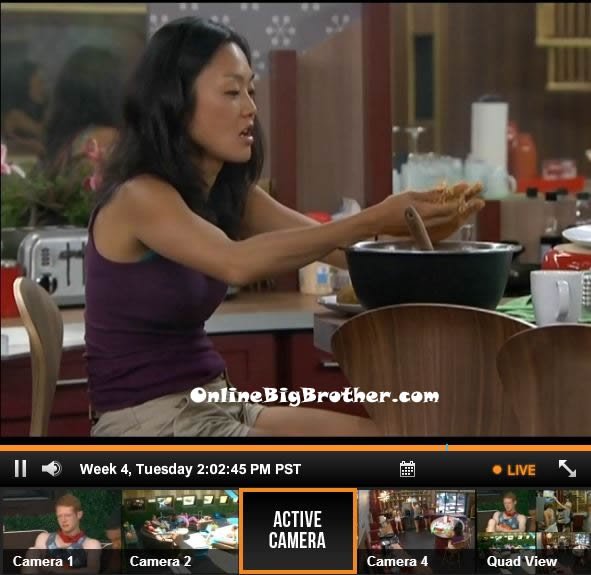 2:25pm In the back bedroom – Gina wakes up. Aaryn and Kaitlin are there putting away their laundry and talking. Kaitlin asks how is that Amanda was out in the backyard saying all racist comments and no one says anything about it. Kaitlin says about how all of her boyfriends start dating other races after dating her. Aaryn says I never even said anything racist. Kaitlin says yeah I know, I know. Howard gets called to the diary room. Kaitlin, Aaryn and Gina talk about how Howard has to be MVP because of how many times he's called to the diary room.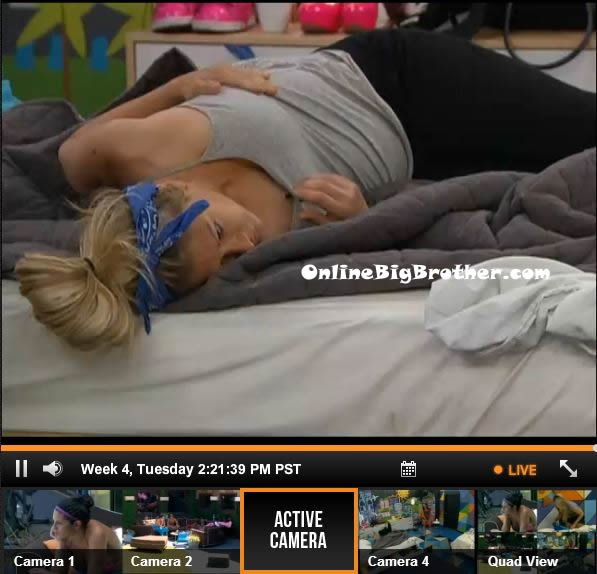 2:30pm – 2:50pm Judd comes out with the HOH camera and they start talking HOH photos.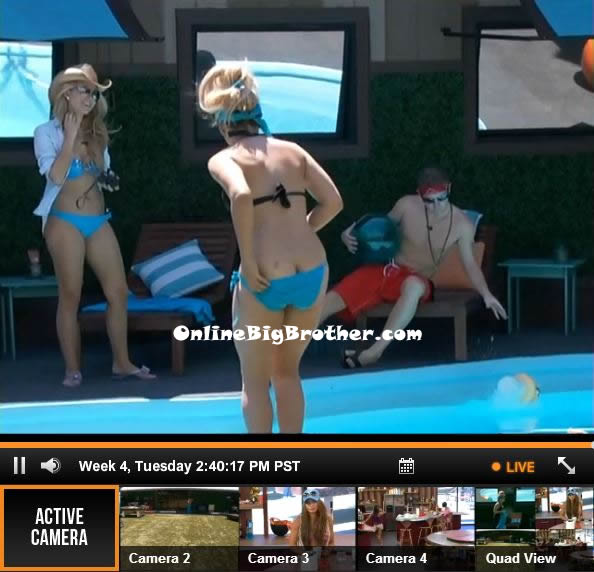 3pm In the havenot room – Howard is talking to Candice. Candice complaining about how hungry and tired she is and can't eat any more slop. Howard is trying to get her to eat. Howard tells Candice that Kaitlin has a greater probabitlty of winning HOH than Aaryn does. He says that he is done worrying about it and will let him (Judd) decide who he wants to keep. Candice says if I win HOH I am putting Amanda and McCrae up because they would put you up. Howard says that he might do the same but says that he doesn't know who the MVP would be. Candice says that she thinks Howard will be put up next week. Candice says that Amanda is on a mission. She says it doesn't matter because of they have the votes.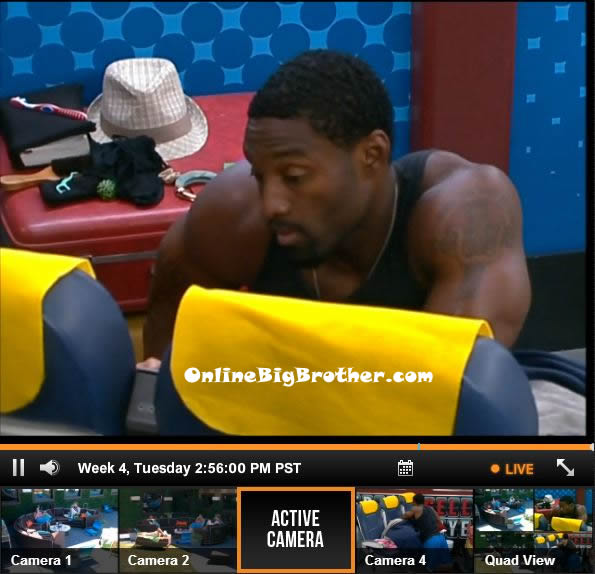 3:10pm – 3:50pm Up outside the HOH room at the chess board – Spencer and Hoard are talking.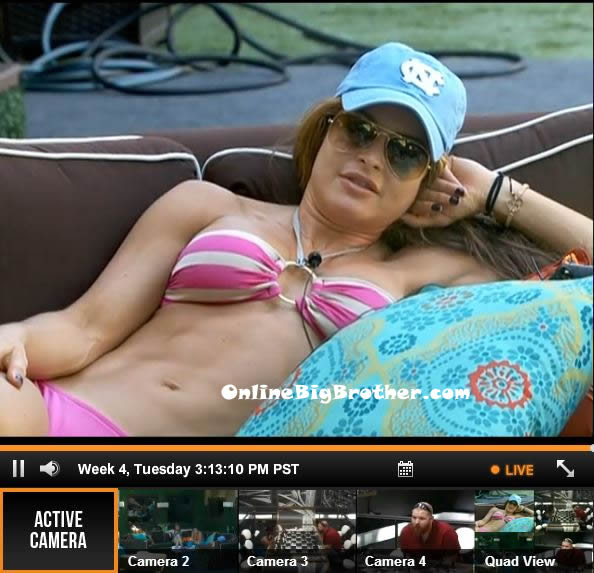 Meanwhile out in the backyard – Amanada, McCrae, Elissa and Andy are talking. Amanda says that the proof is in the pudding. I have been loyal to the same people since the beginning. Andy says that he has too. Amanada says did you know that Howard has two girls at home and he is just using Candice. Elissa says that she is tired of him using the bible and religion. Elissa starts going off on Andy and McCrae because she thought they were laughing at her. Andy and McCrae both say they weren't laughing at her. Andy says he was just trying to keep her quiet. Elissa says I just want you to know that I don't appreciate you laughing at my religion. Andy and McCrae both say they were but Elissa doesn't really believe them and leaves. (Andy and McCrae were NOT laughing at her. Elissa totally blew this way out of proportion and took it the wrong way. She is having another crazy episode like the one she had with Judd the other day.) Andy says oh my god I don't know what just happened. Amanda tells them to go apologize to her even though you didn't do anything wrong. Andy and McCrae go into the bathroom and try to talk to Elissa. She tells them that she doesn't want to talk to them or have anything to do with them. McCrae and Andy try to explain they weren't laughing at her but Elissa isn't listening to them and keeps thinking they were making fun of her religion. Andy explains that Gina was right there and he was trying to quiet her down because Gina is in a secret alliance with Howard. Jessie comes in and says that she doesn't know what they are talking about but Howard and Spencer are outside the HOH room and can probably hear them. Elissa leaves. Andy and McCrae comment on how BIZARRE Elissa is acting. They head into the bedroom and try to explain it to Elissa again. Elissa says that she is appalled and disgusted with Howard and the way he uses religion. Elissa keeps saying that she takes religion very seriously. McCrae and Andy both tell Elissa that they would never laugh at her and especially not about something as important as religion.

3:50pm The LIVE FEEDS SWITCH TO TRIVIA… ?????
3:51pm – 4:05pm The live feeds return and all the house guests are on an HOH lock down. They are all talking about other reality TV shows and other random things. The conversation turns to talking about past seasons of Big Brother.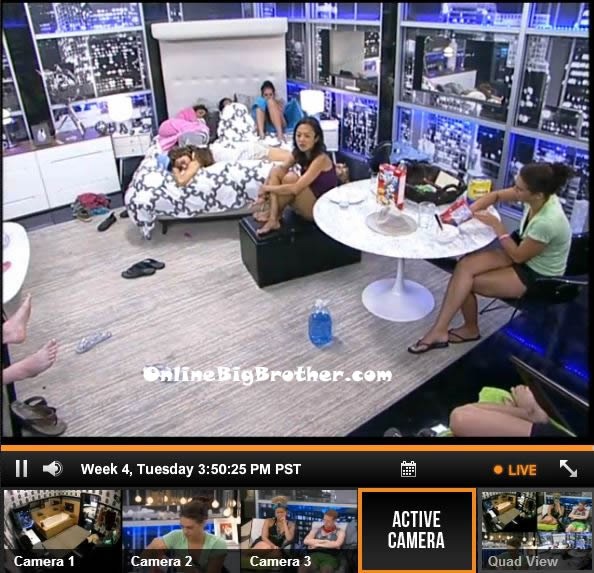 [polldaddy poll=7268963]