POV Holder:
Elissa
Next POV
July 20th
POV Used
?
POV Ceremony
July 22
HOH Winner:
JUDD
Next HOH:
July 25
MVP:
?
Original Nominations:
Aaryn, Kaitlin, ELISSA (MVP – America)
Current Nominations:
Last Evicted Houseguest
David, Nick, Jeremy
Have Nots
Jessie, Candice, Andy, Spencer
5:16pm Candace and Elissa
Candace brings up that everyone told her McCrae had last weeks MVP but she knew it was Elissa. That made her feel like y'all were lying to her.
Candace mentions how she felt dismissed from the HOH the night she was trying to keep her and Howard off the block. She feels that she's loyal to them but the things they've done have bothered her. She want's Elissa to know that the support she gave her during the Veto was genuine support she likes Elissa as a person.
Candace saying that she doesn't know who MVP is but if it is Elissa she wants Elissa to keep her and Howie safe.
Candace: "I care for him I can tame him"
Candace wants to make a deal with Elissa where they don't mess with each other so they can make it to jury, "After Jury Game on".
Candace says her to think of Brendon and Rachel in the house they would have wanted to spend more time in the house just like her and Howie want to. She says she can control Howie, She wants more time with him.
Guess who walks in… ANDY ..chit chat and leaves.
Elissa says the MVP went to the biggest villain in the season she thinks Amanda has it. Cadnace tells her that everyone is saying that Elissa put her self up.. Feeds cut
5:29 Howie and Candace
She's going over her conversation with Elissa. Candace: "I told her that we will leave her alone.. I think if she's MVP then she won't put you up"
c: 'But if it's Amanda I don't know"
Howard doesn't think the twist has been given out yet. Candace wonders if maybe the power went to the biggest villain of the season.
Candace tells him he's HUGE and BLACK and when he talks to girls he's intimidating. She reminds him the only reason he's not on the block last week was because of her. She explains that she needs to talk to the girls for him.
Howard says if the opportunity comes he's going to vote out Elissa to free up the MVP. Adds that the MVP is useless unless you have numbers. Candace mentions she told Elissa they wouldn't put her up.
5:34pm Helen and Elissa Bedroom
Helen instructs her to not say anything to Amanda. Helen says Amanda told her not to use the Veto on Elissa. Amanda was worried that Andy or McCrae would go up. Helen wonders why Amanda was so worried: "Who cares if we go up this week"
Helen asks Elissa to please not tell Amanda Helen said this otherwise Amanda is going to come after her. Helen and Elissa both are super worried about Amanda. Helen goes on about how Big of a liar Amanda is, Helen thinks that the house is turning on Amanda. Says they need to get Jessie in their final 6 and get rid of Amanda. Elissa says that McCrea will never be on board with that.
Helen says that JUDD wants to get Aaryn out but Amanda has been pushing so hard to get Howard. Helen has told JUDD that this is his HOH he can do whatever he wants.
Elissa: 'Amanda is running this game"
Helen: "YES.." Helen adds that they have to make sure McCrae and Amanda don't know they are on to them. They have to Backdoor Amanda next week.
Helen: "We have to make McCrae think that we have the votes to take out a Aaryn or Kaitlin but really we will take out Amanda"
Elissa claims that she already knew something was up with Amanda.
Elissa: 'Do you know for sure she would put me up"
Helen: 'I don't know.. " Helen brings up a conversation she had with Aaryn where aaryn told her she would never have put Elissa up. Aaryn would put someone up that had a chance to go home like Howard.
Helen and Elissa believe Aaryn did not get the MVP they think it was Amanda. Helen says she will be the replacement nominee this week.
Elissa doesn't care for Amanda. They both agree McCrae was stupid for taking the 5 grand when everyone else on their team took a punishment.
Helen says they have the votes to take Amanda out she counts her superfriends, Elissa, Helen, Jessie, JUDD, and Andy.
You can re-watch ever second on the feeds using their flashback feature.. It's super easy to use click this link for a free trial —> Subscribe to the Big Brother Live Feeds
The CBS feeds are a HUGE improvement over the super pass feeds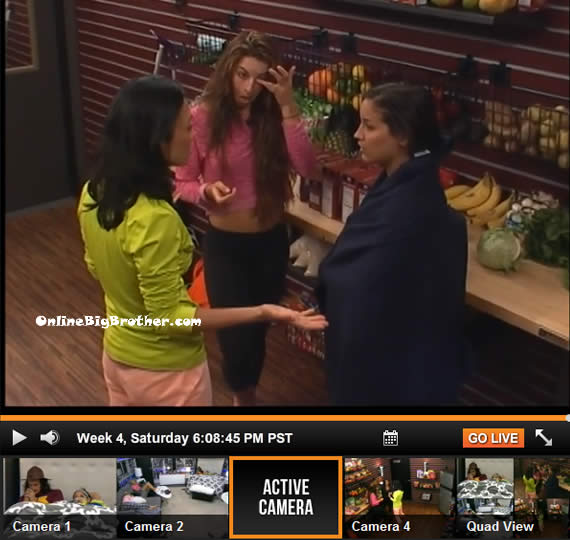 5:47pm storage room Jessie, Helen and Elissa
Helen says she is just telling the four girls this information (Jessie, Helen Elissa + candace) nobody else can know. Amanda came to her and told her to not use the POV on Elissa. "Don't let anybody know because Amanda will come after me" When Amanda told Helen this it got her worried.
Helen explains that Amanda was scared if the POV saved Ellissa than either Andy, McCrae, Helen or herself would go up. Helen has a problem with that because she thought they were all targeting Aaryn why should Amanda care who is nominated they have the votes to evict whoever they want.
Helen: "makes me wonder if she is working with them to"
Elissa: "did she tell you that I nominated myself"
Jessie says yes Amanda has been telling everyone that.
Elissa: "Oh my god she's nuts she's probably the most Villainous player.. She's related to Eval D!ck"
Elissa thinks that Amanda is in the house as the villain and she is in the house to be the opposite to that the hero I guess.
Jessie: "The girl next door"
Helen tells them they cannot let Amanda know they are on to her she needs to be backdoored as soon as one of them gets the MVP. Helen complains that Amanda was trying to force her to not use the POV she doesn't like being told what to do. Helen tells them it's not fair she can't do what she wants to with the competitions she wins.
Helen warns them to keep Andy in the dark 'Andy is brainwashed by them .. I would think Howard and Spencer would be on our side"
Helen: "She wants Howard out but I don't"
Elissa asks Jessie if she likes Amanda. Jessie didn't like how Amanda was a bully and tried to make everyone's HOH her HOH.
Elissa: "I should have put Amanda up last week"

5:50pm Storage room Helen and Andy
Andy: 'Whats going on"
Helen: 'I'm going to give you some advice .. be really careful and do not pass this on.. I swear to god Andy if you pass this on I'm going to kill you.. You have to be careful of Amanda and McCrae"
Andy: 'OK"'
Helen: "I know they are part of our alliance but I am worried.. the house wants them out"
Andy: 'Who want them out
Helen: "Everyone"
Andy: "Really"
Helen: "Everyone has caught them in their lies"
JUDD in solitary all he has is Bread, Water and Slop. There is a small toilet with a curtain around it. JUDD "How the hell do I flush the toilet?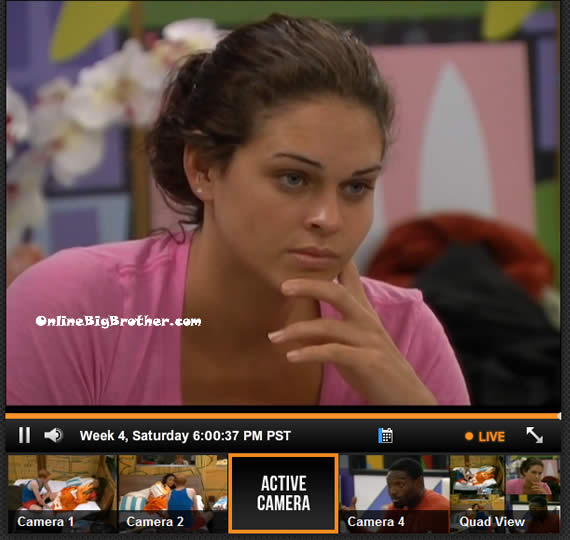 5:56pm Howard and Kaitlin
They are agreeing that the Power of Veto Competition was set up for Elissa to win, "She had all the high numbers in her path"
Kaitlin says that her major worry is Helen is going to try and set up that she goes home instead of Aaryn.
Howard disagrees. Howard is assuming that Amanda has the MVP and she likes Kaitlin he thinks she'll put up a "Dude"
Kaitlin mentions that Amanda tells Aaryn valid information there must be trust there. Howard: "She tells you what you need to hear and she tells it to who she needs to tell it to"
Howard: 'Amanda never talked game"
Kaitlin: 'Unless McCrae is around"
Howard: "With me … with me and Candace until Elissa came in and claimed she wasn't the MVP"
Howard wishes Amanda would stop trying to use people and just play the game more straight up, "You're making people look like fools on TV"
Howard says that Helen is a good hearted person but she messes up on she always wants safety and power, "When she gets power she started flexing"
Kaitlin asks if Elissa is the MVP why did she nominate herself. howard explains that Elissa doesn't want anymore blood on her hands because she'll lose votes. Howard thinks they are trying to pin the MVP on him or Amanda.
Kaitlin asks why would she take the chance of not playing in the veto next week unless she got a power.
Howard says she's safe as long as she has good hearted people to do her dirty work.. Like Helen.
Kaitlin: "Andy"
H: "NOT Andy.. McCrae.. you need cutthroat people to manipulate that is where Amanda comes in she's CUT THROAT"
K: "She's very blunt and conniving"
Howard tells her they have a final 4 pack and they are interchanging who they want to leave. (Amanda, Helen, McCrae and Elissa)
Howard says all they need to do is get rid of the strong person out of that group and the weaker ones are powerless.
Howard thinks Aaryn is going home. He points out that McCrae isn't trying to win he picked up the $5000 dollar prize during the VETO competition when he had zero points, "He doesn't want any blood on his hands.. there whole plan was to frame me"
Kaitlin: "For sure"
Kailtin tells him that Amanda is going around telling people that Howard is a professional athelete and he has a HUGE fanbase