POV Holder:
Elissa
Next POV
July 20th
POV Used
?
POV Ceremony
July 22
HOH Winner:
JUDD
Next HOH:
July 25
MVP:
?
Original Nominations:
Aaryn, Kaitlin, ELISSA (MVP – America)
Current Nominations:
Last Evicted Houseguest
David, Nick, Jeremy
Have Nots
Jessie, Candice, Andy, Spencer
6:48pm Chess board Aaryn and Helen
Helen just taught Aaryn how to play chess. Aaryn tells her that "They" are trying to frame her by saying she's the MVP. Aaryn: "Why.. I know they want me out but why.. the only person that wants me out is Elissa the other people realize I'm not a threat"
Aaryn thinks the only two people in the house that would feel threatened by her are Spencer and JUDD with however JUDD is working with.
Aaryn: "JUDD is working with Spencer and I think Howard.. don't tell anybody"
A: "JUDD wants a girl to go home this week he told me that"
She brings up when she asked JUDD if he is working with Spencer and Howard and JUDD look at the floor and nodded. Aaryn brings up how JUDD is saying that she twists his words.
Aaryn proposes if Helen helps keep her safe this week she can give Helen information because there are people in the house that tell her shit because they think she is going home.
Aaryn: "They don't think I have anyone in the house that talks to me or cares about me .. they just shoot the shit with me and a lot comes out of their mouths and they don't even realize it"
Helen: 'I love JUDD"
Aaryn: 'I do to but he's dangerous" Aaryn points out that JUDD has told her one thing and done another twice now.
Aaryn says if Elissa would just stop resisting the fact that she doesn't want her out and stop resisting her personally they would be "So Set". Aaryn: "We don't have to be friends.."
Aaryn adds that Elissa doesn't like her for personal reason but this is a game.
Aaryn says she will never go after the people in this house that she thinks will keep her safe. Aaryn doesn't think Elissa will but she knows that HElen will fight to help her. Aaryn mentiosn that people in the house are getting upset that Helen, Elissa, Andy and KAiltin have a final 4. Helen says they do not have a final 4.
Aaryn says the only person she's heard wanting to put up Helen is Spencer. Aaryn is surprised that everyone forgets all of Spencer lies the first couple weeks, "He's sailing though".
Helen says that Spencer is not sailing through he's lied to too many people in the house, "He could go up this week.. and I hope he does"
Aaryn wants to put these problems aside with Elissa so that the three of them can steam roll through the game. Helen isn't sure Elissa will accept that but what Helen can tell her is that Aaryn is no more Elissa's target the target are McCrae and Amanda.
Aaryn says she is not going after Elissa but if Elissa continues to say she's targeting Aaryn and she nominates Aaryn with the MVP Aaryn will have to take action. Helen understands and will talk to Elissa.
6:45pm OH McCrae, Amanda, Elissa, Candace
C: "I heard you told Aaryn that she's not going home"
A: "I didn't say that how did I know that.. I'm not going to say to her face ya you're going home.. I don't even know who the replacement nominee is going to be"
A: "I'm just one vote.. I'm not everybody in the house.. that was a pretty abrasive confrontation"
E: "We just wanted to ask you because Aaryn is telling everyone she's not going home"
MC: 'Aaryn is going home 100 f**** percent"
A: "She's sitting here in a room full of people so for some reason if she doesn't go home I don't want her coming for me.. My words verbatim McCrae was here It depends on who the third nominee is"
MC: "Ya"
E: 'Who is the 3rd nominee"
A: "I don't know.. I'm sitting here shaking.. "
Candace says this should be a really easy week Aaryn offended her and Howie badly.
C: 'If I or Howie went on the block the week that a person said racially derogatory remarks to us and one of us went home it would be really Shady"
C: "My feelings would be really hurt.. I haven't done anything.. Howie hasn't done anything"
Candace explains to them that this is Big Brother and sometimes you have to tell Fibs. They cannot hold that over Howies head she says they have all lied.
MC wants Aaryn gone he tells them he's just as afraid as everyone else right now. Adds that Aaryn walks around the house telling lies and twisting words.
You can re-watch ever second on the feeds using their flashback feature.. It's super easy to use click this link for a free trial —> Subscribe to the Big Brother Live Feeds
7:10pm HOH McCrae, Candace, Amanda, Elissa
Trying to figure out what happened with the MVP twist. Elissa proposes that the producers got to vote. Amanda doubts that would be too much tampering with the game.
Elissa: "they were really mad this morning at me"
Candace: "Maybe last years winner got to vote.. maybe Rachel got to vote" (See image above to Elissa's reaction)
Amanda laughs says there is no way she would have voted her sister up .
7:27 Helen and Elisa
Elissa saying she's been talking to Amanda and McCrae in the HOH and she doesn't think Amanda has the MVP.
Elissa says she knows that Amanda is a actress but she really thinks Amanda Is scared right now. Elissa thinks that someone out of the house got the MVP she doesn't think it's a player in the game right now.
Elissa thinks it could be either David, Nick or Jeremy that were given the MVP.
Elissa says that all the people evicted were not valuable in the game that is why they were evicted.
7:24pm Candace, MC, Amanda, Aayrn
Am: "Oh hello Aaryn good timing.. Candace heard that I told you you weren't going home.. but I said it depends on who the third nominee is am I correct"
Aaryn looks at Candace: "ya.. didn't I tell you that"
They clear up what is being said.. Aaryn says to them she hasn't been talking game at all especially after what JUDD said about her (Twisting words) Aaryn says she thinks that with Elissa going up that someone is framing her.
Candace doesn't think someone is framing Aaryn because to her she wouldn't think it would help Aaryn's game to put Elissa up if she is on the block.
Candace tells them that she's a protective MOMMA bear and trying to find out if someone was targeting her person. Candace then says that her person is Elissa and she was wanting to know who put her up. (I thought her person was Howie)
7:30pm Bathroom GM, Spencer and Howard
Howard says that AManda has got Kaitlin under her spell. He mentions that Kaitlin was sticking up for Amanda earlier in the day.
Howard tells GM that last week they wanted to put him up but Elissa didn't want to because she was worried it would pi$$ Candace off. Howard: "That is why they got McCrae to lie and say he had MVP"
Howard says he's been talking to Kailtin trying to get her to see what Amanda is doing.
Howard says that Elissa swears that she's not the MVP but when the replacement nominee comes out they will know.
Howard says that Amanda/Elissa know they have Kaitlin and they know they have Helen.
Howard: "Helen will do whatever Elissa tells her to do"
Spencer asks GM to talk to Kailtin more.
GM: "She talks but I don't know what she says when I'm not around.. thats the thing she thinks she's going to make it to top 4"
Howard: "Helen can't control the whole house"
spencer says that Andy has been left out of the loop he trust him. Howard says he trusts GM more than Kailtin.
8:00pm Helen goes to bed Punishment from the Power of Veto Competition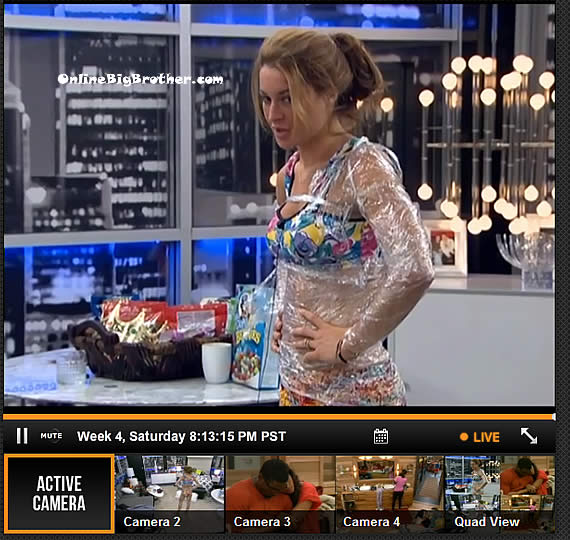 Amanda rolls Elissa in saran wrap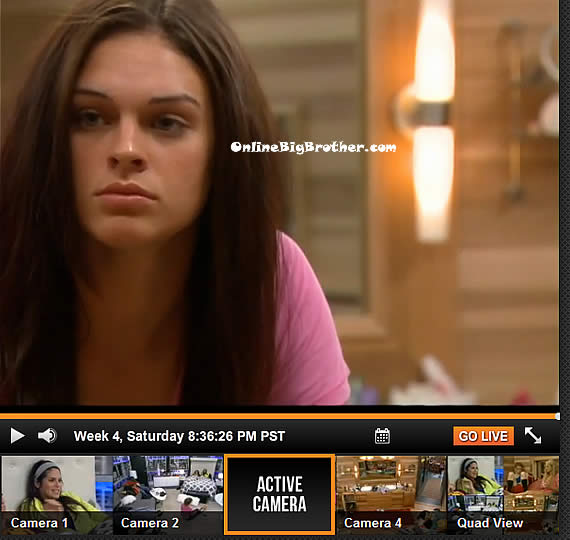 8:27pm bathroom Andy, Aaryn and Kaitlin
Aaryn tells them to watch what they say to Candace because she was just up in the HOH grilling Amanda. Aaryn wants to know who has been talking to her.
GM: "I never talk to Candace.. like never"
Andy: "YA"
Kaitlin joins them Aaryn asks her if she's talked to Candace about the conversation they had upstair with Amanda.
Kaitlin: "I don't talk to Candace she's a zombie"
Andy wants to know what the conversation was about.
Kaitlin: "All we did was go over scenarios"
Kaitlin tells them she was in the kitchen and got 21 questions from Elissa about the twist. She says that Elissa is freaking out thinking that one of the three evicted house guests got the MVP.
Kailtin: "Literally it was back to back to back questions"
"This is a great way to sweat" -Elissa #BB15 pic.twitter.com/yVLNtgVfXg

— OnlineBigBrother.com (@bigbspoilers) July 21, 2013
8:13pm Howard and Candace cuddling in the bathroom before they head to teh HOH to chit chat with Amanda, McCrae and Elissa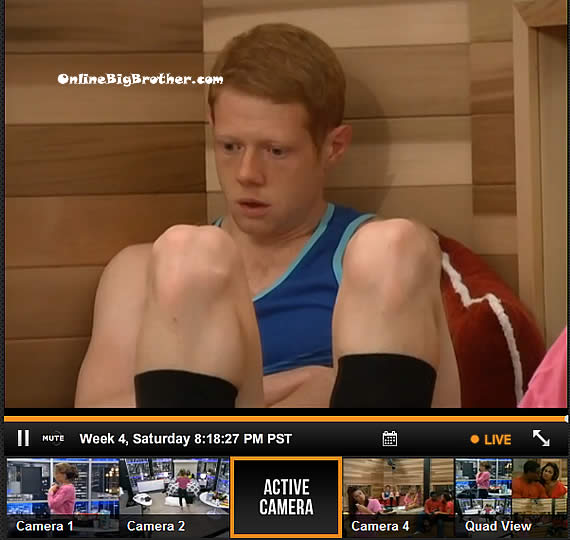 And my fav screen capture Andy siting in the Bathroom worried as the superfriends alliance crumbles.
8:58pm JUDD in the cockpit every 9 minutes an alarm goes off..