| | | | |
| --- | --- | --- | --- |
| POV: | Tyler | Next POV: | July 14th |
| POV Used | yes | POV Ceremony | July 16th |
| HOH: | Kaitlyn | Next HOH: | July 12th |
| Noms: | Winston, Scottie Swagz | Have Nots | JC, Fessy, Haleigh, Rockstar |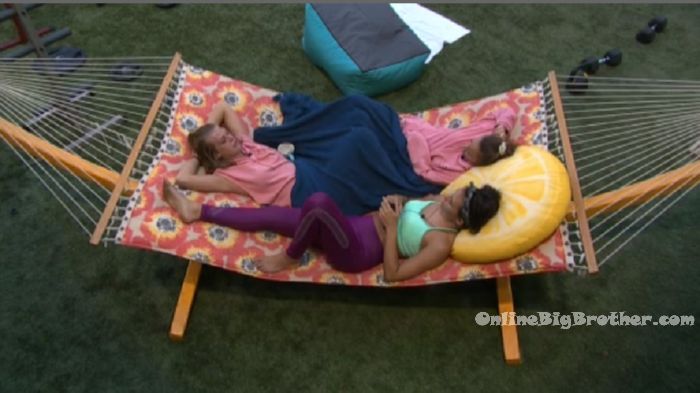 7:55pm Hammock. Haleigh, Kaitlyn and Angela. Haleigh – isn't that crazy .. first two boys. Angela – lets keep the girl train going. Haleigh – what if we evicted all the guys. Angela – I feel like that's never been a thing in BB history. Kaitlyn – I wonder if our ratings are good. Angela – I feel like they have to be. Kaitlyn – this is a f**king frat house. Haleigh – it is for sure good. Haleigh – also this cast is a lot younger than a lot of them.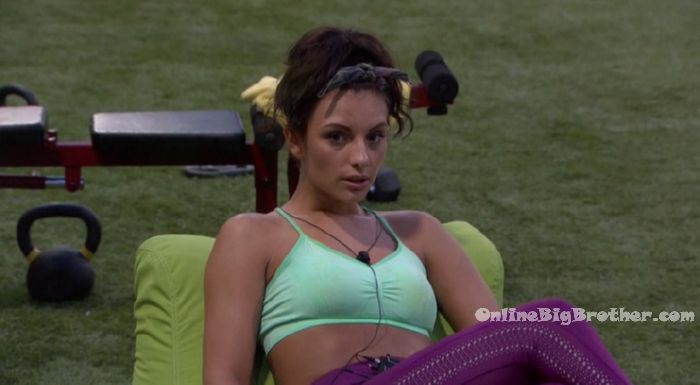 8:10pm Hammock. Rachel, Brett and Winston. Rachel – Tyler said something to me. He said he was concerned about Kaitlyn's attachment to him. We asked in a game way or in a non-game way? And he said in a non-game way. Brett – I've had moments. Winston – no, no, no but listen something is going on. Rachel – yeah. Winston – I hate to be the guy to say it but I am glad you opened the flood gates. Brett – she's been acting weird today too. Rachel – no but I will tell you she wanted to play beer pong. Winston – she is kind of being a b***h today. Rachel – yeah. Very entitled. Brett – I literally went to the bathroom and she got mad at me for going to the bathroom. And no one was in there. Winston – guys guess what, this is a little science experiment .. she's getting a little power and its going to her head. Brett – she has no more power, its done. Rachel – the thing with this backdoor she was saying I'm going down in big brother history. Winston – we fed her all those lines. I honestly didn't think she had the guys to do it. I said this will cement you into big brother history. Brett – and she realizes she just put a fat target on the back of her head. Rachel heads inside.
FLASHBACK and watch everything you missed: Live Feed 7 day FREE Trial!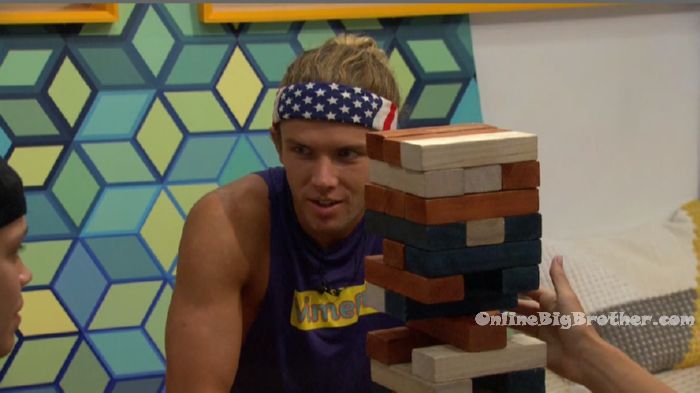 8:40pm Lounge room. Kaycee – do you think this is affecting your game? Tyler – that's what I'm worried about. America sees this sh*t. Kaycee – maybe you need to be more stern with her. Tyler – I tried that today with the Sawggy vote thing. She believes that Swaggy wouldn't come after her or I. I told her that I have to vote for Swaggy to leave. But I need Swaggy to keep thinking I'm up in the air. AAngela we have the votes for him to go. He has to be out, I don't want Fes to get HOH and come after you because of Kaitlyn. It would have to be the next one. Tyler – I would like to be hanging out with you guys more. You know you're protected and if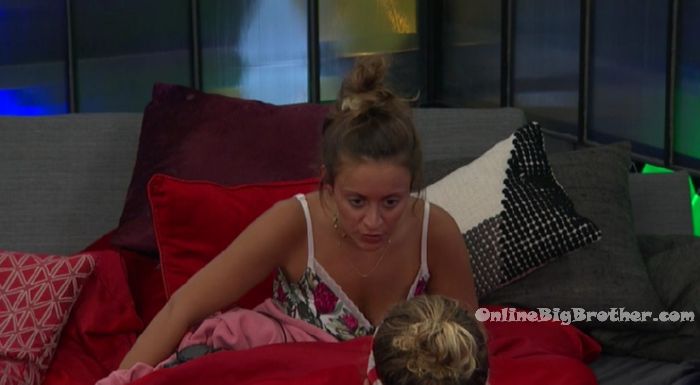 9:05pm HOH room. Tyler and Kaitlyn. Kaitlyn – its not that big of a deal. Wait, why are you freaking out? Tyler – I'm not freaking out. Kaitlyn – she was so excited. I told her everything. I told her that I flipped the vote because I didn't want that thing to be used. And that would mean that possibly she could have gone home. Tyler – did you tell her you knew who had the power? Kaitlyn – no, I told her I prevented a power from being used. Tyler – did she ask you who had it? Kaitlyn – no. Why are you freaking out? Tyler – if she asks are you going to tell her? Kaitlyn – I don't know, probably not. Tyler – don't. Kaitlyn – why, you don't trust her. Tyler – you made a promise to Sam that you weren't going to tell. Kaitlyn – first of all everyone already knows. Kaitlyn – I don't want to be HOH anymore. Are you scared that I'm going to ruin it for you? Tyler – why? Kaitlyn – by being so emotional. Tyler – no. Kaitlyn – you aren't? Tyler – no.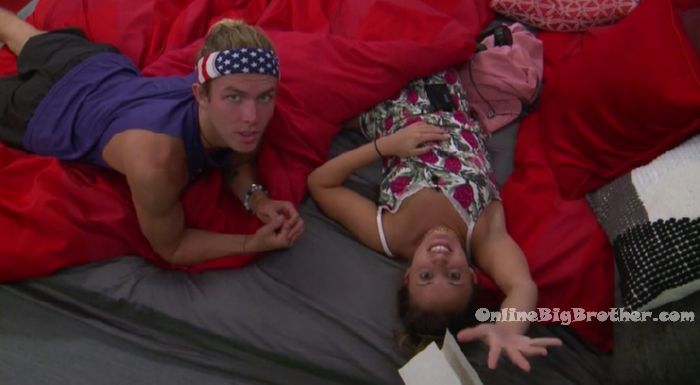 10:10pm Bathroom. JC tells Angela and Rachel that apparently Kaitlyn told Swaggy if its a tie vote she would vote to keep him. Angela – I don't believe it. He needs to go home. I am done with him.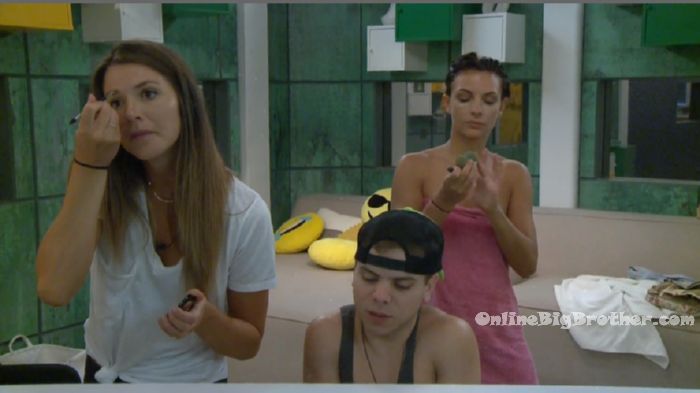 10:15pm – 10:30pm Havenot room. Tyler and Swaggy. Tyler – if they're dead set on Winston.. Swaggy – to keep him? That's their boy. That's why I am not trying to pursuade Angela or Rachel or Brett or Kaycee. Like he has those 4 locked up. I feel like I have my 5 locked up. Swaggy – I'm trying to talk to Sam and JC. Tyler – I've been trying to talk with Sam too. She said she had a really good conversation with you. Swaggy – I am trying to get her vote but in the middle of the conversation I really enjoyed talking with her. I am trying to show people that I am a good person and I want to be here. Winston doesn't really care to be here. He is set up at home being a doctor or in pharmaceutical sales. I know you and Kaitlyn want to feel safe. I swear on my dad that I will not come after you. Tyler – its not you that I don't feel safe with. Its people like Rockstar. Swaggy – If I leave you and Fes will be the only physical threats. They'll come after you. If I'm still here they'll come after me before you. If I stay and make it to jury I would be happy. If I stay I am going after Brett, Angela and Kaycee. In my eviction speech I am going to call Brett, Angela and Kaycee out so that if I stay they will come after me. I like that pressure. Tyler – everything you've said, I believe you.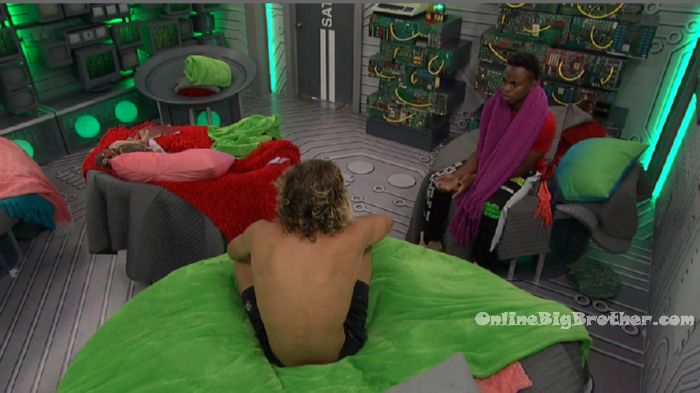 10:35pm Bedroom. Rockstar, Bayleigh and Swaggy. Rockstar and Bayleigh tell Swaggy he needs to talk to Kaycee. Bayleigh – tell her that you know its a long shot but that you really want to be here. Rockstar – tell her why you want to be here and why its good for her to keep you. Bayleigh – tell her that if I stay here you will raise hell and create the biggest distraction.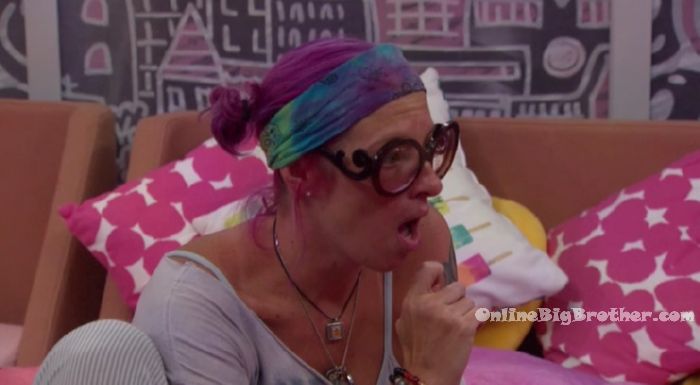 11:25pm Tyler, Kaycee, Swaggy and Rachel are playing pool..
11:40pm Swaggy asks Kaycee is she will go to the lounge room to talk. Swaggy – Scottie tells me you don't talk much game. I'm pitching to everyone right now. I do feel like guaranteed votes to stay. Winston has guaranteed votes to stay. He isn't wasting energy talking to Bayleigh and people on my side just like I'm not wasting my energy on Angela and Brett. I know that this house is divided. Whoever you vote for me or Winston, think about who will get you farther in the game. Kaycee says that if he didn't pull her aside she was going to vote Winston and now she has options. Swaggy tells her if he wins HOH she is safe. If someone from my side wins HOH and its you and Winston or you and Angela on the block .. you're gone. If you keep me here I am always going to be the biggest threat. Kaycee tells Swaggy if she decides to keep him here she will pull him aside on Thursday and tell him. Kaycee tells Swaggy to talk to Rachel.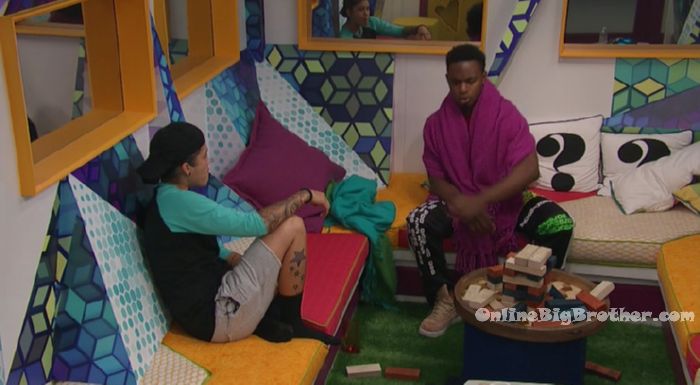 12:40am HOH room. Brett, Haleigh, Kaitlyn, JC, Winston, Rachel, Tyler and Angela. They're all just sitting around chatting about high school
1am Havenot room. Swaggy gives his pitch to Rachel. Swaggy – honestly Brett and Angela are locked in for Winston. Just like Winston knows that Bayleigh and Fes are locked in for me. If Winston stay he will obviously keep you, Brett and Angela safe. If he doesn't win HOH and my side wins, they're going to come after you, Winston, Brett or Angela. I won't be there to deflect for you any more. A week ago the six of us were talking and they said we have to get Rachel out before jury and I deflected that. Rachel – did they say why? Swaggy – they didn't think you would vote for any of them in jury.. you would be biased. Swaggy – if I win HOH, you are literally safe. If I am in this house I will always be the biggest threat. If I stays I would go after my own alliance. People think we're good… we're not. I'm going for the people that knew I was being backdoored and didn't tell me. Rachel – it gives me something to think about. Keep doing what you're doing.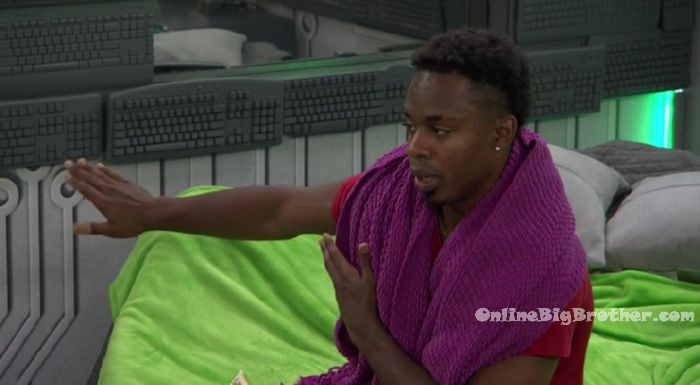 1:40am Backyard Hammock. Scottie and Swaggy. Scottie tells Swaggy that he thinks Haleigh knew he was going to be backdoored the night before it happened. Swagyy – maybe I don't have her vote. Scottie – if you're one shot (Vote), that's who it was for sure. just reassure her that you're on the same side. Don't let on that you know she knew you were going up. Swaggy – should I ask Tyler how he feels about Haleigh and see if he tells me? That Haleigh knew and x, y, z. Scottie – I don't think so because in Tyler's eyes .. obviously he plays like a little b***h. He is also very skidish and he will want that information out of this house as soon as possible. I think that Tyler is closest to Tyler and Haleigh. And now Haleigh is trying to go to that side. Swaggy – damn .. now I don't know if I have Haleigh's vote. Scottie – I am going to operate on the fact that Haleigh is loyal.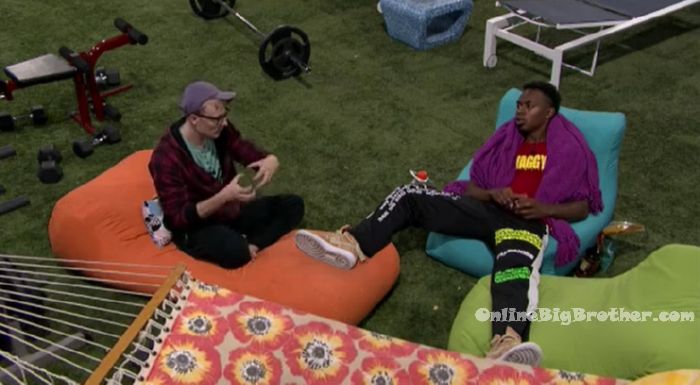 4am
All the house guests are sleeping..
For all you folks that need a VPN I use this one
Rank the houseguests!
Easiest way to Rank the house guests use link below