POV Holder:
Elissa
Next POV
July 20th
POV Used
?
POV Ceremony
July 22
HOH Winner:
JUDD
Next HOH:
July 25
MVP:
?
Original Nominations:
Aaryn, Kaitlin, ELISSA (MVP – America)
Current Nominations:
Last Evicted Houseguest
David, Nick, Jeremy
Have Nots
Jessie, Candice, Andy, Spencer
SPENCER tells Aaryn "If you violate my trust, I will FUCK YOU! Now what was your question? @bigbspoilers #bb15 pic.twitter.com/XoybiiNLQt

— Dawg (@DawgsBigBrother) July 21, 2013
9:15pm Spencer and Aaryn
(Conversation started off the feeds)
Spencer: 'Who the f*** did you hear that from"
Aaryn: "Spencer I can't tell you "
Spencer knows she's not coming after her it was never a thought to him. Aaryn says since she's starting on a new foot she isn't holding anything against other players for what they have done to her in the past.
Aaryn: 'I have nothing Against you"
Spencer: "Ya right on.. same here nothing against you.. I've noticed you've been not your same self and I thought it was stress"
Aaryn says now that JUDD told everyone she twists words during the Nominations ceremony she hasn't been talking much she's just been listening. "I find that everytime I say something it bites me in the a$$"
Spencer tells her he wants to talk about game with her. he swears to her it won't go past them.
Aaryn says that Amanda keeps telling her not to talk to anyone. She says it was Amanda that hinted Spencer was targeting her. Spencer says he never had one conversation with Amanda, "Not Once"
Aaryn: "I don't know who to believe I feel chastised"
Spencer: "There is a big push this week to get you out.. The MVP I don't know who it is.. I think it's the same person it's always has been but there's some bullshit going on I'm not going to try to understand it "
S: "In all honestly it's not only JUDD.. it's the whole house" (That wants Aaryn out)
A: "Who said that"
S: "Pretty much everybody.. they are systematically getting you guys out"
A: "Why not Kaitlin"
S: "Kaitlin later"
A: "Why me first over Kaitlin"
S: "If you violate my trust I will F*** you.. there is no one here I can trust I got Howard that's it."
Spencer explains how f***ed his game is when he goes into a room people leave or stop talking ..
S: "What was your question"
A: "Why me first over Kaitlin"
S: "You are being pinned down as the bigot.. as the person we don't want in the house"
Aaryn wants to know the reasons people are saying why they want her gone.
Spencer: "There is no because anymore it's all we want Aaryn gone"
9:22pm Hammock Spencer and Aaryn
Spencer: "I've heard Amanda may go up .. I dunno "
He tells her he's not MVP so he really has no idea who is going up as the third nominee.
Spencer warns her to watch out because people are going to start offering her deals.
Aaryn thinks that's odd because if she is going home why offer her a deal.
Spencer says there is a chance the target will switch to Kaitlin because she is seen as a stronger competitor without knowing the 3rd nominee that is her only play.
Spencer: "You know Howard is my boy and I trust him 100% he's not MVP he would have told me.. I have no idea who is going up.. don't get discouraged i know it's hard not to and you can't do anything until the nominees are chosen"
Spencer tells her after the POV Ceremony is over she should come talk to him and they can work on developing a strategy based on the limit information they both have.
Spencer: 'Honestly I feel like I can work with you and not Kailtin.. She's emotional.. I'm being honest with you I think you are a good person.. I don't think you would f** me and I wouldn't f*** you "
Spencer: "I have Howard I don't know who you have"
A: "Nobody"
Spencer wants her to work with him and Howard. Spencer says that the Moving company unraveled not because Howard and Him were unloyal but because of Jeremy's ego.
Spencer tells her he's going to talk with Howard about their conversation "He sees pieces of the puzzle I miss" Spencer promises her that Howard and Him are not working to get her out of the house.
Spencer says that losing Aaryn in this game will put them at a disadvantage.
Aaryn is worried if it comes back to Amanda what she said she will be after Aaryn with a vengeance. Spencer: "She already is.. Listen Howard won't tell a f***** soul"
Spencer promises her 100% that Howard is good. If they all survive this week they want to work together.
9:28pm Have nots Howard and Amanda
Amanda brings up Candace going around telling people that she told her not to use the VETO, "She's not in the competition why would I tell her not to use the veto… "
Howard: "You know how she is she can't control her mouth.. she hears stuff"
Amanda is getting pissed because Candace is pinning sh!t on her. Amanda says she doesn't have MVP.
Howard: "Just ignore it.. "
Amanda adds that Candace stormed into the HOH room and attacked her and McCrae.
Howard explains to her that Candace and him are not connected in the game, 'We're chill so to speak"
Amanda is worried that Candace is targeting her and McCrae. Howard doesn't know she's never said anything like that to him.
9:31pm Kitchen Andy and Amanda
Amanda says that Candace came up to the HOH and attacked her and McCrae. Amanda gives him the rundown of what Candace has been doing in the house. Amanda :'That b!tch has got to go"
Andy agrees. She asks Andy who he thinks has the MVP.
Andy says he has no clue at this point he's worried even he could go up. Andy adds that he's really thinking it's Elissa. Amanda does to.
Amanda: "I'm super f**** paranoid right now"
They both think not knowing who won the MVP is annoying.
9:40pm HOH Andy, McCrea and Amanda
Andy saying that he thought this was going to be an easy week as long as Elissa doesn't get VETO.. "F***"
Andy: "If she's lying it makes her so f*** dangerous" (Lying about MVP)
Aman: "I know it doesn't make sense"
Andy: "I don't get it"
Amanda: "Candace is so f***** annoying.. irritating"
Amanda tells him the story again about how Candace came Storming in the HOH like a "F*** Buffalo".
Andy wonders if Candace got to Helen. He explains that HElen cornered him in the Storage room and told him to be wary of Amanda and McCrae.
Amanda says that Someone is going around saying she told Helen not to use the POV on Elissa.
Andy begs her not to say anything to Helen because then he'll lose Helen's trust. Amanda "swears to god" she won't say anything.
Andy plans on talking to Helen tomorrow he's not worried everything will be fine.
Amanda brings up that Helen was playing Chess with aaryn for awhile. Andy: "Helen is easily influenced.. I can talk to her for 5 minutes and cool her down"
Amanda wonders if Helen is slipping from them. Andy doesn't know says Helen has been weird today.
They start speculating who the MVP is. Andy about Elissa: "I feel that she's turning into such a f**** wild card I don't know what she will do"
They start counting votes if one of them go on the block.
Amanda thinks they have GM, Jessie, McCrae. each other and Helen
Andy: "I still think Spencer and Howard are being genuine with me"
Amanda: "I can't read Howard at all .. he swore on the Bible and apparently we have a deal"
Andy says Helen was very serious about being wary of Amanda and McCrae. He doesn't want her to worry he's going to get to the bottom of it. Amanda: 'I would never say that about you guys.. and JUDD"
You can re-watch ever second on the feeds using their flashback feature.. It's super easy to use click this link for a free trial —> Subscribe to the Big Brother Live Feeds
9:58pm Bathroom Howard and Candace
Candace giving him pointers for his social game. Howard says he's been training Aaryn for a reason. He knows it looks shady but they are going to need her vote. Howard says that he's rebuilding the trust with "them" (Kaitlin, Aaryn and GM) they are important again.
Candace: 'But they can't vote"
howard: "I'm not worried about right now i'm worried about next week" He explains if he gets put up on the block he's going to need friends to stay in the house.
Candace thinks that Howard is quiet and she is threatening. Howard warns her that with her being threatening it throws the course off their plan.
He tells her to talk to Andy he needs any. He's got Spencer, GM, Andy and Jessie that is all he needs if he goes up next week.
Candace: "You mad at me"
Howard: "Hell ya I'm mad at you.. you're a live wire I don't know what you'll do unless I'm watching over you"
Candace: 'So you are telling me you don't trust me"
Howard: "I trust you .. I just don't know what you'll do if you get a wild hair"
Howard explains to her that inside this game is not the time to be threatening they can save that for outside these walls now is the time to chill out.
He keeps reiterating they have to focus on getting Jessie and Andy on their side. Candace is a bit skeptical about this she questions if he's going to risk his game one JEssie and Andy "Two scary fu**s"
10:27pm Aaryn and Amanda HOH Tub
(really hard to hear them and the conv keeps cutting in and out)
Amanda saying that ????(Might be Candace) is F****ing stupid. Aaryn is surprised she thought She was smart. Amanda mentions how ??? cannot keep her mouth shut. Ananda says she hopes Spencer gets on the block or Candace. Amanda says Candace is driving her crazy
Aaryn mentions she was talking to Spencer. She told him that being on the block for 2 weeks in a row really gets to her and then Spencer started talking about Marilyn (his Girlfriend)
Amanda mentions when Spencer started playing the game he was single but once he realized there was nobody here for him he started mentioning Marilyn. Amanda: "He wants to F*** Jessie"
Aaryn saying the first couple days Spencer was talking so much sh!t about Marilyn. They both agree that Spencer get pissed when people say Jessie is in a showmance with JUDD. Amanda bring sup Elissa and how she's got something against Aaryn and it doesn't make sense in the game. Amadna doesn't hide her dislike for Candce
Aaryn says that Candace brought the fish comment up again. Aaryn adds that Candace asked her to work with her today. Amanda thinks that Howard got her to do that. Aaryn thinks with Candace it's all about her showmance and she is will to do whatever it takes to keep it intact. Amanda saying that Howard has to go soon he's a master manipulator, He uses race and religion it get farther in the game.
Amanda says that Elissa, Helen and CO are protecting Kailtin. They come to the conclusion if Amanda goes on the block the MVP is Helen.
11:30pm Amanda screwing around showing off her chest
McCrea turns 24 on the 21st they are planning a sexy surprise for him. She dresses up as a dominatrix. Elissa ends up starting a fight with Amanda. Feeds are cut a bit as Elissa apparently freaks out at production. Amanda is in tears..
You can re-watch ever second on the feeds using their flashback feature.. It's super easy to use click this link for a free trial —> Subscribe to the Big Brother Live Feeds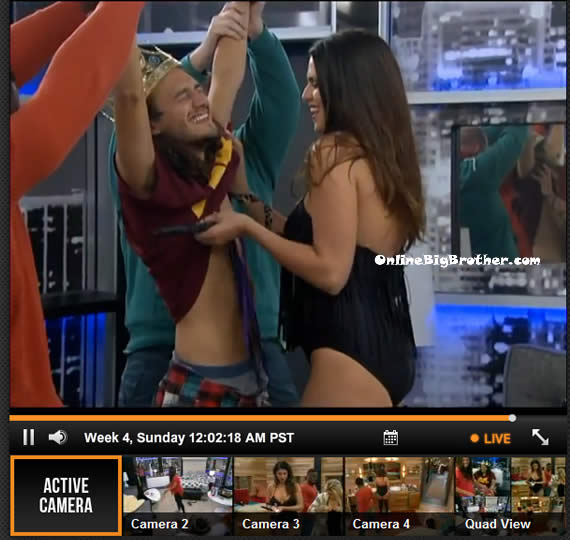 12:25AM Bathroom Amanda and Aaryn
Amanda is crying. She says she looks upset she doesn't want to look upset. Feeds cut
Amanda: "to be called disgusting"
Aaryn: "She told me if I need help after this that she'll be here for me.. "
Amanda: 'What does that mean"
Aaryn: "She says I'll have a lot of critiques and she'll be there for me because I'll need it.. isn't that fu*** up"
Andy comes in asks them what is wrong.
Amanda: "Elissa is being super nasty"
Andy: 'What did she do.. what she say"
Amanda: 'What she say Aaryn"
Aaryn: 'umm She said .. umm we were all making a joke like put whip cream on you.. " (On Amanda)
Aaryn: "She said please don't… I would vomit" (Elissa said to Amanda)
Amanda adds that when she was getting ready Elissa came up to her and said "You look like you're from Spearmint Rhino.. you look like a stripper" (Spearmint Rhino = Strip club in Las Vegas)
Amanda: "We're having fun…"
Andy: "She's just been saying the weirdest sh!t all day"
Amanda: "She's just being super hurtful"
Aaryn says this is what she has to deal with all the time with Elissa.
Andy tells her not to think anything of it he wishes he had seen the show. Say to Aaryn he doesn't think anyone in the house should feel like this and he's there for them if they ever need to talk. Andy: "Seriously I mean that from the bottom of my heart"
12:30am Andy, Amanda and Aaryn
Amanda: "We can't have fun together for a hour"
Aaryn: "She says very hurtful things"
Amanda starts crying says what has she been doing all this time but "protecting this stupid B1tch." Amanda questions why they are protecting her.
Amanda just wanted to have fun and not play the game for once.
1:17AM Elissa , Amanda, Aaryn, GM, Kaitlin
They ask her why she was in the Diary room for such a long time. Elissa says they were b!tching at her.
Elissa is washing her face while the other girls sit on the bathroom couch and chat about plastic surgery.
Aaryn wants to get her lips done she says she has really small lips. Aaryn lists off a bunch of things she want done to her face. Kailtin says she doesn't think she'll ever give in to plastic surgery. Aaryn says her mom has a lot of plastic surgery done she look like she's 30 but she's 50.
1:28Am HOH Andy, Candace, Amanda, McCrae and Spencer
Talking about Elissa and her expensive clothes.
McCrae: 'She'll sink her own ship I dunno.. I like her.. I dunno.. people get carried away sometimes"
They start talking about the POV and how Elissa had this "Devious Smile" the entire time.
Amanda: "Devil grin from horn to horn"
Spencer says she looked like the joker.
Amanda says it was obvious that Elissa knew she was going to win.
McCrae: "She can't play next week"
Amanda thinks that the Power of Veto was set up to favour Elissa.
She explains that all the high numbers were on Elissa's sides side.. Feeds cut (but of course)
They start speculating that Eliss might have a power. McCrae tells them they have to be super nice to her because they have no idea what she has.
Talk goes to Amanda as a dominatrix and the thing Elissa said.
Andy: 'I'm thinking shame on her because of how she was treated earlier in the season .. she should know better"
Amanda: "And look who stuck up for her"
Amanda asks McCrae if the lipstick marks are atill on his chest. (See image above)_
1:49AM Andy, McCrae and Amanda HOH
They are counting votes they think they have enough even if one of their own go up tomorrow. Andy thinks he's good with Candace, Spencer and Howard.
They tell Amanda that the plan is to tell everyone they are going to vote Aaryn out even if Howard goes up. Amanda is a bit shocked. Andy says they don't want to pull the trigger yet on Howard. Andy adds that JUDD wants Aaryn out.