POV Holder:
Danielle
Next POV:
Aug 11 (Saturday)
POV Used
???
POV Ceremony
Aug 6 (Monday)
HOH Winner:
Danielle
Next HOH:
Aug 9 (Thursday)
Original Nominations:
Wil and Frank
Current Nominations:
Have Nots
No Have-Nots for the Week
Last Evicted Houseguest
5:11pm cam 3-4 Arcade Dan and Janelle Watch with FlashBack FREE TRIAL!
Janelle telling him that Ian has told Ashley that he's got a final 2 with Boogie.
Janelle: 'So basically if Boogie doesn't work with us we'll have to drag his ass around for 2 weeks until Jury.. He's not very good at this game"
Dan: "Frank is like his doctor Will"
Janelle: "He likes to be teamed up with the Alpha Male.. Frank is a lot better than Boogie"
Dan: "Do you think the votes are going to be close"
Janelle: 'I don't think so.. Joe hates Frank.. you talk to Jenn a lot what does she say"
Dan: "I don't talk game with any of the new people cause I know it'll get spread around"
Janelle keeps on about how bad of a player Boogie is and how he's vindictive.
5:17pm Cam 1-2 Hammock Britney and Ian
Ian says Boogie is going after Janelle if Frank stays. He's not sure what Boogie will do if Frank will leave. Ian goes on about how Joe and Janelle are Boogies main targets. Britney asks him how he can trust Boogie. Ian explains that in Boogie's eye Ian is still all Team Boogie.
Britney asks him what they should do
Ian: 'Get someone from team Janelle the fuck out of here.. "
Britney tells them word has it that Frank is going home.
Ian isn't too happy about hearing the change in targets.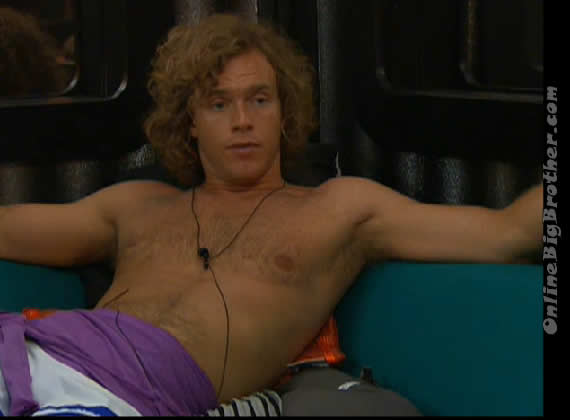 5:27pm CAm 1-2 Arcade Boogie and Frank
Frank explaining that he's pushing to get Janelle put up with Frank. Boogie goes over the entire conversation he had
Boogie: "They are playing a big risk because if I win HOH next week One of those fucking 4 are going home" frank: "Shane, Britney or Dan.. Hopefully Dan" They are sure if the Dan's 4 loses one player and Janelle is still in the house rolling it's over for Danielle and Britney.
Boogie criticizes Dan's game by being too safe.. Frank: "Fuck Janelle.. Fuck Janelle" Boogie I can't stand her either.. they are now saying that I talked Wil to make a deal"
Boogie says that Dan is making a really bad move he's going to make a enemy out of Boogie. Boogie points out how safe Dan is playing this year. Boogie.." They can win as many vetos as they want but one of those 4 are going home if I win HOH"
5:29pm HOH Cam 3-4 Britney and Danielle
Britney tells her about the conversation with Ian and how he was really pushing to get Janelle put up. Danielle wonders if Ian is pissed.. Britney doesn't think so. Britney points out that Ian knows Janelle will put him up but Frank and Boogie would never put Ian up they think he's on their team.
Britney is sure that Janelle will go after Shane next week if she wins the HOH. Daniell gets called to the Diary Room
5:52pm Cam 1-2 HOH Frank, Britney and Danielle
Frank saying if it means they will finally trust Frank he doesn't mind staying up on the block with Janelle. Danielle says that she's supportive of the idea. She think he needs to go to Dan and Shane and talk to them.
Britney mentions that it's hard to trust Frank because the day before the eviction Frank had told Shane he wasn't going to target him then they now find out that Frank was telling Wil that he was targeting Shane if he won HOH.
Frank pretty much says he was desperate for votes and blowing smoke up Wil's a$$. Frank points out that Him and boogie are not the 2 people making up lies and spreading them around the house like Janelle is. Frank brings up Janelle telling them that He was pissed for Danielle winning POV. Frank wasn't mad at them he was disappointed with himself… he doesn't mind wearing the cheerleader outfit.
Frank says he thought Janelle and them were a packaged deal so he was trying to mend things with her. Danielle asks if Janelle was receptive working with Frank. Frank: "absolutely not.. she told me she was alone then 5 minutes later I saw her talking to her little group"
Frank: "I kind of feel that you trust me but not Mike.. is that right"
Britney did but now hearing all these thing about Frank targeting Shane has her second guessing his trustworthiness. Frank tells them that he straight up wasn't targeting Shane early on. Frank: "I've been on the block 75% of the time" Frank pleads with them to put Janelle up.
Brintey tells him that she has no reason not to trust Frank she's going to talk to Boogie later tonight and then talk to Danielle and see where everyone's heads are at.. Britney leaves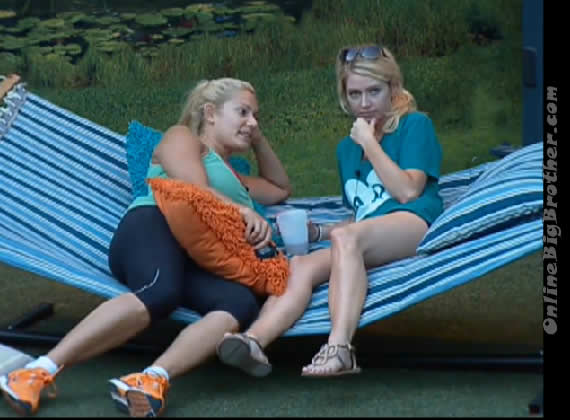 6:13pm Hammock Cam 3-4 Britney and Janelle
Janelle says she talked to Dan today and he thinks Boogie will see the light next week. Britney questions if Boogie will work with them if Frank goins. Janelle doesn't know. Britney: "just cut your losses.. let Frank go" Janelle: 'Boogie is in love with Frank" Janelle adds Boogie is in love with Dr Will that is why he would get so jealous of Janelle being with him.
They start talking about Brendon how he was different on the show than in real life.
Britney tells her that Danielle is rock solid. Janelle is called she gets a bit worried because Frank and Boogie are always talking to her.
Janelle goes on and on about how the coaches need to stick together. Britney asks her who Wil is going to put up. Janelle: "Dan.. There is no way we will win unless 3 coaches get into Jury.. the newbies will never vote for a cache to win"
Britney mentions if its elimination it's going to be obvious what it's coaches versus Newbies.
6:39pm Lockdown is called Looks like Eagle Eye is making dinner.
6:51pm Dinner
7:27pm Cam 1-2 Have Nots Boogie and Frank
Frank talks about his chat with Danielle. Boogie thinks they need to hammer home the idea that if they leave Janelle in the game it'll be 4 vs 4 and they have no idea what Boogie will do.
Frank thinks that Shane and Danielle are more receptive to working with them than Dan and Britney.
7:32pm Cam 3-4 Bathroom Danielle and Britney
Talking about how it's decided to get Frank out. Britney is concerned that Boogie is going to try and spin it and make it look like it was their idea to Backdoor Janelle to turn Janelle on them next week.
7:36pm Cam 1-2 Jenn and Boogie
Boogie tells Jenn he wants to touch bases with her and clear the air. Jenn mentions that Boogie and Frank had talked about trading her she felt like she was at the bottom of the totem pole. Boogie tells her that Janelle, Joe and Wil like to stir trouble and making up things. He tells her that he never communicated to her much during the coaching phase because she was doing exactly what he wanted.. She's liked by everyone in the house, she's off the radar.
Boogie says he had the perfect team the Brawn the Brains and the social. feeds flip to Danielle and Shane laying around the back yard. Danielle is asking Shane if he likes Ashley. He tells her she's too hippie for him.
8:00pm Cam 1-2 Boogie and Frank  Watch with FlashBack FREE TRIAL!
Frank and Boogie are having a hard time dealing with the fact that Dan doesn't seem to want to work with them. Frank about Janelle: "You aren't like a fine wine your game isn't getting better with age". Boogie cannot understand why they are so into Janelle and her players they are horrible and spread lies all over the house. Boogie adds that non of her players can be trusted with any type of information. 
Frank says he noticed that Joe went to the washroom then started cooking without washing his hands. Boogie says they need to get Joe to Stop cooking. Boogie wonders why the fuck isn't Joe even on the radar. Boogie: "They'll get picked off by those players if they don't watch out" (Wil, Joe and Ashley) 
Boogie: "Bunch of fucking sheep.. following Dan.. Dan's afraid to go after Janelle that's what it comes down to" 
Boogie: "You better pray to whatever god you read in that book and at that school of yours that I do  not win HOH because your ass is going up.. I'll put him up against AShley" Frank: "No put him up against Shane" Boogie knows he just thinks up against Ashley would be more "Fuck you you're going home" 
Frank is feeling pretty pissed about how the house is filled with sheep.. at this point Frank wouldn't  be too upset if he even went home.. Frank: "Go home on Thursday.. Smoke a J .. fuck a bunch of broads ride the fame and have a great summer " 
Frank brings up with Him evicted and if Janelle's side wins HOH they'll put up Shane because he'll be the most physical threat. Boogie agrees suggests he bring that up when he talks to Dan. Frank decides to go talk to Dan. 
9:00pm Cam 1-4 Danielle working out with eagle eye..
Share it YO!!
Tweet