POV Holder:
Danielle
Next POV:
Aug 11 (Saturday)
POV Used
???
POV Ceremony
Aug 6 (Monday) Noon
HOH Winner:
Danielle
Next HOH:
Aug 9 (Thursday)
Original Nominations:
Wil and Frank
Current Nominations:
Have Nots
No Have-Nots for the Week
Last Evicted Houseguest
9:23pm Cam 3-4 Pool Ian and Dan Watch with FlashBack FREE TRIAL!
Ian saying that Janelle is much bigger threat than Frank. He points out that She's a front runner to win the HOH and she's targeting Shane. Ian continues trying to sell keeping Frank saying if Frank or Boogie win HOH they will put up Wil and Joe.
Ian keep saying Janelle is after people on their side. Ian doesn't understand why they are choosing to keep someone that is definitely coming after them over someone that Might come after them.
Dan asks him how he can trust Boogie. Ian knows how boogie plays the game and he knows that he never turned his back on Will. Ian: "Frank is his Will.." Ian says if the HOH competition is knock out he's going to win it the only person that can compete with him is Janelle. He points out if Frank wins it he'll put up Joe and Wil. Dan asks him how he knows that. ian explains that he's been rolling with Frank since week one he knows.
Ian really hammers home that to send Frank out the door is a mistake. Dan is going to get people together to talk in the HOH.
9:48pm Cam 1-2 Dan and Frank
Dan: "I got a 100 sell me Frank"
Frank saying that he understands why Dan and his group is apprehensive about trusting Frank and Boogie. Frank says he's been trying to play this game as honest as possible. He brings up last week when he was trying to get Wil's vote and said he would put up Shane if he won HOH. He was trying to stay in the game obviously he'll tell Wil whatever he can't say the truth which is Joe and Wil.
Frank tells Dan he'll put up Joe and Wil if he wins HOH next week, He also adds that Jenn and Ian are not off his list of potential targets. Frank mentions how their 6 person alliance is perfect 3 sub groups of 2 that make it to the end. Frank starts selling about Him, Boogie and Dan being in a final 3 pact.
Dan just feels that taking Janelle out is a really aggressive move early in the game. Dan says he's having a talk with his group tonight he'll tell Frank what is happening tonight.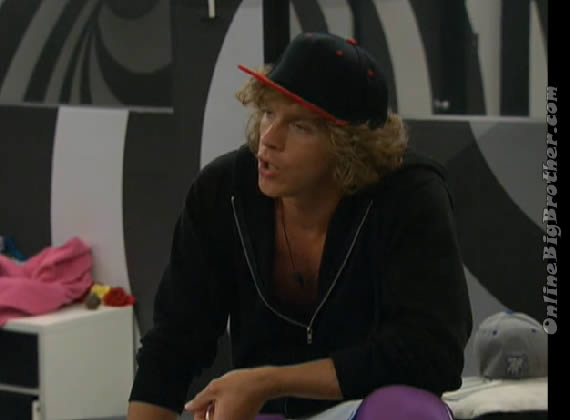 10:01pm Cam 1-2 Frank and Boogie
Frank is pissed at Dan saying 'I got a hundred dollars sell Frank" Frank "Fuck you sell you Frank"
Frank gives a rundown of the conversation he had with Dan 15 minutes ago. Boogie says Dan is walking around thinking he has relationships with every person in the house.
Boogie says he's going to talk to Dan again and frme it a little different. With Frank gone this week he has Ashley, Joe, Janelle, Wl, Jenn and Ian all competing for HOH and if one of them wins HOH they will be looking a large targets like Shane and Dan. Boogie will also point out if 2 from his squad go up they don't have the votes to save them.
10:08pm Cam 1-2 HOH Boogie and Dan
Boogie wants to know where his head is at.
Boogie goes through all the benefits of signing up with Boogie and Frank. Boogie: "I feel like I'm begging.. but I truly think this is what's best for Us and you Dan the individual"
Danielle joins them.
Boogie: "Let's send out the queen bee week fucking one of the reset.. lets sting her ass and get her out of there.. Danielle wants her out C'mon Dan"
Danielle speaks spanish and leaves.
Dan says he's a bit worried that the new players will come after the vets like they did last season.
Boogie: "imagine if one of them wins HOH next week.. someone will be sitting next with me.. You think it's going to be Ian. Jenn or Mike Boogie.. NO it's going to be Mike Boogie, Dan or Shane"
Boogie says if he sends Frank home then he's got 4 and Janelle's side has 4. Boogie, Jenn and Ian are twisting in the wind, "It'll be 4 Vs 4" Boogie: "Voting out Frank isn't going to have me running to you guys.. I have 2 options be by myself or tag up with Jenn and Ian.. all these options suck for me"
10:26pm Cam 1-2 HOH Janelle, Britney, Boogie, Dan

Janelle and Britney asking Boogie if he wants to join them. Boogie says to Janelle that his guy is against her guy he doesn't see what they can do.
Janelle tries to tell him that Frank is coming after Boogie and Dan. Boogie laughs says Frank was playing you he was telling her whatever she needed to hear when he was on the block. Janelle says she wants to take out all the players and have the coaches make it to the end. Boogie asks why is his guy going home and not Wil. Boogie suggests they vote Wil out and they can team up. Janelle says they will take out Wil next week. Boogie doesn't trust her. Boogie: "Look guys there is no way I'm going to support anything that gets rid of my number 1 guy.. He's the only person that has been truthful to me" Boogie tells them he'll sign up with the coaches if Wil goes this week.
Dan asks can they sacrifice anyone to mend things between Boogie and Janelle. Boogie says no because it's a waste of an HOH. Boogie adds that he's fine to leave this to and Danielle if they feel that gettign rid of Frank takes them further in the game than fine. Boogie has no problems going home the following week he just doesn't want to be the first in Jury voting for AShley to win 500K.
Dan asks if Joe goes up and goes home where does that leave the coaches. Boogie explains to them that this coaches alliance is short lived because it's obvious that none of them want to get rid of their Number 1 player. They all want their golden parachute.
Boogie thinks they should put Joe up on the block he's no good for anyone. Boogie knows Joe has rattled Janelle's game
The girls leave the guys.
Dan: "We'll that's clearly not going to work… you ready to fuckig roll?"
Boogie: "He'll YA"
Dan: 'if you are going to stab someone in the back have it be Britney, Shane or Danielle"
Boogie: "Are you ready to sacktown Her?" (Janelle)
Dan :'I'll sell it to the team"
Boogie explains to him that Dan and Him come on the show for the money, love of the game but to also put on a show. And what better show if it's him and Boogie in the final 2. Boogie says there is no way that better than launching that mother fucker right now than getting that liar out.
10:56pm Frank comes up They agree riding the 6 as far as they can go. Dan tells them they need to keep the group a secret.
11:01pm Cam 1-2 HOH Danielle and Dan
Danielle looks at him "What you do.. "
Dan: 'nothing.. we have a decision to make"
Dan explains that all 4 coaches were up here and there was talking and Mike Boogie called out Janelle about lying and she had nothing to say… what does your gut tell you..
Danielle: 'Janelle's a liar.. been saying that since Day one"
Dan says with Frank and Boogie in the game there is a bigger target than him and Danielle.
Danielle: "That is what I told you yesterday and you said I was playing personal"
Dan thinks if they roll the dice with Boogie and it fails Danielle's still safe but if they roll the dice with Janelle and it fails Both Danielle and Dan are at risk.
britney comes up Dan asks her what her gut reaction to what happened in the HOH. Britney: "He's being honest and he called her out on everything"
They all start agreeing that Boogie is telling the truth and he can be trusted to roll with. Shane joins them and they start filling him in.
11:20Cam 1-2 HOH
dan we gotta make a decision right now let's go around the room Ian what do yo think
Ian wants to get Janelle out
Shane is 50/50
Britney is 50/50
Danielle and Dan: Out Janelle
Britney: "good it's decided.. Janelle out"
Dan says he's going to go downstairs and tell Boogie.. that'll make it official.
Ian leaves.
Dan doesn't want people to know they are working with Boogie and Frank so they should take Wil off the block and put up Janelle.
They count the votes.. Dan, Britney, Shane, Boogie and ian vote to evict janelle. Shane: "5 / 4"
Dan's about the walk out the door says there is no turning back. "britney you are still 50/50" britney: "yes.. but I'm still on board"
They pull the trigger Dan heads to tell Boogie and Frank.
11:31pm Cam 1 Arcade room Dan, Frank and Boogie
Dan tells Boogie to head up to the HOH they'll be up in a minute. Dan tells Frank that he just saved Frank from being evicted. Frank: "I won't forget it Dan" Dan: "meet me upstairs in a minute"
11:35pm cam 3-4 HOH super alliance, BFBSDD. Janelle comes up and knocks on the HOH door. Frank and Boogie run into the shower to hide. They do not answer the door.. Janelle leaves.
Britney tells them that her main concern is Jenn or Wil pull out a HOH win and Boogie/Frank are up here with the same song and dance as this week. Britney wants this to be the kind of team that goes up to the HOH and tells them to put Ashley and Joe up and they will be safe for a week.
11:56PM the HOH crew trying to decide on a team name.
Dan: "Mayhem 6"
Boogie: "6 Pack Summer"
Frank: "Since we're all going to keep this quiet.. the Silent Six"
They agree on The Silent Six and Dan shows them their code.
12:12AM HOH Cam 1-2 Dan and Danielle They are chatting about how they will get more mileage out of using the POV on Wil and how Danielle's speech will be during the POV ceremony. Dan says what is going down right now is huge this is something Danielle will mention during her Final 2 speech.
12:20AM Cam 3-4 HOH Britney and Danielle Britney breaking down because she feels bad that she downstairs lying to Janelle. Danielle says to her that she's been bullied all her life fro Girls and she see it in Janelle that she's just like the girls that use to bully her.. She was called Fat and ugly and the girls in her sorority tried to sleep with her boyfriend and that is why they broke up.
Danielle: "I hope she doesn't treat you badly but she will"
Share it YO!!
Tweet